This is a guest post by reader Mary Kay Alegre.
The Jiffy Lube slogan — "Three months or 3,000 miles" — is easy to remember, and I like that. But we may need a new oil-change slogan.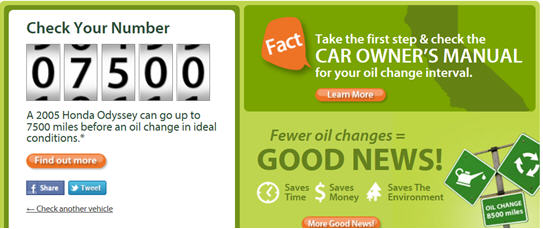 The Los Angeles Times reports that California has launched a Check Your Number campaign to save time, money, and the environment by having car owners change their oil only when needed — and that could be only every 10,000 miles.
I drive a 2005 Honda Odyssey and I realized that I don't have to change my oil until I hit 7,500 miles or seven months.  I plan to save about $40 a year, a little time, and wasted oil.
How do you find out how little you can change your oil?
Plug in your car's year, make, and model.  Instantly you'll find out how often you need to change your oil.
2.  Decide whether you drive in severe conditions:
If so, your oil might need to be changed more frequently, so check your owner's manual. (If you don't have one, you may be able to find it online by looking up the car manufacturer's website.)
I think my conditions are about normal. Even though I drive a lot of short trips between school, activities, sports, the grocery store and thrift shop, my trips are more like 10 to 15 minutes.
Moral of the story:
Pay more attention to your car's indicator light or owner's manual than your service station's reminder sticker.
Car manufacturers know exactly how often you need to maintain your car in order to keep it performing well.  Oil changes are usually recommended much less frequently than the Jiffy Lubes of America would have us do it.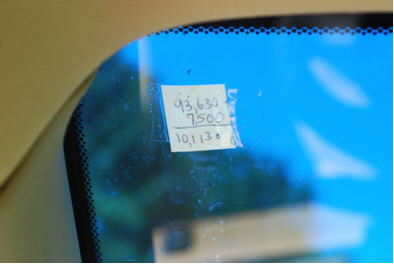 "Seven months or 7,500 miles" is my new slogan, and I'm sticking with it.  What's yours?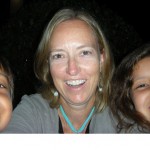 Frugal Mama reader Mary Kay Alegre is a Northern Virginia mom of two. Her Midwestern practicality (with a dash of Latin romanticism) helps her stretch every dollar and keep fulfilling her dream of working part-time while having plenty of time for family, friends, fun, and travel.
Photo credits: Mary Kay Alegre