"There are vacations," my Dad would say, "and then there are trips with kids."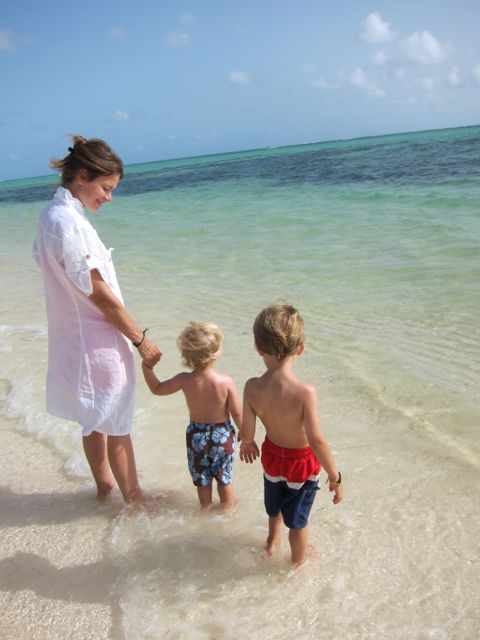 Despite the fact that Enrico and I spent much of our time mediating sand-toy disputes and taking turns wolfing down buffet food (and that getting to the D.R. and back on a budget could be compared to rock climbing with baby kangaroos), we had a very good time.
The highlights?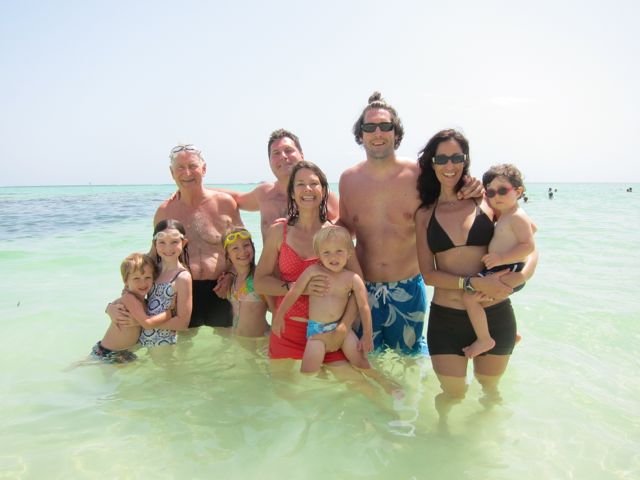 Hanging out with Enrico's brother, our sister-in-law, and their adorable Italian-babbling toddler.  They live in Milan and times like these are bittersweet; we have so much fun that we wish we could see them every Sunday for brunch;
Having seaweed fights and giggling down twisty water slides with Sofia and Virginia, who stayed on another week with Nonno (their Italian grandpa); and
Going unplugged for the week.  Instead of trying to stay on top of emails, I took naps, built sand mountains, and cleared my mind of the constellations of work details so I could see the sun and the moon.
Today is Luke's birthday. He's turning two — the perfect year to trade hullabaloo for quiet celebration.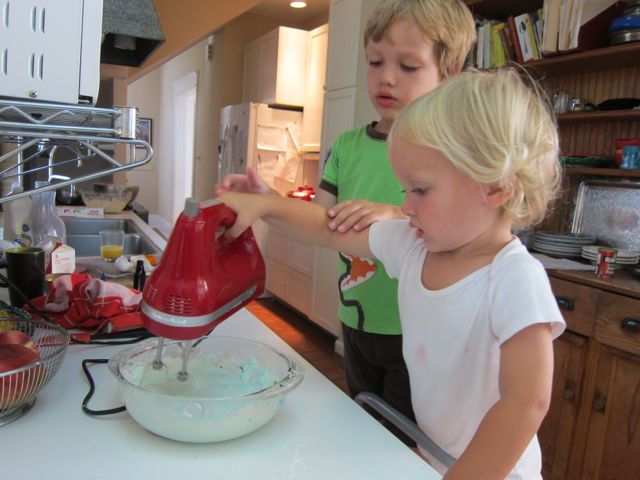 Trying to take it easier than I should have, I said we would just buy some cupcakes from the grocery store.  Then Mark said, "Or we could just make some cupcakes."  I love when my children become my conscience.
By 9:30 a.m., a batch of yellow cupcakes with sky-blue buttercream icing was already ready to bake, and two pizza dough balls were rising in silver bowls.  (You can download the recipe from my Free Printables page.)  The girls are still at the beach, so we'll freeze some cupcakes for them, and invite over our neighbors for dinner and candle-blowing.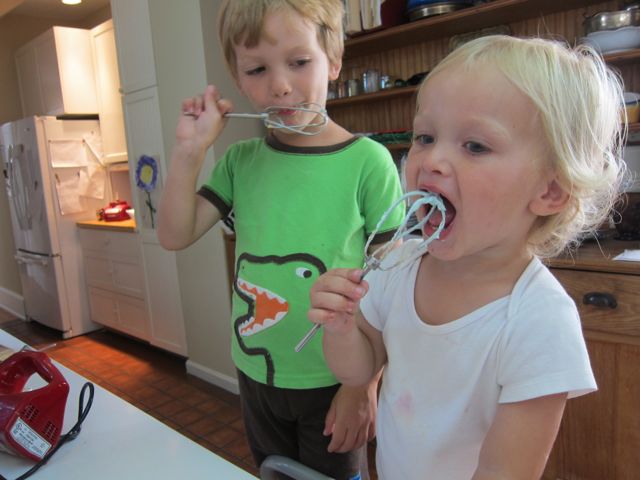 In honor of mellow Sundays and slow summers, I will leave you with just one, but fabulous, tidbit to ponder:
The Joy of Quiet by Pico Iyer for The New York Times
The urgency of slowing down — to find the time and space to think — is nothing new, of course, and wiser souls have always reminded us that the more attention we pay to the moment, the less time and energy we have to place it in some larger context. 'Distraction is the only thing that consoles us for our miseries,' the French philosopher Blaise Pascal wrote in the 17th century, 'and yet it is itself the greatest of our miseries.' He also famously remarked that all of man's problems come from his inability to sit quietly in a room alone.
This article and similar ones on the busyness of modern life and our addiction to the Internet has gotten me thinking a lot recently. These issues are important to me, so I'll be writing more at Frugal Mama about slowing down, the preciousness of time, and money versus quality of life.
Finally, I want to send you a big hug-like thank you for taking my two-question survey about how I can better meet your needs.  I'm just beginning to go through the responses now, and I feel so lucky to have such giving and trusting readers.
There's still time to jot down your answers. It would be an honor to hear from every one of you.  Click here to take the survey.
Finally, thank you for reading Frugal Mama, for leaving me comments (which I promise I will get to soon, now that the laundry is done!), and for being part of this warm and growing community.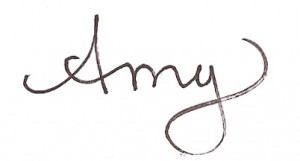 This post is sponsored by: