If you think that I was always comfortable in the kitchen, then you must not have known me when I was 30. I cried on my honeymoon because I was afraid of the kitchen that awaited me.
As I explained this week at Parentables, it took me years of trying and trying before I realized that I was trying too hard.  (You can read more of my cooking backstory here.)
JoAn's joking comment to my post about simple cooking reminded me of the discussion going on at The Happiest Mom around the question, Do inspiring blogs make you feel bad about yourself?
I may often be trying to be a better person, but often I'm failing.  Too little about my mishaps make the editorial cuts, because I want to be helpful — not funny.  But I realize that sometimes we need more than just tips and numbered lists.  We need a friend who confesses to having a hard time.  We need honesty.
Augusten Burroughs, author of Running with Scissors, says that you have to know how to fail to teach people how to succeed.  As someone who likes to learn, I get that.  I don't want to take advice from a person who was lucky enough to get it right the first time.  I want to learn from someone who has paid their admission to the carnival a bunch of times and has finally figured out how to hit that mallet and ring the bell.
I Am a Work in Progress
When I give people a tour of my house, knowing they'll see the curtain-less windows and the IKEA furniture that might have worked in our last apartment (but not here), I say, "It's a work in progress."  I too am a work in progress.
If my life looks good, that's because you have happened to walk in after I've de-cluttered the entry and swept the kitchen floor.  Or maybe I've invited you over, so I cleaned the house and baked a pie for the occasion, because I want to treat you with respect and generosity.
This blog is kind-of like that, magnified.  Not only are you seeing the highlights of my week, you're walking into the best part of my life.  You missed the college years, when the 'Freshman 35′ was merely a continuation of my struggles with weight that started in high school and continued through my 20s.  You missed seeing how I was a goober in grade school, an emotional mess in my 20s, and an insecure mother in my 30s.
Only now, in my early 40s, I am hitting my stride.  I may have crow's feet and callouses, but I'm a much happier person than I've ever been.  But I still have ups and downs, obviously. I still screw up, I have deep doubts, I take the wrong path, I do exactly what I said I wasn't going to do.
Blogs are Real, But They're Composed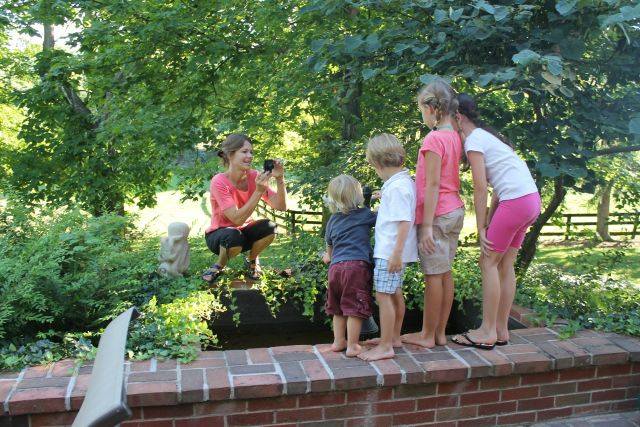 Many mom bloggers today, myself included, feel the need to share more and more and more of our personal lives. That's what sells: real life, up close and personal.
Reality show stars hope that the world will love them based on the force of their personality.  I don't have that much confidence.  I'm only good at a few things, and I'm not always bubbly and gregarious.  In fact, I'm kind-of shy and self-doubting.  My pictures are not raw and my writing is not stream-of-consciousness; I've often labored for days to get my articles just right.
Frugal Mama is more about education than entertainment, and I feel the most helpful when I talk about what I do well. But if my blog posts are sometimes more irritating than inspiring, if this website is more disillusioning rather than empowering at times, I wanted to tell you about a few things that I don't write about.
I'm still just as bad at sports as I was when I was always the last to be picked for kickball.  So you won't see any pictures of me playing soccer with my kids.  I don't pitch tents or go on mountain hikes because I prefer my nature tame and never too far away from a hot shower.  I love saving money so that I can have a good life, but I don't understand bookkeeping and I'm not even good at basic calculations.  Missing a math gene, I guess.
Financial peace is important to me, but I dread calling the retirement advisor, I have no interest in investing, and I'm not good at business or making a good income.  And even though I champion all that is slow, natural, and inexpensive, I also happen to be passionate about New York City, roller coasters, armfuls of children, jet airplanes taking off, and decorating my house like a rock star (even if it takes me 20 years). And I love blogging which is, paradoxically, nothing but simple.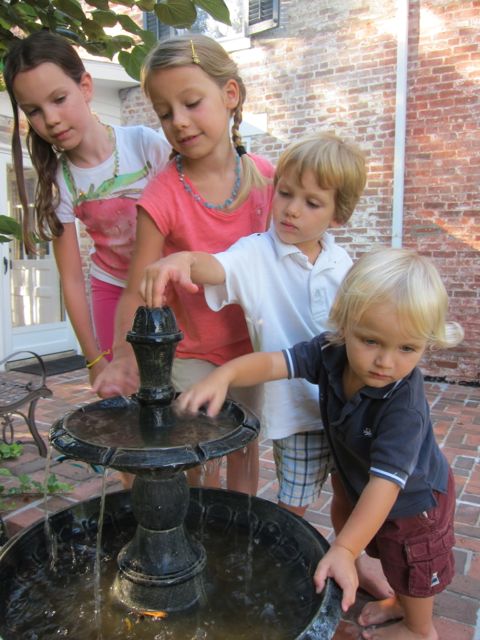 Domestic, not Go-Get-Em, is What I Do Well
If I were working for a living and I saw me cooking up garden-fresh meals with my kids, making hand-crafted gifts, and bringing home-made snacks to the park after school, I might be annoyed too.  I'm not on Facebook much, but I hear people saying that they start feeling like a dud after seeing update after update of smiling kids, exotic vacations, gorgeous art projects, trophy ceremonies, and laughy parties.
One of the commenters to Meagan Francis' post about inspiring blogs shared this quote by Steven Furtick that I thought was brilliant:
"One reason we struggle with insecurity is that we are comparing our behind-the-scenes with everyone else's highlight reel."
My behind-the-scenes is a lot of cleaning up smushed pasta and grapes (and cookie crumbs and orange juice and pear bits), changing diapers, coaxing kids into doing their chores, breaking up fights and sending people to the 'thinking spot,' packing lunches, cleaning toilets, and picking up toys (after they've already sprained my ankle).  It's spending the weekend working in the yard and doing laundry, instead of going on day trips or going to baseball games
It's staying up late proofreading when I'd rather read a magazine, or feeling guilty because I haven't sent photos to grandparents when I've spent too long on Twitter.  It's feeling shy because I'm new (again) and I don't know anyone on the playground, or agonizing over a blog comment that I wrote because I said something this way and I should have said it that way.
Most of my friends work outside of the home, and while many of them made that decision out of choice, I wonder if they sometimes feel their domestic lives should look like mine. Yet domestic is what I do well, and that's where I spend most of my time and energy, so it would be unfair to compare.
So if you're busy hustling in the office until six, if you like jogging better than making dinner, or if you are better at heating up than pan-braising, I hope you won't compare your slapdash dinners to what you see on film, or Pinterest, or blogs. That would be like comparing your outtakes to someone else's promotional shots.