I thought I had protected my children from the frantic pressure of modern life — limiting screen time, skipping after-school activities, and keeping weekends open for reading, friends, and handmade paper dolls. But as a blogger for hire, I was participating in the rat race. Eventually the stress, the hurry, and the striving were bound to seep in and trickle down to our children.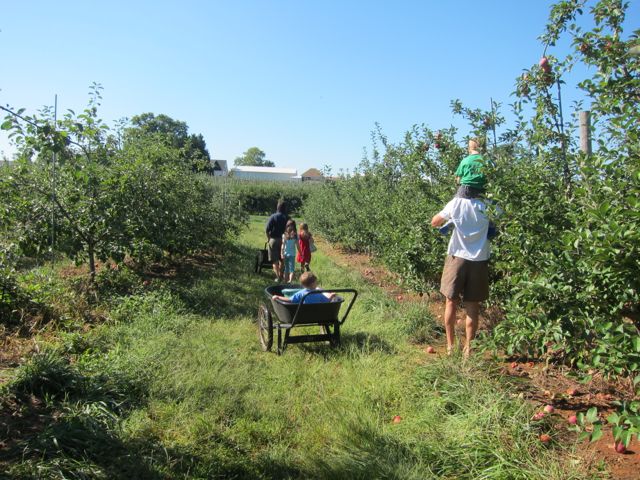 Overscheduling, outsourcing, multi-tasking, carpooling — we're all doing what we can to keep up with the demands of a super-charged world.  And it's not just the world, it's ourselves.  It's how we react to the pressures and the expectations:  do we pile more on our plates, or do we carve out time to rest and reflect?
Even though "slow" connotes laziness and lack of ambition, it's actually harder to slow down. Slowing down takes commitment and discipline; going with the flow is easier.
The quickening of our culture has been gradual. Maybe some of us didn't realize how fast it had become until we got overwhelmed. It was as if we were floating down a river in inner tubes, like we did in high school, with coolers of beer, cut-off t-shirts, and sunburned cheeks.  Then we woke up to find ourselves in a swift, swelling river.  Now we're so busy navigating the whirlpools, white-water rapids, and confusing forks in the river that it's hard to enoy the ride anymore.
Why is Life Faster Now?
Three trends are standing out as driving the fastness of family life today:
Both parents in most American families are working full-time;
Technology keeps getting quicker, easier, more portable, and more accessible;
The pressure on education, all the way down to preschool, has intensified as competition is greater for college degrees and good jobs.
Some of these issues are larger than we are, but we do have choices in how we deal with them.  Not everyone can or would want to make some of the choices our family has made (only one parent doing paid work, no cable TV or personal electronics, and little to no organized sports and activities).  There are simpler ways to negotiate pockets of downtime, and fill them with stuff that satisfies.
Fed Up With Frenzy: Slow Parenting in a Fast-Moving World gives us lots of compelling reasons to climb out of the swelling river every once in a while, and author Susan (Suz) Lipman shows us how to find that rope swing and what to do once we are on the shore.
Frugal and Slow are Sisters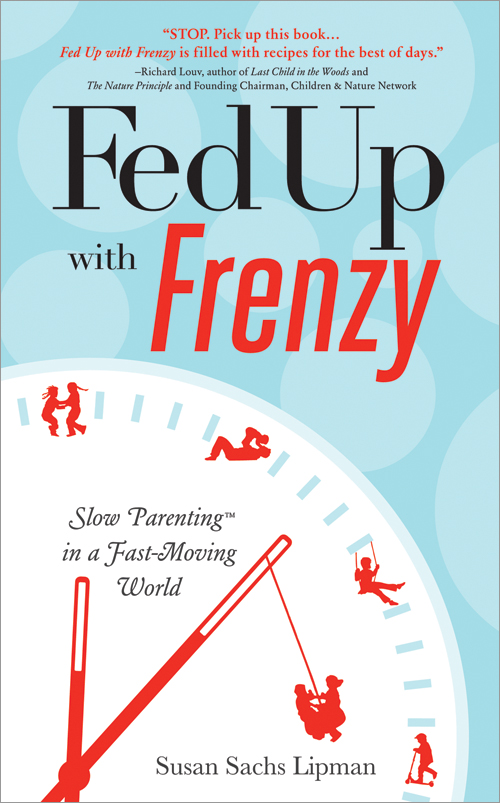 I have felt in tune with Susan's message even before I knew her.  She has been standing up for slowing down since 2002, when she founded her blog Slow Family Online.  As her daughter has grown up, she has taken on more leadership roles in the slow parenting movement.  She is the social media director for the Children & Nature Network, founded by Richard Louv of the seminal Last Child in the Woods; she writes for the Christian Science Monitor's new Modern Parenthood blog; and I am honored that she is also now one of Frugal Mama's new contributors.
Suz once told me that frugal and slow are sisters, and I could not agree more. Most slow activities are free, like state parks and homemade jam, but saving money requires slowing down enough to have the time to do it.
There is another consequence of letting the pace of life envelop us. When life goes too fast, we don't have time to figure out what is important to us. And when we aren't in touch with our values, we get sloppy. We grab the iPad to keep the kids from whining, we throw together frozen meals instead of planning ahead, we spend more money than we should because we never stopped to establish rules.
In fact, I had trouble even figuring out what my values were until I found enough peace and quiet (unplugging in nature) to listen to what was inside.  Thankfully it didn't take a tragedy, as it did with Steve Jobs and many other less famous people.  Putting things into perspective can be as simple as asking one of those "when you look back on your life" questions.
Honoring Life's Simple Pleasures
In case you are wondering what slow parenting is and why it's good, Suz goes into all the benefits to children and parents in the first chapter of her book — such as how kids need unstructured play for their cognitive, physical, social, and emotional well-being, or how some of the best family interactions happen during downtime.
I have to admit that, when reading Fed Up With Frenzy, I began to well up thinking of how many sweet moments I had let slip away from my life in pursuit of more money and prestige.
What about the simple act of reading to a child?  Bedtime stories are sacred at our house, but in the past year, I had run myself down so much that I was too exhausted and cranky to enjoy them much.
Suz says, "When we spend time holding our kids in our laps and reading to them, we're doing more than transferring words. We're transferring affection and the idea they they are important to us and that we value the time spent together."
Reading to a child, whether it's a chapter book or a fairytale, close enough so that we can feel each other's warmth and weight, is symbolic of all the small yet important activities that we sometimes brush aside as we get busier and busier.
Balancing Craziness with Calm
As you know I recently decided to realign my actions with my priorities.  By putting the brakes on work and achievement, I give more weight to my job as a parent and wife.
Instead of pushing myself so hard to get more and more done while my kids were in school or napping, I am shutting off the computer a little earlier, giving myself time to prepare an afternoon snack, getting the kids up sooner from their nap so they can wake up gently, and even resting for 20 minutes instead of making more coffee and trying to cram more into my day.
Fed Up With Frenzy is mostly a collection of gentle games, ideas, and activities, and I need them as much as anyone. I might be an at-home mom, but I'm the organized productive mom, not the fun mom who lets the dishes pile up in the sink. And with constant temptations from screens, chores, and status, I need the encouragement to stop and play.
I need to stop sweeping the porch and teach my kids jumprope games. (Fed Up With Frenzy has a bunch of them — foursquare and hopscotch too.) When my kids lose interest in the garden, I need Suz's ideas for spicing it up with sunflower houses and seed-growing races. I need to find more ways to replace the commercialism of the holidays with different family traditions.
If any of you are thinking that you're already parenting too much, don't feel like you have to add more to your plate. Slow parenting is just as much about giving ourselves permission to let go and downshift, as it is about connecting with each other.
A pretty impressive array of experts, parenting authors, and thought leaders have written blurbs for this book, so if you have any doubts (because it's true that I do know and like Suz), then open up a copy at your bookstore and check out the testimonials from people like Richard Louv and Carl Honore'. And don't skip over the forward by the author's daughter.  (If my children would grow up with this much respect for my ideals, I could rest in peace.)
Win a Free Copy of the Book
The publisher, Source Books, gave me an extra copy of Fed Up With Frenzy to give away, and I'd love to mail it to one of you.  If you are interested, please help me understand how our fast culture affects you by answering this question in the comments: What is your biggest obstacle to slowing down?
Please leave your comment by next Wednesday, September 26. A winner will be chosen at random will be announced on the Frugal Mama Facebook page on Thursday.
Even if you don't want to be entered, I'd love to hear your thoughts about how we get so hectic.
Thank you,