This post is written by contributing writer Sara Tetreault.  Sara is a blogger and the creator of the lifestyle blog, Go Gingham Stylishly Frugal Living. She shares about family, food, and all things frugal, fancy, and fun!
When Amy asked me to write for Frugal Mama, I was truly honored because I could tell she and I were kindred spirits immediately. You see, I'm Frugal and a Mom who used to be a Mama, so whenever I get the opportunity to answer to Mama, I'll take it.
My "children" have both entered their teenage years, but when I use the term "children" in my bio, it seems like a sweeter term. My teens are still sweet children but only when they're at home, no friends are around, and if they have an illness. I'm sorry to admit that I secretly like it when my kids are sick.
I have a son, who is 15 and a daughter, who is 13. My kids are so private that I'm forbidden from using their names on my blog and they don't like me to use their pictures either. I cringe when someone says to my kids, "Oh, I saw what your mom wrote about (insert an event or a dinner my kids had to cook or some other blah, blah, blah)" because I get the death stare! It's a balancing act of sharing, but not sharing too much, that keeps me on the edge of getting into trouble.
My husband and I met in college and have been married for 22 years. We currently live in Portland, Oregon but lived in Washington, D.C. for five years.   When we lived in D.C., we furnished our home with items put out for "bulky trash day."  We called it "alley shopping" and still have all of the  free treasures from those years. We rebuilt our old row house ourselves on Capitol Hill before moving to Portland in 1995.
We've lived in our current house for 17 years and are slowly redoing it ourselves, but we're more tired now so we just talk about what needs doing — and how we'll get to it someday.
Our house was built in 1914 and there's always something breaking, not working, or getting added to a honey-do-list. We've tried to always build and redo with items from Habit for Humanity ReStores, The ReBuilding Center, or dumpsters, so it's green and frugal. I like to say, "easy on the wallet and on the environment."
Our biggest luxury in life, after time together as a family, is traveling, and we have completely embraced the home exchange vacation. We've gone to Europe four times by home swapping and have done four home exchanges in the U.S. as well. It's easy to do and saves so much money on lodging and food because you have a kitchen and can cook at home.
We've traded houses and cars and have gone to places I would have never thought of because our exchange partner said, "Would you consider…?" It's a great way to see the world, live like a local, and not spend a fortune.
Go Gingham Stylishly Frugal Living launched in 2010 and I've been enjoying the wild ride of it ever since. TV, newspaper, and even Technorati interviewed me for a piece they did on "older adapters" (which by the way, is anyone over the age of 40) and I was quoted in an article with a picture of a grandpa!
I spoke at BlogHer Food about keeping backyard chickens and have been making the rounds at libraries and non-profits. Speaking has really helped me refine my message and clarify what I'm trying to say.
I don't know where my path is taking me, but everyday I get up enthused, excited, and wondering who will email or call me to say, "Hey, would you be willing to…?" and usually I say "yes."  But, I've had to start saying "no" because I'm realizing I can't be everything to everyone and time is precious. I see how quickly my kids are growing up and how college is right around the corner.
Thank you, Amy, for giving me an opportunity to share my perspective on the upsides of spending less, simplifying, and enjoying life more.
So now you know a little about me — I'd love to hear more about you.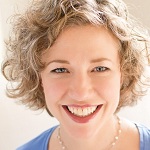 Sara Tetreault writes about living the good life on less with thoughtful spending, smart use of resources, and efficient use of time.  By cooking at home, growing vegetables, sewing, and home swapping, she hopes to inspire you with her frugal, fancy, and fun ways.  Sara keeps a home, one husband, two children, and three backyard chickens.  She loves gingham fabric, which is the name of her blog, Go Gingham Stylishly Frugal Living.  You can follow her on Twitter, became a Fan on Facebook, or see her pins on Pinterest.