This post is by contributing writer, Karen Falter.  Karen is a wife and mother of three who balances family life with her full-time employment as an attorney.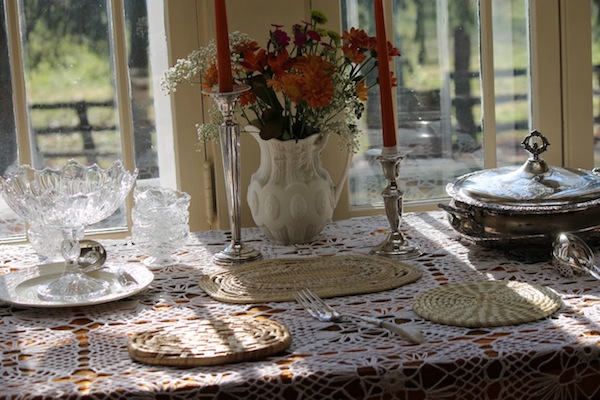 Every so often my husband Tom's birthday falls on Thanksgiving Day. I'm sure if I was good at math I could probably tell you how often that happens. But I'm not good at math.
Because of this special occasion Tom wanted us to host Thanksgiving at our house. This required concession from his mother who traditionally hosts the holiday, but she kindly agreed and it was decided. We would host 15 people at our house. If you're from a large famiy, 15 people probably doesn't seem like a lot, but for us it was just about as big as it gets.
First Step: Expand Seating Without Buying a New Table
My dining room table only comfortably seats six and uncomfortably seats eight. We have been contemplating buying a new table for a while since we have to prop a piece of wood trim under one leg to level the table top, but new furniture is a big expense. What to do. What to do.
Then my mom came to the rescue — not with a new table but, as all moms can — with advice. I bought a 4 x 8 ft piece of sturdy plywood from a big box hardware store for about $30 and laid it on top of my table. Violà!  I had a table that comfortably seated 10.
(I highly recommend this option to anyone who needs a periodic fix. Put pads or cloth under the plywood to prevent scratching your table, and don't forget that you might need a bigger tablecloth.)
Second Step: Give Up Trying to Do It "All"
Even though I was excited to throw the party, a sit-down dinner for 15 people was daunting. How could I work full-time, cook, clean, and be prepared to throw a quality gathering?
I'm not in love with the idea of asking for help when I invite guests to my house for a party. I guess, like most rugged individualist Americans, I feel like I should be able to do it all.
But then it dawned on me.  The great corporate and world leaders delegate.  I decided to give up some control and do a "delegated" Thanksgiving. (In reality I made the dinner potluck, but I prefer the sound of "delegated" because potluck reminds me of paper plates and picnic tables.)
Third Step: Tailor Requests to Each Person's Strengths
I took a deep breath and boldly sent emails to our relatives requesting their assistance. My brother and Tom's brother, the everlasting bachelors of the group, were given simple tasks. Frank agreed to supply beer — perfect assignment for him — easy to purchase and no assembly required. Tom's brother, Nick, was also assigned something effortless: dinner rolls.
Tom's family in Chicago is known for their exquisite taste in wine, so I was psyched when Margie and Dave offered to bring vino. My mother-in-law, Sue, chimed in to bring her traditional cranberry relish and my husband's favorite dish, pearled onions.
Both Margie and Sue also agreed to bring appetizers, and Dave offered to bake a pie. My mom didn't cook but — Wow — she stayed up until 2:00 a.m. ironing my linens. Our children are young and naïve enough to think polishing silver is fun, so I put them to work too.
So before you think I'm a free-loader who sat on the couch eating bon-bons handing down orders, hear me out.
Freeing Up Time and Money for What Matters
Because I got up the nerve to ask for help, I was able to splurge on a 27-pound fresh, free-range, organic turkey from our local farm, Green Acres. Yes, it was much more expensive than a Butterball frozen turkey, but I was thrilled to support a local foundation and offer a superb fowl for our guests.
Plus with all the assistance I was getting from my family, I was also able to splurge with my time. I made my favorite labor-intensive turkey recipe from the November 2005 issue of Bon Appetit called The Ultimate Turkey, which requires making your own herbed butter. The result is truly worth the effort as it has turned out perfectly each time and everyone loves the herbed butter flavor.
Accidental Discovery: Some Shortcuts are Better Than the Long Ones
Mashed potatoes are my favorite Thanksgiving dish, but I simplified my life this time by boiling unpeeled red potatoes and mashing them with the skin on. Not only was this method less messy and time-consuming, but the dish tasted better than my traditional Idaho potatoes. Who knew?
(Just boil a bag of red potatoes until they are soft. Drain the water from the pot and leave the potatoes in the pot. I added a stick of butter and 1/2 cup of skim milk to the hot potatoes and then mashed them. Continue adding butter and milk until you get your desired consistency, and then add salt and pepper to taste.)
With a "delegated Thanksgiving" I was able to host a sit-down dinner for 15 people that included fine wine, craft beers, tasty appetizers, fresh turkey, and an array of sumptuous side dishes on a beautiful table that didn't break the bank. But the best part, I realized, was something more timeless than a fantastic meal.
I Gave Up Being it All to Become Part of Something Bigger
As I toasted Tom's birthday halfway through dinner, I thanked everyone for their help in making this gathering so much easier for me. But in my head I was thanking them for making it so special.
What I realized was that people want to participate. People want to share their special recipes and stories behind them. People want to share their traditions and bring their hover dips. When I opened up and shared, they did too, and the experience became more meaningful.
Although I had to reach out of my comfort zone to give up control and delegate, I learned that a "delegated" holiday dinner isn't only about sharing the expense and effort. It's about sharing the creative effort.
My mom and I spent hours bonding while setting the tables and arranging the flowers to get it just right. We reminisced about Nana's dinner bell and how it was the treat to be chosen to ring it. I learned that Margie's "hover dip" is called such because it is so good, everyone "hovers" around the dish to get more. Sue got the satisfaction of bringing her son's favorite side dish and her traditional cranberry relish. We all got to witness our tradition of the youngest saying grace, which sometimes accidentally starts off as the Pledge of Allegiance.
I will never again shy away from asking others to contribute. Our collective holiday dinner was a great success. Maybe it also had to do with our agreement not to discuss the recent presidential election. After all, a good hostess knows the golden rule — Do Not Discuss Politics Or Religion — right?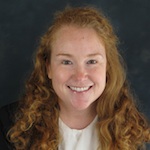 Karen is a wife and mother of three who balances family life with her her full-time employment as an attorney. Life circumstances and raising three children, who are now 16, 13 and 9, helped Karen discover the satisfactions of frugal living. Frugal is not cheap, it's smart, and Karen enjoys the challenge of getting more out of what she's earned. She loves sharing her experiences and tips so that others can see that a quality lifestyle isn't out of reach.