By contributing writer Sara Tetreault.  Sara is a blogger and the creator of the lifestyle blog, Go Gingham Stylishly Frugal Living. She shares about family, food, and all things frugal, fancy, and fun!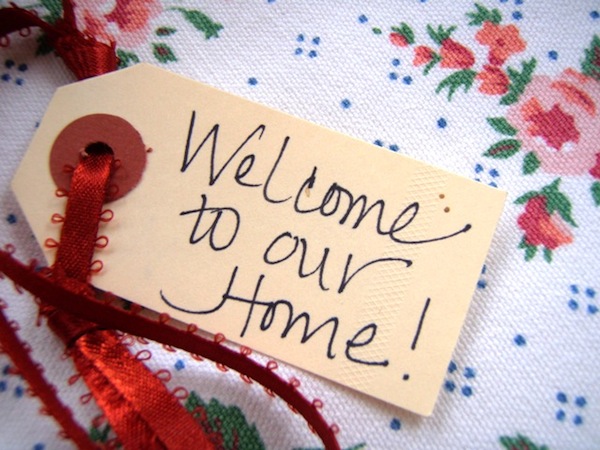 My favorite way to travel affordably is to home swap.  After eight home exchanges in eight years (four in the U.S. and four in Europe), I'm ready to go again!
When you home exchange, you get to stay in a home with a kitchen, live like a local in a non-tourist area, and skip having a bill handed to you upon checkout. Free lodging?  Sign me up!
I also love that while you're traveling, your home is occupied and being cared for during your vacation without having to pay for those services.  Yes — free again!  Home swapping is very frugal, fancy, and fun.  However for most people, it comes with concerns.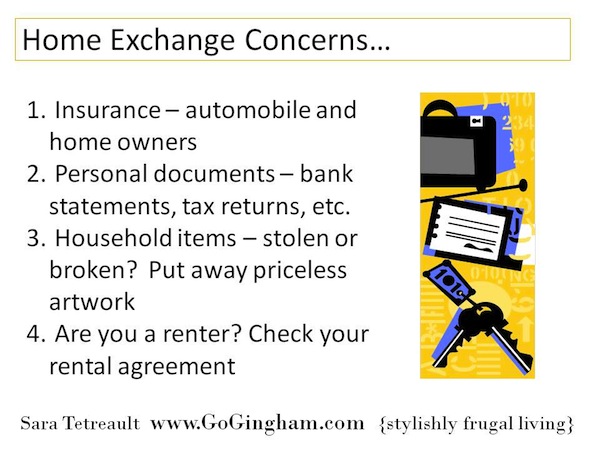 When I first brought up the idea of home swapping to my husband, prior to our first home exchange to Paris, he was pretty much against it. He was worried about the treasured items in our home (luckily, we don't have any) and I had to do some research to convince him that inviting strangers into our home was a good idea.
This is what we've found with home swapping: once you communicate by email and perhaps talk on Skype or the telephone with your home exchange partner, they're no longer strangers — they're more like friends.
And there's yet another benefit to traveling: making new friends.
Strangers Staying in Your House?  No Problem.
Home exchange concerns usually fall into these four categories and here are some suggestions to consider if you're on the fence about this method of travel.
Insurance
Check in with your homeowner's insurance agent (and car insurance agent, if someone will be driving your car).  Our agencies never had a problem, but we did have to pay an additional rider (a fee) for a home exchange in Austria (to use our host's car). Not every country has the same rules, so be prepared for a possible fee.
Renters
If you rent your place, check with the owner of your home or apartment. Your rental agreement should be a good place to start.
Personal documents
If you would have a better vacation knowing that your bank statements, tax returns, and personal letters were under lock and key, then you should lock them up.  We've never had any problems, but most homes we have stayed in have a closet or a drawer or two locked up. It's very common practice.
When my kids were younger, they worried about their toys being played with, so we tucked those away on a shelf.
Precious things
We've never had anything stolen or broken, and our home exchanges have all been positive experiences. However, if you have away priceless artwork and jewelry, you might want to tuck them away.
We once traded homes with a family who had a beautiful home filled with artwork and statues — it would have been impossible for them to put it all away.  We were very careful in their house. If you're like us and don't have any of those items, no need to worry.
How Does Home Exchanging Work?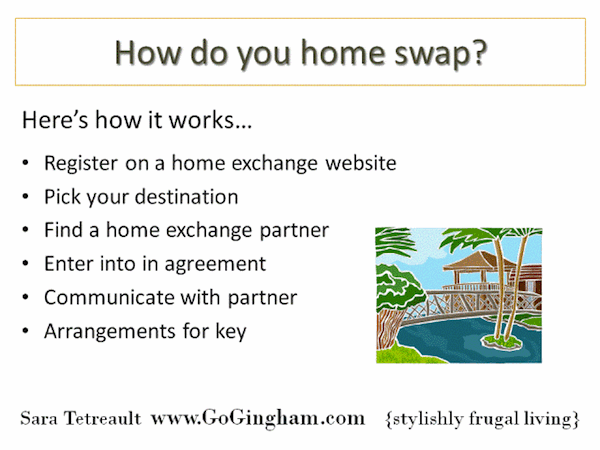 When you sign up for a home exchange website, you can view pictures of other people's homes and they can see the pictures you have uploaded of your home. You'll see what amenities other people have to offer and they can see what you have.
Frequently-Asked Questions
We'd like to try a home swap for the first time, but we don't want to pay for a whole year's membership.  Any ideas?
Many home exchange service providers offer a two-week free trial period. This is a good opportunity to see how a particular website works and how easy it is to contact people.
I like the idea of trying something for two weeks, but we've never had luck arranging a home exchange in that short of a time frame. It's always taken us longer to find someone to trade homes with, and then there's a little dance that goes along with home swapping — timing? pets? number of bedrooms? car swapping or no car? All of these details take agreeing or not agreeing to and there are emails to be exchanged back and forth.
It helps me to keep in mind that for the price of one night in a hotel room, I can pay for a one-year membership to a home exchange service.  And during the membership period, there's no limit to the number of exchanges that can be arranged.
Which home exchange services do you recommend?
I am registered with KNOK and INTERVAC and have traded homes with both services.  KNOK's website offers both better user interface and searching capabilites. It's like a social networking site for homeswappers. InterVac has been around longer so they have more registered users but the search is clunkier.  Both are good options, and if you're serious about home swapping, it helps to have two registrations.
Who would want to visit my city?  
Your city as a destination is desirable to someone and you may never know why or when that may be. People travel all the time for different reasons. I just replied to an email this morning from a couple in Vancouver, British Columbia who need to be in our city over the winter holidays for a family gathering and would like to exchange.
Why would someone pick my house?  It's not cool or unusual.
It's important to remember that home swappers aren't looking for a perfect abode — just a place to rest their feet for a little while.  People don't home swap to stay inside, they home swap to travel and to experience life as a local, and have a free place to stay.
My house is in a perpetual state of remodeling.  Is it OK to list it on a home exchange site?
Unless your home is crumbling into the ground, you're fine. Obviously, if you're house is in the middle of a major re-do and under construction, you're not going to want to leave your home.
I always leave a "House Tricks" manual about our home, in addition to little notes around our house to explain water faucet quirks, doorknobs that fall off easily, and how our stove light is broken and says it's "on" all the time.
Not one house we've ever stayed in has been perfect, and our most recent exchange even had construction on the outside of the building.
Home swapping makes traveling affordable, and it also keeps you out of the well-beaten tourist track.  You get to live like a local and make new friends. Home swapping has allowed our family to travel places we would have never considered or been able to afford if we didn't have a place to stay for free.
Our next trip? Victoria, British Columbia for spring break.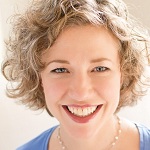 Sara Tetreault writes about living the good life on less with thoughtful spending, smart use of resources, and efficient use of time.  By cooking at home, growing vegetables, sewing, and home swapping, she hopes to inspire you with her frugal, fancy, and fun ways.  Sara keeps a home, one husband, two children, and three backyard chickens.  She loves gingham fabric, which is the name of her blog, Go Gingham Stylishly Frugal Living.  You can follow her on Twitter, became a Fan on Facebook, or see her pins on Pinterest.