By contributing writer Samantha Sand. Samantha and her husband Richard, two IT consultants and parents, write about technology and making digital life easier at Digital Zen.
When my son Brian started kindergarten last year, I couldn't believe how much paper came home from school each day. On top of mail, bills, bank statements, warranties, receipts, and more — managing paper took on a whole new dimension.
I've always been a natural organizer. It's just something I like to do. Over the years I've come to accept that staying on top of things is a continually evolving process. Our lives change; technologies change.
Along the way, I've devised a few strategies to help manage the Paper Parade. I still turn the house upside down looking for things, and run out the door without coupons. But with a few systems and some regular effort, I've been able to keep home life a bit more manageable.
Here are 12 ways that I help tame paper chaos around the house.
1. Stop Paper at the Source
A good place to start is to simply prevent mail from coming in. Slimming down the mailbox is easy, free, and has the added benefit of helping out the environment. Here are four free resources that won't take a lot of time and are worth the trouble. I opted-out early last year, and it made a huge difference.
2.  Never Handle Another Paper Statement
Driven by cost savings, printed statements from your bank, credit card company, and other financial institutions may eventually come with a fee. I turned on paperless statements everywhere they were offered, and then setup a free account at Manilla.com.
This online service collects all my bank statements for me, so I can periodically download them to my computer in batch. Note that while this is a good time saver, it's important to be aware of the risks of sharing login credentials with any third party, and take recommended precautions.
3.  Streamline Handy Documents
OK, I've blocked junk mail and turned on e-statements. Now for the paper that does make it in the door. One word: Evernote. I love this free tool.
Documents that I might reference frequently (business cards, classroom roster) or infrequently, but could become necessary at any time (receipts for large purchases, warranties, serial numbers) are scanned and saved to Evernote with a simple drag and drop. Then I toss the paper.
4.  Only File the Minimum
If it's unlikely I will ever need to reference a document again, why bother with scanning it and then storing, backing up, and protecting all that data? Instead I file away the physical document and once a year, have a little purge party. Pay stubs, invoices, utility bills, insurance records, etc. can all be safely tossed after a year or two.
Tax records need to be kept around for ten years, so for those I have "rolling" folders for each year ending 0 through 9. When 2014 rings in, I'll shred my 2004 tax records from the "Tax Year 4" folder and start over.
4. Protect Sensitive Personal Info
What's a purge party without confetti? I shred anything with my name and address on it.
(Keep the shredder unplugged and out of reach of small fingers.)
5.  Contain Bulky Product Manuals
Previously I had manuals stored near the associated items, like appliances under the kitchen sink and the clock radio in the bedside drawer. But some areas just didn't have good storage options, like the garage. Product manuals are also bulky, and my filing cabinet was full.
I decided to centralize using this clear plastic bin with tracks inside for hanging folders. Expandable file pockets accomodate the manuals as well as CDs, spare parts, accessories, etc.  (Here's the product manuals label.)
I rarely access this bin. But when I'm ready to pass down our baby gear, the manuals and related accessories are all in one place. Last week when we needed to troubleshoot an ailing dishwasher, the manual was dry and easy to find, instead of wet and sticky under the sink.
6.  Safeguard Really Important Stuff
A locked fire safe protects all our important, hard-to-replace documents (birth certificates, marriage license, titles, passports) as well as a binder of photo negatives from the old film days.
7. Don't Overthink Receipts
Ah, what to do with receipts? You only need to hang onto them for a limited time, and who wants to bother with scanning or filing them? Instead I hide them, in a clear plastic bin behind my desktop computer. There's no organization, just toss 'em in. Periodically purge.
8.  Keep Coupons and Passes Ready-to-Go
One day I found myself on the phone trying to tell the babysitter where our museum membership cards were. Top desk drawer, I think? Some were here and some were there. That was the inspiration for this grab-and-go clear zip envelope, which corrals membership cards, free passes, occasional coupons, and the like, and sits ready to serve on top of the fridge. Where hopefully we remember it.
9.  Smooth Out the School-Paper System
For tackling school papers, I find it crucial to process what comes home right away.
"Actionable" papers land in my inbox (permission slips, money due).
Old homework is tossed, when Brian isn't looking.
New homework lands in a drawer in the dining room.
This drawer also stores crayons, scissors, and other basics for homework, as well as coloring books, glue sticks, construction paper and the like so that little sister can do "homework" next to her brother too.
10. Simplify Saving Momentos & Artwork
If something is really cute and I just can't part with it, I have one clear bin for each child. These blue and pink lidded bins from Target do the trick perfectly. I taped their baby announcements to the inside, and store them in a spare closet.
Hospital bracelets and first haircut locks are here, along with art work and handwritten notes. In theory I would have another purge party every summer, and edit down the collections as much as possible. Since that didn't happen last summer, I hope I'll be spurred into action when I can no longer snap the lids shut.
11. Make Daily Reference Material Visually Attractive
In addition to record keeping and memorabilia, your home likely has important papers that you reference daily. I crafted a large bulletin board by cutting a foam insulation board to size, wrapping it in fabric and securing with tape on the back. Then I hung it on the wall using Scotch indoor mounting tape. The 4 x 8 foot board is super lightweight, can be cut to any size and shape, and costs just $12 at Home Depot.
Our kitchen bulletin board is a handy collection of time tracking, reminders, chef's notes, and get-out-the-door helpers.
Forms with upcoming due dates
Recipes I use often
Ziplock baggie of hair bows and ties
Ziplock baggie of pre-printed lunch box notes (lower right out of picture)
Our Mini Dream Board
Little story about the top right corner of our board. Our kids love to go camping, and one day my son Brian pointed out an RV and said "let's get one of those!"
"Oh, would you like that?" I replied. "Maybe one day". What I didn't realize was that my six year old meant let's swing on by the RV store and get one right now. His eyes glazed over as I enumerated things like insuring it, parking it, learning to drive it — not to mention paying for it.
Hence our mini "Dream Board," where we tack magazine tears or print-outs of dreams that inspire and keep us going. (That's me who wants to swim with the dolphins.)
12. Write Babysitter Info Once
Finally, our refrigerator stands in the classic role of kitchen billboard as well. This "babysitter's crib sheet" summarizes family contact and emergency info. Download it here and make your own.
So there you have it.  If this seems like a lot — it is! It's taken me years to pull these systems together.
And I still have a junk drawer in the kitchen with take-out menus, plus a "mystery basket" in my office bookcase. Seriously I do not know what is in that dusty pile. Old love letters..?
You may have noticed a pattern of editing and purging. For me, doing this periodically has been a real key to success. That and of course, a spare closet to store things like the fire safe, kids' momentos, and product manuals.
Thank you for letting me share my ideas with you. If you're feeling inspired, start small. And please share your thoughts — I'd love to hear your tips and ideas for managing paper around the house.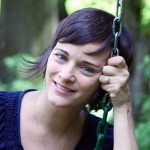 Samantha Sand lives in Delaware with her two kids, two cats, two fish tanks, and one husband.  The pair write about technology and making digital life easier on their blog, Digital Zen.  Sam believes that without continuous effort and intention, slowing down to enjoy family life would not be possible.  She is committed to the challenge, as long as she can keep her iMac.