By contributing writer, Jennifer Roberts. Since becoming a stay-at-home mom, Jennifer Roberts has channeled her architecture and design experience toward fostering a luxurious but affordable home life for her family, friends, and readers. You can find her writing at JenSpends.com and on Facebook.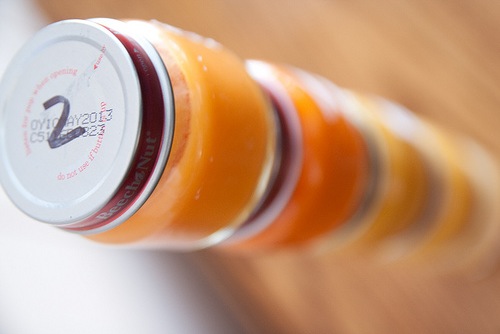 When I first became a mom, I assumed that my kitchen would be filled with little Gerber jars and plastic tubs once my baby was ready for solids. By the time we reached that stage, however, my point of view had changed completely.
I looked at my perfectly healthy baby boy and knew that I wanted only the best food that I could provide to enter his little body, and I wanted to know where it came from. When I read in one of my parenting manuals that I should sample every baby food jar I opened to test for spoilage, I recalled the unappetizing purees from when my youngest brother was a baby.
If I didn't want to taste it, how could I give it to my son? And, besides, I didn't want to deal with the clutter from those little containers.
I decided to learn how to cook and freeze baby food at home, and soon discovered that it was much easier than I ever imagined. When I started out, I wasn't sure if it would be something I could maintain long-term, but I managed to keep my freezer stocked and my son fed — almost exclusively on homemade food.
In fact, it became something of a hobby that I greatly enjoyed, and I love to share what I know with my friends and family.
No Fancy Equipment Needed
I've seen a variety of baby food-making gadgets on the market, and my advice is to skip them all.
Such specialized products are pricey and not designed for making large batches of food all at one time. As a busy mom living on a shoestring budget, I needed to make the best use of my time and money. I used what I already owned as much as possible, and any new things I purchased were useful well beyond baby-food days.
Here's a list of essential equipment for cooking and freezing large batches of baby food, some of which you probably already own:
Pan with steamer insert and lid
Casserole dish or dutch oven with cover
Sharp knives for slicing fruits, veggies and meats
Separate cutting boards for produce and meats
Ice cube trays (I had four that made 16 cubes each)
Food processor or blender
Sieve
Examples of Foods to Make for Baby
Baby food ingredients can range from very basic to rather exotic.
There are lots of great baby food cookbooks that offer interesting combinations intended to deliver the best health benefits and introduce babies to a variety of tastes early in life. But you don't need to be fancy to be healthy — use ingredients that work with your schedule, your budget, and your grocery store's selection.
Fresh produce is wonderful, of course, but frozen is a good choice if your fresh options are limited. My nearest grocery store sells store-brand organic frozen veggies at an affordable price, and they regularly offer coupons to bring the cost down even more. If you can't afford to go all organic, check out the Dirty Dozen List put out by the Environmental Working Group to determine which fruits and veggies are definitely worth the extra cost.
Babies need more fat than grown-ups, so when choosing meat select fattier cuts like chicken or turkey thighs. Even if you're not that great at cooking meat or poultry, the fat content will keep the meat moist and tender, and it will puree beautifully.
Once my son was ready for a bit more texture, I discovered that pasta freezes wonderfully. I boiled up tiny pasta shapes, then froze them in ice cube trays with a bit of pasta water. The pasta was a wonderful mix-in to accompany his other purees.
Only Cook Once a Month
I typically spent a Saturday or Sunday evening (taking advantage of my husband being home) to prepare and freeze enough baby food to last a whole month.
Sometimes I would add an extra cooking day if I wanted to include more variety in our stockpile. I would spend an hour or two prepping, slicing, steaming, pureeing and spooning fresh baby food into ice cube trays for freezing. As your baby grows older he will eat more, so you may find yourself having longer or more frequent cooking days in order to make enough food.
How to Prepare Fruits, Vegetables, and Meats
I steamed most fruits and vegetables to preserve nutrients while softening them enough to puree smoothly. Use a blender or food processor to achieve a smooth consistency, adding a bit of fresh water if needed. Peas and green beans required the extra step of being pushed through a sieve with a metal spoon to remove the fibrous skin pieces (though older babies can probably handle the texture just fine).
I placed meats in a casserole dish with about an inch of water, then covered and baked them in the oven until a thermometer said they were done. I cubed the cooked meat, then processed it in the blender using the remaining broth as needed to achieve a smooth puree.
Then I spooned the purees into ice cube trays, covered them with plastic wrap, and placed in the freezer until solid. Stackable trays require a minimal amount of freezer space, and my side-by-side refrigerator and freezer did the job just fine.
Once frozen, I placed the baby food cubes into freezer bags that I labeled with the type of food and the expiration date (one month from the cooking date, which is the maximum storage time recommended).
Heating and Serving Frozen Baby Food
When it was time to feed my son, I would go to the freezer and select a cube or two or three, depending on his age and appetite. I used a microwave to heat up his food, but if you prefer not to, food can be warmed on the stove. Fruit was great mixed with baby cereals, and his other meals consisted of combinations of veggie, meat, and pasta cubes.
The frozen baby food cubes are very portable if you're heading someplace where you will have a means to warm them (and you can store them in a refrigerator until you're ready). When my mom babysat my son at her house, she found it very convenient to heat up the baby food I sent along with him.
For long trips or other excursions where frozen food just wasn't practical, I would make an exception and purchase ready made food from a store (though my son turned his nose up at it initially).
Keeping Homemade Baby Food Safe
We've fortunately never dealt with food poisoning in our household, but even so I was extra-cautious about food safety when preparing baby food.
I cleaned all of my equipment with hot soapy water before using it. I scrubbed fruits and veggies well to remove dirt and germs, even if they would be peeled. I resisted the urge to pop things into my mouth, and washed my hands often, especially when dealing with meat. You can't be too careful when cooking for a baby!
When it came time to serve the food, I made sure I washed my hands before taking food out of the freezer bags, and I tossed out any uneaten food once my son was finished with his meal.
You should also be aware of the age appropriateness of ingredients before you start cooking — some things may be too acidic or spicy for a baby's developing digestive system.
In order to pinpoint allergic reactions or food sensitivities, it's important to introduce new foods one at a time at first. Give each new food a few days, and if your baby shows no adverse reaction, you're good to go.  Once you've learned which foods your child tolerates well, you can have some fun combining them to make delicious meal.
The best online resource I found for safety tips, instructions, and excellent recipes is Momtastic's Wholesome Baby Food. You may also find helpful books at your local library.
Reaping the Rewards
I was so proud of myself after my first batch of baby food turned out perfectly, and it was rewarding to see how much my son loved it. I was struck by how fresh and delicious it looked — carrots retained their bright orange and peas their bright green.
Best of all, it tasted great; unlike the jarred stuff, I never resisted a little taste test (well, except for bananas, which make me gag). My son's lunch usually smelled tastier than mine!
My time in the kitchen was also a precious opportunity to relax, be alone, and unwind while at the same time accomplishing something important. Once my husband saw how easy it was and how much I enjoyed it, I even caught him making a few batches of baby food himself.
With another baby arriving soon, I'm looking forward to making delicious and healthy baby food again.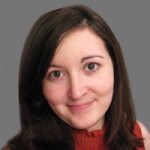 When she isn't busy creating "the good life" for her family, Jennifer Roberts shares her creativity, passion for good affordable design, and love of quality products through her blog, Jen Spends.  Her mission is to help others relax and realize that they can do more than they thought possible with the resources they have. She lives with her English immigrant husband, their fun, precocious son, and assorted pets in central New York.
Photo credits: baby food in freezer, stacked baby jars, frozen peas. Baby in high chair: Jennifer Roberts.