By contributing writer Samantha Sand of Digital Zen.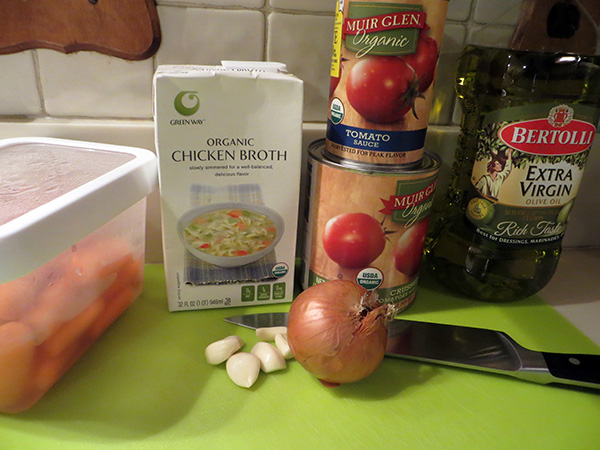 Sometimes it's the little things that keep my day running smoothly. Over the years I've developed a few domestic shortcuts that I find really helpful.
Whether it's eliminating an activity, changing the time of day that I tackle a task, or simply planning ahead — these little twists help smooth out the wrinkles and make life a little more pleasant. I'd like to share them with you.
1. Eliminate a Laundry Chore
Since we're talking about wrinkles, let's start with laundry.
One day, when a basketful of clean sheets was begging to be folded, it suddenly occurred to me — why do it? Luckily there was room in the linen closet, so I shoved the basket in there, and closed the door.
And do you know how many times I have said to myself since – Gee, the sheets on the bed are really wrinkly? Not once.
I gave myself permission to drop a chore I disliked — folding sheets — and nothing saves time like elimination. I still fold the kids' clothes, but pajamas… forget it!
2. Be Your Own Sous-Chef
If you stay home with children, doesn't the day seem like an endless stream of food prep and clean-up? But whether you work inside or outside the house, you're probably beat like me at the end of the day, and there's nothing like an empty kitchen to get me thinking 1-800-PIZZA.
Prepping dinner in the early afternoon (or night before) is my favorite kitchen trick. If I see pots on the stovetop, cutting board out and veggies ready to go, rice measured, cans lined up — it's the boost I need to get to it.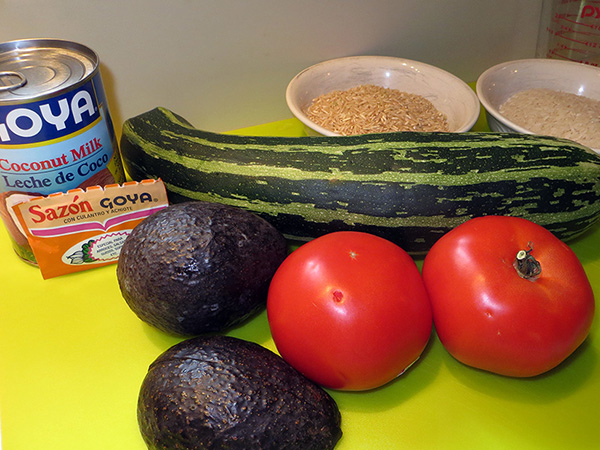 Here are some more ways that I play my own sous-chef:
Peel potatoes, cube, and toss in a pot of water
Peel cloves of garlic
Wash and chop up veggies
Break up broccoli, toss in steamer with some water (even better, set aside and simply add to boiling water for the last few minutes if say, you're having pasta that night)
Combine spices and have ready in little bowl
Wrap tortillas in foil and stash in the toaster oven
Open up cans
The closer I can get dinner to the fun part — the mix, toss, flip, flame stuff you see on cooking shows — the less appealing the take-out option.
3. Use Flavor Boosters to Liven Up Simple Foods
The less ingredients, the quicker the dish. But sometimes too simple means bland and boring.
Here are some quick additions that I use to spice up weeknight meals into something my whole family loves.
Coconut milk:  Instead of plain water to cook rice, I use one can of coconut milk and top off with water as needed.
Sazón spice packet by Goya (see pic above):  Add it to a can of black beans, and simply heat them up.
Chipotle chiles in adobo sauce:  Not too spicy for kids, I promise. I use a couple spoonfuls of this condiment to marinate chicken for an hour — or only five minutes — and stash the rest in the freezer until next time.
Tomatoes, avocados, mangoes, pineapples:  Diced vegetables or tropical fruits that you already have on hand are great add-ins to staples like steamed broccoli or grilled zucchini.
This Le Creuset enameled cast iron pot is heavy and très expensive, but it makes perfect rice every time, and my grandchildren will be using it long after I'm gone. Lacking the long handle of the usual pot, I can forget tupperware and instead toss in all the leftovers — beans, chicken, veggies, all of it — on top of the rice and stash in the fridge.
4. Love Those One-Pot Recipes
Everyone has that go-to recipe. You know, the one you can make from memory and with stuff you always have in the pantry. For me it's spaghetti and meatballs, but there are always so many pots and pans to clean afterwards.
Then I discovered a Rachael Ray recipe that turns multiple pots and colanders into one. She calls it Spaghetti and Meatball Stoup, but I call it genius.
By adding a box of chicken stock to the tomato, the pasta and meatballs can cook right in the sauce. The only fresh ingredients are basil and parsley, which in summer I keep on hand in a little container garden. In winter, I consider them optional or use dried.
This is the only thirty-minute meal that I can actually get done in under 30!
Spaghetti and Meatball Stoup
adapted from Rachel Ray
2 tablespoons extra virgin olive oil (EVOO)
1 onion, chopped
3 cloves garlic, chopped
3-4 carrots, chopped
1 bay leaf, fresh or dried
1 quart chicken stock
1 28 oz can crushed tomatoes
1 15 oz can tomato sauce
1 1/4 – 1 1/2 pounds ground beef sirloin
A generous handful of flat leaf parsley, finely chopped
1 egg
1/2 cup fine Italian breadcrumbs
1/2 cup grated Parmigiano Reggiano cheese (a generous handful), plus more to pass around the table
Salt and freshly ground pepper
1 pound spaghetti, broken into thirds
1 cup basil leaves, shredded
Heat a large soup pot over medium-high heat. Add the EVOO, onion, garlic, carrots, and bay leaf and sauté five minutes or until softened. Add the chicken stock, crushed tomatoes and tomato sauce. Cover pot and bring to a boil.
In a large bowl, using a fork, combine the ground beef, parsley, egg, bread crumbs, and cheese; season with salt and pepper. Roll the mixture into balls the size of a large walnut and drop into the soup pot. Simmer for 10 minutes.
Stir the broken spaghetti into the pot and cook, stirring frequently, until al dente, about 12 minutes. Turn off the heat, stir in the basil and season with salt and pepper to taste. Serve, passing more cheese around the table.
5. Tell Clutter to Hit the Road
Nothing drains my energy like clutter, and part of what contributes to my clutter are things waiting around to be returned to some one or some place.
When I initially tackled this problem, I tried to corral wayward items in a bin in the garage, but for me it wasn't enough. The stuff just stayed put in the dusty bin.
Now I put them right there on the passenger side seat in my car. It doesn't matter how long it will be until I see the recipient, because the seat is usually empty anyway. Currently I have library books, a reusable cup left behind by my sister, and an over-the-counter sleep aid that a friend recommended, but made Rich queasy.
I know they'll find their way home sooner rather than later if they're already out of the door.
6. Stop Dirt Before It Comes In
In many parts of the world, shoes don't come into the house. About two years ago we also adopted the practice of leaving shoes at the door, and happily our floors really do stay cleaner longer.
My husband, Rich, installed heavy-duty two-pronged hooks from Home Depot in the garage to fit four milk crates from Target. I love how dirt and leaves and sand stay outside, while the broom stays in the closet. (Notice, though, there aren't any men's shoes here. Hmmm.)
7. Fill an Empty Pocket of Time with Pampering
I keep a little stash of nail supplies in the passenger side pocket of my husband's car. Whenever I find myself sitting there with nothing else to do, I get to relax, file my nails, and moisturize.
Reading would make me carsick, and this habit gives me a chance to take care of me for a few minutes. How often does that happen? (p.s. Husband complains about "nail dust."  Boo hoo.)
8. Tackle Thank You Notes in a New Way
With apologies to Emily Post, I've adopted some social etiquette shortcuts with the help of technology. Recently we celebrated my son, Brian's, seventh birthday. I tried to record each gift and who gave it to him, but amongst the frenzy of unwrapping – paper and ribbons everywhere, shouting and squealing — it was just impossible.
Instead of having him laboriously write out individual thank you notes, followed by stuffing, addressing, and stamping, I created this adorable photo collage and sent it to all our guests via email. I used email to send invitations (Evite.com), so why not?
Here's how I did it:
Printed out the gift coloring page with the words "Thank You!" from TwistyNoodle.com
Asked my son to color it and sign "Love, Brian"
Took a picture of the kids outside with birthday boy holding his thank-you note
Used the free online tool PicMonkey.com to create the collage
Included a link to more photos of the party where guests could download favorites of their own children. (Security note: if you share photos online, turn off geo-tagging on your camera. This prevents a stranger from associating faces with places.)
PicMonkey is great, by the way — upload a few photos, pick a layout, and drag-n-drop until you're satisfied. It took longer for Brian to color the page than it did for me to create the collage. You don't even have to create an account or login. And it's just really fun.
The Short Side of Shortcuts
Corner-cutting usually brings along some pros and cons. I deliberated, for example, about the birthday thank-you. Is an email thank-you for a child's birthday acceptable?
My mom was a stickler about thank you notes, and today I appreciate that lesson. In the end I decided that sending party pictures and a photo thank-you would make our guests just as happy as a hand-written note. When Brian is older and can sit down and write notes without my help, he'll be doing it.
I think we could all use a break sometimes from having to do things perfectly, or the "right way."  Times and technology, too, change — and along with them social expectations.
What Works for You?
Cutting corners, shifting activities, preventing and dropping chores, doubling up — these are the little twists that help smooth out the wrinkles in my day. I enjoy more time and energy for what I find satisfying and fun.
Now I'd love to hear about your shortcuts.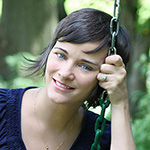 Samantha Sand lives in Delaware with her two kids, two cats, two fish tanks, and one husband.  The pair write about technology and making digital life easier on their blog, Digital Zen.  Sam believes that without continuous effort and intention, slowing down to enjoy family life would not be possible.  She is committed to the challenge, as long as she can keep her iMac.