By contributing writer Rayna St. Pierre.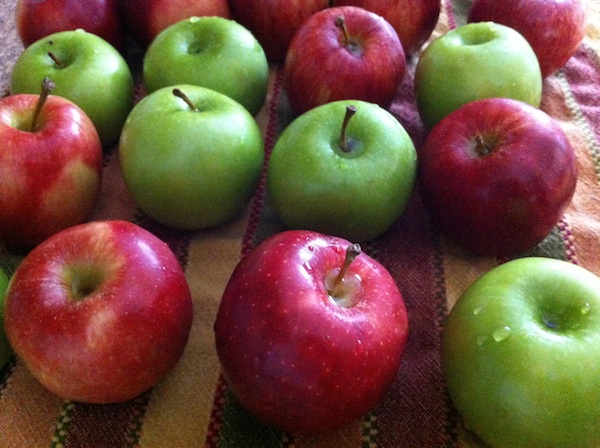 True confession: I've always loved cleaning and organizing. My family well remembers me cleaning the tiny windows on the French doors leading to the playroom each Christmas Eve: Santa just couldn't come into a home that wasn't made presentable for his arrival.
Well into adulthood, I habitually organized and reorganized my books, sometimes by size, sometimes by color, often by content, and once alphabetically by author.
Somewhat older, my enthusiasm has yet to wane; few things excite me as much as the prospect of organizing an over-filled drawer.
Now pregnant with our third child, I've found my preternatural "nesting instinct" has gone into overdrive. That the inevitable third-trimester fatigue has yet to settle in (but is most certainly on the horizon) has only served to motivate me more.
Rest? I can rest when I'm nursing.
But pregnancy is merely an excuse. The truth is, I love to clean.
Why pay for a gym membership when I can haul a vacuum cleaner up and down stairs? Although a major proponent of talk therapy — there's nothing like paying an objective third-party to sit and listen to your deep-seated issues — a half hour spent cleaning out my spice rack also does the job.
And nothing deters me from HomeGoods as much as a clean and uncluttered home. All the money saved on Ikat pillows this summer is going toward some prenatal massage this fall.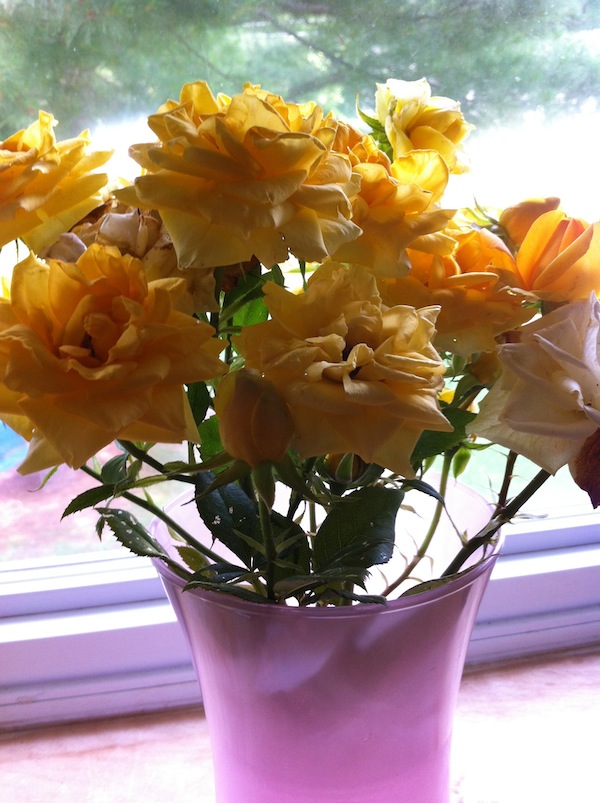 Recently, I made a Bare Bones Daily Cleaning List for my husband in preparation for the new baby's arrival. To his credit, he neither balked nor laughed.
When I asked my friend Monica if it would be helpful for me to include estimated times by each task, she looked at me and said, "Now that would be pushing it, don't you think?" I didn't think so, but after a vigorous talking-down and some contemplation on my part, I decided to leave the list as it was.
In Martha Stewart's Homekeeping Handbook, a reference manual I initially tried to read like a novel, she lists Six Things To Do Every Day:
Make The Bed
Manage Clutter
Sort The Mail
Clean As You Cook
Wipe Up Spills While They're Fresh
Sweep The Kitchen Floor
Not that one would ever — ever — compare our households, but here is my list of Must Dos (the one I posted for my tolerant husband):
Make the beds.
Do one load of laundry.
Sort the mail.
Load and run the dishwasher.
Make lunches and dinner.
Wipe down the dining room table and chairs.
Sweep the kitchen and dining room.
Take out the trash and recycling.
Do a quick tidy-up at night (here I included "vacuum the stairs, please" because there aren't very many and they get the most traffic).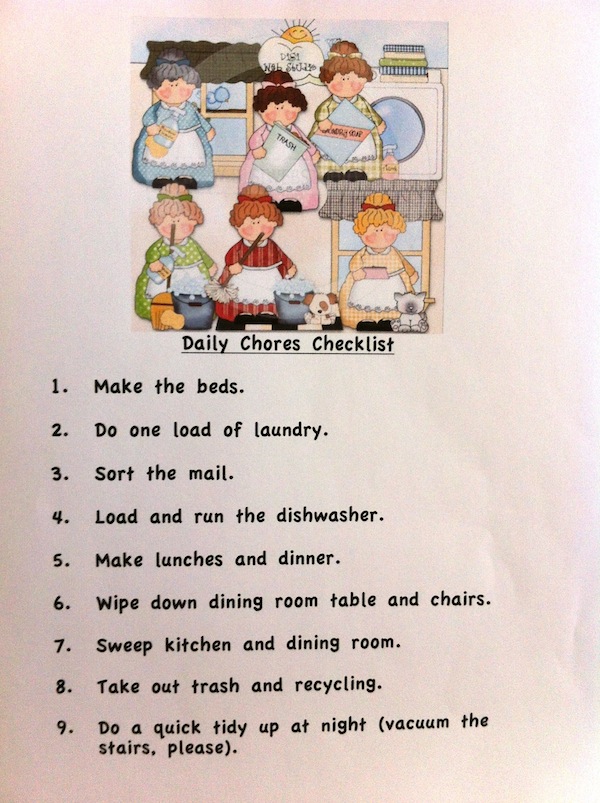 That seems like a lot, but much of it gets done automatically. The dishwasher fills up, and so I run it. The family starts looking peckish, and I head into the kitchen. The trash bin looks fit to burst, and so I go to empty it (or holler for someone to do it for me, especially in the winter).
Because I like to think of myself as an over-achiever (whether that meshes with reality is questionable), I also have a weekly deep-cleaning chore list.
You should know that I'm less strict about keeping to this one, but I often rely on it when I:
need a mental boost
am anticipating company
feel the need to work off a few too many after-lunch desserts, which seems to happen more frequently the older and happier I get.
Monday: whole house vacuuming
Tuesday: mirrors and windows
Wednesday: toilets and tubs
Thursday: mopping the floors
Friday: cabinets, appliances, blinds and ceiling fans
Saturday: the fish tank and bedsheets
One would think that I do nothing but clean, but alas, ours is a bi-level, not a manse.
While a spread in Architectural Digest will never be forthcoming, I relish the kisses from my husband and children who appreciate my efforts.
I can't recommend my home cleaning method enough. It's an investment of time that literally pays off. Keeping everything clean and clutter-free means I'm not tempted to spend on discount home décor to spruce up a messy space. It is also the secret to my "fast metabolism," and it can be yours too! (Just let's not tell anyone at the gym.)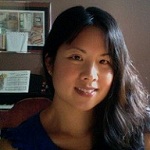 Rayna St. Pierre is a wife, mother, veteran Spanish teacher (ten years in New York's public high schools) and writer. A Korean adoptee and adoptive parent, she is a vocal advocate for international adoption. She writes about family, faith, and other much less serious stuff on her personal blog, Bright Copper Kettles.
All photos: Rayna St. Pierre