By contributing writer Sara Tetreault of Go Gingham Stylishly Frugal Living.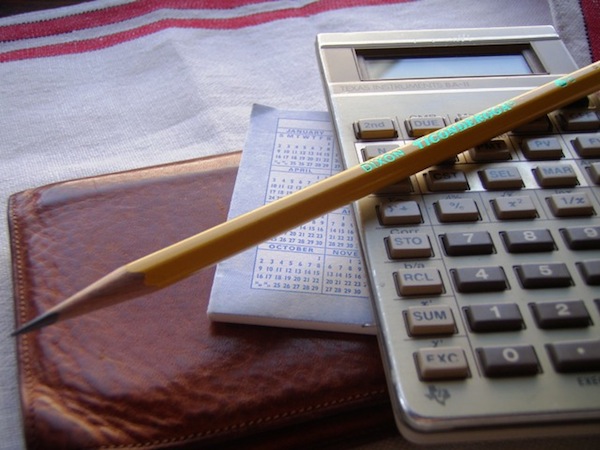 This is part 2 in a series of 3 about budgeting and how to track expenses by Sara Tetreault.
After you have spent a few months tracking your spending, or you have collected bank information for the past few months, you probably have a pretty good idea of where your money is going. (After three months, you can multiply your numbers by four to get a estimate of a whole year of income and expenses.)
1. Getting a Visual Picture
As I mentioned in part 1, my husband and I like to keep it simple and dump our expenses into only five big buckets (nicknamed FAITH):
F – Food
A – Apparel (clothing for yourself and your home)
I – Insurance
T – Transportation
H – Housing (and utilities)
Once we got a monthly average of how much was going out in each category per month, we began to question the "reasonableness" of each category. We asked ourselves, for example –- does it make sense for a family of four to spend $800 a month on food and going out to dinner?
Make sure you take some time to look at the details behind the categories to really understand what makes them up.
For example, we like to to entertain and eat really well, so we spend more on food than maybe some other people, but less on restaurants. Even though we don't go out a lot, we share wonderful meals (and the cost of entertaining) thanks to the gourmet dinner club that we started in our neighborhood.
How about the H (or housing) in your FAITH categories? (This is the category where utilities go.) Which are your biggest utility costs? Electricity, gas, or water? Are these reasonable amounts for your family?
After our mortgage payment, our largest expense with owning a house is our water bill. After checking with other families in our neighborhood, we realized our water bill was more expensive than most. With teenagers who like to linger in the shower, we decided to install a shower head that can be turned off while soaping up and then turned on and used only while rinsing.  This has been easy solution to cut down on our water consumption.
The next largest expense was our electric bill.  To curtail our electriciy costs (and make our clothes last longer), we intalled laundry lines in our basement to hang our laundry all year long and not just in the summer months.
Does your "Other" category contain a lot of things that kind of just happen versus deliberate choices of what you'd like to be doing or saving. Can you afford your lifestyle?
Our "Other" category includes items that my husband and I decided were important to us in raising our kids. Both of our kids take piano lessons and to pay for this, we both drive older cars.  I drive a 20-year-old car and whenever our kids ask when we're getting a new one, I remind them that their piano lessons cost as much as a new car payment. I would also add that, with teenage drivers, I'm thankful that I don't have a new car!
2. What's Really Important to YOU?
Once you have put together your total monthly spending by categories, you are ready for the fun part –- deciding what's important to you and how you want your life to look in five, ten, or thirty years.  What are your hopes and dreams?  What are the few big things that really matter to you and your family?
Really think about what your objectives and goals are. Do you want to stop living from paycheck to paycheck? Do you want to maintain your same standard of living, even when you are no longer working? Do you want to save for a trip?  What about sending your kids to college?  All of these questions will give you the hook on which to hang your priorities.
One big thing that I had to remember in the beginning was: there is no possible way I can do everything –- buy everything I want, travel all I want, provide everything for my kids that I want (not to mention what they want), or save as much as I want.
Realizing that there will never be enough time or money to do all these things to the level I'd like helped me get comfortable with the concept of prioritizing.
3.  Making the "Now" Agree with What You Want in the Future
In my next and final post in this series, I'll be sharing some of the ways that my family and I cut spending so we can do all the things we want to do. Living frugally has given us more choices and time. We've have been able to travel by home swapping, entertain while eating healthy delicious foods, spend time with our kids, and feel good about paying for our kids' education — and our own golden years. We can all live richly, but we have to choose what those areas will be.
The idea is to start out small and don't shoot for the moon –- yet. Go with something that you can start and finish AND have a victory with!  Your goal could be as simple as: I would like to create $100 per month in savings by reducing the F (food) and A (apparel) spending categories of FAITH.
It's totally doable, and once I got started, I realized that I could create a life that is at once frugal, fancy and fun — and you can too.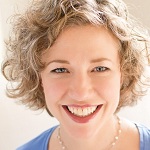 Sara Tetreault writes about living the good life on less with thoughtful spending, smart use of resources, and efficient use of time.  By cooking at home, growing vegetables, sewing, and home swapping, she hopes to inspire you with her frugal, fancy, and fun ways.  Sara keeps a home, one husband, two children, and three backyard chickens.  She loves gingham fabric, which is the name of her blog, Go Gingham Stylishly Frugal Living.  You can follow her on Twitter, became a Fan on Facebook, or see her pins on Pinterest.