By contributing writer Samantha Sand of Digital Zen.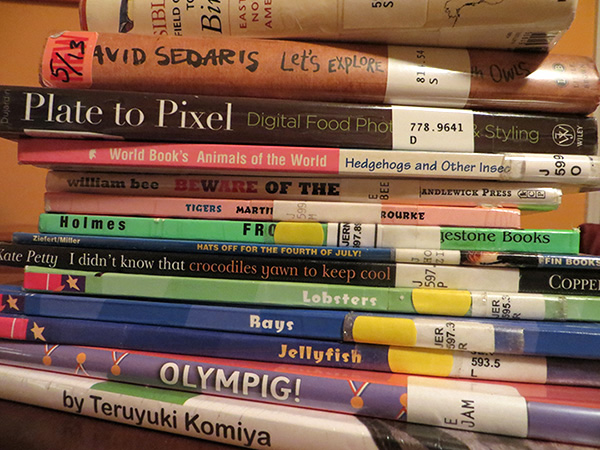 As an IT consultant and tech writer, I can't believe how long it took me to try out my local library's online catalog. Talk about making life easier! (More on that later.)  I've also been getting the hang of e-books and reading apps for my iPad.
I'm sure many of you are ahead of the curve here, but in this post I'd like to share with you how I have been reading more while also enjoying more ease, time, and even money.
e-Readers and Tablets: Going Digital
Much of what I read now is content on the Internet; shorter-form blogs and news articles as opposed to novels. With a wi-fi enabled Nook, Kindle, tablet, or laptop, this means one thing to me: more reading on the go or from the comfort of a cozy bed, instead of tethered to a desktop computer.
Being an Amazon Prime member, I can also sample the beginning of any Kindle edition book for free, even though I don't own a Kindle. There are free Kindle reading apps for just about any device you can name.
Currently I'm sampling Peaceful Parent, Happy Kids by Dr. Laura Markham. From what I can see it's terrific, and when I have time for my next book, I'll be ready to purchase it.
If you're an Amazon Prime member and you do own a Kindle, you can borrow from their Prime Lending Library, which offers thousands of books to borrow for free, as frequently as a book a month, with no due dates.
Borrowing Free e-Books from Your Library
OverDrive supplies e-books, audiobooks and more to 22,000 libraries worldwide, so there's a good chance your library has partnered with this company.
Just about any tablet, e-reader, or even your desktop PC or Mac can be set up to borrow content from Overdrive, and instructions on their help page were easy to follow.
Here's what I needed to get started borrowing e-books from my local library:
Member ID of a participating library
Adobe ID; free (file format for iOS is Adobe eBooks)
Each library sets their own particular rules. Mine lets members borrow a title for 14 days, and up to four titles at a time. I just borrowed this one, by Gretchen Rubin.
How to Save Headlines for Later
Let's turn from e-books to all that juicy Internet content. While working at my desktop during the day, I often stumble on interesting headlines but don't have the time to read them right away.
With one click in my browser toolbar, I can add a promising article to my Pocket queue. This free site lets me save and tag headlines for easier browsing later. My tags include things like parenting, digital, finance, and home.
Then later in the evening when I have quiet time to read, I access my queue with the free Pocket app for iPad.
Huge bonus — the articles are automatically stripped down to the essential. This means no sidebars, footers, ads, or other distractions.
Keeping Track of Blogs I Love
Pocket is great for quickly saving content you stumble upon throughout the day. Bloglovin, on the other hand, is my app of choice for following the content that is consistently interesting and relevant to me.
I subscribe to several blogs and RSS feeds on Bloglovin. Then, I unsubscribed from email delivery for 99% of them. No more emails! When I'm available to consume content, I use the Bloglovin app on my iPad to catch up.
Here again you can tag your subscriptions by areas of interest, which I think is great. Filter by "parenting" for example, and I get the most current posts from my favorite parenting blogs or feeds in one spot, and nothing older than 21 days.
There are few more tips for using Bloglovin, which I wrote about recently on Digital Zen.
Triple Win with the Online Library Catalog
And now just in case you haven't tried reserving real-life library books online (that was me a few months ago), let me tell you how awesome it is.
I put a long list of books on hold, requesting delivery to my "home" library. A few days later I received an email letting me know they were ready to be picked up. On our next visit, the stack was waiting for me and I could sit down and enjoy a little reading time while the kids played puzzles, instead of searching for the titles myself.
Many of the books were scattered across a network of 13 different libraries in our county. I never would have done all that running around, so I really appreciate the free delivery service.
It's not just twelve more library collections that I now have access to. Since my kids never want to go upstairs where the "boring" books are, I realized hadn't once borrowed a grown-up book!
Now I can, and recently finished the first leisure book I've read in years. (The latest by David Sedaris; you can't go wrong with any of his books especially if you like sidesplitting laughs.)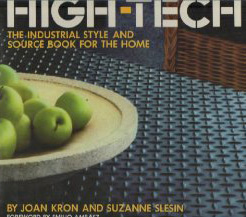 Now for the money saver. I had a long list of expensive coffee table and design and craft books on my Amazon wish list. With the entire county's inventory now available, I was able to borrow almost all of them from the library for a little sneak preview.
Then I returned them, very glad I didn't spend the money as none of them made the cut – like this $53 industrial style source.
Saving time, money, and finally reading something for me – a triple win in my book.
The Techie Is In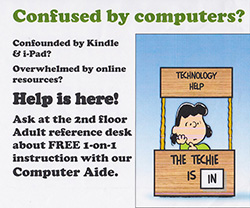 Finally, if you've got a new tablet or e-reader but you're having trouble unlocking its secrets, you are not alone. Look how long it took me to adopt these new technologies!
One place you can look for tech support is back again at your local library. This valuable free resource could be available right in your community.
Digital life is constantly changing, so I like to think of it as a journey, not a destination. Enjoy the ride, and please feel free to ask me questions in the comments here. I'll try to help if I can!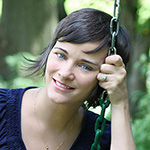 Samantha Sand lives in Delaware with her two kids, two cats, two fish tanks, and one husband.  The pair write about technology and making digital life easier on their blog, Digital Zen.  Sam believes that without continuous effort and intention, slowing down to enjoy family life would not be possible.  She is committed to the challenge, as long as she can keep her iMac.