By contributing writer, Karen Falter.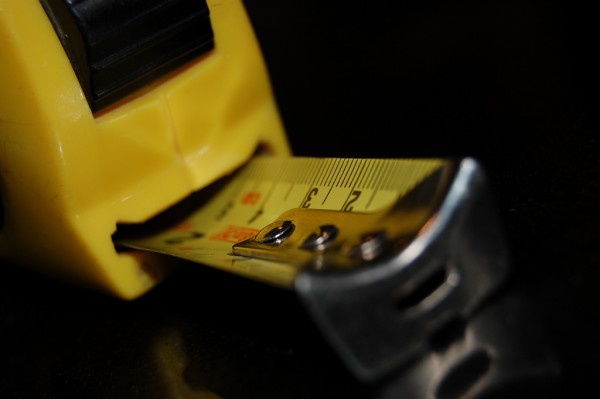 I am a hockey mom. I am a hockey wife. I am a hockey player. Yes, everyone in our family plays hockey except for our oldest who takes to the river instead of the ice as a coxswain for her rowing team.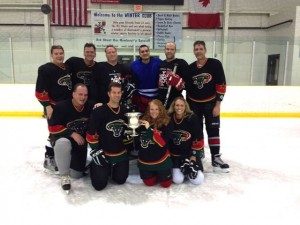 Hockey is a wondrous sport that calls for speed, power, finesse, agility and, OK, fighting. I could do without the fighting.
This exciting sport also requires equipment. Lots of equipment.
First and foremost you need skates. But hockey also requires shin pads, knee pads, padded hockey pants, elbow pads, chest pads, and helmets — all to protect your most valuable assets so that when you fall you are "bubble wrapped."  Not to forget the stick and hockey bag to hold all of this stuff.
It's a lot of stuff. It's a lot of very bulky stuff. This stuff takes up a lot of space in my car and house. Not just when it's all stuffed into the bag, but also when it's strewn about the house "airing out" until it can be stuffed back into the bag.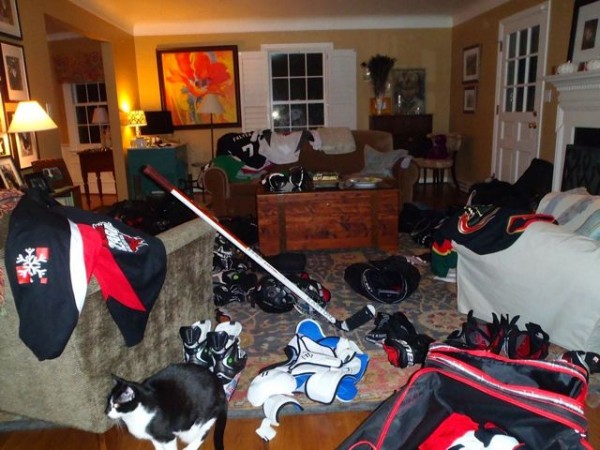 During hockey season my living room became the default locker room. Four hockey bags laid open on the floor, jerseys draped over my velvet couch, pads strewn across my favorite Pottery Barn rug, and socks laid on the baby grand piano and bench.
Considering the fact that hockey season runs from September until April, I only had a usable living room for five months out of the year. Hmmmm, how can I fix this? I thought. I need a locker room. I need a mud room. I need a usable LIVING room. I need to come up with an inexpensive solution.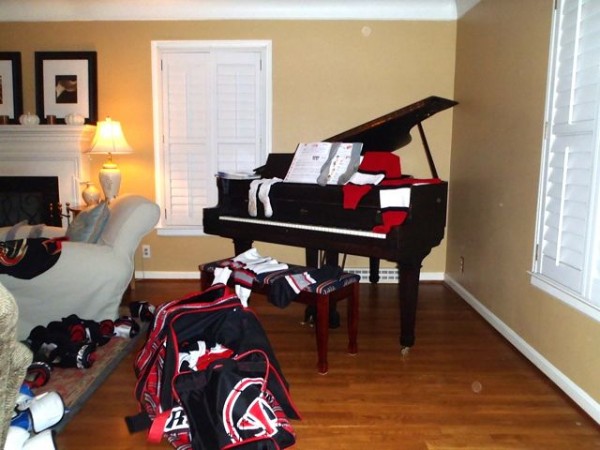 The garage and basement were not viable options due to location and needing to store the cars during winter. An addition to the house wasn't an affordable or practical option either. Where can I get just a small, accessible space to put all this stuff?
I pondered and pondered sipping coffee on my screened-in-porch. My screened-in-porch. MY SCREENED-IN-PORCH! My screened-in-porch that only gets used from April until October — exactly the months when hockey season is out. My screened-in-porch that is about 200 square feet of unused space in the winter months. Bingo!
Now that I located the space for my locker room, I had to figure out how to make it work. In Cincinnati during the winter months, rain and snow blow in through the screens during storms. And anyone who plays hockey knows it's no fun to put on freezing gear.
I searched the internet for ways to enclose a screened-in-porch and finally found my solution: roll-up vinyl porch covers. I called Porch Protections Systems, Inc., a company based in Delaware, where roll-up vinyl porch covers are made of clear marine grade vinyl and are custom fitted to your porch. The staff was very helpful and informed, and I loved that the panels are made in the U.S.
We ended up buying the porch covers. The vinyl panels easily roll up and down so that a screened porch can be transformed into a protected porch in minutes. Sun shining through the vinyl keeps the room a comfortable temperature in the winter.
I love that stinky equipment is confined to our "locker room," and my porch is protected all year round during bad weather.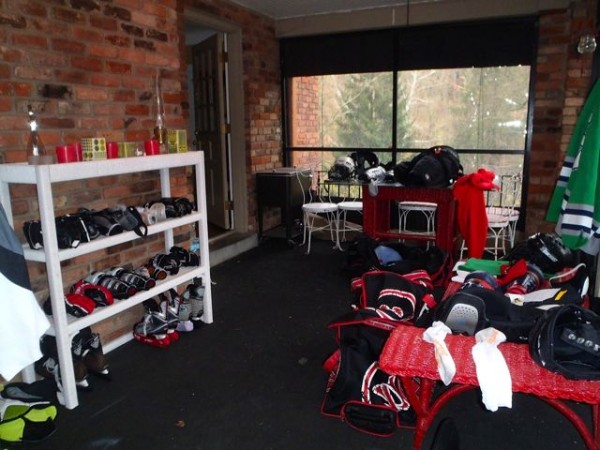 Plus I have my living room back!  What's more, we put in a small space heater, which has allowed us to use the room for other purposes during the winter months, including entertaining and holiday gatherings.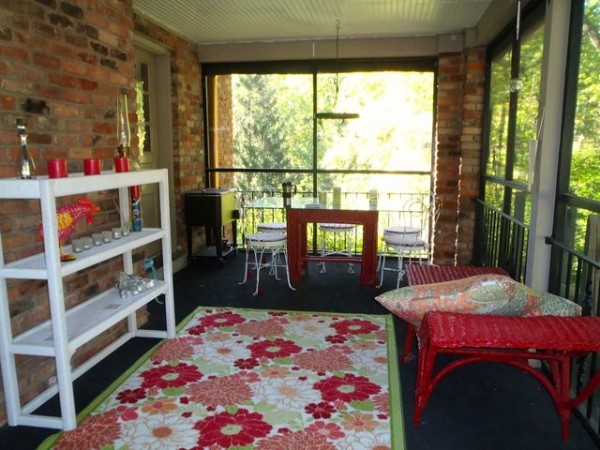 For $2,000 we added 200 square feet to our house, transforming a two-season room into an all-season room. Gaining space and saving money are good things — even if you are not a big-equipment sports mom.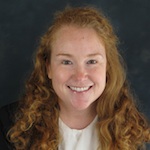 Karen is a wife and mother of three who balances family life with her her full-time employment as an attorney. Life circumstances and raising three children, who are now 16, 13 and 9, helped Karen discover the satisfactions of frugal living. Frugal is not cheap, it's smart, and Karen enjoys the challenge of getting more out of what she's earned. She loves sharing her experiences and tips so that others can see that a quality lifestyle isn't out of reach.
Photo credits: builder's measuring tape. All others: Karen Falter.