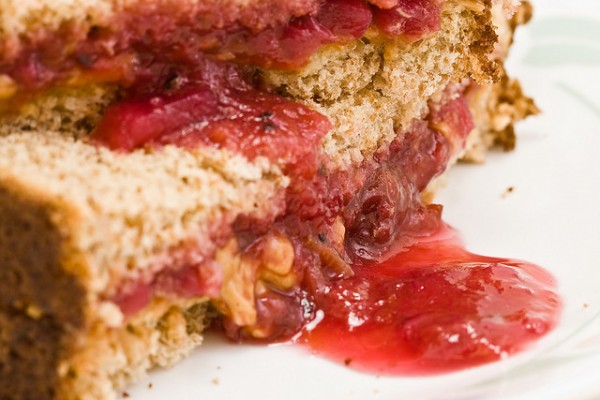 My friend Eve in Virginia occasionally sends me little tips about how she saves time and money. When she found out that we were having another baby, she offered to write one up for me.
Making school lunches can get old, I agree. I will sometimes assemble lunches while I'm cooking dinner the night before, and I love those mornings when I have one less thing to do. Here is what Eve does to simplify:
---
M aking school lunches just seems to be one more chore in the kitchen. I decided there had to been a more efficient way. So, I came up with the sandwich line-up.
I take a loaf of sliced bread and turn it into PB&Js. In 11 minutes, I can convert an entire loaf into sandwiches, wrap them, clean up, and stick them in the freezer.
It's an easy concept. The frozen sandwiches thaw long before lunch time and help keep the rest of the lunch cool. I even turn the heels inside to use the whole loaf.
Pre-cut sheets of wax paper from Costco saves wrapping time, and I save resources by putting all the sandwiches back in the original bread bag before popping in the freezer.
Then each morning, all I have to do is grab a couple of sandwiches from the freezer. It doesn't take much to finish assembling a school-day lunch, so my mornings are much less harried.
When I have ready-made lunch food, I don't have to rely on store-bought foods or cafeteria lunches, so it saves me money too.
As we settle into another school year, I hope this trick might help you too.
---
Thanks, Eve! Last year I talked about how I simplify school lunches. Would anyone else like to share their tips too in the comments?