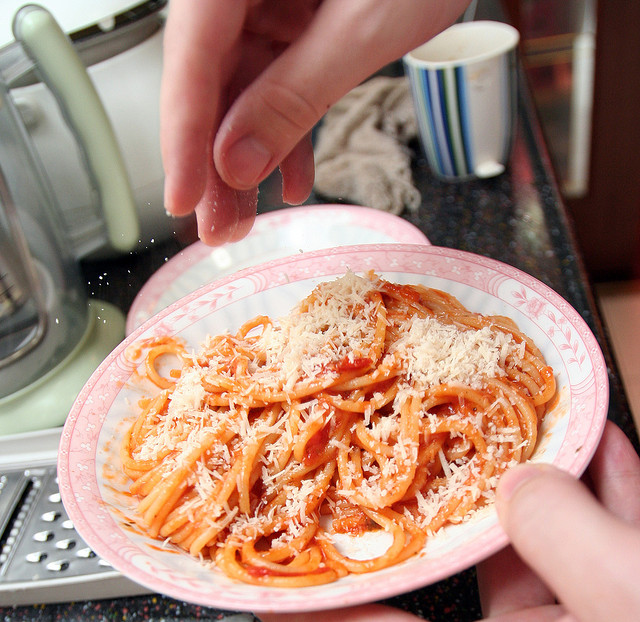 Impress your family with a delicious home-made meal, with ridiculously little effort on your part. Each of these pasta sauces requires no chopping, has no more than three ingredients and costs less than $1.25 per serving.
Not only are they easy, they are authentic.  My husband is Italian, and these recipes have also been tried by his friends and family and given the tummy rub of approval.
Tomato Sauce with Onion and Butter
(adapted from Marcella Hazan's Essentials of Italian Cooking)
This recipe wins first place for its combination of ease and yumminess.  For the most intense and sweet tomato taste, canned whole tomatoes in juice work best (crushed by hand or in a food processor).  But in the interest of "fast," Redpack crushed tomatoes are a good substitute.
Serves 4-6
1 28 oz. can crushed tomatoes (Redpack — see "Canned Tomatoes" below)
6 tablespoons butter
1 onion, peeled and cut in half
salt
Cook all ingredients in an uncovered saucepan at a very slow simmer for about 45 minutes, or until the fat floats free from the tomato.  Stir from time to time.  Taste and correct for salt.  Discard the onion before tossing the sauce with 1 lb. cooked pasta.
Serve with grated parmesan.
Cost:  $5.30 or $1.06 per serving.
Tuna Pasta
Keep pasta and tuna on hand and you'll never have to order pizza again.  We like to use spaghetti with this recipe, but any shape pasta works.
Serves 4-6
2 5-oz. cans of tuna in olive oil (Genova, Cento, or Progresso brand — see below)
2 tablespoons capers (optional)
Reserve a cup of pasta cooking water before draining the pasta.  Toss the tuna (with its oil) and capers with 1 lb. cooked pasta.  If the pasta seems dry, add a bit of the pasta water.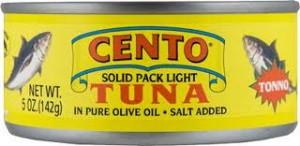 A note on the tuna:  In comparison to the rich, savory tuna you find in Europe, canned tuna in the U.S. tastes washed out and woody.  It pays to use Italian-style tuna packed in olive oil like Genova Tonno (by Chicken of the Sea), Cento, or Progresso tuna in olive oil.  If you can't find any of these brands at your supermarket, you can usually buy them by the case on Amazon.
Cost:  $4.97 or $1.24 per serving.
True Fettuccine Alfredo
(adapted from The Splendid Table by Lynn Rossetto Kasper and Sally Swift)
This recipe wins the prize for its mild and rich* ingredients:  have you ever heard a kid say she didn't like white pasta?
Serves 4
6 tablespoons butter, melted
1 cup heavy whipping cream
1 1/2 cups fresh-grated parmesan cheese
salt and fresh-ground pepper
Boil 1 lb. of fettuccine in salted water until pasta is slightly undercooked.  Drain quickly and return to the pot.  Turn heat to medium.  Add the butter and the cream and toss (2-3 minutes) to permeate the noodles.  There should be very little cream left in the pan.
Sprinkle in the cheese, mix throughly, and season with salt and pepper.  Serve immediately.
Cost: $5.79 or $1.16 per serving.
What Brand of Canned Tomatoes Tastes Best?
Cooks Illustrated, a cooking magazine and website that does not accept advertisements, does some excellent unbiased taste tests and equipment reviews.  For tomato sauces they recommend tomatoes packed in juice not puree, which is long-cooked and ruins the bright, fresh taste of the uncooked tomatoes.  While some canned tomatoes can have a bitter, metallic taste, they liked Muir Glen, S&W, and Redpack diced tomatoes, and Hunt's whole tomatoes.
Because the recipe above should have more of a velvety texture, I listed Cook's recommendation for crushed tomatoes — even though it includes puree — because the focus here is on fast.  Crushing whole or diced tomatoes in a food processor would mean an extra step, but if you can manage, the pure and sweet tomato taste is worth it.
Can You Save Money on Pasta?
Yes!  Who would have thought that American pasta would have won a Cooks Illustrated blind taste test?  Good news for budget-minded cooks:  the lower-cost Ronzoni brand won over tasters for its firm texture and its "nutty," "buttery," "classic" flavor and Mueller's for it's firm texture and "clean" and "wheaty" flavor.
You also can't go wrong with the Italian Barilla (but it doesn't make sense to pay for De Cecco and other pricey imported brands).
How Much Water and How Much Salt?
Pasta needs a lot of water around it or else the starches released during cooking will make it stick together and the water will become a slushy mess.  Recipes say 6 quarts, but who wants to measure that?  I fill up my medium sized pot 3/4 full of water, and my large stock pot 1/2 full.  Regarding salt:  2 teaspoons is about right for one box of pasta.
What is Al Dente?
Al dente (or "to the tooth") means pasta that has just passed the point where you can feel a crunchy hardness inside.  If you cook it much longer, you get soggy, floppy pasta that falls apart.  Pasta should be firm, but not crunchy.  Check the package for a time estimate – I'm always surprised that different-shaped pasta has quite different cooking times.  Start tasting the pasta 5 minutes before it's supposed to be done.
Don't Pour: Toss
When I went to Italy for the first time, I looked on in disbelief to see that Italians do not serve pasta with the sauce in a dollop on top.  Instead, before serving, they toss the pasta and sauce together in the pot until the pasta is entirely coated.  Whoa, that was a revelation!
* But These Sauces are Too Fattening!
I'm no expert on diet but I do know that when I married an Italian and learned how to cook in Italy, I forgot all about "low-fat" this and "fat-free" that.  I cooked with all sorts of oil, butter, and cream.  Ironically I found it was easier to stay thin – in fact the effort disappeared.
I'm not saying the diet was the only thing, because you need to look at the whole picture – having a husband to cook for and eat with was huge.  But I still believe that delicious home-made food with a healthy proportion of fat gives you a sense of well-being and satisfaction – and does not make you gain weight.  (Just as carbohydrates like pasta don't make you fat.)
Italians eat (moderate portions of) this stuff all the time and they don't have the problems with obesity that we have in the U.S.  A great book to read more on nutrition, whole food, and eating like Italians is In Defense of Food: An Eater's Manifesto by Michael Pollan.  For an excellent summary, see this article in the New York Times called Unhappy Meals.