This post was updated on January 30, 2015.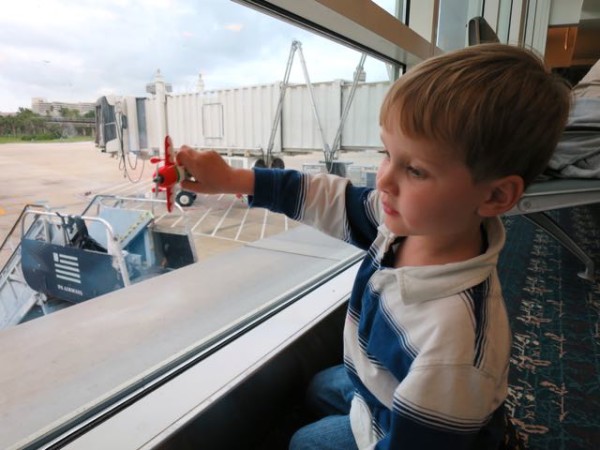 Flying can wreak havoc on your budget, but sometimes it's necessary. Maybe you've got a can't-miss wedding. Maybe your love of traveling is why you scrimp and save.
Whatever the reason you choose to wing it rather than wheel it, there are ways to keep expenses from soaring.
We've always lived far from our parents (mine in Ohio, his in Italy), so my husband and I have been flying with our kids before they had teeth.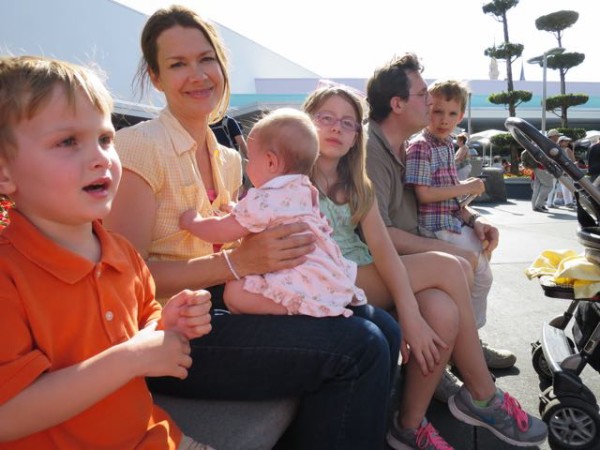 Here are my tips for containing costs:
1.  Don't Finance RushMyPassport.com
If you are traveling outside the U.S., everyone will need current passports, including babies. You can take your own photos at home, but the only other way to save on passports is to avoid rush shipping fees by applying ahead of time (at least two months ahead).
If your children are under 16 years old, you will need to apply in person, whether you are renewing or getting a new passport. And keep in mind that both parents need to be present (unless you get a notarized consent form).
Check the State Department's Passport Center (not one of the fake for-profit sites out there) for all the rules — and check those expiration dates now.
2.  Be a Planner. A Serious Planner.
While there is some research pointing to seven weeks ahead being the best time to buy tickets, we have found when booking international tickets that buying them almost an entire year in advance gets us the best deals.  This strategy applies when using frequent flyer miles or when paying cash.
For example, Delta Airlines only reserves a few seats to Europe on each flight at the rate of 60,000 miles. Tickets get increasingly "expensive" as the departure time gets closer. One year we waited until four months before our trip, and fares had doubled to 120,000 miles per ticket.
When we checked prices to Europe as soon as the flights opened for sale — 331 days in advance — we were amazed to discover pre-1999 prices. But after a few days, the fares were up, and they continue their upward march as the flight dates get closer.
3.  Do Like the Frugal Traveler
The New York Times' Frugal Traveler recommends using Kayak to search for the cheapest flights and Hotels.com for lodging.
I have found both of these sites to be the most effective and user-friendly. Budget travel sites like Priceline and Hotwire will get you even cheaper rates, but since you don't know exactly what you are getting until you pay, I don't use them for family trips.  Traveling with kids is unpredictable enough!
4.  Try the Crystal Ball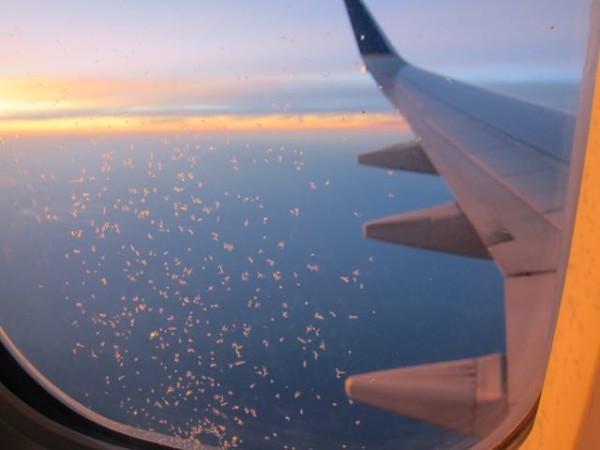 Check out Bing's Fare Predictor to see whether your ticket's price is predicted to go up or down.
Of course the tool can only estimate, but since fares do fluctuate all the time, it's worth trying.
5. Bank Your Bonus
Make sure you earn miles on every flight you take, but keep your frequent flyer accounts to a minimum.
For example, United, US Airways, and Continental are partners, so only sign up for the miles program of one of these airlines. Enroll every child for an account where he can earn points too.  Hey, every mile counts!
6.  Babies are Frugal. Kind-of.
Children under the age of two usually fly free, if you don't mind holding the wiggle-worm for those two … four … eight … hey, even ten hours, if you've got a sister in Argentina, like me.
It's usually not possible to book your "lap infant" online, so you'll have to call to make her reservation.  (Note: If a child doesn't pay for a ticket, she can't earn miles. Darn.)
7.  B.Y.O.T.
Telephone and ask questions if you need a human, but Book Your Own Ticket online to avoid a booking charge (such as $25 per ticket).
Also check in online to save a few bucks on baggage fees. You can print out your own boarding pass, scan it at a kiosk at the airport, get your baggage tags from an airline employee, and then drop your bags at a baggage drop.
8.  Cradle on Board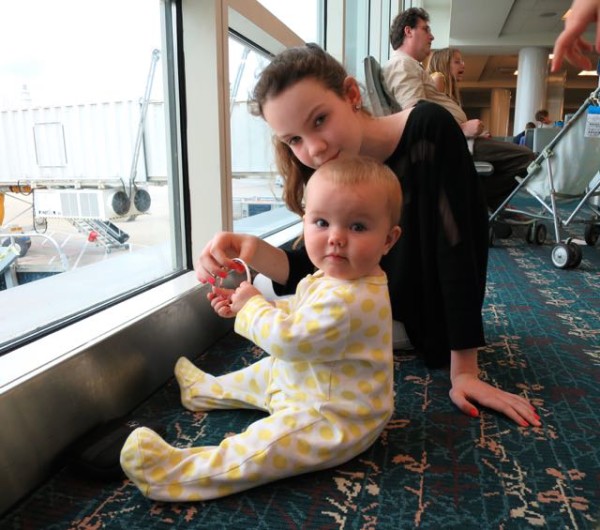 If you are going on an overnight flight with a baby, ask about the availability of a bassinet.
The bassinet is attached to the bulkhead seats in front of the dividing wall.  Most people also like the extra legroom, but there are a few downsides:  you can't stow toys and snacks under the seat in front of you and there may be a huge glowing movie screen over your baby's bed (which was bad news for our Virginia, who was used to sleeping in a dark room).
9.  Reward Yourself
Use your miles-earning credit card to pay for the tickets. Many cards will give you double or triple miles on travel purchases.
10.  Unload Your Baggage
Most airlines will charge you for any checked luggage on domestic flights and anything past the first one on international flights.
See if you can rent, borrow, or beg the stuff you need at your destination.  See my other tips on minimizing luggage fees.
Finally, Something Free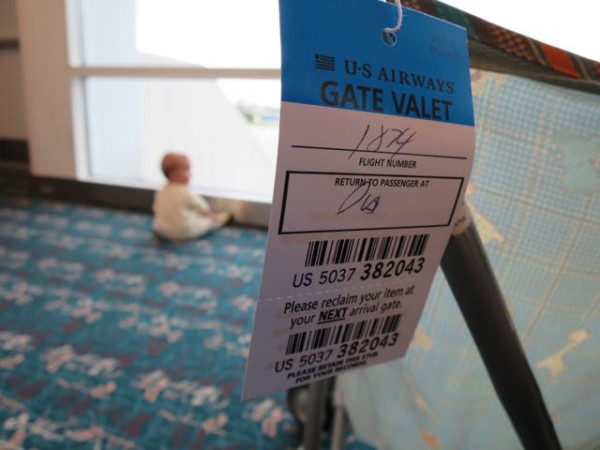 Now for some good news.  Strollers and car seats usually fly free of charge, and they don't count toward your baggage allowance.
Also, you can "gate-check" your stroller right before you get on the plane and pick it up right as you get off the plane.
And, hopefully, from there, it's just smooth sailing.