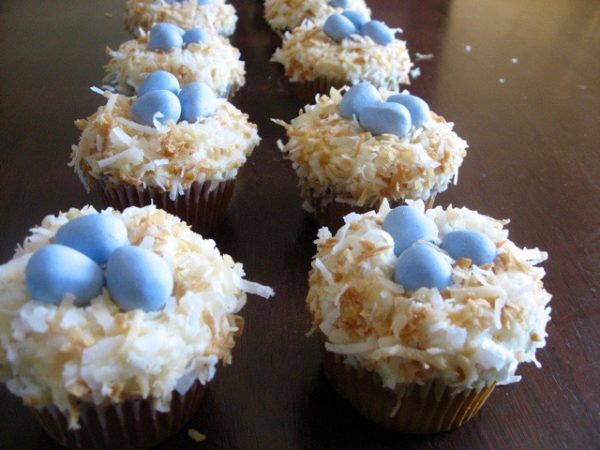 There is nothing un-fun about making these cupcakes. Kids love to sort out all the blue eggs and press them into the coconut icing.
My son Mark has an April birthday, and so we've gravitated towards an Easter theme. The year before we made these Chick and Egg Easter Cupcakes, but we wanted to try something new.
We found a picture of these robin's egg cupcakes at Death by Cupcake, and we think they taste as good as they look!
Robin's Nest Easter Cupcakes
Makes 24 cupcakes
1 package of sweetened coconut flakes, toasted
72 blue speckled candy eggs (you'll need 3 bags of Cadbury's Mini Eggs if you want 3 blue eggs per cupcake)
1 batch of Yellow Cupcakes and Butter Cream Icing
If you can't find pre-toasted coconut flakes, just bake the flakes in a single layer on a cookie sheet at 350 degrees F. Watch carefully, and toss occasionally, for about 5 minutes or until they turn light brown.
Once your cupcakes are baked and frosted, roll the top of the cupcake into the coconut flakes, leaving the very center free. Press three Cadbury eggs into the center, and voila'!