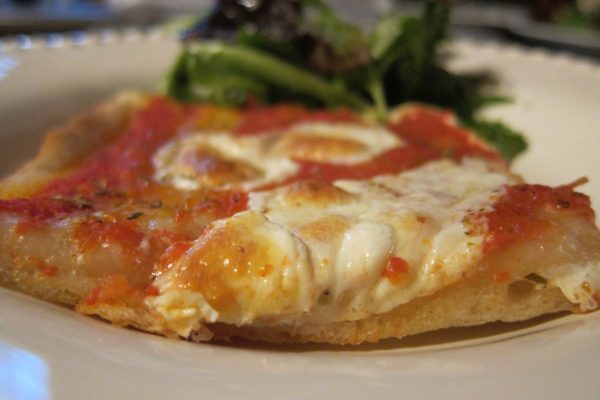 It's an instant party when the house fills up with the sweet, tangy perfume of this handmade pizza.
I went 10 years married to an Italian before I even attempted to make pizza. Then our friend, Michelangelo, came to visit this winter and showed us how doable pizza really is. He was good at just eyeballing ingredients, but I needed more security, so I turned to my favorite food writer, Mark Bittman, for a no-nonsense recipe. He didn't disappoint, and I've been making pizza almost every weekend since.
So here's how to make best pan pizza you've ever tasted.
Basic Pizza Dough
adapted from Mark Bittman's How to Cook Everything
Even though a food processor makes the fastest dough, you can easily make this dough by hand or with a standing mixer. For a rich, nutty tasting-crust, substitute 1/3 of the flour with whole wheat flour.
Makes 1 large pizza
3 cups all-purpose or bread flour
2 teaspoons coarse kosher or sea salt
1 teaspoons instant or rapid rise yeast (usually 1/2 packet)
2 tablespoons olive oil
1 cup water
Mix the dry ingredients together in a food processor, then add the water and oil through the feeding tube. In about a minute, the dough should form a sticky ball. If not, add a tiny bit of water until it does.
Remove the dough from the bowl and form it into a ball on a floured surface. Place in an oiled bowl and cover with plastic wrap, and keep in a warm, draft-free place for 3-4 hours or until the dough doubles in size.
If you want to make it ahead of time, you can let it rise more slowly in the refrigerator (6-8 hours), or wrap the dough tightly in plastic wrap and store in the freezer for up to a month. Thaw in a covered bowl.
To make by hand:
Combine half the flour with salt and yeast and stir to blend. Add the water (increase the quantity by 1/8 cup) and oil, and stir with a wooden spoon until smooth. Add remaining flour a bit at a time. When mixture becomes too stiff to stir, begin kneading, adding as little flour as possible — just enough to keep the dough from becoming a sticky mess. Knead until smooth but still moist, about 10 minutes.
To make with a standing mixer:
The machine must be fairly powerful or it will stall. Combine half the flour with yeast, salt, water and oil. Blend with the machine's paddle. Slowly add the rest of the flour until the mixture has become a sticky ball that pulls away from the sides of the bowl. (Switch to a dough hook if necessary.) Knead for a minute by hand.
No-Cook Tomato Sauce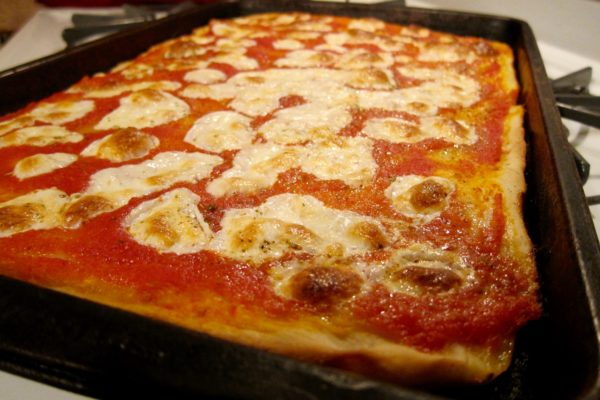 Made with raw tomatoes, this saucepan-free sauce is both bright-tasting and extremely quick.
1 large (28 oz.) can whole tomatoes, drained
1/4 teaspoon sugar
1/8 teaspoon salt
After draining the tomatoes in a strainer, crush them in a food processor or by hand. (If crushing by hand, try squeezing the tomatoes inside a plastic bag held closed by the other hand to avoid squirting.) Stir in the salt and sugar and set aside.
Toppings
We love to use the milky Italian mozzarella for this pizza (Belgioioso is a good brand), but Mark Bittman uses regular American mozzarella (shredded) so I'm sure that would taste great too. You can put any toppings you desire, but it really tastes fantastic plain. We've tried fresh basil, and for my husband, I sometimes put on anchovies. (The things you do for love.)
1 ball (8 oz.) fresh Italian mozzarella cheese, cubed
1/4 teaspoon oregano
Baked Pan Pizza with Tomato Sauce and Mozzarella
After the dough has risen, here's how to put it all together.
Preheat oven to 500 degrees F. The dough should have risen to about double its size.
With a rolling pin (or wine bottle), roll the dough into a flat rectangle about the size of your pan, lightly flouring the surface and dough as necessary.
Lift (or fold and then unfold) the dough onto an oiled baking sheet (mine is 11 x 17), and gently press out the dough to fill the entire sheet. If the dough is not stretching, let it rest a few minutes to relax it, then try again.
Drizzle with some olive oil, then spoon on the sauce. Sprinkle with oregano and top with cheese.
Bake until the crust is crisp and the cheese is melted, usually 20-30 minutes.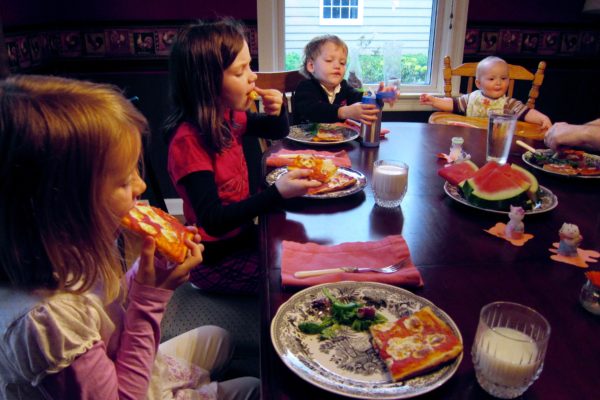 Here we are eating it last night. Luke, the baby, has figured out the smell by now and will screech until someone gives him a piece to gnaw on.
The main thing about homemade pizza is planning ahead so the dough has time to rise. But it's a great kitchen activity for kids — kneading and rolling out the dough, spreading the sauce with the back of a spoon, sprinkling on the cheese — and a weekend treat everyone looks forward to.
I hope you try it and love it too!