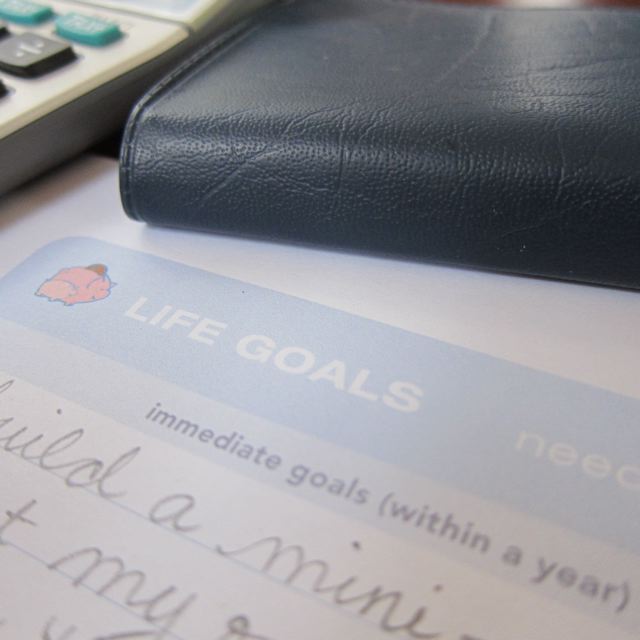 Focus.
It is usually the key element missing in our efforts to save money and build wealth.
Do you know what you want out of life? Do you how much you need to get there? If we just have iffy ideas about what we want, then our success will also be iffy.
The Power of Having a Target
I am a big believer in setting goals. It seems so simple, but figuring out what we want is often the hardest part. Believe me, I've spent most of my life not really knowing. I knew I loved a lot of things, and I knew I didn't like a lot of things. But that just meant that I was wandering around dabbling, or running away.
Then I decided to decide. Instead of trying to keep all my options open, I zeroed in on one thing I wanted — to be a successful writer who is paid for her work. Once I wrote down that goal and started telling people about it, things started happening. It was like magic, but the beauty is — it was not magic. Anyone can do it.
I created this chart you see, together with graphic designer Vickie Spindler, to give people a way to concretize their needs, wants, and dreams. I believe that a key to saving and making money is knowing your why.
You can download the Life Goals pdf form (also on my Printables page) and print it out for free.
What Do You Want?
Do you want to get out of debt, move to a bigger house, save money so you aren't cutting it so close? Do you want to get a master's degree, stay home with your kids, take a year off and travel?
The act of writing down goals means that we are focused, committed, and brave enough to get our dreams out of our heads and into the real world.
Picture this. You want to run ten miles but you have no map, no pedometer, no finish line. How will you know when you've reached your goal? Will you ever reach your goal? Chances are, you'll get tired or discouraged about halfway there, you'll stop and look around, maybe get a snack and sit down, and you'll say, "Well, I guess this is good enough."
Defining a goal or a specific vision — like your ideal scene in five years —  is essential.
And because success leads to success, we have to take that first step. To be decisive. To find a vision.
Even if your vision is seemingly selfish, says Dani Johnson in her book First Steps to Wealth, a vision is better than no vision.
Get Started, Then if Necessary, Regroup
Sometimes getting on that road will lead you in directions you hadn't imagined. You may need to stop and refocus. You may need to regain your footing and decide on new goals.
My vision and my first steps into success are leading me into places that I never imagined.
Writing about saving money for TLC's Parentables — my first paid writing gig — is leading to hosting the Frugal Mama Makeover series for TLC.com. (The series is launching today — see the first video here!)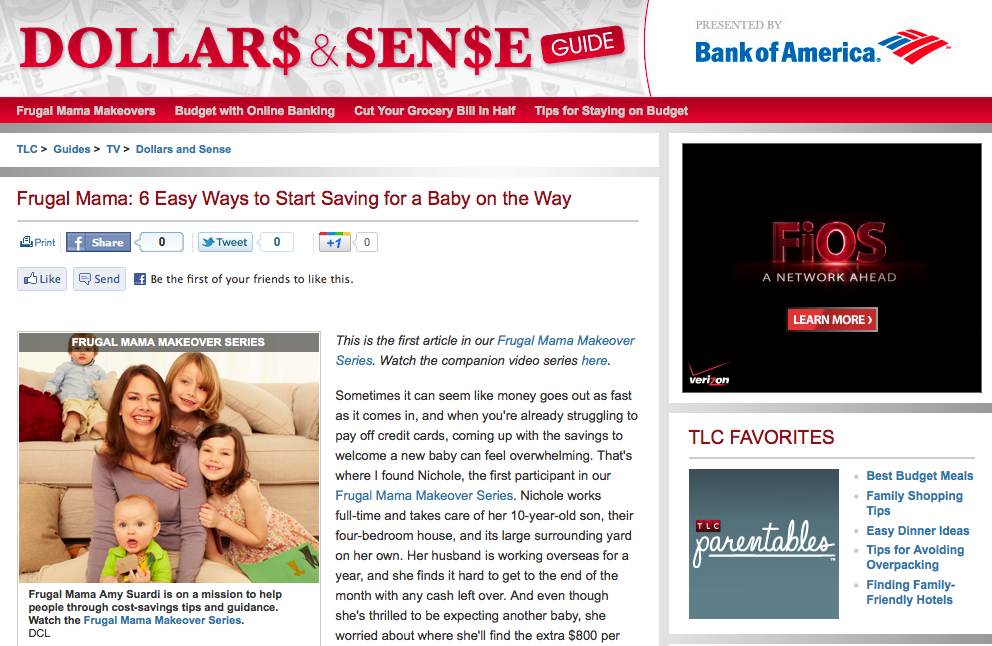 I've gone through growing pains in the past few months, and it's been an emotional roller coaster. But I am now stepping off the ride, smoothing down my hair, and saying, "Wow, that was scary, but that was fun. Let's do it again!"
Don't Worry About Wasted Time
Here's more food for thought. Everything you have done in your life before now has taught you something.
That truth will become clear when you set your mind to a goal. Because once we focus on a target and start taking action, things start to fall into place.
I realized, for example, that all that time I frittered away during my 20s and 30s was not wasted at all:
teaching English in Italy fired up my love of nurturing and guiding,
acting in high school made me feel a little more comfortable behind a camera,
flirting with a career in social work made me realize that I love helping people,
working as a temp secretary reinforced my love of organizing and filling in forms,
taking care of my kids full-time taught me a million things, including how to live well on a single salary,
studying grad courses in cultural anthropology helped me understand how our society affects the way we behave with money and spending,
and I could go on and on. I'm seeing how it's all fitting together. It wasn't all lost time. It wasn't worth all the guilt and angst I piled upon myself.
Millionaires Have Yearly Family Meetings
People who are successful — very successful with money — are known to sit down at least once a year and talk about finances, according to High Net Worth Linked to How You Manage Your Money (an article I found via Get Rich Slowly).
You've probably already heard the statistic that people who write down their goals earn 80% more than people who don't, which I first read in Buttoned Up's fantastic book Pretty Neat.
All the gurus who talk about the basic principles behind success emphasize the law of vision and focus.
Need more evidence? Try it for yourself and see it come true in your own life.
Now You: Your Homework
Here is my homework for you — should you choose to accept it:
Pen in a date night with your honey. Or call a family meeting. Make it fun with candles, music, bon-bons, or a grand finale movie.
Bring my Life Goals chart, or simply a sheet of paper, and start talking about and writing down what is important to you both. Extra credit: rank the goals in order of priority, figure out how much each one will cost, and how you will get there.
List all sorts of goals like sailing off to your dream vacation, taking time off work, changing careers, moving to a new place, starting a home business, rocking your retirement fund, taking care of your children's education, donating to a cause you believe in, or simply getting control of your finances.
It's all possible. But only if we decide and focus.