I'm thrilled to show you the brand-new Frugal Mama Makeover video series!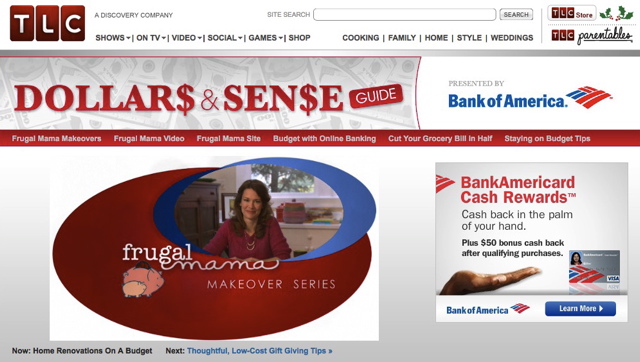 Thanks to generous support from Bank of America, our sponsor, the short videos look like mini-TV shows.
Snapshot of the Production Process
After choosing six participants who responded to a TLC casting call, we visited them in their homes (all in the DC, Maryland, and Virginia area). We listened to each person's money struggles, and then I helped figure out a plan of action. Three to four weeks later, they sent us a video update on their progress. We filmed the talking points in my kitchen, and then the producers at Discovery worked their magic and wrapped it all up in a pretty package.
The first video about a woman named Nichole, who is expecting a new baby and needs to find money for daycare, has already been viewed over 70,000 times and has been featured by TV Guide.
Six Women, Six Stories
Meeting the participants, who opened up their lives and shared their money concerns with me, was the most rewarding part of this project. The solutions we came up with may seem simple, but as you and I know, saving money is not always easy.
The good thing is that sometimes the most difficult part is taking the time to sit down, looking at whatever we think is scary or daunting, and committing to make changes.
In these six stories, you'll meet:
Coming up next week will be:
Kara, who needs low-cost ways to get her dance studio off the ground, and
Amy, who would like to spend less on gas and more on other things, like a trip to Disney.
A Lot More to Tell
Only a fraction of the story was portrayed in each three- to four-minute video, so over the next few weeks I'm going to be sharing a little more about each participant and the ideas we discussed.
And because I've been in touch with the participants, I know that a lot has happened since they sent in their home videos. So next month I'm going to be posting updates on their progress.
Until then, you can see the first four videos in the series, as well as articles full of more tips and ideas on saving money, at the Dollars & Sense Guide in the Shows section of TLC.com.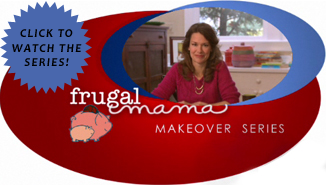 If you think the webisodes are helpful or entertaining, please share them with all of your friends!
A Big Huge Thank You
Finally I want to thank the good people at TLC, Discovery, and Bank of America for having faith in me. The series has been exciting and glamorous at times, but mostly it's been an incredible amount of work, so I also want to thank my family for putting up with me. It's not over yet — but thank you for packing your own lunches, for playing together nicely (most of the time), and for letting the house be good-enough.
And last but not least, thank you dear readers for all your support over the years. Dreams do come true!
Now watch the Frugal Mama Makeover series and let me know what you think!