My sister and I have been getting allowance for a while, but we haven't been very good about remembering to get it before, so we have changed the old rules up a little.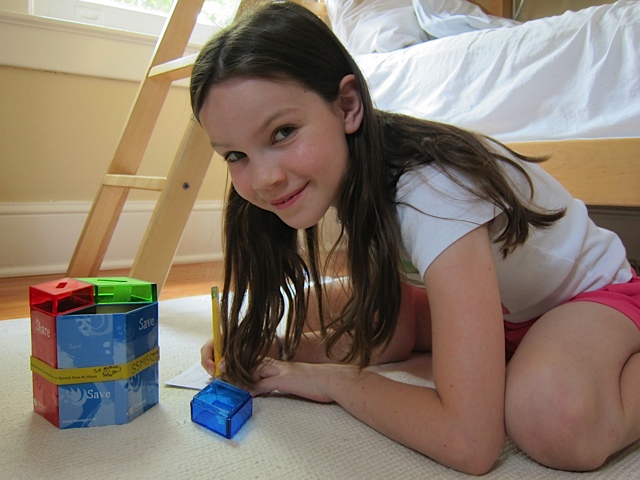 We started when we were little, getting 50 cents per month, and when we moved to Syracuse, we got $2 a month. But my mom said that she wanted us to get more allowance, partly because we help her out so much around the house. She also said, by giving us more money we can learn how to save up for big things that we have been wanting. For example: a bike, a ticket to a Broadway show, or a camera.
How do we decide how much allowance each girl gets?
My family decides how much each girl gets by age. Basically, for every year you have been alive, you get one dollar of allowance per month. For example I am 10 years old, so I get $10 of allowance per month, whereas my sister is 8, so she gets $8 of allowance per month. When I am 11, I will get $11 of allowance monthly, and so on.
How do we separate the money?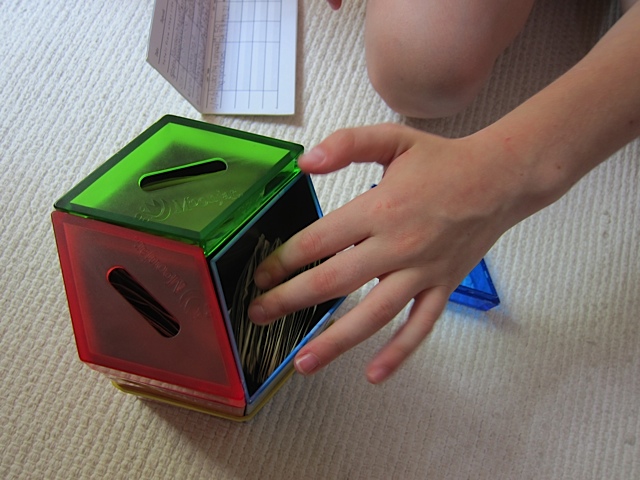 My mom got us both (my sister and me) a Moonjar
, which is a kind of wallet with 3 different sections: one is for money to save, one is for money to spend, and one is for money to share.
I don't really get to decide where all those 10 dollars go: we have a system. Fifty percent of all the allowance money goes in Save, 40% of all the money goes in Spend, and 10% of all the money goes in Share. This system is for both of us, no matter how old we are. But the older we get, the more allowance we get, which will lead to bigger amounts of money, but still with the same percentages.
Where and what do we record about our money?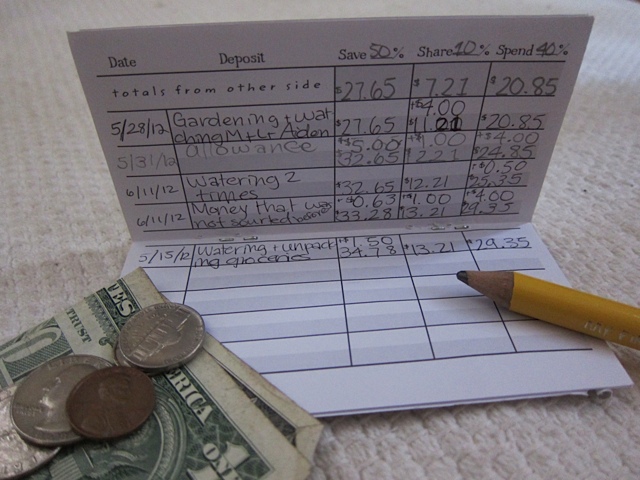 The Moonjar
also comes with a book where we can record all the money we put in or take out, and why.
We don't only have to put allowance in the Moonjar
, we can also earn money by doing extra jobs. For example, we can earn money by:
taking care of the boys (Mark and Luke),
watering the plants,
cleaning an area of the house, or
painting something in the house.
There is space to write what we did to earn or take out the money, for example: "bought stuffed animal," or "played with the boys for 30 mins." When we earn extra money, we can decide which section we put it in (Save, Spend, or Share). It is a very nice, organized way to record how we spend and how much we earn.
What do we do with the money from Save?
My mom says we will have to agree on something that I will buy with the money from Save. She says that it is not so much about saving up a certain amount of money, it is more about deciding on something that you really want and (if it's a good choice) to spend your money on it. For example, I asked my mom if I could save up for an iPod, and she said that she would have to think about it, but she really didn't want me to be listening to music all the time and playing with a personal electronic. I am not sure what I will buy when I save up to that much money, but my mom and I will make sure it is a good choice.
What do we do with the money from Spend?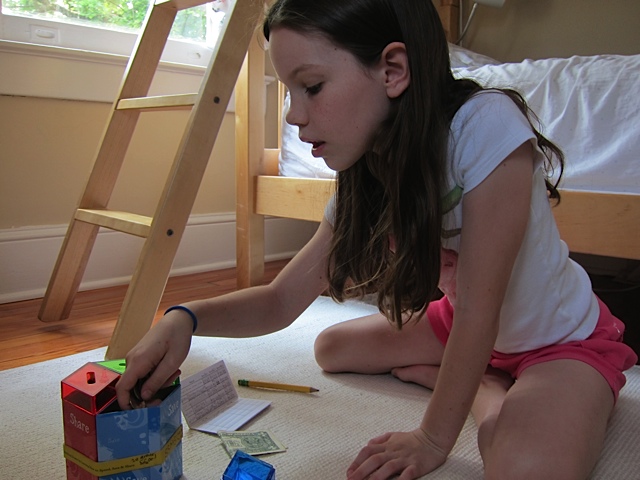 Spend money can be spent in any way you want to (well, if my mom thinks it's OK). I could even Save or Share it if I want. Here are some things I have used my Spend money for: nail polish, stuffed animals, necklaces. I've also used my Spend money to pay my sister to do something that I didn't want to do. For example, I've paid my sister to help me move the hose around when I was watering the garden (10 cents), and play with Mark and Luke before dinner (20 cents).
What do we do with the money from Share?
The Share money is meant to go to some charity that helps some kind of thing. For example my Share money is going to an animal charity called the WWF, or the World Wildlife Fund. I think I am going to give my money to lions, which are my favorite animals. I may also give some of the Share money to some charity that helps people who need it in Ghana.
This is how my sister and I have learned to handle our money. I think this is a very good way, and my sister says she agrees.
How do you do allowance at your house? Let me know in the comments!
This post is sponsored by: