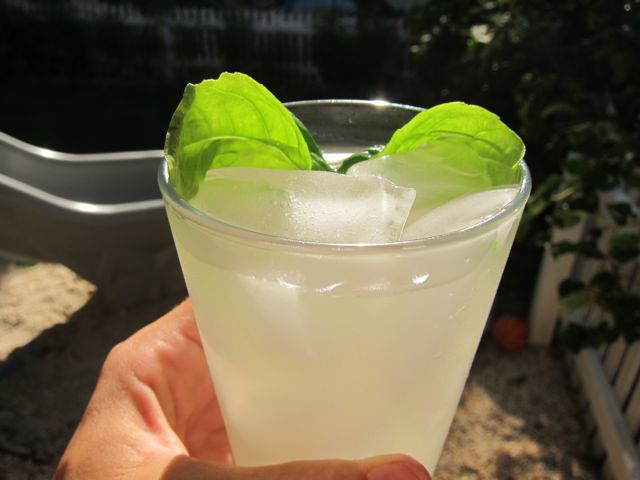 "Real, fresh lemonade is a taste from the past that deserves a home in the present," writes Mark Bittman above his recipe for lemonade.
It was wilting hot, but walking Mark to and from summer camp is sacred, no matter the weather.  After reading a naptime story back home, I couldn't help sneak in a cat snooze myself (since I had stayed up too late the night before). When I woke up, all I could think about was lemonade.
A bag of lemons in the fruit drawer and a sack of sugar in the cupboard came to my rescue, and in exactly 15 minutes, I had a pitcher of real lemonade.  It's true, there is something unfamiliar about the clean sour taste of homemade lemonade.  And there was a little muscle effort — squeezing eight lemons — for a relatively small yield.  Four cups of lemonade goes by fast in my household.
But it was worth it.
Real Lemonade with a Touch of Basil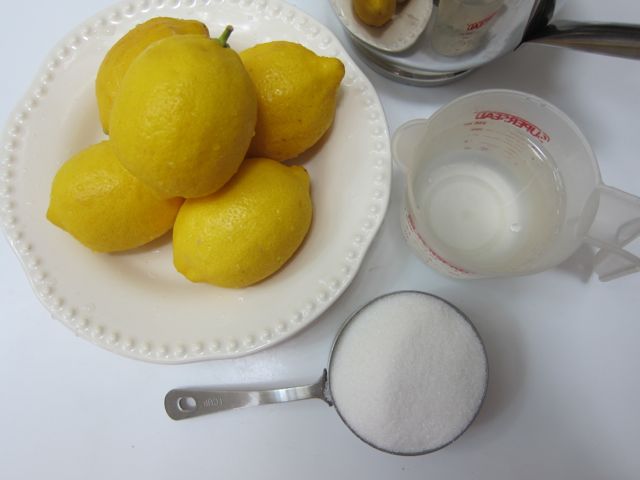 adapted from Mark Bittman's How to Cook Everything
Serves 4
Basil is not necessary, but if you have a sprig, tuck it in for a minty twist.
3 cups of water
1 cup of freshly-squeezed lemon juice (you'll need a 2-lb. bag of lemons, or about 8 lemons)
1/2 cup of sugar syrup (see below) or 1/2 cup of sugar (which may take a while to dissolve)
4 basil leaves (optional)
To make a batch of sugar syrup, which can be stored in the fridge and used to sweeten any cold drink, heat 2 cups of water and 2 cups of sugar in a saucepan. Stir occasionally until the sugar is completely dissolved.
Combine the water, lemon juice, and 1/2 cup of the sugar syrup.
Taste. You will need to add a little more sugar syrup, but do it slowly, because I agree with Mark Bittman that the drink should be "mouth-puckeringly tart."
If you want, tuck a basil leaf or sprig into the pitcher or glass.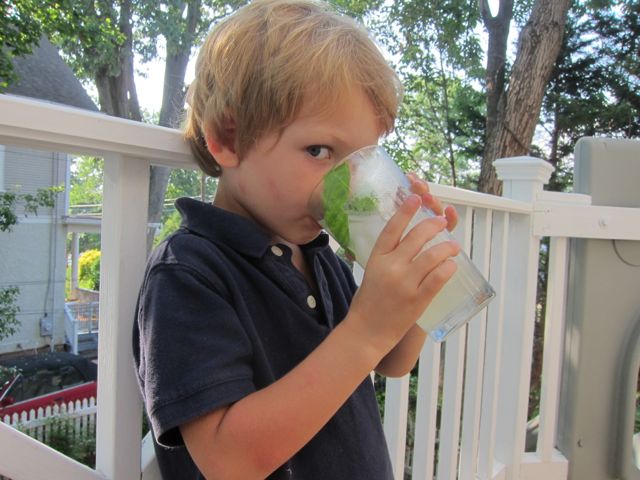 When was the last time you tasted lemonade made the old-fashioned way?