I take whatever I have on hand and make it look neat with bento-style containers.  Fast and healthy is the goal, and I find that easier to achieve when I can just grab whole foods without combining them into complicated recipes.
I love how these compartmentalized lunch boxes make pizza and peaches look kind-of gourmet.
As you know, I've come to see that meals don't have to be elaborate to be good.  Who has the patience for the kids' lunch ideas we see in parenting magazines anyway?
White bean hummus Mexican veggie wraps, baked honey-lime drumsticks, and mock sushi stuffed with matchstick cuts of pear, cucumber and Jack cheese are wonderfully inventive, but for me, it's setting the bar too high.  We still get excited about salami and French bread around here.
One of the reasons I bought these containers from Easy Lunchboxes was to keep sandwiches from getting squished.
But I love how the compartmentalized containers make it easier for me to break out of the sandwich-rut.  Bits and pieces from the fridge and cupboard that might have looked sad or smushed by noontime, look kind-of fun presented this way.
Please note:  I have absolutely no connection with Easy Lunchboxes.  I don't receive any commissions or free products or slaps on the back if you buy anything in this post.  I just wanted to share something that was working for us.
I started looking for new lunch containers when my daughters complained that other kids had three or four foods to choose from in their lunches.  I found lots of adorable Bento boxes with matching lids that fit together like puzzles. But they looked like something I'd find really cute the first week, and then annoying thereafter.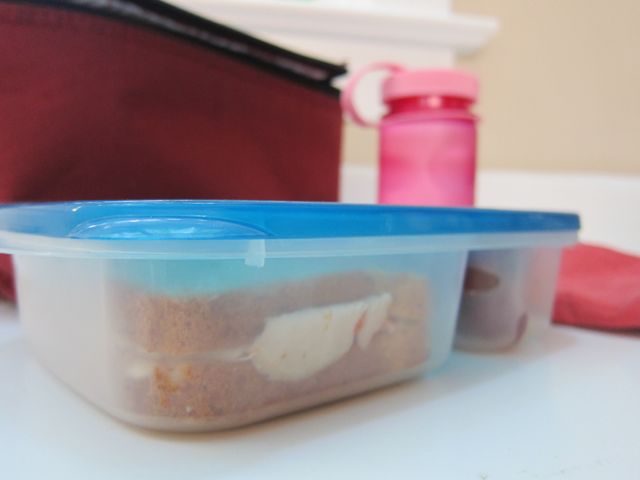 Yes, these containers are plastic, but the BPA-free parts are dishwasher-safe and, with only two pieces, they're easy to wash and store.
Downsides?  The lids are loose enough for small children to open by themselves, but not tight enough to contain wet foods.  (I tried that once, and the girls still remember their orange slices coated with cottage cheese.)
I also wish the containers were a tad deeper.  They're perfect for sandwiches and sliced fruit, but sometimes too shallow for a small apple, a roundish dinner roll, or even a diagonal stack of Saltine-size crackers.
The outsized food problem is solved with the companion lunch bag (also sold by Easy Lunchboxes and Amazon).  It's deep enough that I can add a tub of yogurt or another plastic container of snacks, with plenty of room for a water bottle.
One small warning:  Even though these lunch bags are billed as "cooler" bags, the insulation is scant.  After a couple of washes (I forgot to use the delicate cycle), the insulation began to come loose — even though the canvas, handles, and zippers are holding up.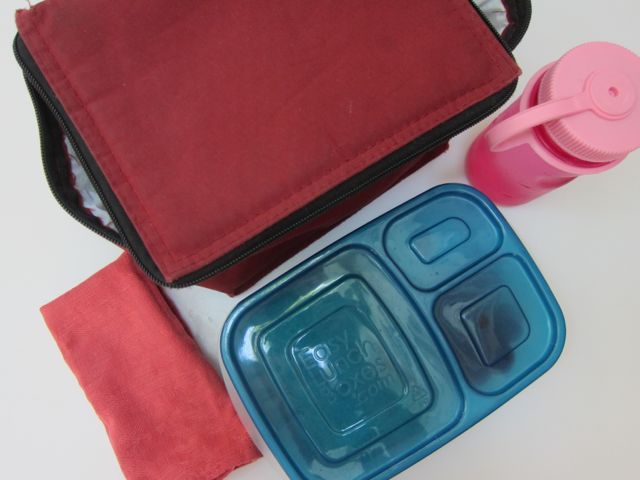 All in all, I thought they were sturdy enough to buy for Mark, who starts pre-K on Friday.  And since the lunch bag fits the containers perfectly, the boxes stay upright.
Less Waste
Finally, I love how my kids are creating zero trash with their lunches.  No more little plastic bags, and since they use a cloth napkins which I throw in the wash at the end of the week, not even any paper waste.  For water bottles, we found an easy-to-clean loop-top bottle from Nalgene.  (Mini-Grip Bottle from Nalgene).
More Lunch Ideas
If you're looking for more inspiration, I've rounded up 21 food ideas for simple lunch combinations at Parentables today.
I try to stick to the basic formula of protein + grain + fruit or vegetable = good-enough lunch.   Even if I left off a food group, it would still be good-enough. Kids don't have to get all their nutritional needs met in one meal, after all.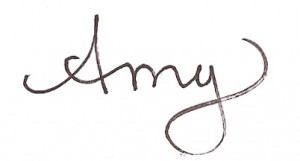 This post is part of a new series called How I Simplify.
How do you simplify school lunches?