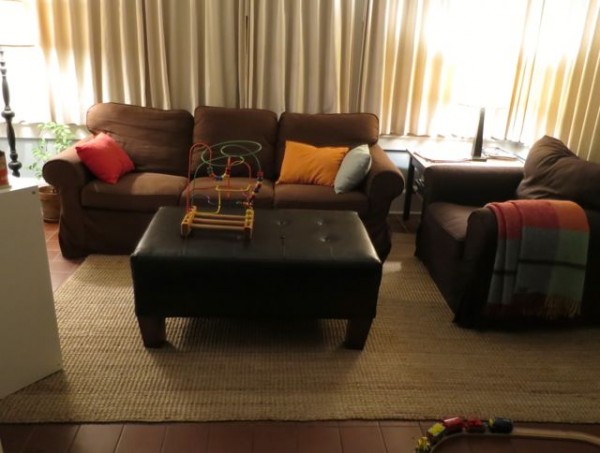 A lot of people want a cozy house, but did you ever think of it as a fortress of comfort?  Get this:
"Your home should feel like a steadfast haven — a place where nothing can ever go wrong," says Jeffrey Alan Marks, author of The Meaning of Home.
Wow, I thought, when I read that in the October 2013 issue of Better Homes and Gardens.  That's powerful.  How do I get that too?
To achieve this feeling of refuge, Marks suggests using super soft sofas, comfy chairs around a small table, or wall colors and textures that cocoon.
Since all of our couches are from Ikea, super-soft is not going to happen, but there are all sorts of ways to create serenity.  As we continue to renovate and decorate, starting from pretty much a blank page —
I find myself returning to three elements to create a feeling of soothing coziness.
1. Warm Lamp Lighting
Our living room was one of the most difficult rooms to get right. Its odd hexagonal shape with windows and doors on all sides but one made it hard to place furniture.
Plus the room lacked a focal point, or even anything at all to draw people in. I was against a TV, so we were thrilled to be able to add a gas fireplace during our renovation (strangely, our 1916 house never had one).
After also adding desks for the kids, lots of books, and leather couches, the room went from a walk-through space to the heart of the house. However at night, it wasn't really relaxing, and I knew why.
We needed lamp lighting.  Even though we had an antique chandelier on a dimmer, overheads just can't match the warmth and ambiance of lamp-light.  There is a certain romance when a lamp is turned on.  Especially if it has a fabric shade, a lamp gives off a soft, diffuse light that glows like a candle.
To feel snug on a rainy day or to unwind in the evening, I need at least one lamp in the room.  Maybe you do too.
2. Window Dressings Made of Fabric
The plantation shutters we found in the house when we bought it provided a combination of privacy and views, but they didn't give us 100% of either.  The top half of the windows were always exposed, and we almost never bothered to open the shutters to reveal the full view.
We love living in a city where it's easy to interact with neighbors and use the sidewalks, but at night we like to be able to draw the drapes and get into our pajamas.  Adding a bunch of fabric curtains, I thought, would contribute to a feeling of coziness and would also help absorb some of our (significant) noise.
We have 18 windows on the first floor alone and almost every one was a different size and shape, so we decided that buying ready-made curtains and altering them would be as much work and expense as making them from scratch.  Since we were going to go with simple panels hung with clip rings, I planned on sewing them myself, but then life happened — a whole-house renovation during the last six months of our pregnancy — so we decided to farm the work out.
We found a relatively affordable seamstress and saved money by using the same inexpensive fabric in every room:  a raw, unbleached cotton called Osnaburg, sometimes referred to as the poor man's linen, which I found online for $1.67 per yard.
Curtains are much more difficult to get right than blinds, but I feel the angst is worth it in the end.  They're softer, more elegant, and provide a chance to add to the color and style of your house.
3. Instinctual Furniture Placement
When you are the first in a group to arrive at a conference room or restaurant table, which seat do you pick? You probably choose a chair that faces the entry and where you can see most of the room.
According to Feng Shui, which I was surprised to learn is a lot about common sense, this is the  "commanding position."  It gives us a sense of security and control over our space.
Completely by accident, our new bedroom fits the principles of this ancient philosophy, and I wonder if that might be why I feel so good about how it turned out.
Since the room was small, I thought it would be fun to try a jewel-box effect, wrapping it in a deep, velvety blue.  However the room also had lots of windows. So we completely covered them with floor-to-ceiling drapes that were the same color as the paint.  This created the "solid" wall we needed to place the bed with a view of the entry, but without facing it head-on.
The drapes can be opened for more light if needed, but it remains a cozy refuge at any time of day.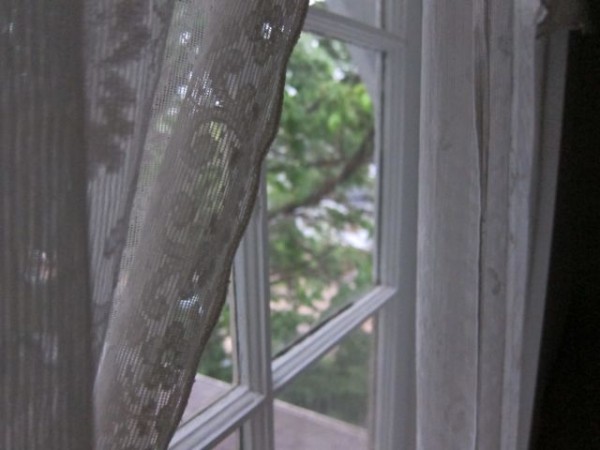 This feeling that I've unconsciously been trying to create in our house is the combination of a soft embrace and a front door locking.  It's a safety and a comfort that evoke utter relaxation.
I agree with Jeffrey Alan Marks when he says that "true luxury is an environment that wraps you up like a blanket."