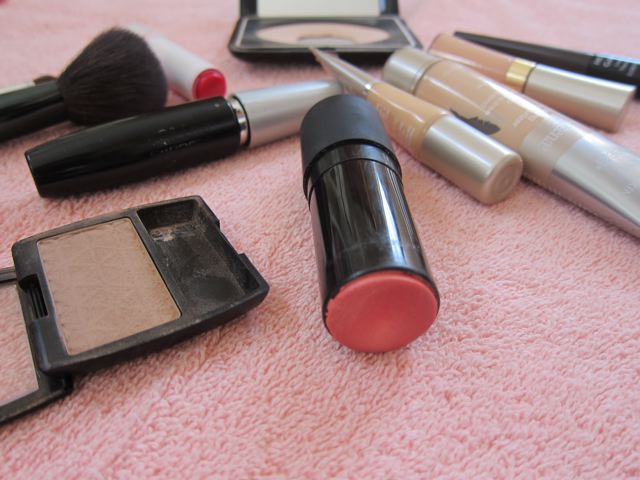 A couple of years ago, I published a list of what I keep in my makeup kit. Products (and people) change, so I thought it would be fun to give that post a make-over.
I'm one of those people who feels a little undressed without makeup, so just like my morning shower and coffee, eyeliner is an essential part of my routine. And, thanks to a couple of insider tips, I no longer feel like I'm missing out when I pass those luxury makeup counters at Bloomingdales.  (More on that later.)
Here is what I'm using now:
1.  Tinted Moisturizer
More of a tint than a moisturizer, this very light foundation needs to be applied along with lotion so that it spreads on easily. I've tried others and I like Neutrogena's Healthy Skin Glow Sheers because it's lightweight in both consistency and color.
2.  Concealer
To hide those dark under-eye circles I've always had, I sweep on L'oreal's True Match Super-Blendable Crayon Concealer, which I discovered is a good alternative to the famous $70 Clé de Peau concealer.
I have also tried and like Neutrogena 3-in-1 Concealer for Eyes, which is not cakey or too bright.
3.  Eye Shadow De-Creaser
A common problem is when eyeshadow or liner transfers to the upper lids, usually due to oily lids or heavy upper lids.  The best defense against this makeup mishap is to use an eyeshadow primer in addition to a waterproof eyeliner (more on that soon).
A lot of makeup companies make eyeshadow bases, but I found L'Oreal De-Crease from the drugstore, and it works great.
4.  Blush
When I wanted to create a natural, no-makeup look that I saw in Real Simple magazine, I used a birthday gift card to buy the hilarious yet irresistibly named multi-purpose blush stick from Nars called The Multiple in its most popular color, Orgasm.
When that ran out and I didn't feel like paying $39 for blush, I found an Orgasm equivalent: Milani Baked Blush in Luminoso for $8.
Tip:  To find a low-cost alternative to pricey cosmetics, do a web search for the product name followed by the word "dupe." 
5.  Eyeliner
When my daughter Virginia was cast in Aristocats a few years ago and the theater director required kid performers to buy Revlon ColorStay Liquid Liner, I knew it must be an unusual product. In fact, it really does stay.
So when the show was over, I slipped it in my own makeup bag and have used it for years.  I'm currently using the créme gel version of the Revlon ColorStay line, which doesn't require as steady of a hand as the liquid liner, and has a little softer (and less permanent) look.
6.  Eyeshadow
When I was living in New York, I met a guy who worked at the corporate headquarters of L'Oreal. He told me that,
Secret:  L'Oreal drugstore cosmetics are made with the same exact ingredients as their luxury department store brand, Lancôme.
So why pay four times as much and get upsold by a beautiful saleswoman, when you can toss basically the same product into your basket at CVS and be out of there for $4?
I like L'Oreal eyeshadow (Studio Secrets Professional Eye Shadow Singles) and I've been using the smooth latte color forever.
7.  Mascara
Mascara is a perfect place to save on makeup since magazines are always saying how their favorites are run-of-the-mill products like Maybelline Great Lash.  (Maybelline's parent company is also L'Oreal, by the way.)  Right now I'm using Maybelline's Full 'N Soft waterproof mascara in Very Black.
Why waterproof?  I used to get waterproof mascara in high school because (a) I dreamed of being part of the kind of torrid love affair that you see in the movies where they fight in the rain, and (b) I used to laugh so hard I would cry, quite frequently. I still sometimes do that (b not a) but mainly I just want to avoid looking like a raccoon.
8.  Tinted Lip Gloss
Frequency of kissing is the reason I made the switch from lipstick to chapstick. It's not what you think. When I had my first baby, I was overcome with the urge to kiss her five million times a day. And why would I want to cover that porcelain skin with Revlon's "wine with everything"?
This glorified chapstick — Nivea Kiss of Care & Color — is smooth and soft and gives me just a hint of color.
Do you have a valuable beauty product that doesn't cost a lot?