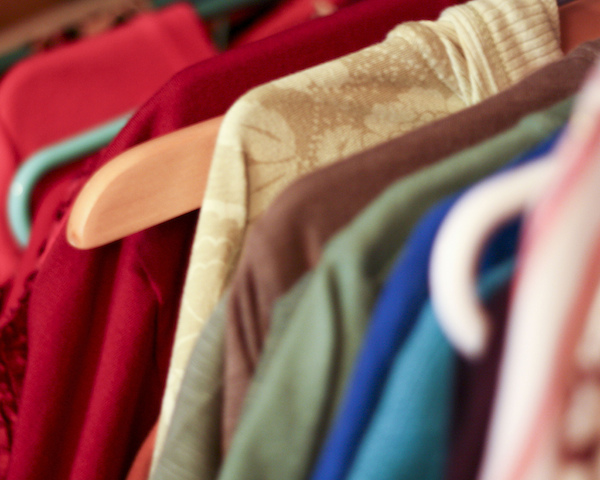 The first clothing swap I attended was held in a loft space in Chelsea's shopping district in New York.  White leather couches, gauzy drapes, and pop music bouncing from the rafters made it a spectacularly frugal event.  It was also a first for Clothing Swap founder, Suzanne Agasi, who flew in from California to apply her women's fashion concept to the stroller set.
The Clothing Swap idea is about dressing up just as much as it's about saving money, recycling, and decluttering. Created by Agasi, the queen of "green glam," Clothing Swap was designed as a girl's night out, where swappers enjoy spa treatments, hair and make-up styling, DJ music, and cocktails while the clothes are being sorted.
Normally swappers pay $20 to 30, which covers the (often upscale) location and entertainment. Thanks to Green Works (who was showcasing its new line of natural laundry products), this event was free.
My own kids were misbehaving that morning, so I decided to leave them at home.  Too bad because there was a huge spread of food and drinks for the kids, and no lines for face-painting.  Oh well, I got to get a massage instead.  Even though the swap was definitely kid-welcoming, it was kind of fun to soak up the glamorous atmosphere without having to chase down a toddler.
Plus I got to meet Josh Dorfman, the Lazy Environmentalist, who was filming an episode for his show on the Sundance Channel. (See a one-minute snippet.)  Later I interviewed him about how families can be green on a budget.
How Does a Clothing Swap Work?
Generally, swaps last about two to three hours. During the first hour and a half, people bring in at least ten items of kids clothing — laundered and in good condition.
Volunteers sort the clothing (according to gender, type, or size), while swappers socialize. Food, drinks and entertainment are usually provided.
At a set time, swapping begins. There is no limit to how many pieces you take home, but as the Clothing Swap saying goes,
"Bring what you have, take what you love."
Organize Your Own Clothing Swap
The most unique aspect of Clothing Swap is the party atmosphere.  You can keep it simple by making it a potluck and hosting at someone's house.  When I talked to Agasi, one of her pieces of advice was:  the person with the biggest house should host.  However, I know small spaces can work too, since Agasi herself started hosting swaps in her San Francisco studio apartment.
Here's how, step-by-step:
Decide whose clothes you are going to swap: women's or kids'.  Also, will you do accessories too, like shoes, handbags, and costume jewelry?

I

nvite about 12 to 15 people, which will ensure a wide selection of clothing to swap. 

Ask each person to bring at least 10 items of clean clothing in good condition, plus a dish and beverage to share. (If you're holding it in the evening, a dessert-and-drinks theme is simple yet decadent.)

Label empty boxes or sections of your house

with

 categories like gender, size, or type of clothing.

Allow an hour and a half for guests to arrive and clothes to be sorted before swapping begins. Either recruit a few friends to sort clothes or ask guests to sort their own as they arrive.

Swapping begins at a set time and usually lasts about 30 minutes to one hour. Guests may take home as many items as they need.

Celebrate afterwards with more mingling and munching — and comparing of loot!  

Donate 

the leftovers to a good cause (or arrange for a donation pickup with 

charities like

Vietnam Vets of America, National Lupus Foundation

, or the 

National Children's Center

).
Clothing swaps are a great way to combat wardrobe fatigue and get together with friends.  Of course, swapping saves money, resources, and even time, so it's a positive concept any way you slice it.