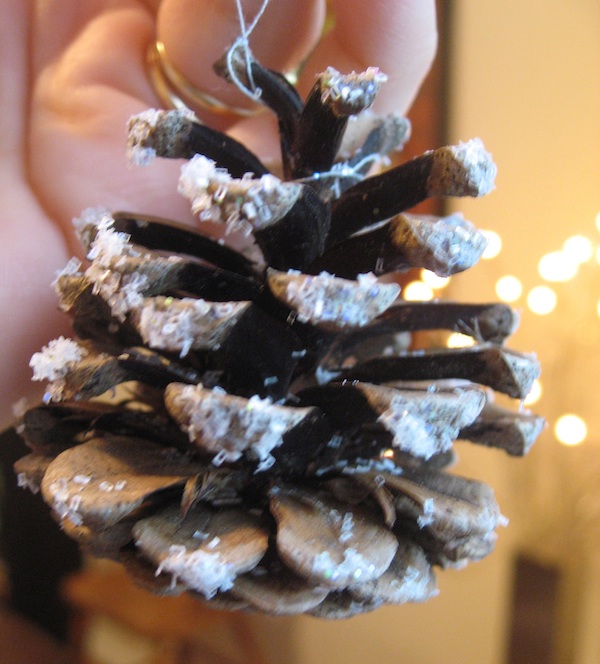 Classy in a quiet way, these pine cone decorations are basically free and are fun to make with children.
What You'll Need
pine cones
school glue or gel medium, a colorless binder often used for collage and decoupage
glitter (white, silver, or pearl looks fabulous)
and if you want to make them into Christmas ornaments:
string or florist wire
Christmas ornament hooks
How to Make Them
1.  Gather pine cones.
Our family collected pine cones under evergreen trees in Central Park.  We had so much fun picking them them and finding different sizes and shapes.  Collecting pine cones also gave us an excuse to get outside in nature, even in the cold weather.
2.  Attach ornament hooks (optional).
The pine cones can also be displayed in a bowl, on the mantelpiece, or as table decor, but to make them into hanging ornaments, we tied a piece of gray string to the top scales of the pine cone and then to an ornament hook (available where Christmas ornaments are sold).
You can also wrap a short piece of florist wire around the top of the cone, and then attach a hook.
3.  Apply glue.
For a more delicate, natural look (as you see in the top image), dab school glue on the scales of the cone where there are already white bits of dried sap, or on the edges where snow might collect. For a more bold, glittery look (shown below), roll the cones in a tray of gel medium (a clear acrylic paint available in artist supply stores).
4.  Glitter them up.
You can either sprinkle the pine cones with glitter, or dump a bunch of glitter in a box and roll them in the glitter.
5.  Let dry.
Hang pine cones to dry or rest them lightly on a surface that won't stick to the glue (such as a countertop, bathtub, or plastic sheets).
How Can You Use Them?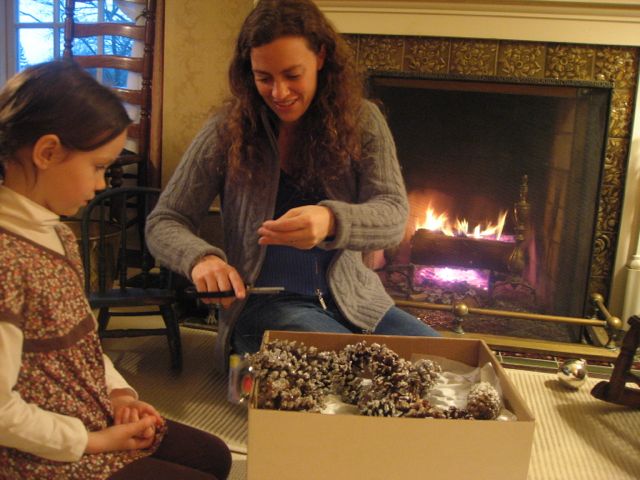 Pile them in a bowl and use them as a centerpiece
Hang them on doorknobs, window sills, drawer handles, or on a tree
Arrange loosely around candlesticks or in a bowl under a lamp
Package them in a box or bag with tissue paper and give as hostess gifts
Tie them to a wreath or hang a bunch like grapes on your front door
It was funny: as we selected and decorated the pine cones, we realized how beautiful they were as is.  But it was fun to embellish them.