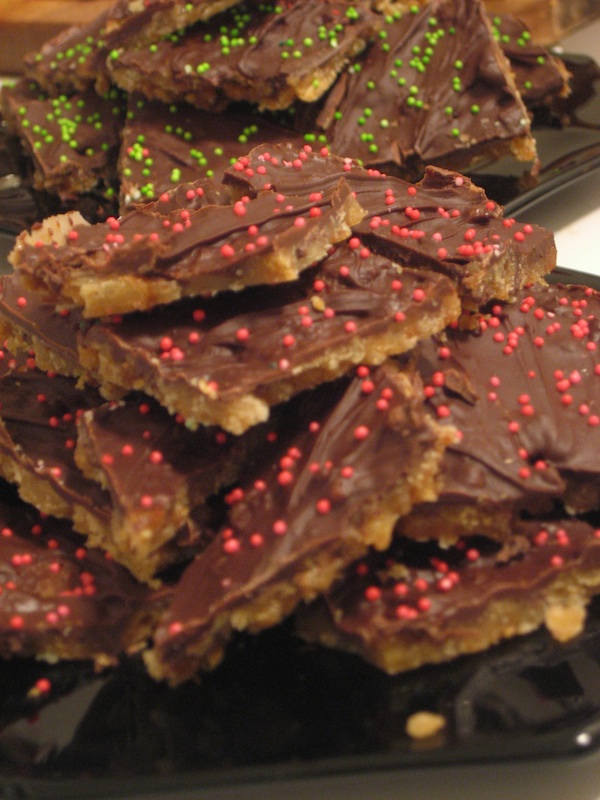 This crunchy, salty butterscotch topped with creamy chocolate is a cookie exchange favorite.  (It was introduced to me at a caroling party in New York City by Amy Sevick-Healy from Minnesota, where they call it Lutheran Church Basement Toffee.)
It's so fast and simple that my second-grader and I made it together in about 30 minutes with ingredients from our pantry. For an extra-delicious experience, use Ghiradelli semi-sweet chocolate chips, which got top billing from a Cooks Illustrated blind taste test.
Pair this homemade candy with a heartfelt card, and you have a wonderful, low-cost gift. Here is a blow-by-blow demonstration of the candy-making.  See also the one-page printable recipe version.
Quick Chocolate-Covered Toffee
Fills one 10″ x 13″ cookie sheet; makes about 70 two-inch toffee squares
4 oz. (1/4 of a 1 lb. box or bag) of crackers or pretzels
2 sticks butter
1 cup sugar
1 12-oz. bag semi-sweet chocolate chips
sprinkles (optional)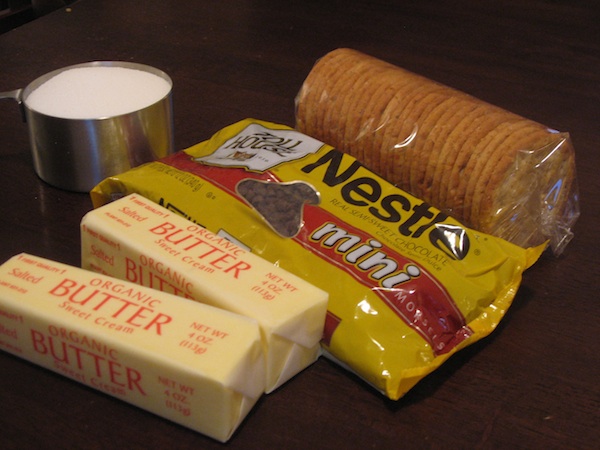 1.  Preheat oven to 400 degrees.  Line a cookie sheet (10 x 13″ works well) with aluminum foil.  Grease the foil by rubbing with a stick of slightly-softened butter or by spraying with cooking oil.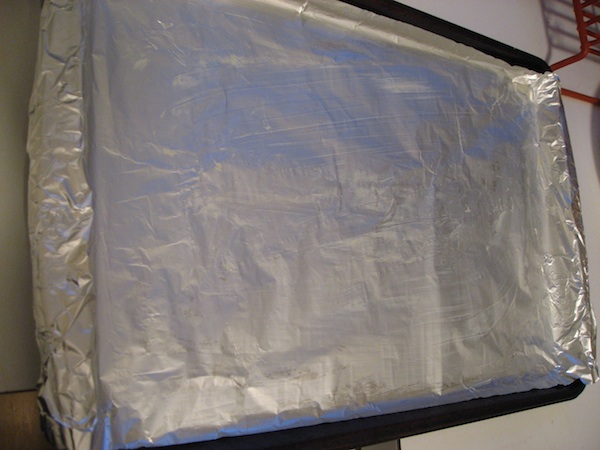 2.  Crush crackers or pretzels and spread over the cookie sheet.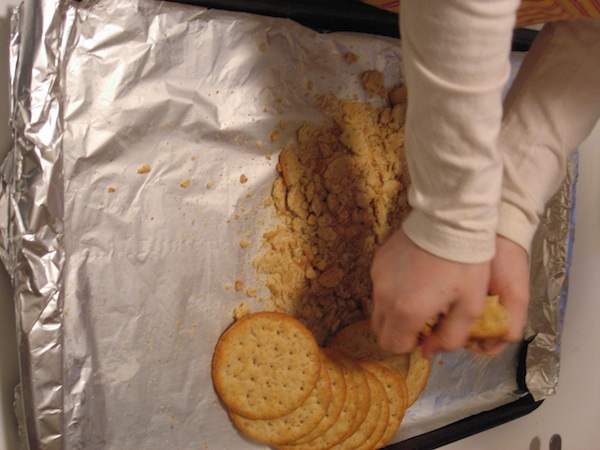 3.  Place butter and sugar in small saucepan over medium-high heat.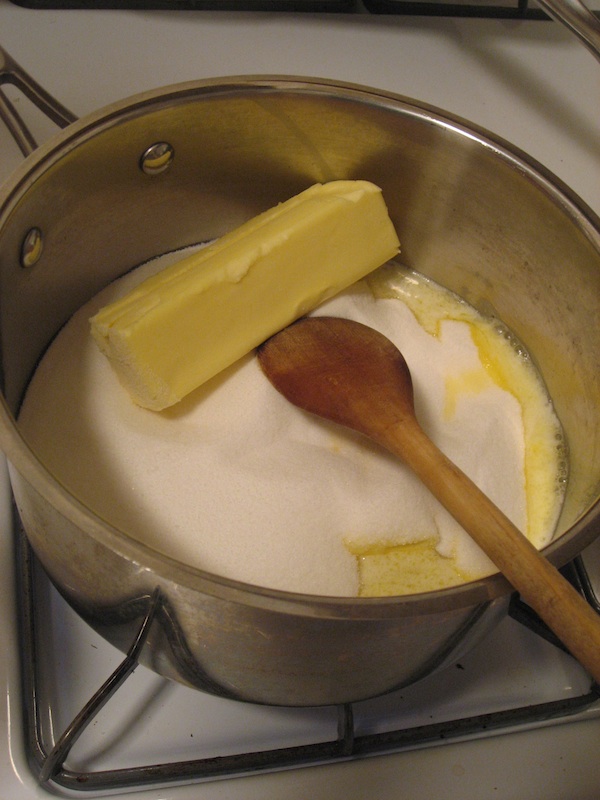 4.  Bring the butter and sugar to a boil and boil for 3 minutes, untouched.  (If you are making this recipe with children, it goes without saying to be very careful with the boiling toffee and hot cookie sheet.) The mixture should be completely blended and should look like this picture more or less. If you see pockets of melted butter, cook for a bit longer.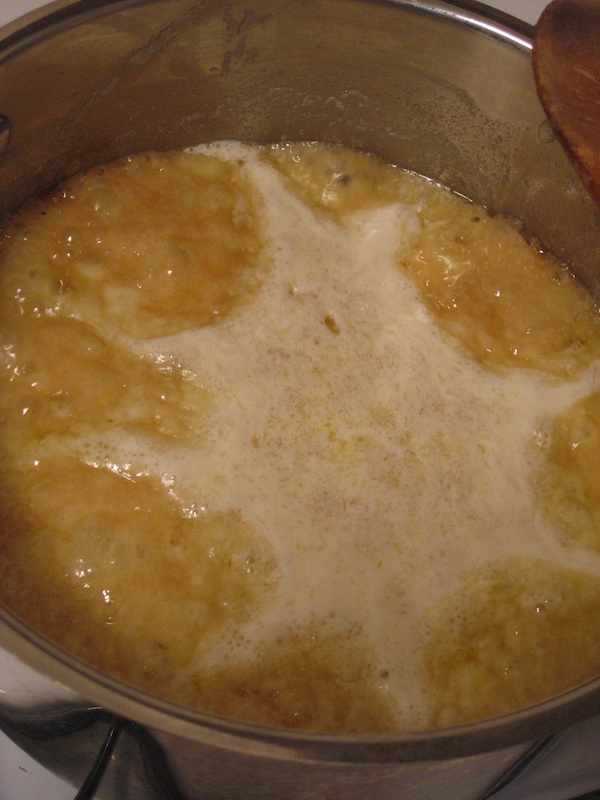 5.  Pour evenly over cracker mixture.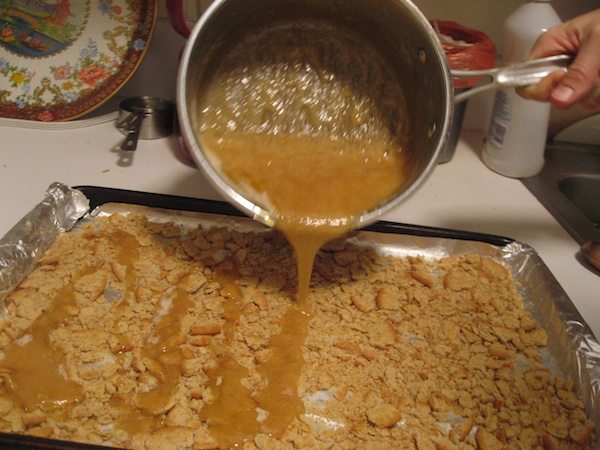 6.  Bake in a 400 degree oven for 5 minutes.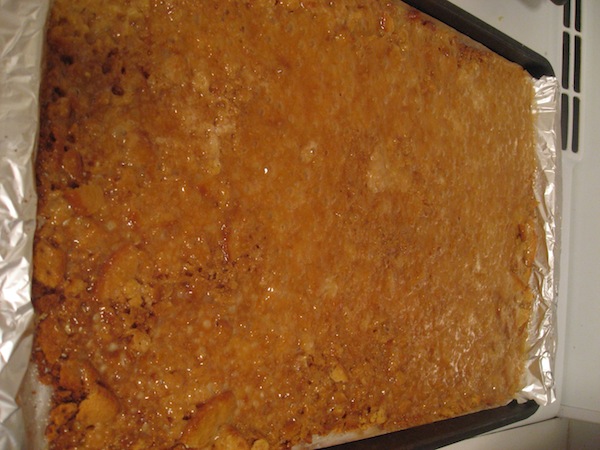 7.  Remove the cookie sheet from the oven, and immediately sprinkle the cracker-toffee with the chocolate chips.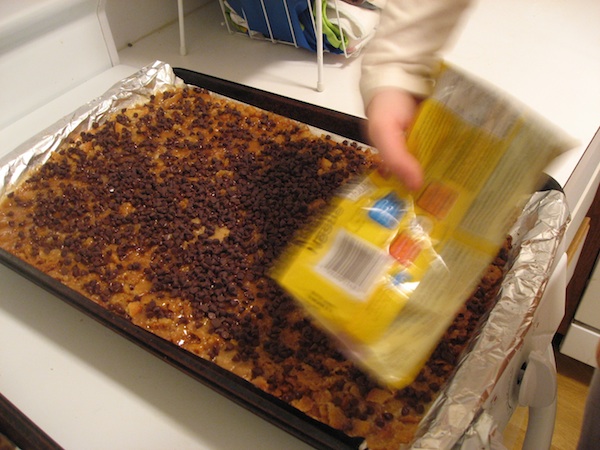 8.  Use the back of a spoon to spread the chocolate evenly.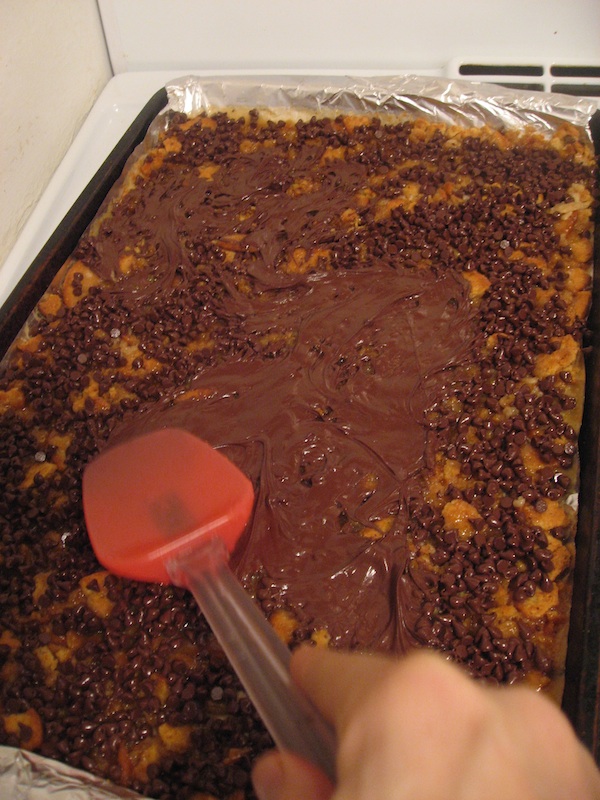 9.  Decorate with sprinkles if desired.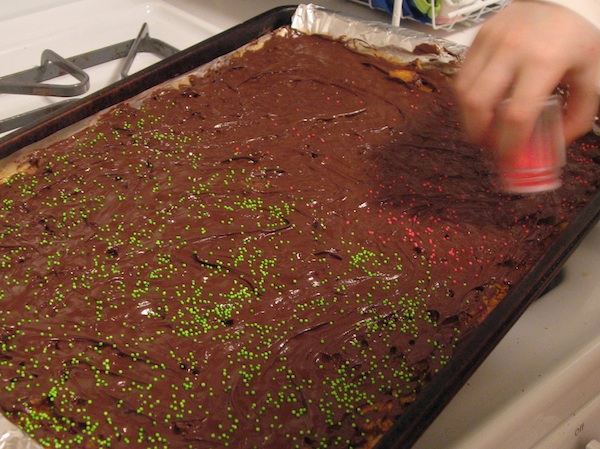 10.  Chill in the fridge or freezer (or outside in the cold) for at least 15 minutes.  Remove the foil and then cut into 2 inch strips.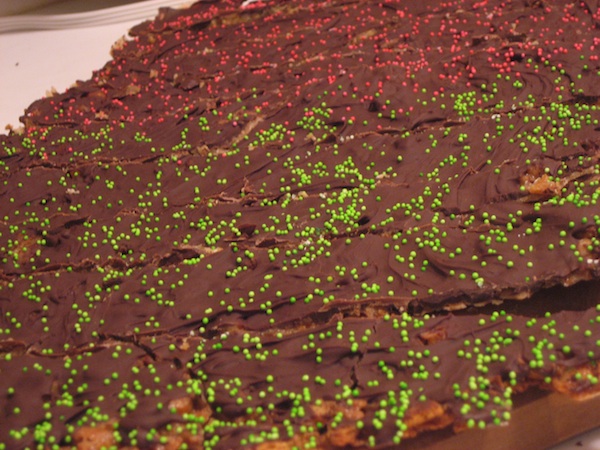 Cut again crosswise to make 2 inch squares.  (If frozen, the toffee may become brittle and break into uneven pieces, but that's okay too.)
Store in the fridge between layers of wax or parchment paper.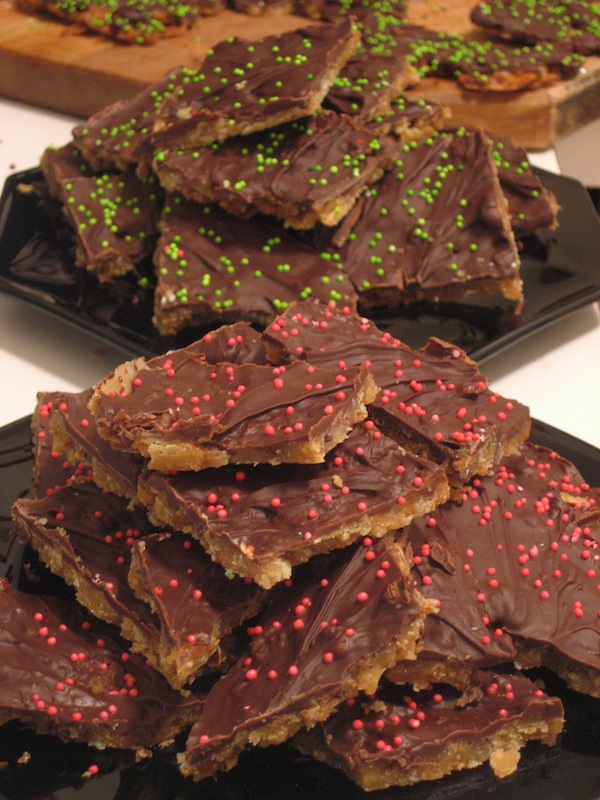 See also the one-page printable recipe version.
If you make it, please come back and tell me how it went!