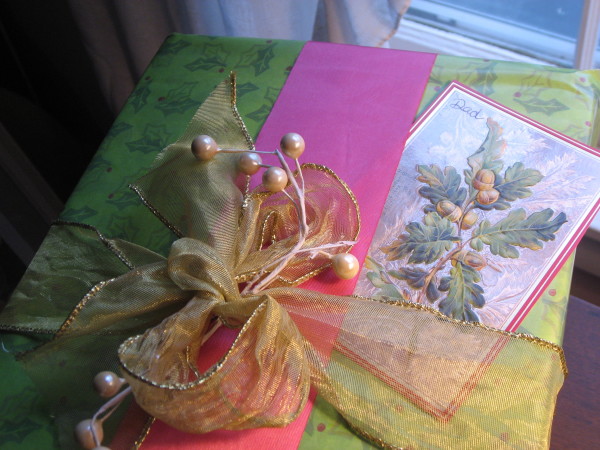 Even if you appreciate a beautifully packaged present, you will rarely have to buy wrapping supplies if you can hang onto the trimmings of birthday and holiday gifts.
On Christmas morning, we set out several shopping bags to collect re-usable wrapping paper, ribbons and cards. Kids can join in the fun by helping conserve and categorize pretty pieces.
Wrapping Paper
Ripping a package open is fun, but save that for the little ones.  Grown-ups can open packages by slipping a finger under the tape and quickly lifting it off.   (Or keep the paper even more pristine by unwrapping with a pair of scissors, like a surgeon.)
Alternatives to Recycled Paper
It can be hard to save enough paper to wrap large gifts.  Consider cutting down on the clutter of different rolls of paper by buying one big roll of brown paper. Jazz it up with recycled ribbons and cut-out cards or ask your child decorate it with good old-fashioned crayons or paints.
Or use the orderly beauty of numbers to decorate your package by wrapping with the financial section of the newspaper. Add a flourish with thick ribbon or several rounds of colored twine.
Ribbon
I really love the look and feel of real fabric ribbon, but I just can't get myself to spend money on it for gift wrapping.
The solution is to save all the beautiful ribbons you receive, roll them up or toss them in a ribbon box, and enjoy the pleasure of tying them in a bow when it's your turn to gift.
Even small strips of ribbon come in handy for dressing up a bottle of wine or other hostess gift.
If you want to go the extra mile, you could even iron the (fabric only) ribbons to make them look almost as good as new.
Gift Bags
Because they are more durable and don't suffer the damaging effects of tape and creasing, the now ubiquitous gift bags are effortlessly re-usable. (Don't forget to save the tissue paper too.)
When a gift bag is ready to retire from the party circuit, use it to haul library books or packages to the post office.
Cards
If there is nothing written on the top half of a card, it can easily be used again by cutting around the image to create your own unique card. Punch a hole and thread ribbon through to make it more spiffy.
Recycling wrapping paper and ribbon is an easy way to be both frugal and green.
Do you have some more ideas on how to save money and the earth at birthday and holiday time?