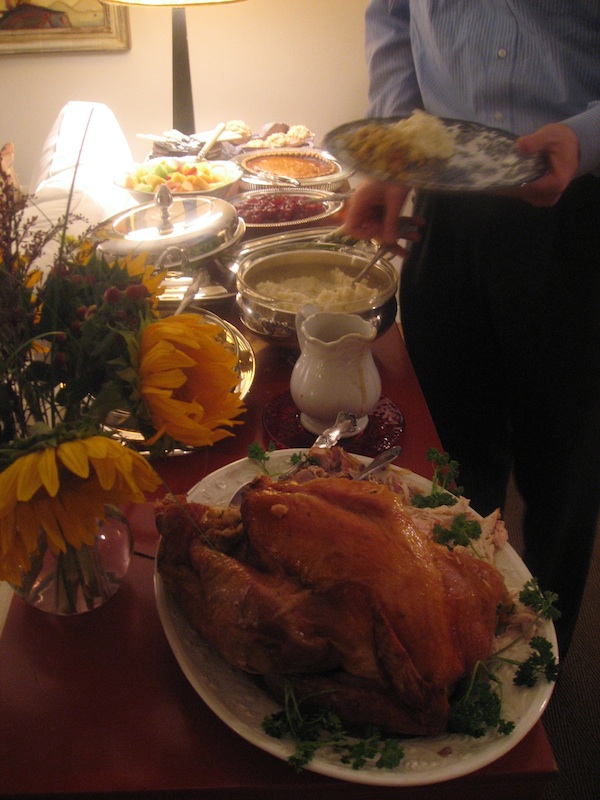 Whether we have little kids underfoot, a full-time job, or just the general holiday pile-up, preparing for Thanksgiving can be overwhelming.  Regular life is full enough — a bit of strategy helps to tackle turkey day with a smile.
I've made Thanksgiving dinner on my own for years now.  We don't have relatives nearby, and we often end up inviting friends over.  So that I don't wake up Thanksgiving morning in a panic and spend the rest of the day running around like a headless turkey, I know one of my best tactics is to get as much done ahead of time as possible.
Side dishes like potatoes, green beans, cranberries, and stuffing can be done days ahead.  (Instead of also fixing dinner on those days, treat yourself to something out of the freezer.)  Then on Thanksgiving day, all you'll need to do is wrangle the turkey, get the house ready, and bake those sweet-smelling pies.  (The pumpkin and pecan pies we make are so easy that I save them for the day of, so I'll actually have something to do.)
The recipes I've listed here are simple yet classic.  With Thanksgiving coming just once a year, I find that it's hard to get tired of the traditional dishes.  And whether you're orchestrating the celebration or just playing a part, there's always room to simplify.
Traditional Turkey Stuffing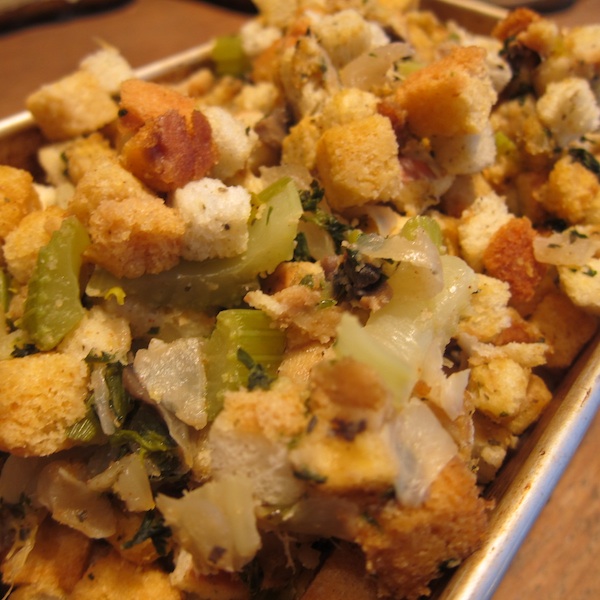 If you have a food processor to do the chopping, now is the time to pull it out.  If not, time for the cook to get an assistant.  That's why in our family this recipe is lovingly referred to as Dad's Turkey Stuffing. With the chopping and sautéeing done ahead of time, all you have to do on Thursday is mix the bread stuffing with the spiced vegetables.
About 25 servings
1 bunch celery with leaves, chopped (4–5 cups)
2 large onions, or 4 small ones, chopped (about 1 1⁄2 cups)
2 sticks butter
5 large mushrooms, chopped (1⁄2 pound)
1 bunch parsley, chopped (1⁄2 – 3⁄4 cups)
1 tablespoon tarragon
2 teaspoons salt
1 tablespoon sage
1 1⁄2 teaspoons paprika
1 teaspoon nutmeg
1 can chicken broth
1 egg, lightly beaten
2 12-14 oz. bags plain unseasoned bread stuffing
1 12-14 oz. bag cornbread stuffing, unseasoned if you can find it
Sauté celery, onions, and mushrooms in butter.  Add spices. Store in a cool place for up to a week.
When ready to stuff the turkey, toss the vegetable-spice mix with the bread stuffing in a very large bowl until blended.  Fill the inside of the turkey with stuffing and bake according to turkey instructions.
About an hour before eating, toss about half of the stuffing (the rest is for leftovers) with a beaten egg and enough chicken broth to moisten.   Heat in a covered oven-safe dish until warm all the way through.  Serve.
Skin-On Smashed Potatoes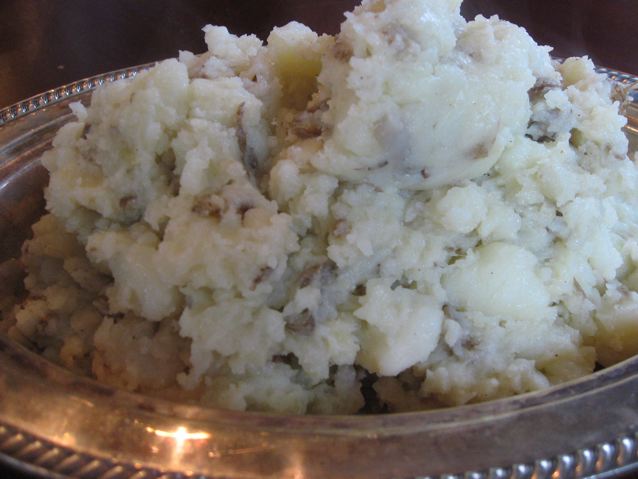 My mom always made mashed potatoes for Thanksgiving dinner, but they're best beaten light and fluffy right before serving.  Because I don't love the pressure of whipping up smooth potatoes at the same time that the turkey is coming done and the gravy needs to be made, I made smashed potatoes last year.
Because potato skins are rich with vitamins, smashed potatoes are a chunky version of mashed potatoes that are both fast and healthy.
Adapted from How to Cook Everything by Mark Bittman.
About 10 servings
5 lb. bag of potatoes (any kind will do: russet, Idaho, Yukon or red-skinned)
1 stick butter
salt & freshly ground pepper
Scrub the potatoes well.  Place the un-peeled potatoes in a large, deep pot and add enough water to cover by about 1 inch.  Add 1 tablespoon of salt and bring to a boil.
Keep the water at a rolling boil for about 30 minutes.  Potatoes are done when a sharp knife inserted into one meets with almost no resistance.
Drain the potatoes.  (If you really want to peel them, give them more time to cool before slipping off the skins.)
Drop a stick of butter into the still warm pot, plus some salt and pepper.  Dump in the potatoes and smash roughly with a fork or potato masher, leaving lots of lumps.  Add more butter if desired, and you're done.  (Refrigerate for up to five days before reheating in the microwave.)
Classic Cranberry Sauce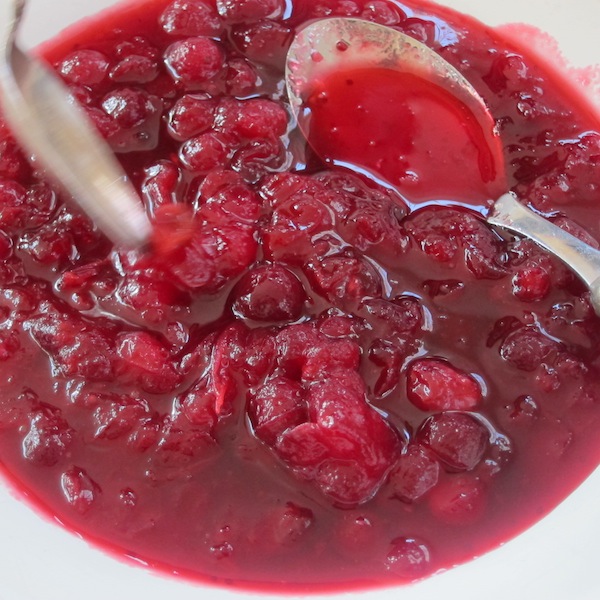 We've always used the simple recipe on the back of the Ocean Spray package of fresh cranberries.  It's unbelievably easy, and equally as delicious.  If you want to mix it up, add a few orange slices for color and variety.
Makes 2 1/4 cups
1 cup sugar
1 cup water
1 12-ounce package fresh cranberries
Combine sugar and water in a medium saucepan. Bring to boil; add cranberries, return to boil. Reduce heat and boil gently for 10 minutes, stirring occasionally. Cover and cool completely at room temperature. Refrigerate for up to a week before serving.
Buttered Green Beans
Try to find the freshest green beans possible.  Ideally they should snap when broken in half.  Make trimming faster by snapping off the stem side only (leaving the curly end) — or recruit your kids to help!
About 10 servings
4 lbs. green beans, washed and stem-ends snapped off
4 tablespoons butter
salt and freshly ground pepper
Bring to boil a large pot of water with 1 tablespoon of salt.  Drop in the beans and cook for about 5 minutes or until bright green and as tender as you like them.  (Taste one.)
Drain the beans and then drop them into a large bowl of ice water to stop the cooking.  Drain again and refrigerate in a covered container for up to 2 days.
When about ready to serve, place the beans in a microwave-safe dish.  (Since the stove and oven are usually busy at Thanksgiving, I like to use the microwave when possible, but if you prefer you could also sauté the beans in a skillet.)  Top with about 4 tablespoons of butter.
Heat in the microwave (about 5 minutes) until hot all the way through.  Toss with the melted butter, season with salt and pepper, and serve.
Shopping List
Things You Might Already Have
tarragon
salt and freshly ground pepper
sage
paprika
nutmeg
sugar
1 egg
Things You Might Need to Buy
1 bunch celery
2 large onions, or 4 small ones
5 large mushrooms (1⁄2 pound)
1 bunch parsley
4 lbs. green beans
5 lb. bag of potatoes (any kind will do:  russet, Idaho, Yukon or red-skinned)
1 12-ounce package fresh cranberries
4 sticks butter
1 can chicken broth
2 12-14 ounce bags plain unseasoned bread stuffing
1 12-14 ounce bag cornbread stuffing, unseasoned if you can find it