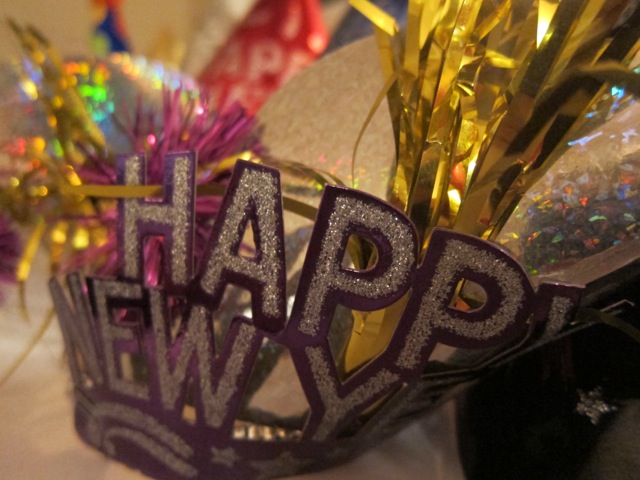 When I was single, New Year's Eve always presented a dilemma: restaurants and organized parties charged an arm and a leg, but how to make the night special?
Now that we have children, finding and paying a babysitter doubles the premium for a night out.
Over the past few years, we've developed a new tradition of throwing a small party: we invite a few couples over for dinner and dancing. So kids can be involved, we celebrate midnight with the Brazilian islands: at 9 p.m. Another hour of dancing and carrying on, and there's still time for a good night's sleep (or another party for guests who are still cool enough).
Here's how to quickly put together a little bash that won't break the bank, but will be easy enough that you'll want to repeat it year after year.
Set Your Clocks to Midnight…Somewhere
It gets dark early these days, so it's easy to trick yourselves into believing the night is not young.
My friend Eve arranges her kid-friendly parties around Morocco's celebration at 7 p.m. To celebrate at 8 p.m., call it an Azores festa.  My parents and their friends line up with Buenos Aires and make the ball drop at 10 p.m.  (Tailor your own party by finding out who is chiming in the new year when.)
Allow about an hour for appetizers and chatting, an hour or two for eating dinner (depending on whether you'll have a separate seating for the kids), and at least an hour for toasting "midnight," dancing, and generally acting silly.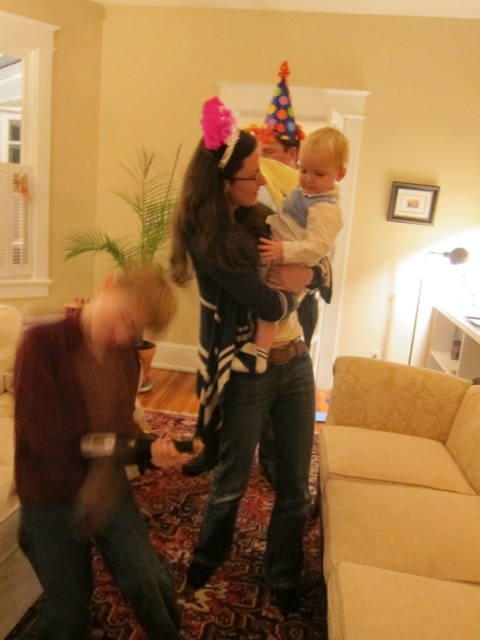 Gather Your Guests
Use the phone (or email) to get instant responses so you can start planning. To make the home party a little more glamourous, ask people to get a little fancy or to wear something crazy.
Hit the Dollar Store
Grab some noisemakers, crazy hats and streamers. While you're there, pick up candles of all sizes from tea lights to sticks to pillars.
Plan the Menu
To sail into the new year with ease, forget fancy recipes. Cook an old family favorite — it's still new to your guests, and making something familiar will give you more energy for partying. Then just break out one simple special element, like sprinkles on ice cream with sparkler-candles.
Want to get more elaborate?  Babble has recipes for 7 traditional and lucky New Year's dishes from around the world, including ring-shaped cakes that symbolize wholeness or leafy greens that represent folded money.
Don't Forget the Drinks
Wine, beer and champagne are perfect items for your guests to chip in.  (You might want to have a bottle of bubbly on hand, just in case.)  And don't forget some sparkling grape juice or other fizzy drinks for the kids and designated drivers.
Give a Thought to Decor
Use the party hats and horns to decorate the house and table. Christmas decor (like stars, snowflakes, tinsel, and silver and gold balls) easily add sparkle to the night. Dim the lights and place candles everywhere (obviously keeping in mind young children and fire hazards).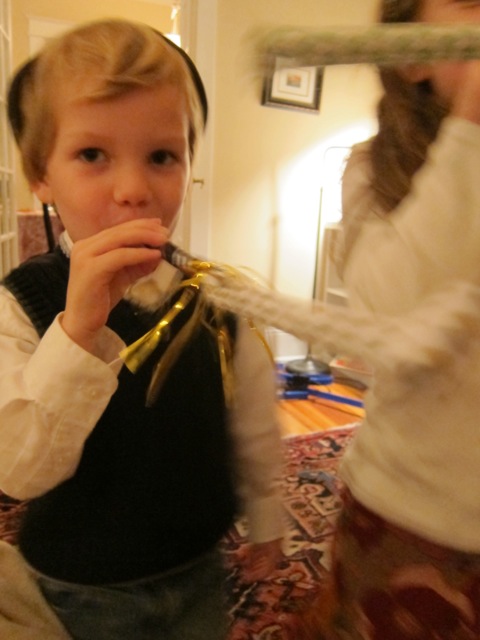 Line Up the Music
For arrival and cocktail hour, we like lounge music. Dinnertime: something smooth and rich like Andrea Boccelli or Il Divo. Party hour: dance music or nostalgic favorites from the 70s, 80s or 90s.
Besides the shameless singing, dancing, and hat-donning, this is the one time of year we allow kids to dance on couches and coffee tables (okay, the grown-ups do it a little bit too).
And hey, how can the neighbors complain when it's all over by 10 p.m.?