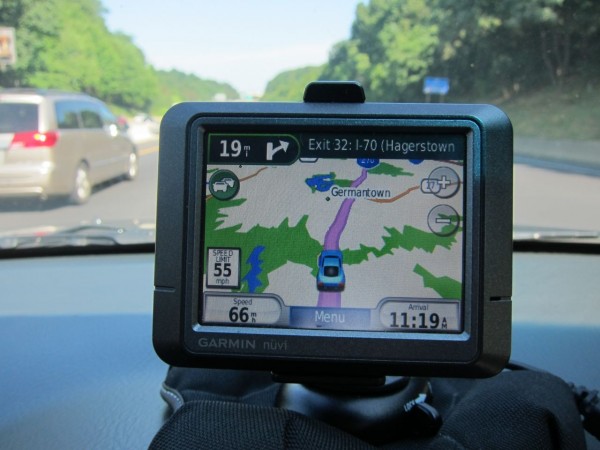 We've just returned from another seven-hour road trip with four kids ranging from nine months to nine years. Car trips can be a surprisingly fun routine-buster, especially if you have all your supplies.
Sure, some oversights can be corrected with a credit card, but who wants to spend money on things you already have? Let this checklist be your guide to a worry-free launch to your next family adventure (and print out the list form at the end).
Navigational Devices
If you're like us, you'll need lots of help not getting lost with maps and directions (or a GPS), plus contact info of people and destinations. Also don't forget your frequent flyer numbers to earn partner points at your hotel, passports if crossing borders, and an EZ Pass so you can sail sleeping angels through toll booths.
Don't Go Unplugged by Accident
How many times have I forgotten my cell phone or digital camera charger? Ugh, don't ask. Then there's the laptop power cord (and a camera cord if you plan on downloading).
Because the Doctor's Away
Never hurts to bring health insurance cards, prescription medications, pain relievers for adults and children (including a fever reducer with dropper), a thermometer, and chewable Dramamine.
In Case of Emergency
We were thankful to have this stuff when we needed it: lots of wipes, a paper towel roll, trash bags (can also be used for car sickness, God forbid), diapering supplies, and an extra outfit for each person.
For the Suitcase
I'm sure you know how to pack your bags, but here are some things we've overlooked before: contact lenses and glasses, make-up, jewelry and hair accessories, slippers, robe and pajamas, and bibs.
In All Kinds of Weather
Depending on the season, you might need jackets or snowsuits, hats and gloves, sun hats, sunscreen, bathing suits, and flip-flops. And because weather is, well, weather, pack something heavier than you think you'll need and something lighter.
Little People Gear
Do you need sleep aids, such as a favorite blanket or lovey, white noise machine, bedtime stories, nightlight, or sleep sack? I hated it when I had to buy a new baby carrier, so don't forget your expensive equipment like slings, strollers, and portable cribs.
In-Flight Entertainment
Alas, the era of playing in the "way back" of the station wagon is over. With everyone strapped into seatbelts, parents have to be creative to keep the peace.
If you don't want your kids to watch non-stop DVDs, bring car-friendly toys like magnetic drawing boards and games, calculators, or stuffed animals.
Another tactic is to periodically dole out new or trip-only toys. We also get a lot of mileage out of music and books on tape. For in-between spaces, car games are perfect: MomsMinivan.com has a ton.
Your Own Dining Car
To discourage too much drinking (and pit stops), we fill bottles and no-spill cups with water only.
Food-wise, we crave healthy snacks on the road (especially if we plan to have meals at fast food joints). Try grapes, baby carrots, sliced apples, bananas, snap peas, granola bars, nuts, crackers. and cheese.
For babies, a teething biscuit and bib can provide 15 minutes of peace, and if you have an older child to help feed, those little melt-in-your mouth snacks are fun too.
Check the Chariot
Check on your car's oil, tires, fluids, and battery. And don't forget to pack your tank with gas. If you are so lucky to have a carful of sleeping kids, a pit stop could break the spell.
Nice to Have but Not Necessary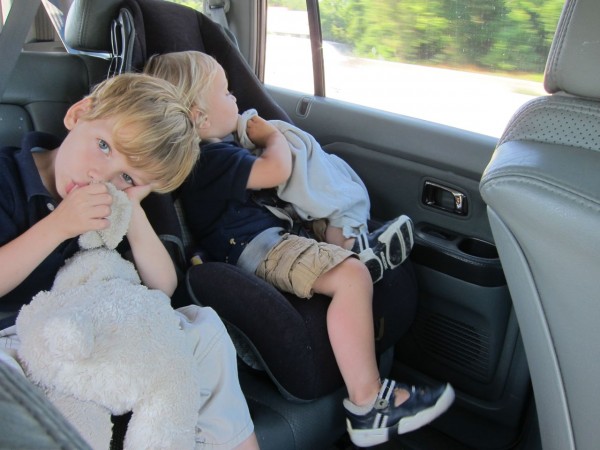 If space allows, I like to bring a cooler of stuff for the hotel, like a ½ gallon of milk and juice, plus some yogurt and apples.
If you're going to spend time in the room or in restaurants, extra toys and activities are welcome – for kids and parents.
A really nice touch if you can swing it is a hostess gift. Something as simple as a box of chocolates or a tin of cookies will make you feel civilized and your friend feel loved.
Head here for a checklist on making sure your house, life and pets are taken care of while you're gone, and here is the same packing items in list form to print and cross off:
Family Vacation Packing Checklist
maps, directions & contact info for people at destination
frequent flyer numbers
passports/IDs
EZ Pass for faster toll roads
car tune-up, including oil, tires, fluids, and battery check
chargers for electronics (cell phones, cameras, tablets, laptops)
health insurance cards
prescription medications
pain relievers for adults and children (including a fever reducer with dropper)
chewable motion sickness tablets
wet wipes, paper towels, trash bags
diapering supplies & bibs
change of travel clothes for each person
contact lenses and glasses; sunglasses
make-up, jewelry and hair accessories
slippers, robe and pajamas
seasonal outerwear or swimwear (hats & gloves, or sun hats, sunscreen, bathing suits, and flip-flops
sweaters, sweatshirts, lightweight jackets (for cool nights, unexpected cold weather)
favorite blankets or loveys, white noise machine
bedtime stories, nightlight, sleep sacks
baby gear like carriers, slings, strollers and portable cribs
travel-friendly toys like magnetic drawing boards and games, calculators, or stuffed animals
music, DVDs, books on tape, travel game ideas
no-spill cups with water & non-messy finger food
Extras: cooler of breakfast food, extra activities for kids like drawing supplies, magazines, hostess gift
Getting out the door can be hectic – OK, it is hectic — but I hope this plan will take away some of the worry. Have a great time and — don't forget the kids!