I love this tip sent in by reader Karen. We're so used to the idea of baby gear being temporary, that the tale of this re-purposed diaper bag is so refreshing.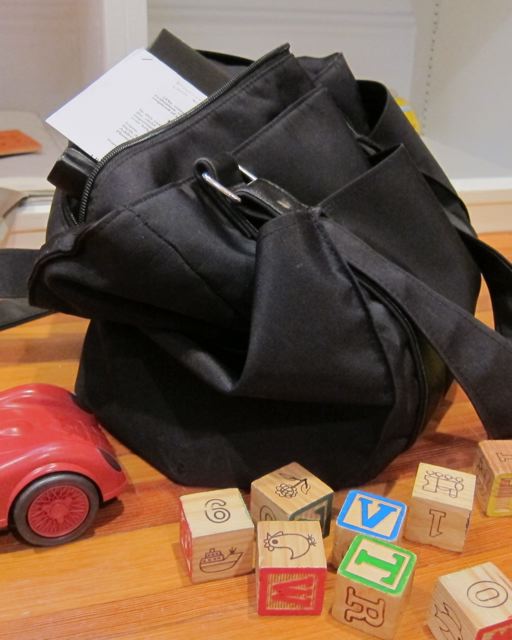 Here is her story:
"When my daughter, Paige, was born eight years ago, she was our third child so I knew I was going to need more help from my husband, Tom, lugging baby equipment and necessities while on-the-go. I took that into consideration when buying the diaper bag for our baby girl.
Even though Tom is in touch with his feminine side and pretty open-minded, out went the cute, feminine colors, patterns and styles for our third and final diaper bag. I bought black. Yep, the adorable blue-eyed, rosebud-lipped baby girl got a plain black diaper bag. Although the original purpose in choosing black was so that my husband wouldn't hesitate throwing it on his shoulder in public, I never realized the longevity and multiple purposes this bag would bring.
Once we emerged from the diaper-bag stage of life, this black bag became our "travel bag." We took it to restaurants with coloring books and activities to keep the kids occupied. It came in the car on vacations to hold magazines and books for my husband and me. The bag traveled on family day outings holding snacks, water, zoo brochures, amusement park maps, and forest preserve trail guides.
Little did I know that this little black bag would become the go-to airline carry-on to hold our family's airline tickets, boarding passes, and passports. It then carried yoga clothes, tennis shoes, and light jackets. And, finally, it is now serving as my briefcase — yes, my briefcase.
As an attorney I tend to carry around paper — lots of paper, files, and more paper. I would never have predicted how useful the original bottle pocket would become to holding my smartphone. I call it the Blackberry pocket now. The inner diaper-pad pocket now holds my most sensitive and confidential paperwork — all zipped up and protected from view. The mesh insert, which originally held diapers, now serves as a writing utensil holder that keeps my pens from bouncing around on the bottom. And the middle divider, which separated the wipes and diapers from the toys, now keeps files separate and organized.
So eight years later, I still tote around the black diaper bag on a daily basis. But for a much different purpose.  If you asked me back then how long I expected to haul around the diaper bag, I would have thought it would be lost by now. But then again, I thought I would have lost my baby weight by now too."
— Karen (Cincinnati, Ohio)
I have to admit, I have a black diaper bag like Karen's. The one in the picture was used to haul folders, make-up, notebooks, and a curling iron to a Frugal Mama Makeover shoot last weekend. Isn't life funny? A few years back, we would have been talking about the versatility of little black dresses.
Have you re-purposed or re-used something? We'd love to hear your story too! Please share it in the comments or send it to me at tips@frugal-mama.com.