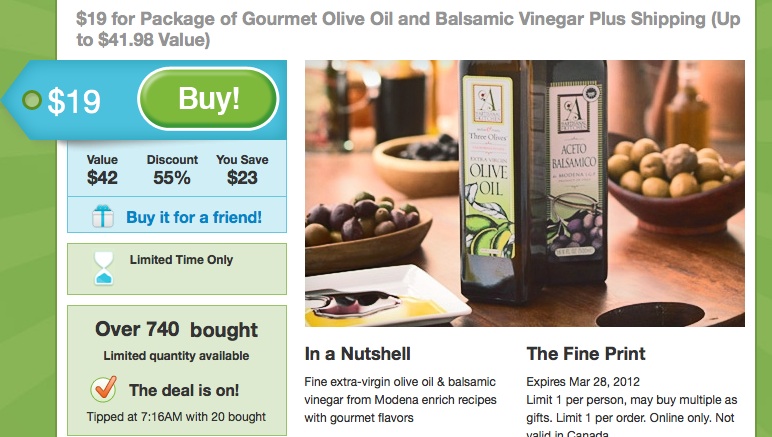 News about how the deal-of-the-day coupon movement is losing steam made me think about why I was never on the train.
I'm sure people who know I write about saving money are probably asking, "Why wouldn't you be all over coupons by e-mail?" So here's the deal.
A few weeks ago a friend of mine suggested I get the Whole Foods coupon on LivingSocial. It was $10 off $20 of groceries. We have a "Whole Paycheck" within walking distance and, while I try to avoid it, sometimes I need to get some European bread for hubby, or fruit that doesn't taste like soap.
So I decided for the first time to register at one of these daily deals sites and pay for the coupon. I thought I would get the coupon instantly, but I had to wait a day for it to arrive. I figured out how to print and fold it, and then I was worried I'd forget to use it, so I went as soon as possible to Whole Foods.
I bought a few more things than I planned because I had to buy over $20 in order to get the discount. There was a little bit of trouble at the register, but in the end, I got my $10 off.
I saved 50% at a high-end grocery store for food that my family and I enjoyed.  Still I'm going to unsubscribe, and this is why.
1.  Deals are Mental Clutter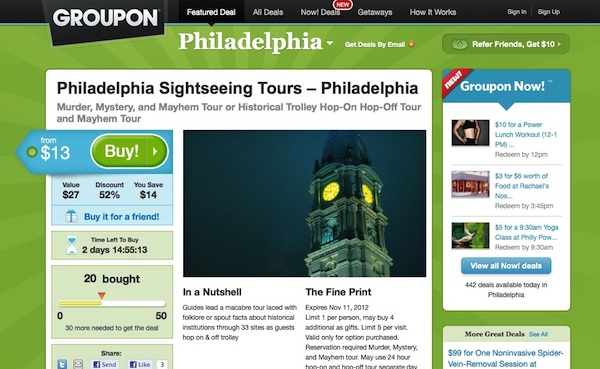 Yes, I like to live a frugally, but I also like to live simply. I love to find the good things in life that are free, to figure out how to save money without pulling out my wallet, to turn off the noise of marketing and listen to my inner needs.
Because I purchased one deal, I am now receiving deals all the time. Every day I am tempted by the thrill of a bargain and a new purchase or experience. When the e-mail arrives, I have to stop what I'm doing and think about whether I want that deal or not. If so, I might have to coordinate with my husband, find a sitter, or do some research to figure out if it's the right place and a good price.
Life is very hard to keep simple. I see that more and more as I become a working mom and a homeowner. To me, $10 or $20 is not worth the cost in inner peace.
One thing I can do to simplify is to silence advertising. When I need something, I'll look for a good deal. But even if I can't find one, I know that I will have saved more money in the end by buying less.
2.  I Don't Need More Stuff
Keeping our house uncluttered is a constant battle. Even though we have seriously purged our things many times over the past ten years (and especially with each move), I still feel like we have too much Stuff.
I wish I were more minimalist, like Leo Babauta of Zen Habits, who thinks very, very hard before bringing anything into his house.  Because each new thing requires finding somewhere to put it, taking care of it, cleaning it, organizing it. And when you don't want it anymore, there is finding it a new home (giving it away, selling it, disposing of it in the right way).
Each object costs me a bit of time and simplicity.
3.  A Deal Isn't a Deal If It Invites Me to Spend Money
Most groupons don't have to do with stuff.  They are deals for health club memberships, spa packages, hotel stays, yoga classes. But they usually cost a lot more money, and to me, they are luxuries.
Because a Groupon is worth more money than a grocery coupon, it becomes something valuable that has to be cared for. I have to make sure I use it in a certain amount of time. I have to deal with the guilt if it wasn't the service I expected (but I am locked into), or worse, if I forget to use it before it expires.
My friend Paola still laughs about how she bought a daily deal for an ice cream shop near her, and she kept forgetting to use it.  On the expiration date, her kids were happily involved in another activity, but she grabbed them and shoved them into the car, yelling, "We have to go get ice cream right now!
I can totally see myself in that scenario, so call me cuckoo, but I'm going to continue to duck the radar. As long as I can, I'm not going to get a smartphone. I'm not going to sign up for cable. I'm not going to get my daily deals by e-mail.
These are some ways that I keep my inner life quiet. Because believe me, my outer life is anything but!