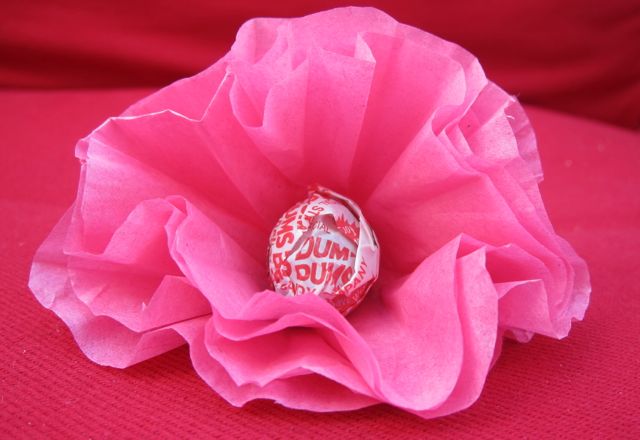 As much as I smile when I remember those Spiderman fold-and-tuck cards and little boxes of conversation hearts that I received in third grade, I love even more making homemade Valentine's with my kids.
It doesn't take much more than some construction paper, glue, and a few doilies or candies. And even though two dozen cards can be finished in a single afternoon, usually we have so much fun that we want the project to last longer.
This year, Mark (who is now in preschool) is also joining the Valentine-making group. Sofia and Virginia actually fought over who would help him make his cards, so all I had to do was buy a little bag of chocolate hearts (and break up the fight). And how cool is it, I thought, that my daughters were old enough to be the purveyors of our family tradition.
Here are our favorite ideas:
1.  Lollipop Heart Flowers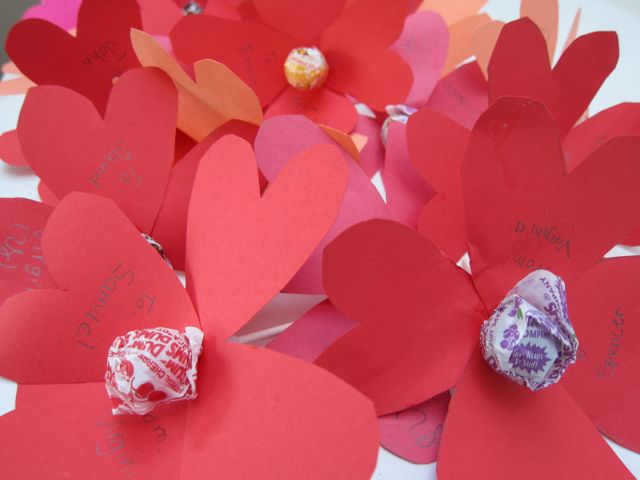 One of our all-time favorite Valentine's cards are these candy flowers. Even though they take a bit more time than other cards, we keep doing them because they're just so dang cute.
You can see the instructions at Martha Stewart Kids, where I first spied them, but basically each flower needs four paper hearts.
Glue two hearts together so their pointy tips are overlapping. At this point, it's best for children to write on the petals, something as simple as a "to" and "from" message.
Then glue the other two petals over top like a cross.  Once dry, punch a hole in the middle and insert a Dum-Dum lollipop with a generous dollop of school glue.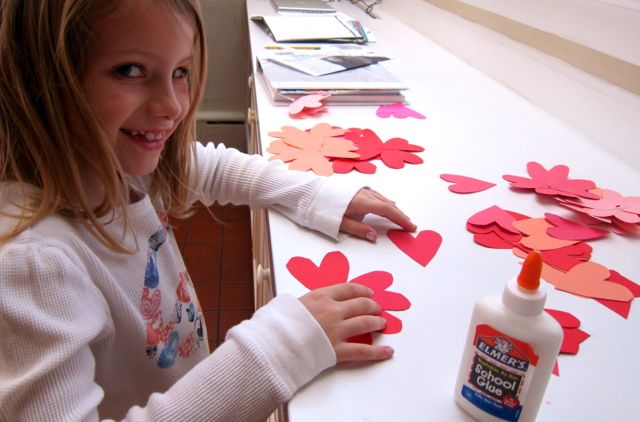 We used to be obsessive about using only red, pink, orange, and purple lollipops, but now we use all the colors (which saves money too) and I think they look just fine.
2.  Lollipop Poppies with a Leaf Message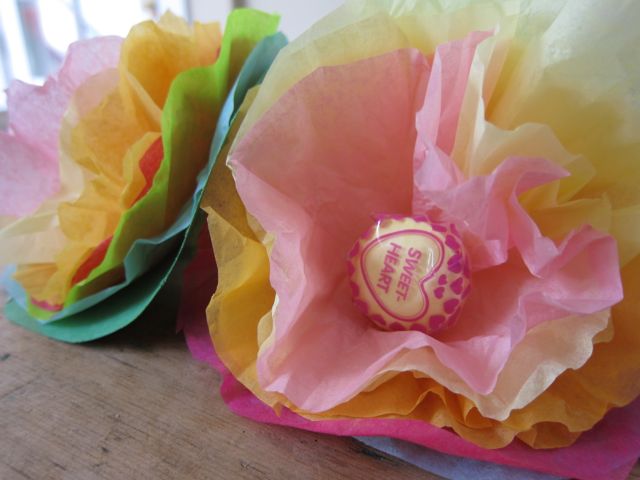 An easier version of the lollipop heart flowers, tissue paper flowers (like the one you see at the top of this post) don't require cutting out and gluing hearts. Just poke a lollipop stick through a few circles of tissue paper, and add a construction paper circle for the card.
For full instructions and photos, see my post on Lollipop Tissue Paper Flowers.
3.  Chocolate Heart Cards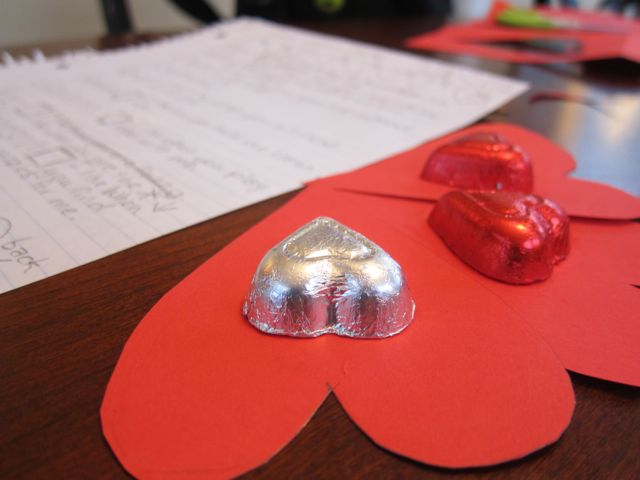 You could think of a million variations on this very simple concept, but the basic idea is to make a card with thick red paper and glue a foil-wrapped chocolate heart in the center. On the back side (before you attach the chocolate), your child can write a message.
This idea can be tailored to the age of your child and his abilities. When my daughter Virginia was three years old, she didn't cut out her Valentines. We just drew a heart on a square sheet of paper and glued the candy in the middle.
Last year we glued a small doily to the card, then attached the chocolate.
4.  Each One Unique | Mix-n-Match Craft Supplies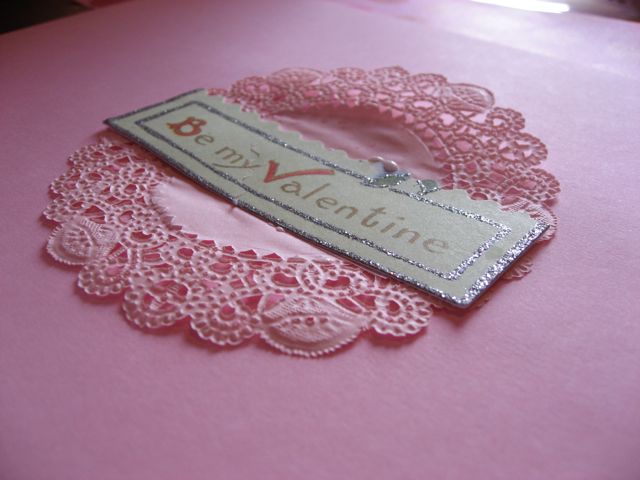 Instead of the assembly line process, the idea here is to fashion cards in whatever way strikes your child's fancy. If you keep all the supplies in a box that can be put away easily, this project could occupy children for days. My daughter, Sofia, has a Valentine's birthday, so we have used this project many times as a party activity.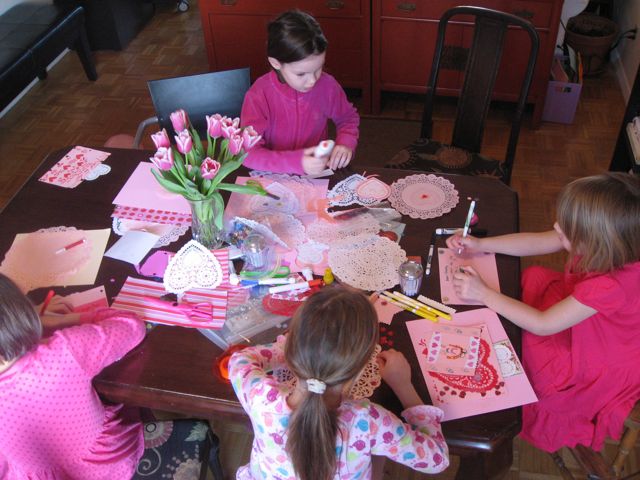 For supplies, just pull out whatever you have on hand, such as leftover scrapbooking paper, ribbon, sequins, wrapping paper, rubber stamps, construction paper, recycled greeting cards, Valentine's candies, and of course, tools like scissors, glue, and hole punchers. (Stickers kind of ruin the creative, handmade vibe for me, so I don't put them on the table.)
5.  Doily Cards with One-Line Messages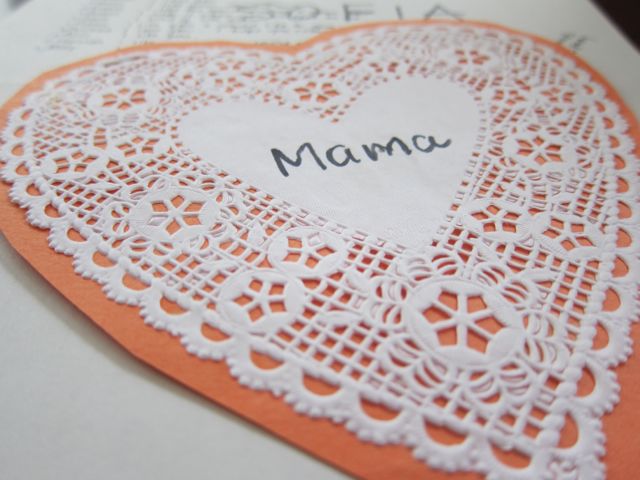 It still amazes me that something as beautiful and delicate as a paper doily is so commonly available. You can find them at most grocery stores, and the heart-shaped kind usually show up at this time of year.
The very first year we made Valentine's, we used this model. Sofia was in preschool. We framed a heart doily by gluing it to a piece of construction paper and then cut around it. When we ran out of red and pink pages, we used purple and orange.
Then Sofia "wrote" a sentence to each person on the back. I then translated the scribble for her.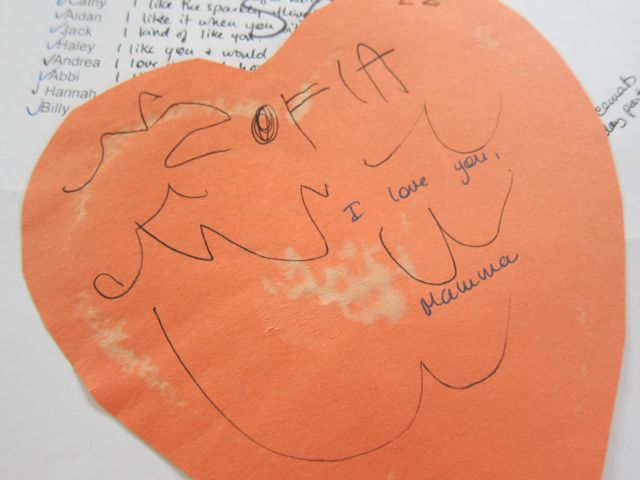 I thought what she wrote to each classmate was so hilarious that I even jotted her phrases down so that I could remember them: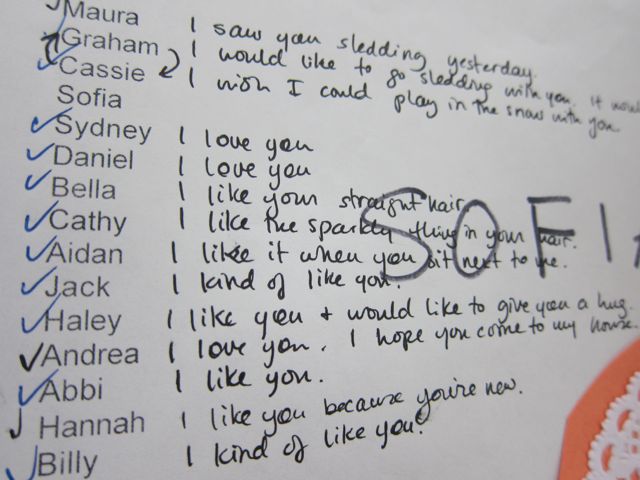 Don't you love the "I kind-of like you" line?
6.  Cookies in a Cellophane Treat Bag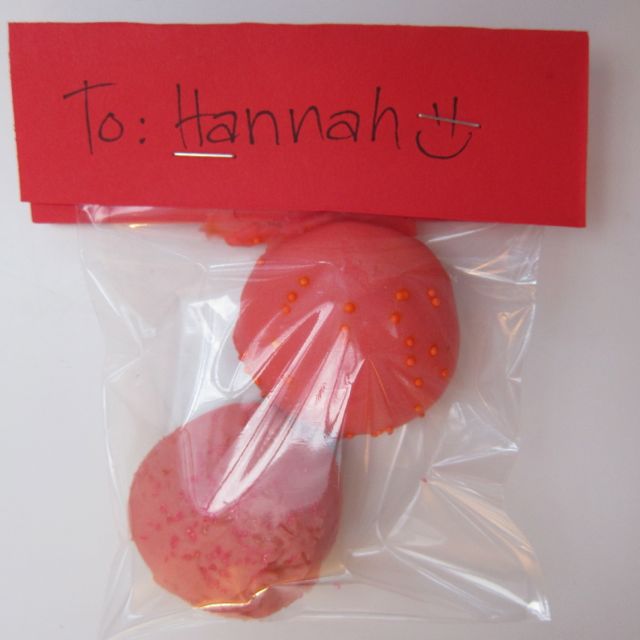 Now that Sofia is no longer four but is in the fourth grade, she says the idea of exchanging Valentine's is getting a little weird. She didn't want to make cutesy cards with a personal message for each person, so we decided on baking bon-bons (our family's favorite cookie) to give to each classmate.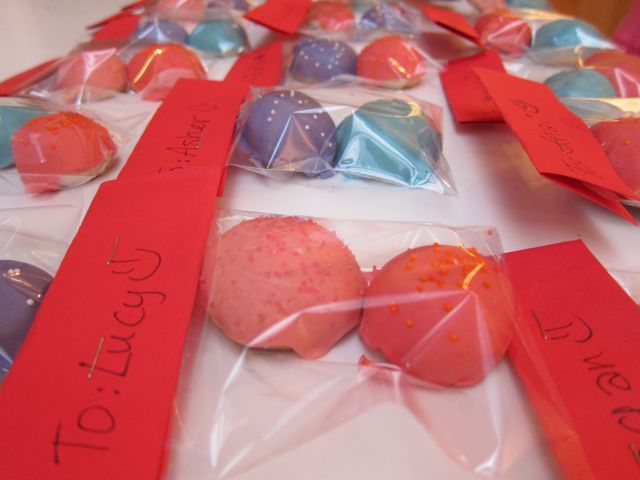 We used small cellophane treat bags we had left over from another party (which can also be found in craft stores). Then we folded the top twice and stapled it closed with a card-stock tag with "to" and "from" on either side.
7. Candy in a Doily Treat Bag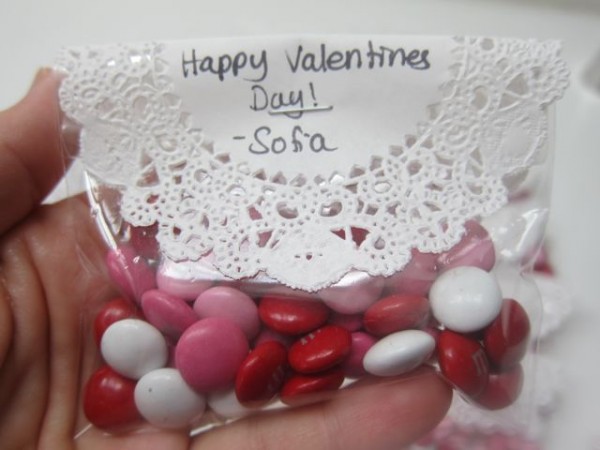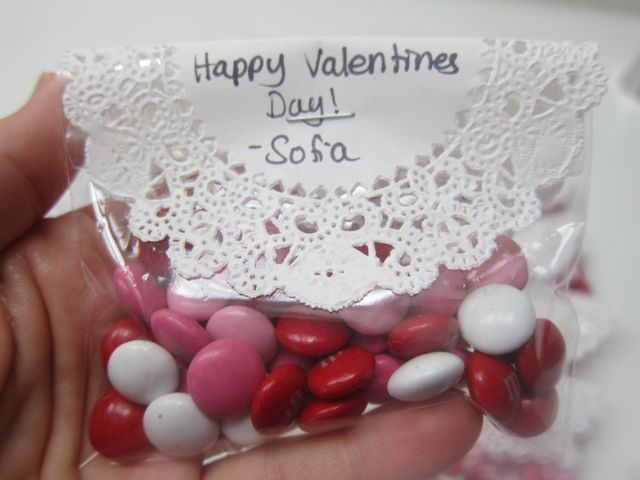 If you don't have the time or interest in making cookies, a cellophane bag looks cute filled with colorful candies.  Here we used Valentine's M&Ms in clear treat bags (3 3/4 inches by 6 inches), which we folded over and stapled with a 4-inch round doily.
The message could be generic for all kids in the class (like Sofia's, above), which is probably easier for kids and teachers to distribute (but not as individual and sweet).  Or you could write each child's name on the front of the doily, and your child's name on the back (with a personal note or not).
Terms of Endearment: Kids Say the Funniest Things
I thought I would wrap up this post with the one-liners my daughters wrote on their Valentine's cards last year.
Here is what Sofia (age nine) wrote on her cards to her third grade classmates:
Patrick:  I wish I were as tall as you
Sylvia:  I like sitting next to you at lunch
Evan:  You're awesome because on your birthday you brought in half moon cookies and I like the chocolate part
Justin:  It's funny when you say that your desk is spotless
Kaya:  You're funny
Maddie:  It's funny when you say, "I'm scared of my mommy!"
Spencer:  Remember when I saw you snowboarding at the Four Seasons?
Meaghan:  It's very fun when we go to Brownies together.  Your  mom is a great leader
Helena:  You're a beautiful girl
Maria:  It was fun when were in the same ski class at the Four Seasons
Liam:  I like it when at morning meeting you always want to sit between Ella and Ella
Addison:  It's fun sitting next to you
Diana:  It was a good idea to make up the "Small Club"
Ella P:  I love having playdates with you
Jessica:  You're a very funny girl
Ben:  I wish I were as fast at math as you
Sam:  It was fun when we were in Curriculum Resource together
Allie:  I wish I were as tall as you, and you are fun to play with
Samantha:  You are funny and fun to play with
Bella:  I love your long brown hair
Mrs. Fedrizzi:  You are the nicest, most gentle and most patient teacher that I ever could have
Ella H:  It's cool how we are both in Brownies and Jump to the Wild Side
Sofia helped Mark write messages to his preschool friends this year.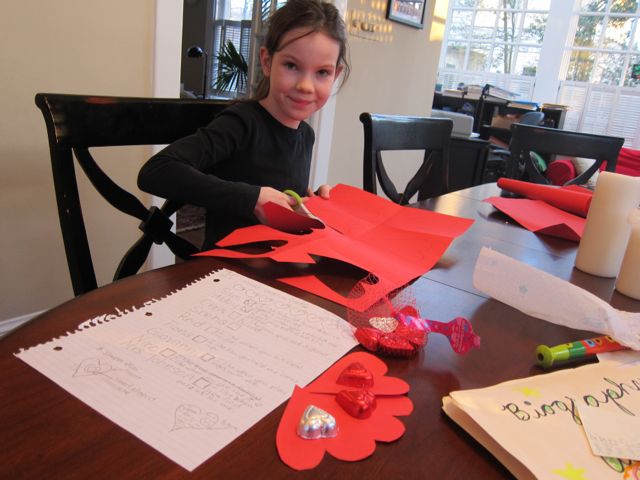 Here is what Virginia (age eight) wrote to her second grade classmates last year:
Ryan:  I like when you put on the NY Yankees shirt
Abby:  I like when you get all hyper
Megan:  You are very, very funny
Mrs. Gamble:  You are a funny, nice, fun teacher
Sophie:  I liked acting out Mr. Bean stories
Maisie:  I like how you laugh
Madison:  You are soooo funny
Sophia:  You are very very very very funny
Sadie:  We are kind of alike because we are both very short
Connor:  It was fun when we carved pumpkins together
Nina:  I really really really like your name.   p.s.  My sister does too
Ian:  I'm really glad you joined our class
Zachary:  The story of the Scissors that Ran Away you wrote was sooo funny
Taylor:  Remember when we did the math graph of things-in-hair or no-things-in-hair together?
Alex:  I like the time we played King Kong and the toucans
Paris:  We are soooooo alike
Ronan:  I like when you chose for your birthday song the cha-cha-chas
Sam:  I like the picture you drew of the planets and the sun
Sally:  You are so fun to play with
Luke:  I like the book Skippy Jon Jones your mom read
Nicholas:  You are very funny
Sean:  Thank you for letting me make a badge
Louisa:  Remember when we went to Cats together?
I always feel like I could do better about recording these golden years with young children, so I'm glad that I at least wrote down these little Valentine snippets, which are like tiny portholes into our world.
One way to do this for yourself without creating more work is to ask your child to write down a list of everyone in his class and then a message next to each name. After the messages get transcribed to the cards, you can tuck away the slip of paper in folder marked "Save."