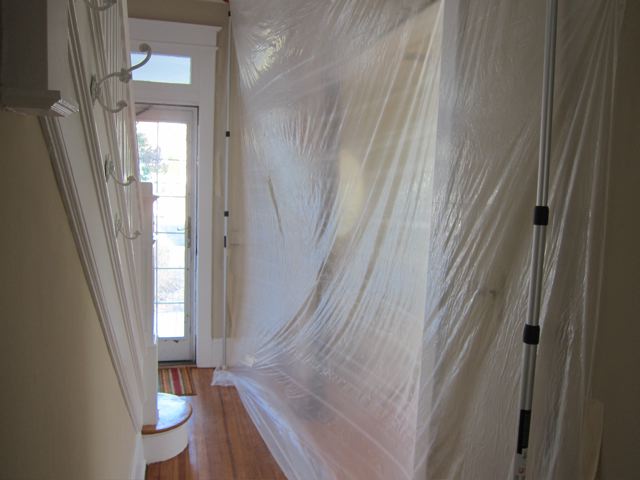 The sound of circular saws slicing through dry wall and nail guns bulleting through two-by-fours at our house now vies for aural space with Ode to Joy on the Casio.
A fine layer of dust covers our internal landscape like a February flurry, the living room is a mountain range of toys, books, and somewhere, Sofia's missing tennis shoe, and there is a toilet on our front porch. Our very first home renovation has officially begun.
As you know, one of my goals for this year was to make our house into a home. When a recommended (and affordable) contractor called and said he could come in four days, I took a deep breath, and said, "Okay!" So last Wednesday, our most straight-forward project got underway: we are converting the front room from a library-playroom to a foyer with two closets.
Since the project involves moving the door to the powder room (which we lovingly call "the tiniest bathroom in the world") from the entry hall to the inside of the room, and removing the recessed can lights, basically every surface is being torn up. A few days into the project, I realized I could choose a new paint color. This is what people who have never owned their own place dream of.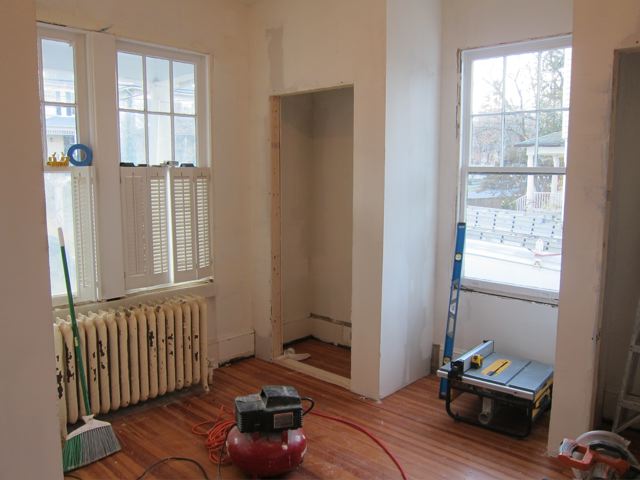 Why Choosing Paint Has Been Compared with Death
In the humorous A Whiter Shade of Pale, Dina Hall aptly points out, however, that picking a paint color can be up there with death, divorce, and marriage as one of life's stressful moments. With each paint company offering thousands of paint colors and several different lines, choice becomes more of a curse than a blessing.
As you know, I decided to lean on an interior designer to help me make decisions on the house. She helped steer me away from choosing my favorite color for the foyer — coral — which would have looked too choppy (among other things) given we will soon have three big white doors and lots of thick white trim in a small room.
So I ventured into the tiny powder room with cherry red, which made me realize that I had made my first renovating mistake. Ugh, the light switch position could have been a little more discreet!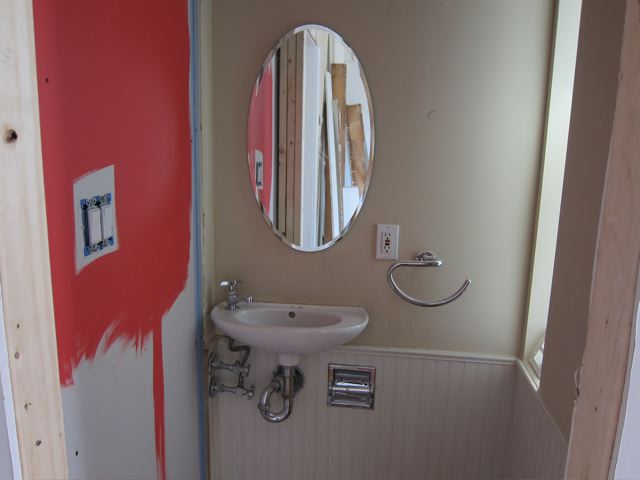 When you have the chance to create something perfect new, it's both exhilarating and agonizing. I was traumatized for a few days by the switch in the middle of the wall, until I decided to go with my designer's suggestion of gray paint in that room.
Now for which gray? Smoke Embers by Benjamin Moore, was a great suggestion — a slight purple-brown cast warmed it up and made it right for the vintage industrial look we are going for in there — but it was still too cold-feeling.
And for the foyer? My designer suggested a pretty understated aqua called Palladian Blue by Benjamin Moore. I love turquoise and robin's egg blue and sea-foam, so it seemed like a good fit. But another problem with paint is that it looks completely different when applied to a wall.
You can be absolutely completely sure that you love a color on a swatch. You look at it in all sorts of lights, you compare it to other colors, you sleep on it and dream about how much you love it. But when you actually paint on a piece, it is suddenly too green, too wild, or too dark. Alas, the Palladian Blue felt too bright.  (You can see more color, furniture, and fixture ideas for the foyer on my virtual dream board at Pinterest.)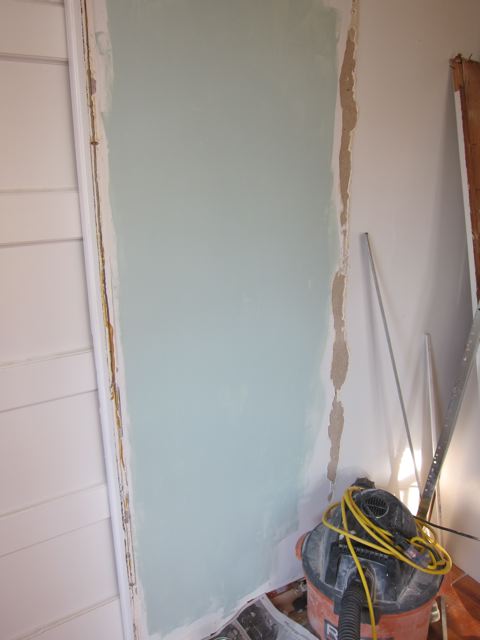 "Just Buy This One"
My friend, Ghi, recently brought to my attention a website called Just Buy This One, whose tagline is: Millions of products. Thousands of shops. Too much choice. Why not stop shopping and start enjoying life?
Amen. But how to accomplish this with paint colors?
I have dragged the kids to the hardware store three times to get paint samples mixed (during with Luke knocked cans of shellac off the shelves and rolled herds of duct tape down the aisles), almost ruined my new room with splattered paint, and agonized for days over a cornucopia of green-blues and blue-grays. I am ready to be done.
My answer is the unique historical 132-color paint palette of Farrow & Ball.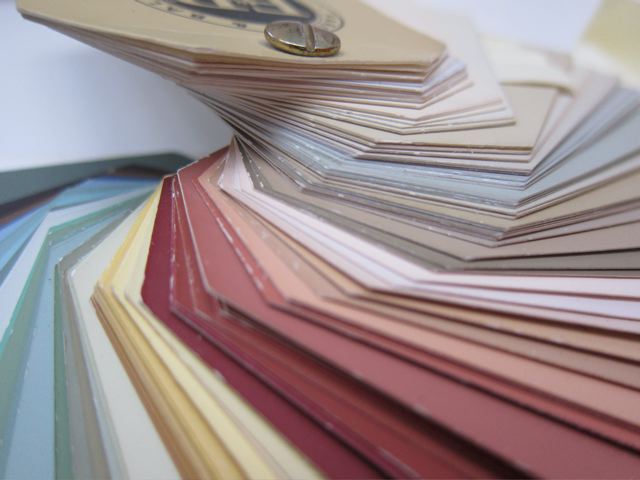 Designers say that Farrow & Ball colors look great in old houses like ours, as well as in contemporary spaces. Their paints are often based on real samples found in old cottages, castles, and country estates in Europe. Many were used by John Fowler, a designer who championed the English Country House style and whose look is described as 'humble elegance' or 'shabby chic.'
I love Farrow & Ball's old-world names like 'Lamp Light Gray' and 'Eating Room Red.'  The fact that they have narrowed down their palette so much that they can get away with names like 'Light Blue' and 'Olive' is so refreshingly simple.
After looking at a bunch of interiors done in Farrow & Ball paint, pouring over the F&B color book that my mom lent me, and testing a few colors on the wall, I decided that limiting my choices to the small palette of a respected company like Farrow & Ball is the answer to paint-choice hell.
"You can't go wrong with Farrow & Ball paints," says my in-house designer mom, "because they are time-tested."  And with only a handful of their 132 paint colors being in the light blue-green family, I'm faced with a much more manageable decision.
I am so adamant about my choice to limit my choices, that I have chosen a color for the foyer that I have not even tested on the walls: Farrow & Ball's Skylight.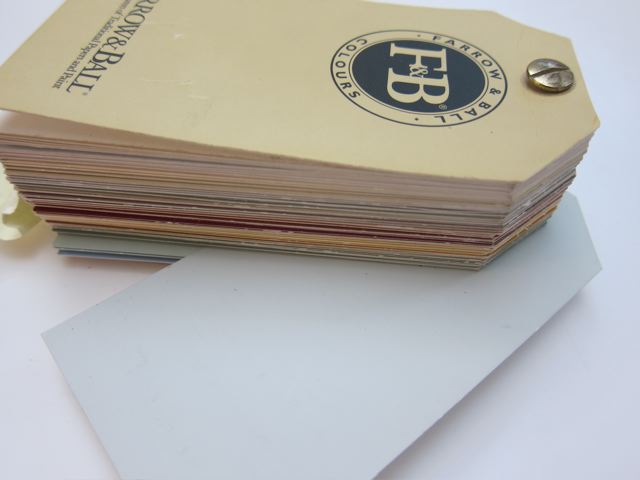 Boring? Maybe. Safe? Yes. But the paint search is over. And I can move on with life.
Tip: When testing paint, don't do like me and drip messy paint all over yourself and your new room. Do like my wiser mother and paint a sheet of cardboard (or a paint-sample board, like this one from Small Wall), and then hang it up on your nice walls. And make sure you take a peek at it at all times of the day, in cloud and in sun.
Here's how Skylight ended up looking in the room, post-construction: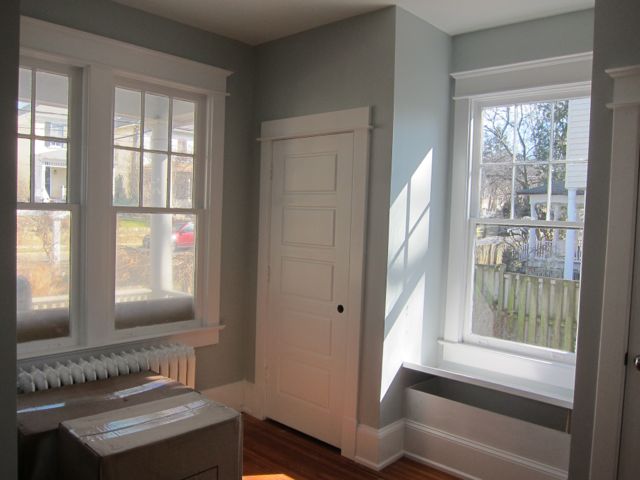 And several months later, with a little more furniture: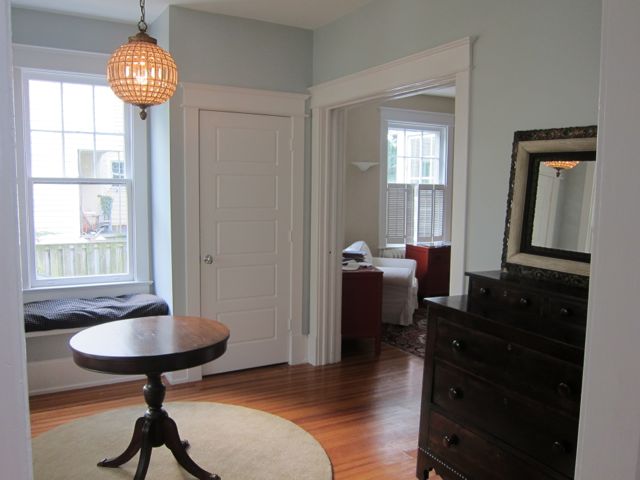 I love how the color as a calming, old-world feel to it.
How to Get Designer Color at a Hardware Store Price
Now for the money-saving trick that I mentioned in the title. According to interior designers, Farrow & Ball paints are unmatched in beauty, depth, and quality. But they are also expensive. They are made one batch at a time in Dorset, England. The company says:
We use more high quality pigments and resins and no low quality 'fillers', which gives our colours visibly greater depth and purity often referred to as the 'Farrow & Ball look'. Unlike many other manufacturers we use naturally occurring pigments, such as Umbers in their purest form, and we continue to use natural ingredients such as Chalk, Lime Putty and China Clay.
Enthusiasts claim that off-the-shelf paints look "plasticky" in comparison. I believe them, but I feel a little foolish plunking down $85 for a gallon of paint when we are just getting started. The solution? Have the paint store match a Farrow & Ball color with an off-the-shelf paint. (You can order a Farrow & Ball free color sample chart or a color book for $35.)
Most paint companies, like Sherwin Williams, have all the colors of other companies keyed into their computer system, so all the matching is done. Last week I ordered up a sample quart of 'Elephant's Breath' and knew I had found the right gray for our industrial chic bathroom (inspired by that cute airplane sink with the exposed pipes).  See more of the vintage industrial look on my Pinterest board of the same name.
When it comes to doing our next project, I may seek out the real thing. For now, in this world of overwhelming choice, I am just relieved to have someone do the homework for me and say, pick this one.