I confess I've been feeling quite unfrugal recently. All this spending on our house makes me wonder if I'm losing points in the thrift department.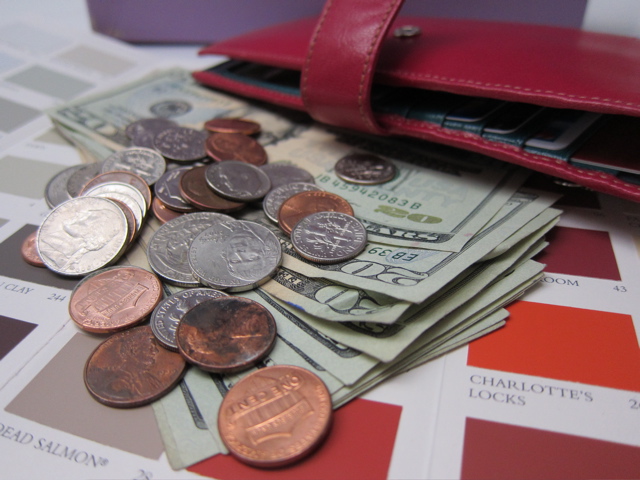 I mean, would a big saver pay an interior designer? Would a savings expert buy a house in one of the most expensive cities? Would a thrifty person renovate — wouldn't she figure out ways to make do?
But then I thought about it: I have always valued home. I don't just spend a lot of time at home because it's frugal. I'm a domestic person. Instead of playing sports or going on nature walks, I love being at home with my kids, cooking, doing crafts, organizing, having people over. The home section is my favorite section of the newspaper. Instead of handbags, antiques are what I love shopping for. And having a haven that is both comfy and pleasing to look at is important to me. Creating a beautiful abode is what my sister, Jenny, would call "functional art."
Put Your Money Where Your Heart Is
J.D. Roth of Get Rich Slowly says the essence of frugality is spending as little as you can on most things so you can spend lavishly on a few things that you love.
All these years of marriage, while my husband has been in training, we have not been able to spend lavishly. Not spending has become such a way of life that I have almost convinced myself that spending is wrong.
The thing is, it's OK to spend money responsibly. Ramit Sethi of I Will Teach You to Be Rich says, I don't care if you spend thousands of dollars on shoes, going out, or organic food. As long as you are on-track in meeting your long-term financial goals — whether it's repaying student loans or setting aside 20% of your income for the future — then it's all right to live a little.
Plan for the Future, Then Live in the Present
We eat almost all our meals at home, we clean our house, we drive used cars. Since spending less is just one side of the coin, we are working hard to boost income too. My husband recently went from part- to full-time at the hospital; he works most evenings in his private practice; and he has just taken on a third job doing weekend calls. And I'm trying to do my part by ramping up to advertising on my site (thank you for responding to my survey!), and reducing my extraneous work commitments so I am not spreading myself too thin.
Fine wine, luxe trips, and high-end appliances are not important to us. But the one thing we do want to spend our money on is the house. The only reason we were able to afford this house is because it needed some work. And now we're doing it. And it's fun and overwhelming and all-consuming and exciting and stressful all at once. But it's what we wanted — to create a place that feels like home.
In this article for Parentables, I talk a little bit more about what conscious spending means, the 3 things you need to do it, and how I grew up from wild and troubled 20-something to the more evolved (but still imperfect) mother and wife who is trying to make the right decisions for her family and herself:
Do You Practice Conscious Spending? I Learned How, and You Can Too.