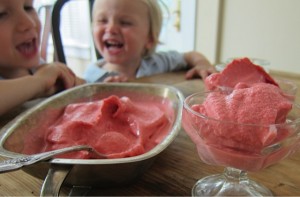 This sweet, wholesome treat has become one of our family's all-time favorites.  It's so simple, I can barely even call it a recipe.
All you need is frozen fruit, yogurt, and sugar. Grind it up in a couple of minutes in the food processor, and voila!  (And if you don't have a food processor, you might be surprised to hear that Mark Bittman, my favorite food writer, thinks it is the most versatile appliance in the kitchen.)
Why frozen fruit?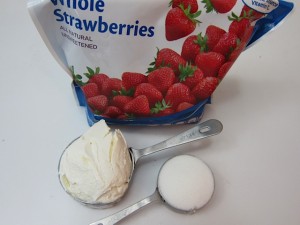 "Frozen fruits … are picked when ripe and suspended in their ripeness until you're ready to use them," says Bittman in The New York Times' article where I spotted this recipe, Sorbet? Let's Make it Short and Sweet. Of course no fruit is better than fresh, he acknowledges, but frozen fruit is already prepped, it's relatively cheap, and it's a "good starting place for a frozen dessert."
Winter or summer, I always keep on hand frozen fruit and yogurt so we can whip up a batch on a hot day after school, or to serve to guests as a fun finale to homemade pizza.  And the ingredients are so few, and the process so easy, that my kids can pretty much make it themselves.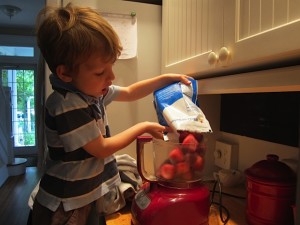 We've made sorbet with mangoes, peaches, cherries, blueberries, and raspberries, but perhaps our most favorite of all is sorbet made with strawberries. Substituting lemon juice for the water makes it particularly refreshing and bright.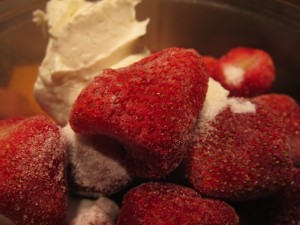 Ridiculously Deliciously Simple Sorbet
adapted from Mark Bittman's Super-Simple Sorbet
Makes about 4 servings.
1 pound of frozen fruit
1/2 cup of plain yogurt
1/4 cup of sugar
1-2 tablespoons of water or lemon juice
Dump the fruit, yogurt, and sugar in the food processor and turn it on. Pour just enough water or lemon juice (about 1 to 2 tablespoons) in the feeding tube to help the fruit break down. If you add too much liquid, you get a smoothie (which is not such a bad thing, actually).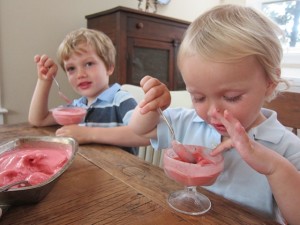 We never tire of whipping up this cold treat — and I never tire of seeing it dabbed on chubby cheeks.
I know you'll love this recipe as much as we do.
15 Ways to Get Your House Ready for Summer Entertaining
Can't you just feel summer in the air?  See my recommendations for prepping now so you can relax later, at Parentables this week:  15 Easy Ways to Get Your Home Ready for Summer Entertaining.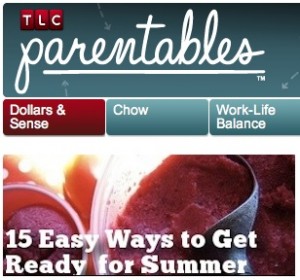 Join Me for a Live Q&A at the WashingtonPost.com
And finally, I am excited to tell you that my family and I will be featured in the Local Living section of tomorrow's Washington Post. If you're not local, you can see the article and photo gallery online tomorrow in the Home & Garden portion of the Lifestyle section at WashingtonPost.com.

As part of the article, I will be answering questions tomorrow in an online Q&A session.