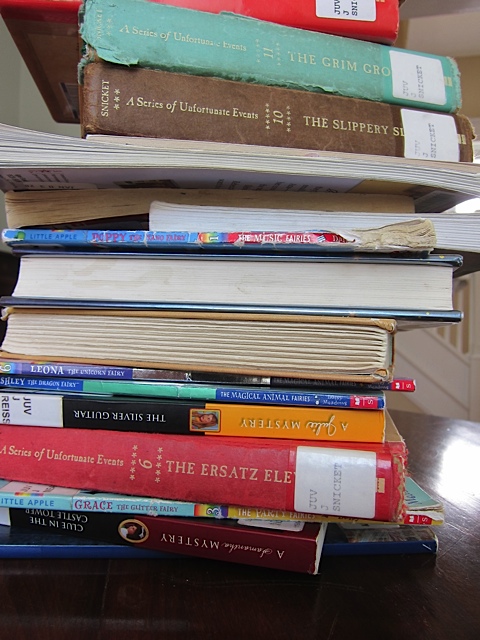 School is out for my daughters, Sofia (4th grade) and Virginia (3rd grade), but they still like to while away the hours reading.
Here are some good books that my daughters have enjoyed now, and over the years:
Sofia (10) says: "I like how in this book, Jane Goodall tells the events in her life really well. I especially like the stories about her and the chimps.  This book also inspired me to do things, like keep going on my wildlife club, and to donate to places who help animals."
Sofia (10) says of this series of four books: "I like this series, because they have mermaids, castles, curses, and magic."
Virginia (8) says:  "I only read the first book, The Tail of Emily Windsnap
, but I want to read the other ones because I like magic and stuff."
Sofia (10) says of this series of 13 books: "I like these books because sometimes it seems like Sunny, Klaus, and Violet Baudelaire are in such a situation that there is no possible way to get out, but then thanks to their amazing talents, they can get out of the problem.  I also like these books because there seem to be so many secrets that died along with their parents, and it is interesting to try to figure them out myself."
Virginia (8) says: "I love these books because they feel so real and it feels as if I'm the one who actually lost my parents and went on unfortunate adventures. Also, I love adventures and these are the books that contain a various amount of adventures."
Sofia (10) says: "I love Roald Dahl's books, especially James and the Giant Peach
, because the huge insects that James finds inside the peach seem so scary at first, but they really are very nice to him.  I also like when the gigantic peach is rolling down the hill, and crushes bony Aunt Spider, and Fat Aunt Sponge.
"Some other books that I would recommend by Roald Dahl are: The BFG
 (see below), George's Marvelous Medicine
, Giraffe and the Pelly and Me
, Matilda
, and The Twits
."
Sofia (10) says:  "I love these books because they are SO funny!  That is all I can say, that they are incredibly funny!  (But if you are a grownup that hates "potty talk", then you might want to not read these books.) My favorite of all the Dav Pilkey books is The Adventures of Ook and Gluk, Kung-Fu Cavemen from the Future because Ook and Gluk are so naughty and funny and they play a lot of tricks on their chief."
Virginia (8) says:  "These books are the funniest, silliest books you have ever picked up in your life.  I love reading these books anytime-just for entertainment. Other books I would recommend: The Adventures of Super Diaper Baby

and The Dumb Bunnies
. (All by Dav Pilkey.)"
We started reading this series when Sofia was in kindergarten. I would read a few chapters each night, and by the time we had finished, Virginia was old enough to pay attention (age 4) and Sofia was finishing 1st grade. I remember my mom reading these books to me and my sister, and how it helped give perspective to my life. I often wondered what Laura would think about our cash registers, fast cars, telephones, and running water.  Sofia says it's made her re-examine her life in the same way:  what would Laura think if she could see all the things we do that seem so normal to us, like using computers, switching on electric fans, turning on lights on the ceiling, and filling a glass of filtered water from the refrigerator?
Here is what Sofia (10) says:  "I liked for my mom to read me these books, about three chapters each night.  I liked to read about what it was like to be living in Laura's time."
Virginia (8) says: "These books are one of my favorite collections. They are packed with stories about out-of-their-mind teachers and some confused kids who do not know what the heck is going on with the school's teachers. For example, the kids have to teach Miss Daisy multiplication but she still doesn't get it. (By the way, the Weird School
 books take place during 2nd grade, My Weird School Daze
 books take place in 3rd grade, and My Weirder School
 books take place in 4th grade.)

Sofia (10) says:  "This book is really great for girls who are bored and have nothing to do.  It also has fun and easy activities to do, with easy instructions."
Virginia (8) says:  "This book is my favorite guide for girls filled with crafts, projects, and stories. Also my favorite thing about it is that it shows easy instructions for anything you find in it!"
p.s. There is also a The Dangerous Book for Boys
.
The Rainbow Magic series by Daisy Meadows
Virginia (8) says:  "I like these books because they are full of two of my favorite things: Magic and Adventure. Also, I love it how each and every fairy has a different personality, and theme."
Sofia (10) says:  "I love both of these books because their worlds are so different and impossible.  The world in Tuck Everlasting
is like ours except for the magical pond which when you drink from it, you can live forever.  The Search for Delicious
is so interesting with mermaids and elves, secret keys and unexpected endings."
Sofia (10) says:  "I love to bring this book on long trips to entertain me. This book always has something new that I didn't know. For example, there is such a thing as a liger (a lion combined with a tiger)."

Virginia (8) says: "This is practically my favorite book filled with giants, fantasy, silly words, and snozzcumbers. Do you know what the BFG (or Big Friendly Giant) calls crocodiles?  Crocodowndillies.  I am sure you will absolutely love this book."
"Other books I would recommend: James and the Giant Peach
(see above), George's Marvelous Medicine
, Giraffe and the Pelly and Me, Matilda, The Twits
, and The Witches
. (All by Roald Dahl.)"
Sofia (10) says of this book:  "My friend Zara gave me this book for my birthday, saying that it was really good.  I didn't really want to read about candymakers when I first looked at the book, but I read it anyway.  I soon realized that this book was not really just about candy makers!  When some kids enter a candymaking contest, they don't really know what unexpected things could happen.  For example, they don't know that one of the contestants is really a spy looking for the factory's secret ingredient."