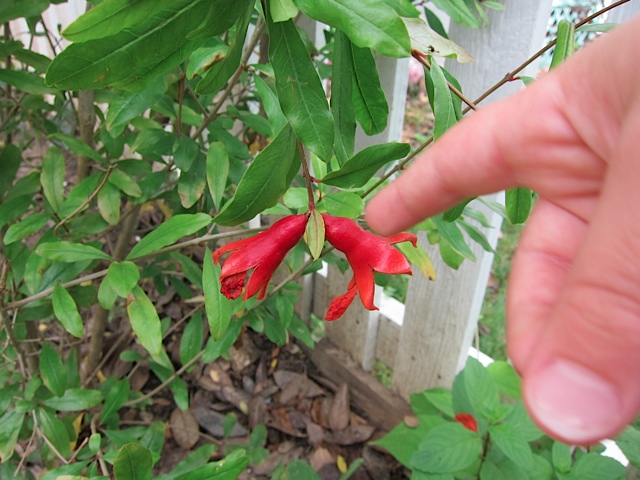 It's been almost six months since we decided to relandscape our front yard with edible plants.  It all started when we realized that the tasteful plantings around our city house had zero interest for the kids.
Even I — a believer in "Nature is good for the soul" — didn't want to linger more than a few minutes. So why would they?
An edible front yard, I decided, was the solution.  Like many people, we have a sunny-ish front yard and a shady back yard. The trick with planting food in the front is making it look good, as Ivette Soler emphasizes in her excellent book, Edible Front Yard.
Fruit and vegetable plants need a good six to eight hours of full sun to bear food, so we removed a problematic mulberry tree that was casting unwanted shade, tilled up the earth, built a ground-level wooden frame, and filled it with rich potting mix.  Then we made paths with antique bricks, which we found at a salvage yard to match the ones already in our front walk.
By April we were ready to plant. I went to a local nursery, where I got some free advice about what and where to plant, and picked up some heirloom seeds.
Nothing is perfect, but so far so good.  We started with good soil and a sunny spot, and the kids help me water almost every day that it doesn't rain. We haven't hit summer yet, but the only wild beast we've had to contend with so far is this one: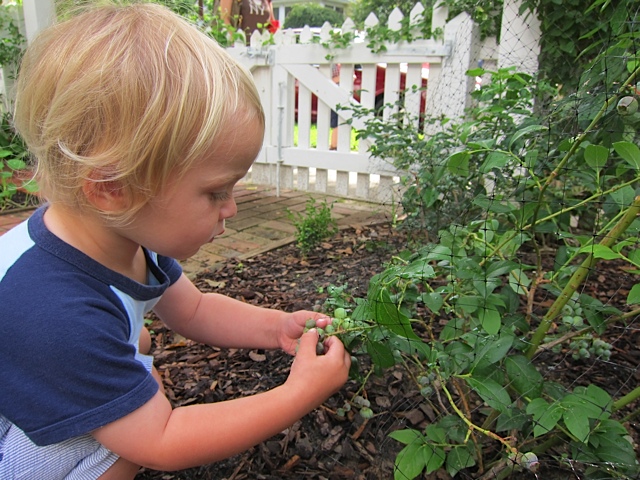 Luke likes to harvest the blueberries whether they're ripe or not.  And we have had to train him not to grab plants by their necks and rip them out of the earth.
And then there was the time when our Honeycrisp apple got sick. That story and more in my pre-summer update:
Note:  We live in zone 7a of the mid-Atlantic region in Washington, D.C.  You can find your hardiness zone here.
1.  Arugula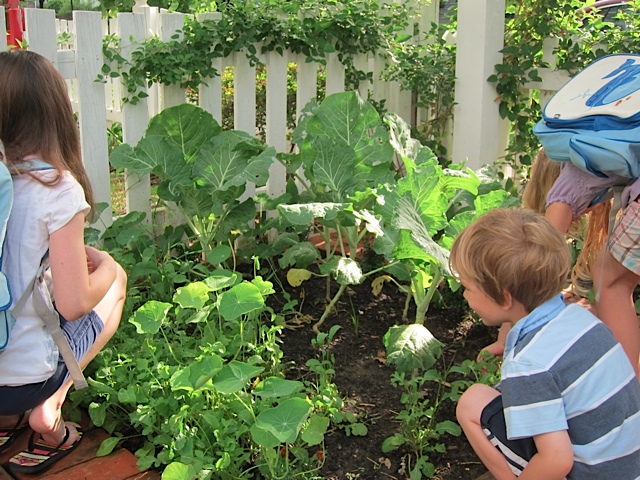 Arugula was the very first food that we tasted from our first garden.  A milestone moment — and we are still getting enough crop for salad after salad. I buy other lettuce (as you know, the kids love crunchy white stuff) and then intermix them. I don't think the children would have eaten arugula otherwise, but even my four-year-old has been spotted folding the leaves into his mouth.
"Kids are more than twice as likely to eat fruits and vegetables if they grow them," says Mary Quattlebaum, my neighbor and author of the children's book, Jo MacDonald Had a Garden.
2. & 3.  Sungold & Brandywine Tomatoes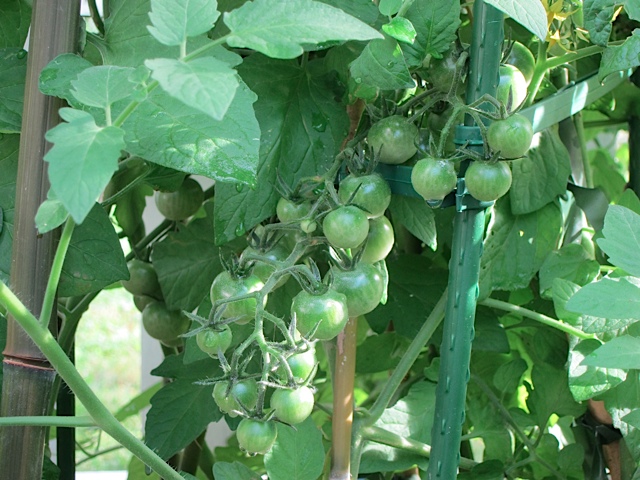 Sungold cherry tomatoes are a favorite of the staff at American Plant, where we bought our first 12 inch-high plant. "Sungold tomatoes produce pounds and pounds of fruit all summer long," according to one of the gardeners on site.
Judging from these branches (pictured above) on a plant that is now taller than me, they might be on to something. We've already plucked off a couple yellow globes and tasted their bright, sunny goodness.  Are there many better things in life than home-grown tomatoes?
When we noticed the Sungold was getting big fast, we added a Brandywine tomato plant. The kids just noticed these rather large green tomatoes this morning, which should produce "very large, pinkish-red beefsteak tomatoes" if we're lucky.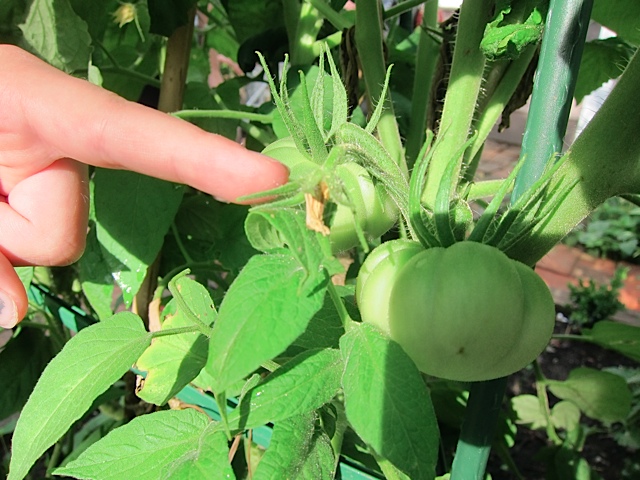 We planted a bunch of marigolds around the tomatoes and throughout the garden to deter bugs. Do you think that really works?  So far the bugs are keeping their distance.
4. & 5.  Nero Toscana (Tuscan) and Regular Kale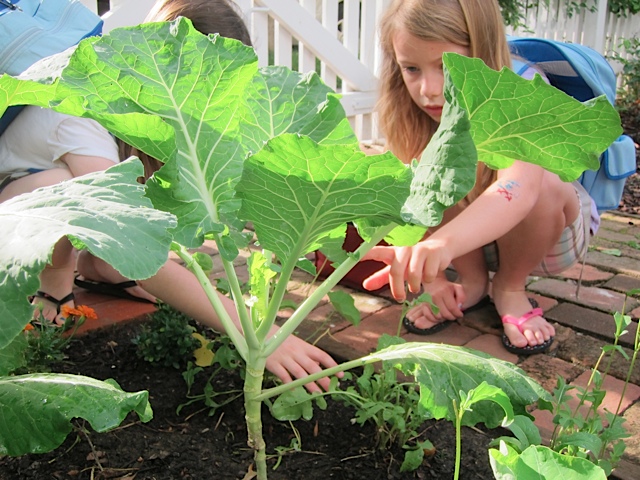 These huge leaves were not always huge. Check out how tiny they were in my early post about our edible front yard at Parentables. We started from seedlings (about 4 inches tall) and have already harvested one crop to make a full batch of kale chips. The best we have ever eaten. So light, tender, and clean.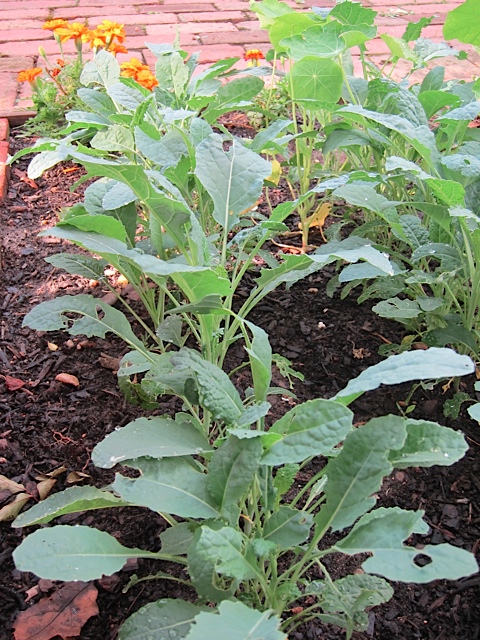 I love the bumpy, blue variety of kale called Tuscan or 'Nero Toscana' (pictured above), so we planted it from seed.  The plants are still quite small (maybe 5 inches high), but I was just thrilled they emerged. I still remember when they were tiny green dots poking up from the dirt.
6.  Nasturtiums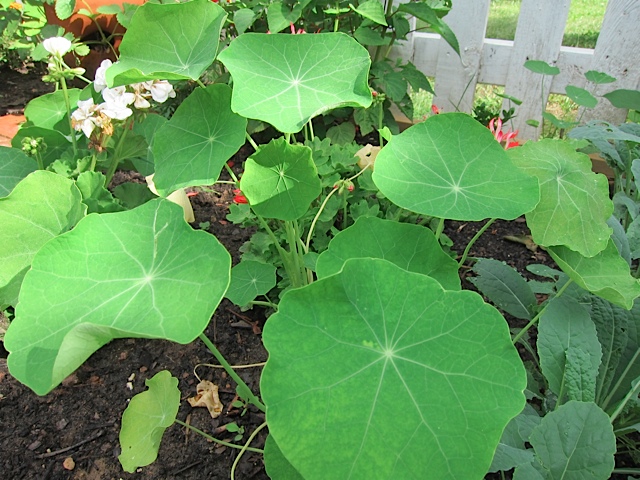 We haven't seen a bloom yet on these edible flowers, but I love the round faces of their leaves. So happy and simple.
We were supposed to soak the seeds for 24 hours before planting, but due to a confluence of factors (rain, kids not in the mood to plant), I let them sit for 48 and they started to mold. Thinking all was lost, I just scattered them willy-nilly around the garden, and lo and behold, they flourished against all odds.
Have you ever tasted a Nasturtium flower?  I haven't.
7.  "Wonderful" Pomegranate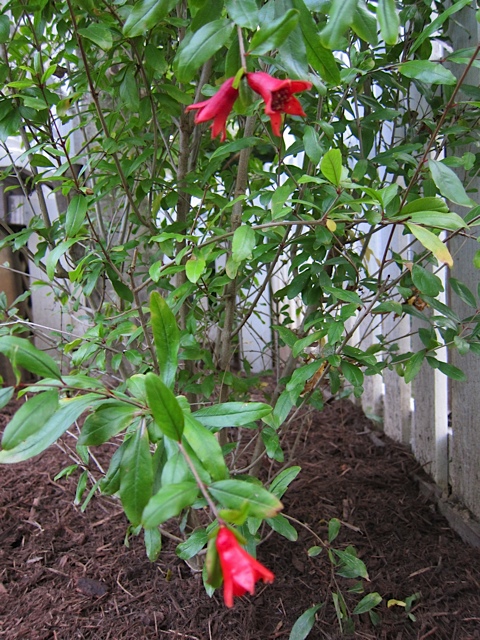 It's probably a long shot, but when we were looking for a mid-height bush to fill the vertical space between our holly tree and our veggie garden, someone suggested a pomegranate tree.  Native to Iran, these bush-like trees are full and pretty. Our tree has flowered several times, but we need the right temperature and direct sun for it to bear fruit.  I'll let you know later in the summer if we make the cut.
8.  Peaches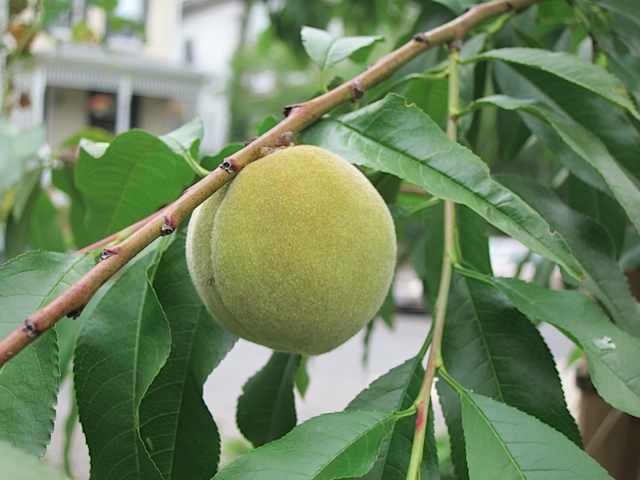 In my fantasy version of the edible front yard, we would pick fruit on our way out the door and bite into it on the way to school. That has yet to become a reality, but we have had some encouraging progress.  Even though our apple trees fell ill (more on that later), our Reliance peach tree is hanging on to about 10 fuzzy orbs like this one (pictured).
9. & 10.  Coville Blueberries & 'Pink Lemonade' Blueberries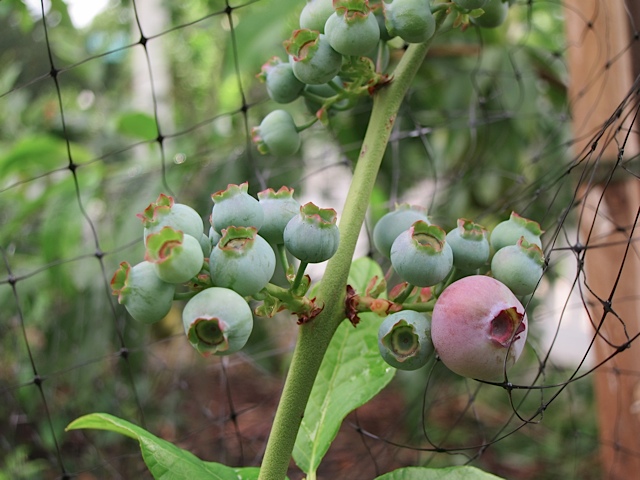 Considered more ornamental than blackberry and raspberry plants which tend to get rangy and scraggly, blueberries are neat bushes with attractive leaves that turn a reddish color in the fall.  They need to cross-pollinate with other species, so we planted a zig-zag row of three different varieties — mainly Coville, but also Jersey and Blueray — and mulched with pine bark since blueberries like acidic soil.
The berries are not supposed to be ready until July 4, but green ones are already turning purple and they're perfectly sour-sweet.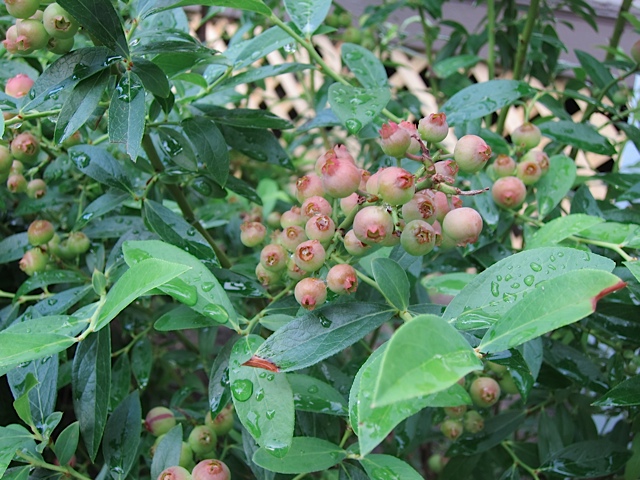 Here is our Pink Lemonade blueberry bush, so-named because its berries turn pink instead of blue when ripe.  This plant is much more beautiful than the other blueberry bushes we have:  shapely, tall, and lush with pretty leaves, as well as lots of pink berries.
11 – 15.  Basil, Oregano, Flat-Leaf Parsley, Thyme and Rosemary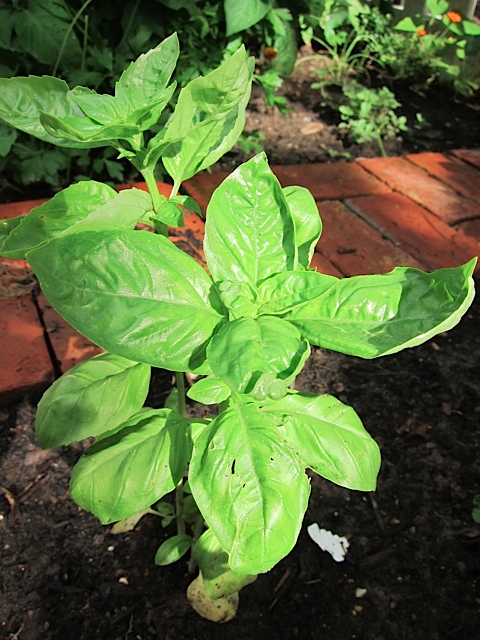 Fresh herbs have given big taste to our dinners.  I grab handfuls of Italian parsley, oregano, and thyme, for example, and toss them in the skillet with some zucchini and tomatoes for a fresh pasta sauce. We're not at the point where we can make basil pesto yet, but having ready herbs has made our cooking much fuller, a taste that you would pay dearly for at the grocery store.
16.  Howden Pumpkin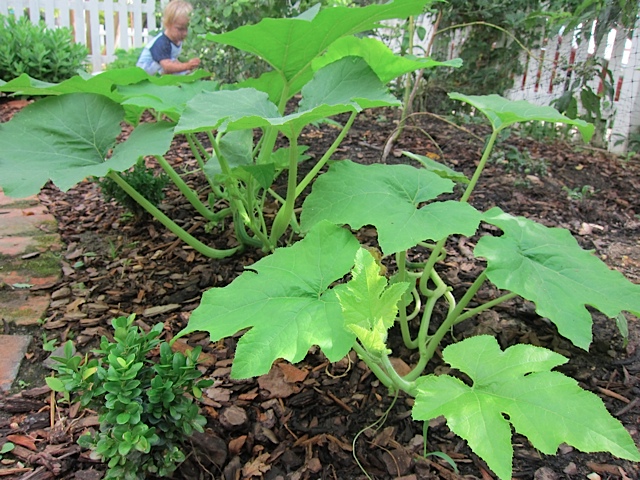 Not only is this notoriously easy-to-grow plant doing well, it may grow so aggressively this summer that we'll have to double-lock our door at night.  That's what happened to us when we lived in Arlington, Virginia.
It was around Halloween-time, and I was watching a neighbor's child for the morning. We carved a pumpkin and, instead of roasting the seeds, he wanted to plant them. I completely forgot about the seeds until the following summer when we realized pumpkin plants were taking over our front yard.
Once we came to terms with the tentacles that seemed to grow as we watched, we became addicted to fried pumpkin flowers.  After seeing how the Italians eat squash flowers in risotto, pasta, and stuffed with cheese as an appetizer, we were hooked.
And Then, These Plants are Giving us Furrowed Brows
Apples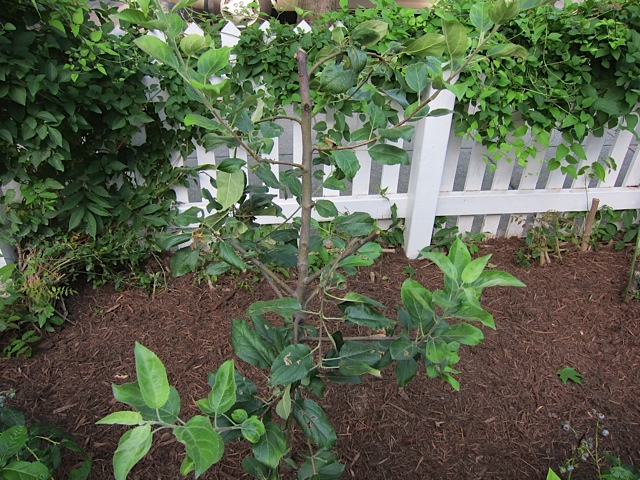 I was so proud of our two little apple trees — a Grimes Golden and a Honeycrisp — in our front yard orchard. Dotted with delicate pink flowers when we brought them home, the trees soon started bearing small globes of fruit.
One day, however, I looked out and noticed that the tips of the branches were drooping. We had been watering regularly, so I knew something was wrong. I called up the nursery and spoke to their fruit expert. "Fruit trees are difficult," Roger reminded me, before guessing that they probably had a case of 'fire blight,' a common bacterial infection.
Advice found on the internet recommended that I cut as far down as 8 inches below the diseased area, dipping the clippers in rubbing alcohol after each cut.  In hopes of saving more of the fledgling trees, I didn't amputate that drastically, and maybe because of that, the trees continue to look distressed.
Apple trees require an investment of love and future-thinking, says this recent Washington Post article, Apple trees for the home garden. They're slow to propagate but they last forever — as long as 2oo years. "Some day, strangers may fill their pockets and aprons from your tree," says Barbara Damrosch in the same Post article, "and you will have fed them well."
I like that idea.  So even if the garden store won't replace them, I'll start anew with (disease-resistant) apple trees.
Strawberries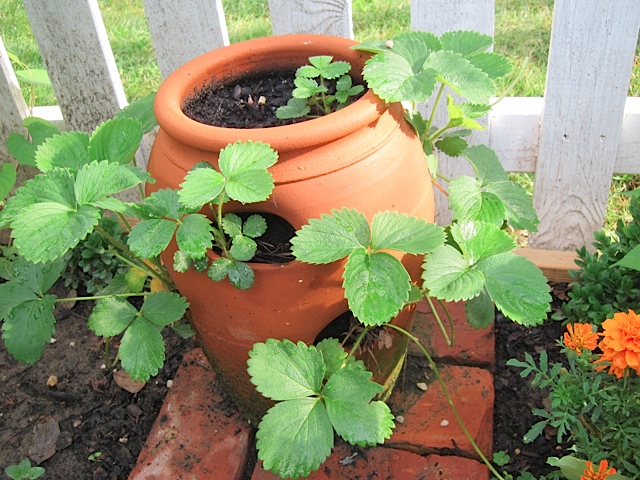 Out of 10 bare-root plants that we planted in this strawberry pot, about five are flourishing. However, a friend tells me that they may not bear fruit this year. While this is not a terrible thing, it's a little disappointing.  If you are considering growing strawberries, you might want to spend a few extra dollars on established plants.
Here is a video from White Flower Farm that my kids and I found helpful on planting strawberries in a pocket jar:  How to Plant Strawberries in a Container (Strawberry Jar).
 Honey Berries, or Edible Honeysuckle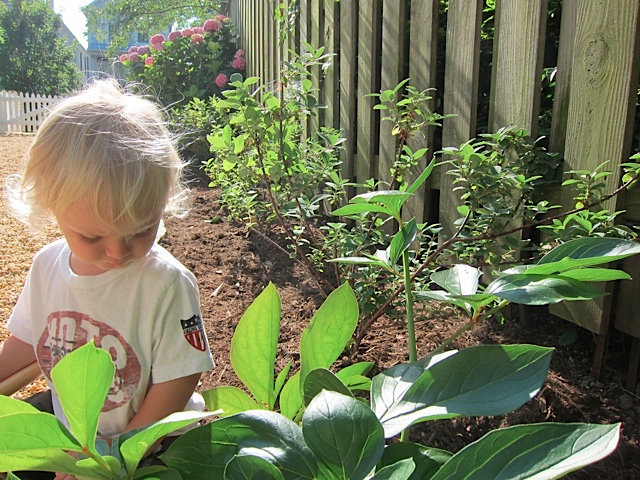 To feed my fantasy of replacing all of our landscaping with edible plants, I looked and looked for a plant that could bear food even in shade. The edible honeysuckle is native to northern and eastern Europe, hence one of its names: the Siberian Blueberry.  Its elongated fruit is supposed to taste like blueberries, and it can tolerate partial shade, but as I discovered, the berries will taste better with full sun.
I planted four bushes along our driveway next to a tall fence (the small-leafed plants in the picture above) so they get very limited sun. They're not dying, and I do see some new leaf growth, but they're not exactly flourishing either. The fruit was early and sour, but that didn't bother Luke, who is shown picking the berries in the Washington Post photo gallery.
The Post article, by the way, is being picked up by newspapers across the country, from Charleston, South Carolina, to Bend, Oregon — and even as far as Italy. If you're new here, welcome!  If you have more experience than I do in growing food, making front yard gardens look beautiful, and keeping raccoon paws off the loot, I hope you'll feel comfortable sharing your experiences in the comments section.
One final thought:  I love how the activity of growing food helps us slow down and connect with the earth and sun. My daughters have just finished their school year and have a lot of time ahead of them.  They both have friends over this afternoon, and they're required to spend half of their time outdoors. Encouraging them out is a lot easier when I can say, "Why don't you see if you can find any ripe blueberries?"