When we first discovered kale chips, it was 2009 and we were living in New York City. We picked up a bunch of kale with our weekly farm share of potatoes, sage, eggplants, and beets. (As part of a Community-Supported Agriculture (or CSA) program, we paid for our share of the farm's harvest at the beginning of the growing season, and picked up our weekly portion near our apartment in Manhattan.)
Kale is a "super food," packed with fiber, calcium, vitamins A, C, E, and other nutrients. But the only way I knew how to cook this tough, bitter leaf was to boil it then squeeze out the water and sauté it with bacon, like my mom used to do. This recipe was good, but a little labor-intensive, so I was glad when our CSA coordinator passed out a recipe for kale chips.
This was at the beginning of the kale popularity wave. Sofia and Virginia were seven and five years old, and they loved the kale chips so much that previously unheard sentences began coming out of their mouths like, "Mama, can you please buy some more kale?"
Ever since I originally published the kale chips recipe here, it's been a favorite in our family. My mom grows it on our family farm in Ohio, and when we made a huge batch yesterday for lunch with our Mennonite friends, I decided to update this post with new photos.
Over the years I've had my share of kale chip flops (soggy or burnt leaves), so I've also added tips on cooking kale chips to crunchy perfection.
Baked Kale Chips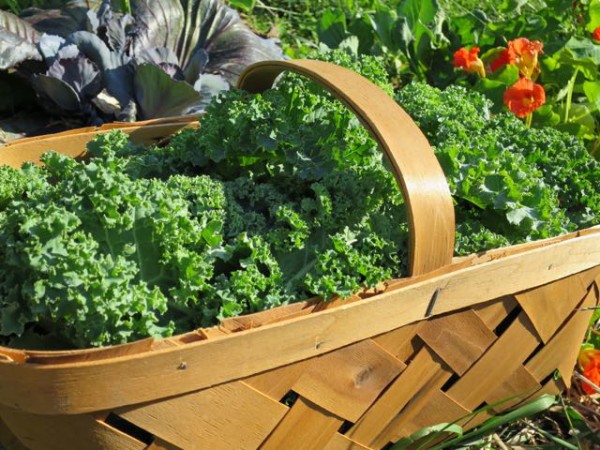 We season our kale chips with salt and a touch of black pepper, but you might want to flavor them with spices such as cumin and cayenne pepper or fresh herbs like rosemary and thyme.
We have found that curly kale comes out crispier than Tuscan kale, although this recipe works with almost all assertive greens.
Makes about 6 servings
1 bunch of kale (about 8-10 stalks)
2 tablespoons olive oil
½ tablespoon vinegar (apple cider or other)
generous pinch of salt
1.  Preheat the oven to 375 degrees.
2.  Debone the kale by removing the main stalk.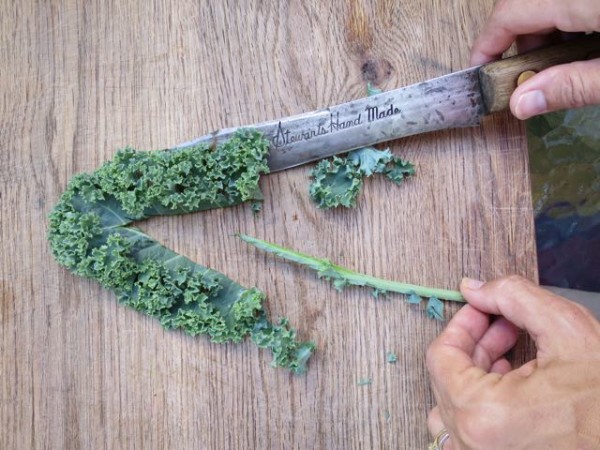 Do this with two long knife strokes, or by grabbing the base of the stalk and stripping off the leaves with your hands. (The stem, which is tough and full of liquid, tends to make chips tough and wet.)
3.  Chop or tear the leaves into 2-inch pieces.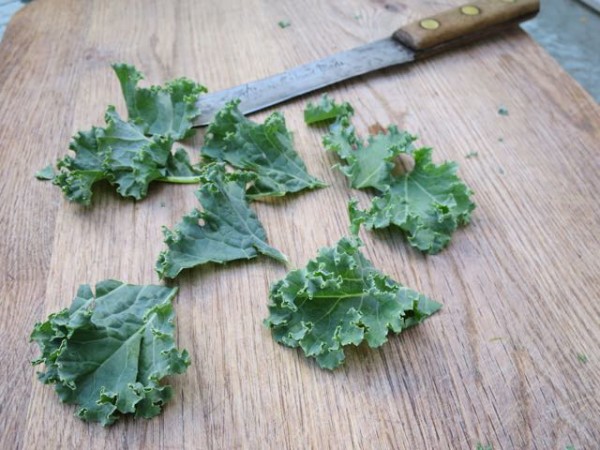 4.  Wash the leaves in a large bowl or salad spinner.  Spin dry or pat dry with towels. (Thoroughly drying the leaves will make them crisp, instead of steam, in the oven. Drying will also help the oil and vinegar cling to the leaves.)
5.  In a large bowl combine the kale with the oil, vinegar, and salt and use your hands to massage the seasoning into the leaves.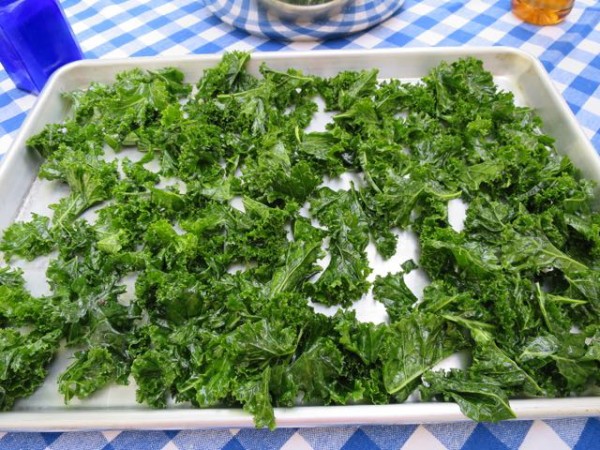 6.  Spread the kale out onto two rimmed baking sheets (mine are about 11 x 17″). Aim for a single layer and minimize overlapping.
7.  Place on the center rack in a preheated oven. After about 10 minutes, check the kale. If the chips on the borders are brown and the ones in the center are green, you'll need to flip and rearrange the leaves for even baking. Return to the oven and remove when chips are crunchy and slightly browned, about 5 minutes more, depending on your oven.
8.  Serve immediately, avoiding contact with moist or wet foods.  Kale chips can un-crisp very easily if not kept dry.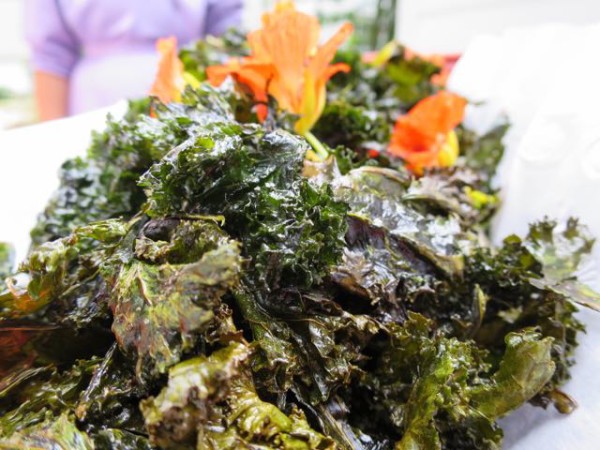 We garnished our platter of kale chips with edible nasturtium flowers.
Kale chips are a delicious, healthy potato chip alternative. If only you could buy them by the bagful at the corner store!