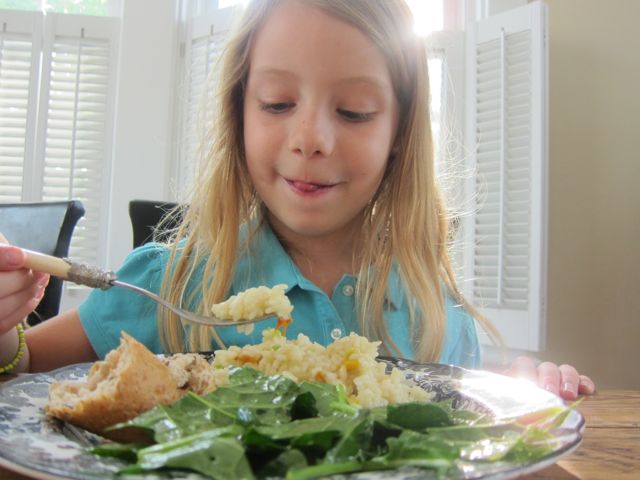 Last night, my family and I devoured a dinner of pumpkin flower risotto and salad with kale and nasturtium flowers.  We have never tasted something so good, and we all agree: this is the best thing we have eaten from our garden.
Here is how we planted our edible flowers.  We cleared out some space in our front yard — you could use your side or back yard too.  Then we used natural potting soil and spread it over our planting area. [Note from Mom:  Sprinkling a layer of potting soil worked for our Morning Glories, but when planting food, I suggest replacing at least six inches of of earth with high-quality planting mix.]
Pumpkin Flowers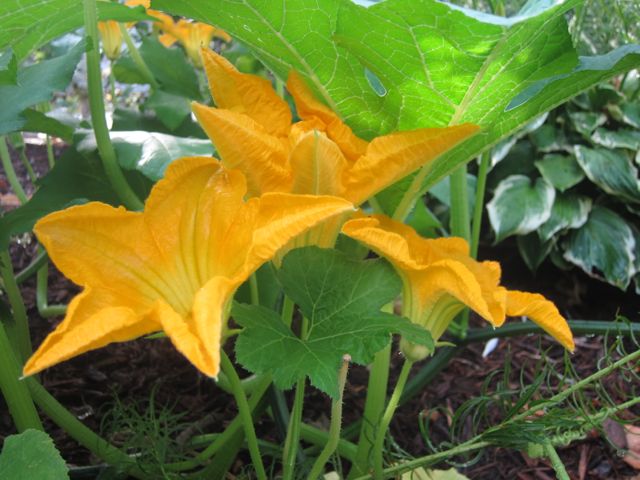 My mom picked Howden pumpkin seeds because the package said that they are round, orange, and "just the perfect size for spectacular jack o'lanterns." You can't eat all the flowers, because some turn into pumpkins. We used three to four seeds per hole.  Make sure the seeds are spread out in order to grow.
Nasturtium Flowers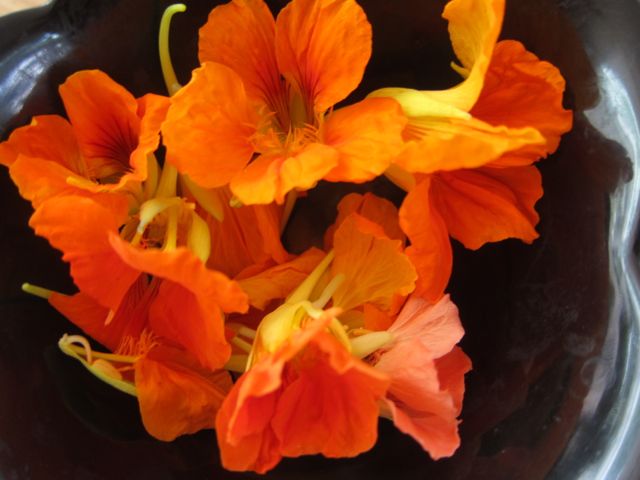 Nasturtiums are good to eat, but they also shoo rabbits and attract hummingbirds.  Put only one seed in each hole.
Daylilies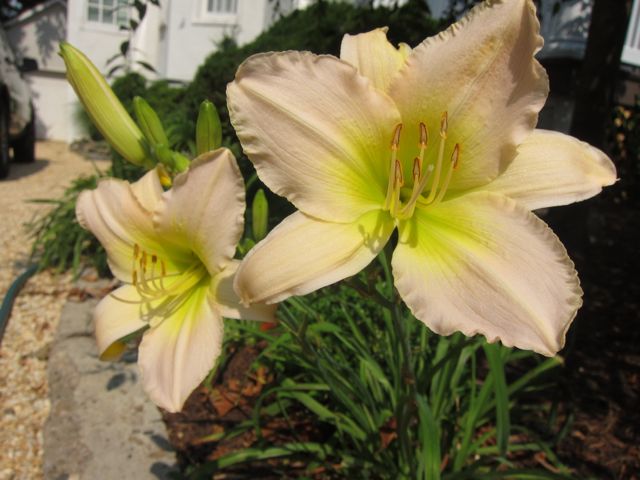 We didn't have to plant the daylilies.  They were already there when we moved in.  See if you have any edible flowers in your yard.  My mom says you might want to read this article:  How to Forage for Wild Edibles with Kids.
Borage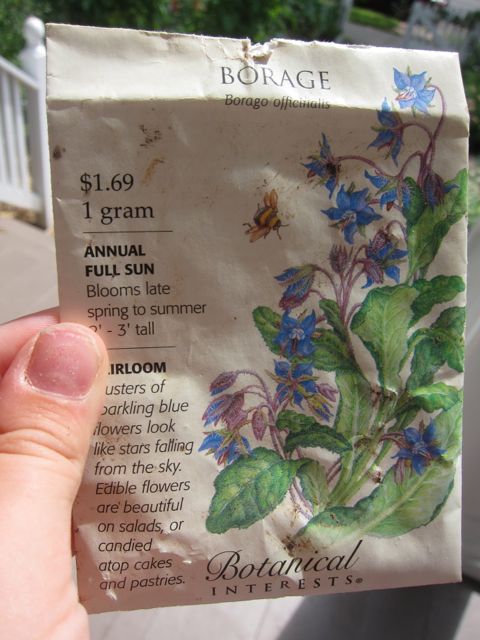 This is what the borage seed packet says: "Clusters of sparkling blue flowers look like stars falling from the sky.  Edible flowers are beautiful on salads, or candied atop cakes and pastries."  Use three to four seeds in each hole.
Just a reminder:  remember to water all of your edible flower seeds every morning or afternoon.
What These Flowers Taste Like
The pumpkin flowers are pillowy and buttery.  The nasturtiums have a good amount of sourness, and when they are fried, they are very crunchy.  The lilies taste like the pumpkin flowers, except they are more crunchy.
We haven't tried the borage flowers yet, because we planted them very recently, but the seeds are sprouting. The seed packet says that you can also candy these flowers and top them on pastries and cakes. I wonder what that would taste like.
Here are our favorite recipes for eating flowers:
Kale Salad with Nasturtium Flowers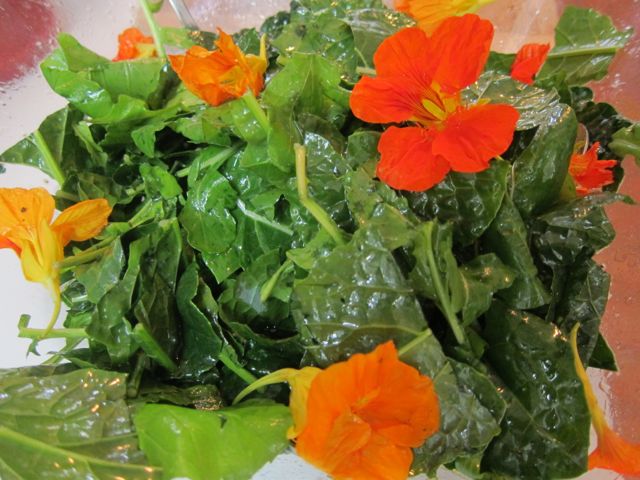 Kale chips are a treat for winter, but we decided they're too hot for summer, so we tried this recipe.  My sister, Sofia, likes this kale salad better than ice cream.
Tuscan kale leaves
Nasturtium flowers
Lemon juice
Olive oil
Salt
Wash and cut up the kale leaves. The stems are hard to chew, so cut them off.
Wash the nasturtium flowers.
Put kale and flowers in a salad bowl, and mix with the juice of about half a lemon.
Drizzle with olive oil, sprinkle with salt, and mix well.
Let the salad sit in the bowl for about 5 to 10 minutes so that the kale will get softer and it will be easier to chew.
Toss the salad again right before serving it.
Pumpkin Flower Risotto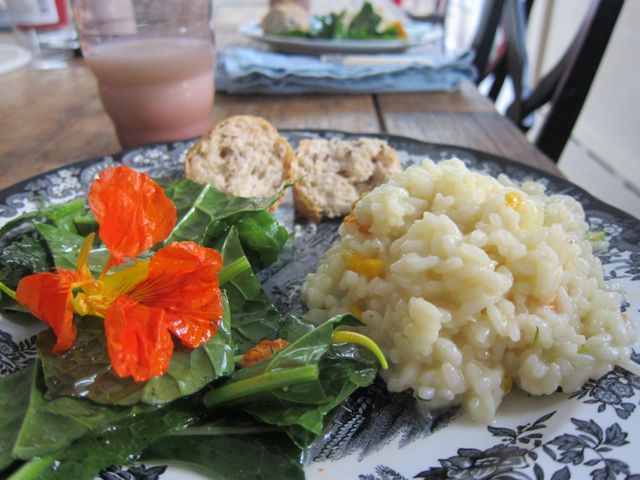 My mom wrote this recipe down because I've never made this risotto by myself.
5 to 10 pumpkin flowers or squash blossoms, chopped roughly
2 tablespoons olive oil
2 tablespoons butter
1/2 small onion, chopped
1 cup of chicken broth, diluted with 4 cups of water
2 cups of Arborio or other Italian risotto rice
1/4 cup freshly-grated parmesan cheese
In a small saucepan, heat the broth and water mixture over low heat.
Put the oil, onions, and one tablespoon of butter in a wide sturdy pot and turn the heat to medium-high. Add the rice and toss until coated.
Then with a soup ladle, begin to add the warm broth to the rice, 1/2 cup at a time. Continually stir the rice with a wooden spoon, scraping the sides and bottom of the pot so the rice doesn't stick.  Once the rice has absorbed the broth, add another 1/2 cup.  Keep adding broth this way for 15 minutes.
Add the chopped pumpkin flowers, stir well, and cook for another 5 minutes, adding broth as needed.
Begin to taste the rice. When the rice is 'al dente' like pasta — tender but firm to the bite — it is done.  The consistency of the risotto should be slightly moist but neither runny nor chunky.
When the rice is about 1 to 2 minutes away from being done, add the parmesan cheese and the last tablespoon of butter. Stir to melt, then turn off the heat.  Taste a cooled spoonful and add salt if necessary, stirring again.
Serve right away.
Batter-Dipped and Fried Flowers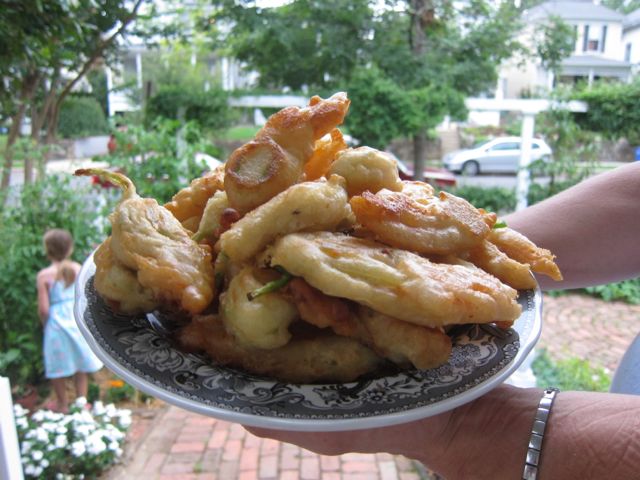 Here is the recipe for frying flowers in beer batter.  If you are afraid that drinking beer will not be good for you, don't worry because the beer cooks off when you fry it.  My family and I have tried pumpkin flowers, nasturtiums and daylilies fried and we all love them.
1 1/2 cups beer (one bottle)
1 1/2 cups of flour (not self-rising)
1 1/2 teaspoons of salt
about 1 cup of vegetable oil
edible flowers, about 10 to 15
First put the dry ingredients into a bowl.  Then pour in the beer, and stir well until all of the lumps are gone.
Pour about 1/2 inch of vegetable oil into a tall-sided skillet.  My mom says turn the heat to medium.
Dip the flowers in the batter, and make sure all of the sides are covered.
When the oil is shimmery but not smoking, carefully lay each flower into the oil, but don't drop them in because the hot oil will splatter.  So that you can have space to fry other flowers, put each one close to each other, but not touching.
Lift each flower with tongs and see if they are browning.  If they are, flip them over to the back side and cook until both sides are golden brown.
Take the flowers out with tongs and let them drip oil back into the pan. If you touch the flower right away, it could burn your finger.  Put it on a plate lined with paper towels, and do it with all the other flowers until you're finished.
Do you have any edible flowers growing in your yard?  Let me know in the comments!

Photos taken by Sofia Suardi (10 years)