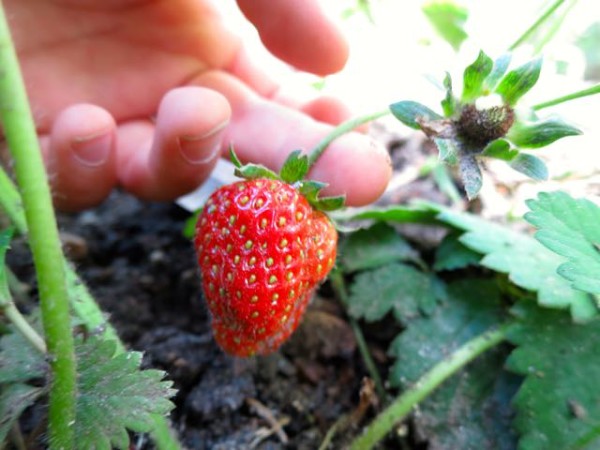 Everyone loves to eat. Maybe that's why growing food is such a fun way to get outside, teach children about nature, and eat healthy.
My kids and I have been experimenting with growing fruit and vegetables in our front yard for the past three years. We've had a few disappointments yet enough successes to keep us in the game.
When spring arrives, I can count on my daughter Virginia to ask, "When can we go to the gardening store?"  I too am getting excited to see bright green shoots and pink buds to draw us outdoors together.
If you don't have a lot of space, time, or money for your garden, choosing what to grow is an important step, a central theme at a free urban agriculture forum I recently attended called Rooting DC. Experts there agreed that your starting point should be: what do you love to eat? No use nurturing along something that ends up dying on the vine.
But alas love alone does not make corn tall and strawberries sweet.  So here are some guidelines to help you further focus on choices that will maximize your gardening budget.
1.  If you're new to gardening, plant foods that are easy-to-grow:
Vegetables that aren't finicky are great choices if you are a beginner, so you can see success without any experience.  MJ Crom, Food Growing Capacity Coordinator at the Capital Area Food Bank, suggests these:
Easy-to-Grow Vegetables
Start from seed outside (except for tomatoes, peppers, and basil, which are best started with a small plant)
Carrots
Green beans
Lettuce and spinach
Cucumbers
Radishes
Cherry tomatoes
Bell peppers
Basil
Our first year gardening at our D.C. house, we planted kale and tomatoes, basil and edible borage flowers, arugula, and pumpkins, and it was exciting to see all of those plants come up and most of them flourish.  (We replaced our dense clay earth with topsoil, watered when it didn't rain, and chose a sunny front yard location, instead of the shady back yard.)
We also planted eight blueberry bushes, a sour cherry tree, a peach, and two apple trees. All of these fruit producers are considered "high-maintenance" because they require lots of pruning and watering, are tempting to birds and squirrels, and are more susceptible to diseases such as fire blight.
But there are plenty of fruit trees that do well in the mid-Atlantic region with little to no care, according to Josh Singer, Community Garden Specialist at the D.C. Department of Parks and Recreation.  Try these:
Low-Maintenance Fruit Trees
Pawpaws: their fruit is like a cross between a banana and a mango
Persimmons: get a non-astringent variety like the Fuyu cultivar
Figs: to keep the tree small and the fruit reachable, you can cut it down to the ground every year
Juneberries:  also called Serviceberry; look and taste like less-sweet blueberries
Red mulberries:  few pests and diseases, can grow in partial sunlight
Beach plums: bite-sized, large-seed fruit
Asian pears: cross between an apple and a pear
2. To save money, grow fruits and vegetables that cost more at the store:
When making your garden choices, you might pass over vegetables that are inexpensive, like cabbage and carrots, in favor of more pricey ones, such as tomatoes, peppers, and gourmet salad greens.
Our city front yard is so small that, more than noticing a lower food bill, I feel the luxury of using exotic ingredients in my cooking that would have been prohibitively expensive, like fresh herbs and edible flowers.
Another cost-saving tactic is to grow foods on the pesticide-heavy Dirty Dozen list, so you can eat organic without paying the price:
Celery
Cherry tomatoes
Cucumbers
Peppers
Potatoes
Snap peas
Spinach, kale & collard greens
Strawberries
We grew sugar snap peas last year for the first time, supported by a tomato cage, and they were delicious. Because they are best raw, it was a great way for the kids and me to experience the instant gratification of an edible front yard.
3. If you don't have much space, grow foods that are hard to buy:
Some edible delicacies, like squash flowers or kiwi berries, are so fragile that they are not sold, even at farmer's markets. Growing foods that you can't easily buy is a great way to use your limited garden space, says friend and D.C. Master Gardener Lisa Burke.
The "rare foods" principle was how we made our choices this year. Rainbow chard and Tuscan kale now come home by the armloads from our farm share, so I realized that it didn't make sense to grow them in our small garden anymore.
These are the hard-to-find or pricey vegetables that we chose to grow this year:
Purple sweet potatoes
Cosmic purple carrots
Sugar snap peas
Kohlrabi
Fennel (or anise)
Borage (blue edible flowers)
Nasturtium (red, yellow, orange, and pink edible flowers)
Chamomile (daisy-type flowers for making calming tea)
Ice cream melon (so-named because they make the perfect bowl for a scoop of ice cream; also known as "Green Machine" for the large number of melons it makes!)
Purple potatoes have gotten a lot of press recently for their unusual health benefits, and when my friend Lisa said that her kids love to eat purple mashed potatoes, I couldn't resist. We made our other choices by browsing the organic and heirloom seeds in the Southern Exposure Seed Exchange catalog.
Also new this for us this year is a fruiting vine, Hardy Kiwi, that I ordered from Edible Landscaping and planted last fall. Hardy Kiwi produces green berries, a bit larger than grapes that taste like kiwi without the brown, fuzzy skin. Hardy Kiwi is known to be able to survive harsh winters, and we have a child of the plant that has been growing for 100 years at Georgetown's Dumbarton Oaks garden. Fingers crossed that ours takes off too.
Sunlight and Climate
Visiting public gardens and talking to other gardeners is a great way to find out if the food that you want to grow will do well in your area. Especially before investing in trees and shrubs, make sure they will survive by learning your plant hardiness climate zone.
Ultimately, sunlight will dictate your decisions about what to grow and where, says Megan Rynne of Love & Carrots. We can change the composition of our soil and keep it watered, but we can't always control the amount of sun that reaches our plot of land. Especially in urban settings, buildings and trees can make it tough to get the six to eight hours of direct sunlight that most fruits and vegetables need to thrive.
Take a day to quantify your light by checking every few hours if the sun is directly shining on your spot or if it's shaded by trees and structures. You may be able to capture more sunlight on a patio or deck, in which case you could garden in pots. Otherwise favor vegetables that do well in partial sun, such as kale, beets, potatoes, and carrots.
My friend Lisa is planting a guinea pig garden with her sons this year. They have two new guinea pigs and are figuring out their favorite foods. So far on the garden list are: lettuce, parsley, arugula, and red peppers. Those are some lucky pets!
What are you thinking of growing this year?