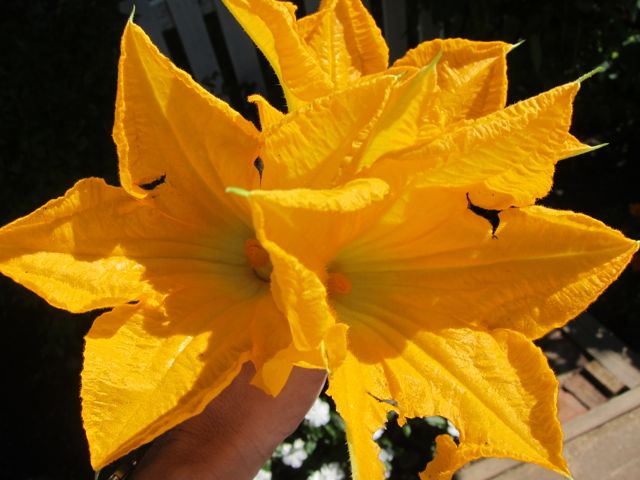 I'll never forget the time when my roommate, Colleen, in New York was making a Moroccan lamb tagine and, after tasting her dish, decided it needed just a little something.  Without looking at a recipe, her eyes scanned the spice shelf and then she grabbed a bottle of something, sprinkled it in, and voilà! she joyfully pronounced the dish complete with a fingertips kiss.
The secret ingredient was lavender, a flower that has long been cultivated as a culinary herb.  Mere mortals like myself can only dream of such instincts in the kitchen, but the great thing about edible flowers is that eating them doesn't have to involve elaborate preparation.
As you know from my posts about our edible front yard last year, we would simply pluck fresh flowers and sprinkle them on salads for a shot of color.  You can use them to decorate cupcakes, or as they do in fine restaurants, fish or meat dishes.  And you can't go wrong with battering and frying the more meaty flowers like squash or day lilies, a delicacy that our whole family looks forward in the summer.
Growing edible flowers has piqued my children's interest in the garden, and even got them gobbling up raw kale.  What's more, flowers are really easy to grow from seed — in your front yard or window box — making them a perfect way to whet your gardening appetite.
The trials of growing fruit and vegetables at home are sometimes not worth the yield (if you can manage to harvest before the birds, raccoons, and deer).  But flowers don't seem to tempt the neighborhood creatures as much.  And because they're too delicate for the grocery store, edible flowers are a natural way to put home-grown food on the table.
Last year we ate nasturtiums, borage, pumpkin flowers, and day lilies, and I did some research to find out more flowers that look pretty and taste good.  I can't wait to try some of these this spring.
1.  Calendula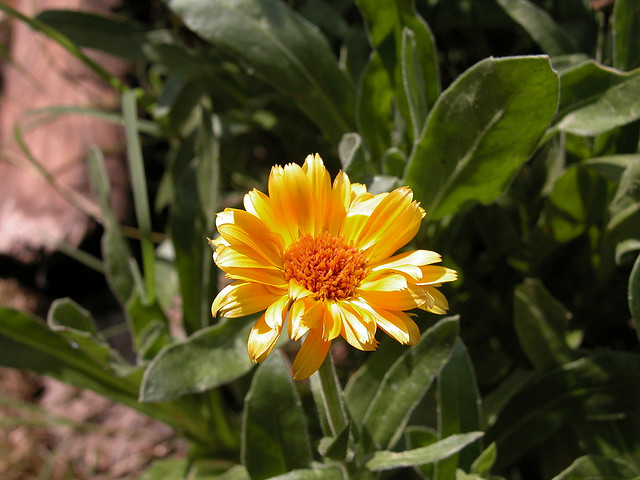 Also known as the poet's marigold or pot marigold, calendula's bright daisy-like flowers "smell like honey, slightly spicy and woody — reminiscent of fresh rhubarb or angelica flowers,"  says Susan Belsinger for Mother Earth Living, "and their flavor is pleasantly mild and vegetable-sweet."  Belsinger says that the petals were used to flavor butter and cheese, and to color broths (like saffron), hence the nickname "pot marigold."  Belinger uses calendula in her own kitchen for vegetable dishes, egg salad, pudding, herb butters, and in soups.
Calendula is also used in baked goods, like in this recipe for Calendula-Orange Biscuits by Teresa O'Connor, co-author of Grocery Gardening and creator of the blog Seasonal Wisdom.
2.  Pumpkin, Zucchini, or Squash Blossoms
Testament to how easy it is to grow pumpkins: the children I was watching through the babysitting co-op wanted to plant the seeds we scooped out of a Halloween pumpkin.  Not thinking anything would really happen, I helped them barely bury them in our side yard.  The next summer I noticed a vigorous vine in our front yard when buttery yellow blossoms began opening up every morning.
Having tasted squash blossom pasta in Italy (and knowing that my mother-in-law loved to stuff the flowers with mozzarella and fry them), we began experimenting ourselves.  Last summer my daughter, Virginia, and I published our favorite recipe for a dipping batter as well as one for pumpkin flower risotto.
You can also just eat squash blossoms raw.  Stuff them with any soft cheese like ricotta, mozzarella, or cream cheese, drizzle with oil, and sprinkle with salt and pepper. Here's a how-to from the New York Times.
3.  Roses
Roses have been used in cooking for centuries, dried and candied, strained to bake in desserts like cookies and cakes, or boiled to make rose water and rose-infused syrups.  (Here's a recipe for white chocolate rosewater cupcakes.)
If you are thinking of planting roses to eat, the Gertrude Jekyll, Mr. Lincoln, or Tiffany varieties are the tastiest, according to Cathy Wilkinson Barash of Edible Flowers: From Garden to Palate, who has tasted hundreds of roses, and revealed her finds in an interview on NPR.
"So what does a good eating rose taste like?" asks NPR's Liane Hansen of Danielle Custer, the executive chef of Laurels Restaurant in Dallas, who often cooks with roses. "I don't think roses really taste like much of anything on the palate," says Custer, "but there is an aroma and a texture and an association with their eye appeal that makes them very sensual, almost — what's the word? — aphrodisical."
See the rest of the article for more on eating roses and a recipe for "Quail in Rose Petal Sauce" that appeared in the book Like Water for Chocolate.
4.  Borage
After being interviewed for an article on edible flowers, I learned a lot more about the subject, including ideas on how to use the flowers we had grown last year, like the delicate, star-shaped borage.
Michelin three-star-rated chef, Yannick Alleno, who runs Le 1947 in Courchevel, France, thinks borage's "iodised taste" blends perfectly with seafood, and he uses petals as both decorations for food and taste additions such as king crab with rock rose, chickweed and borage flowers.
I can't make out much of a taste in the borage, but it's so beautiful that, why not sprinkle it on top of stuff?  It would look especially pretty, candied or not, atop a summer cake.
5.  Portulaca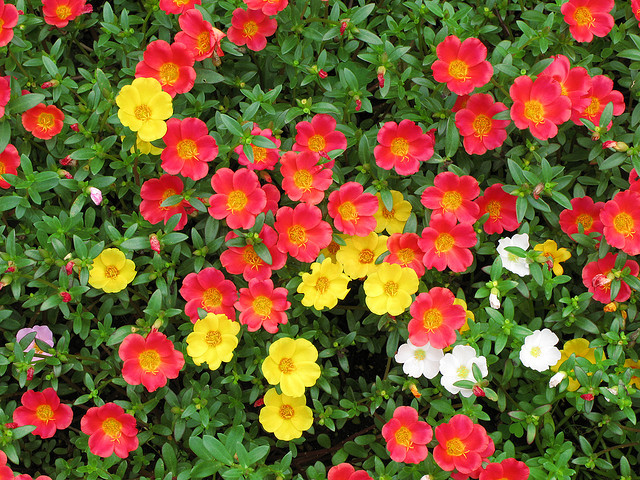 Portulaca oleracea (also known as purslane) is an annual succulent that is often considered a weed in this country, although it is eaten as a leaf vegetable throughout much of Europe, the Middle East, Asia, and Mexico.  It supposedly has a slightly sour and salty taste, and the stems, leaves, and flower buds are all edible.
I was also surprised to learn that purslane contains more omega-3 fatty acids than any other vegetable.  Yesterday the kids and I bought a seed packet, so I'll let you know how this one goes in the garden.
Here's more from Wikipedia:
Purslane may be used fresh as a salad, stir-fried, or cooked as spinach is, and because of its mucilaginous quality, it also is suitable for soups and stews. … Greeks… fry the leaves and the stems with feta cheese, tomato, onion, garlic, oregano, and olive oil, add it in salads, boil it or add to casseroled chicken.

In Turkey, besides being used in salads and in baked pastries, it is cooked as a vegetable similar to spinach. In the south of Portugal (Alentejo), "baldroegas" are used as a soup ingredient. Because of its high water content Purslane cooks down quite a bit. Pick more than you think you will need. Makes a quick cold soup in hot weather by cooking and blending together with other vegetables.
6.  Day Lilies
Word of New Yorkers foraging for day lily shoots in the public parks to take home and eat caused a minor uproar.  The idea of hunting for food intrigued me, so I was delighted to find day lilies growing along our (controversy-free) driveway.
We fried them just like pumpkin flowers, which have the same meaty shape and taste.  According to This Old House magazine, you can also "remove the bitter stamens from the center and spoon chicken salad into the flower cup."  Lunch, anyone?
7.  Cornflowers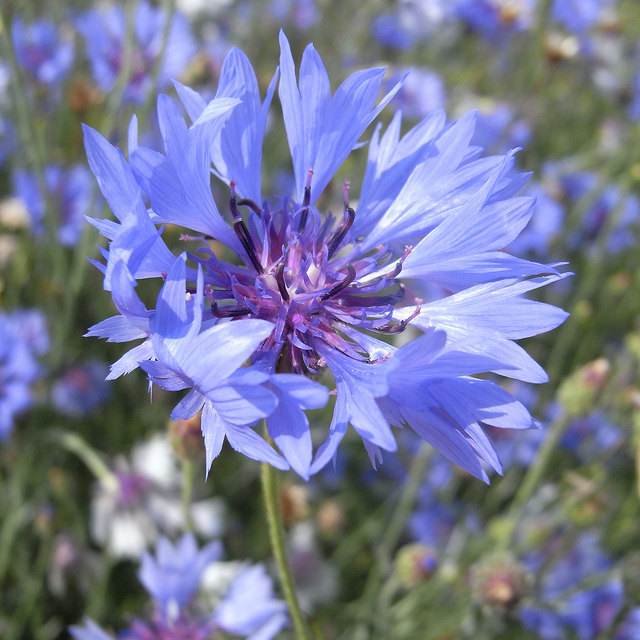 Remember how the color periwinkle was all the rage in the late '80s?  Cornflower blue is just as beautiful, don't you think?  Gillian Barth for This Old House says cornflowers can be mixed into pasta or salad to add color and an earthy, clove-like taste.
The cornflower is native to Europe, according to Wikipedia, and got its name because it used to grow as a weed in corn fields.  I wish I could exchange cornflowers for my dandelions (whose leaves, by the way, we did try to eat, but they were extremely bitter).
8.  Nasturtiums
Last year, we mainly ate Nasturtiums sprinkled atop salad.  They seemed too beautiful to cook.  However, Barth says you can stuff them with herbed cream cheese or fold them into omelets for a peppery punch.
Alice Waters of famous California restaurant Chez Panisse cooks with Nasturtiums.  I think I'll try her recipe for Squash and Nasturtium Butter Pasta, since we are a pasta-loving family, and I'm sure we'll be getting lots of squash from our farm share CSA.
9.  Marigolds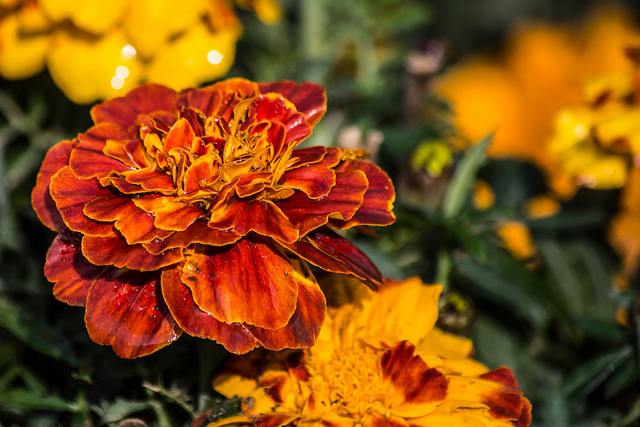 Marigolds have a pungent smell, and that is partly why they are used in companion plantings with tomatoes: to ward off the bugs.  However, Tejal Rao for The Atlantic says that, "the trimmed marigold tastes much milder than the flower smells, of a lush tropical garden, herbaceous and pleasantly bitter."
Here is Rao's recipe that I thought sounded good, using raw marigold petals with cold, sliced cucumbers in simple, sharp dressing:  Quick Pickled Cucumbers With Marigolds, adapted from The Forgotten Art of Flower Cookery by Leona Woodring Smith.
10. Lavender
Avoid the soapy taste of lavender by choosing the best culinary varieties, like Munstead and Provence, says lavender farm-owner Lisa McPherson in an article for The Washington Post.  She uses lavender to infuse vanilla, sugar, olive oil, and marinades for meat.  You might want to try her recipe for Blue Skye Lavender-Scented Shortbread.
I hope I've given you some good ideas for growing edible flowers this spring and summer.  Seeds for many of these varieties can be found at the garden store, but you could also order them from a reputable seller like Seed Savers Exchange.
If you need another push to get out the potting soil, the very best way to eat flowers is to grow them yourself.  Florist flowers are laden with pesticides and should never be eaten, the experts say, while nursery flowers have not been raised with the intention of being eaten.
If our experience is any judge, growing edible flowers is ridiculously easy.  If you can't decide which one to try, you could test the waters by getting one of the newly-available edible flower seed mixtures.
Happy growing — I'll try to check in later this summer with our progress!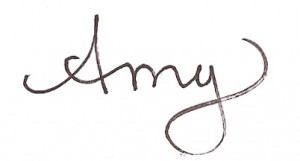 Photo credits:  Calendula, Beach rose, Portulaca, Cornflower, Marigold, Lavender.  All other images by Amy Suardi.