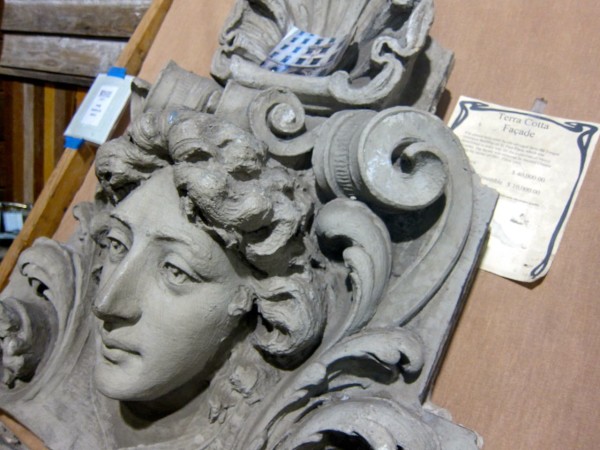 Our house has been alive for 99 years. We love its wood windows, alligatored paint, and creaking floorboards. However, a house doesn't always age gracefully. Things are always breaking down, and updates made over the years can detract from its original character.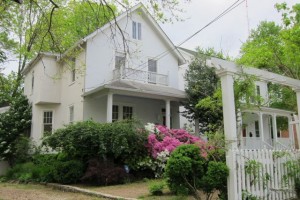 When I first saw our house, I loved its aura. A farmhouse built in 1916, it still had the romantic overgrown look of a place in the country even though a city had grown up around it. Inside were a lot of quirky updates, which reflected the eccentric personalities of its former owners.
As I looked over the house with the inspector, I was already thinking that it would be fun to make repairs using parts salvaged from old houses. Older buildings were usually made with high-quality materials, such as old-growth wood and heavy metals like bronze and copper. Plus the textures and finishes have soul that only comes with age.
I like modern architecture too, and I have a mixture of contemporary and traditional furnishings in our house. But you have to spend a lot more on new materials to get the same caliber you find in old pieces. So to save money without sacrificing quality, I spent time looking for cast-off architectural pieces that fit our house's period and style.
There are lots of sources for salvaged building materials. Architectural antique shops can be quite pricey, catering to historic preservationists with deep pockets, so look out for individual brokers or building re-use centers (which are kind-of like thrift stores for the house).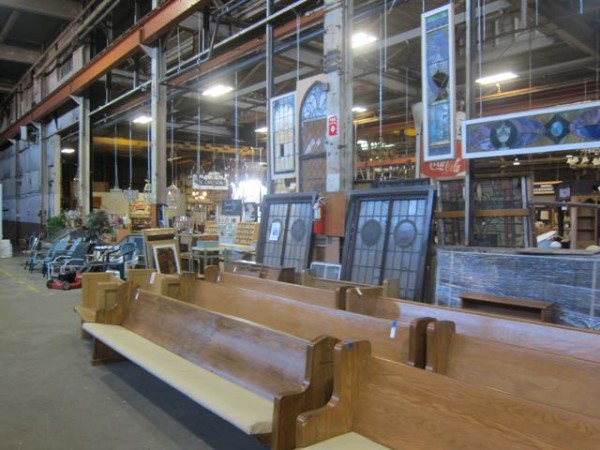 If you find a non-profit building donation center in your area, you'll probably have to paw through stacks of heavy, dusty wood in a cold, dim warehouse. But the effort is worth the treasures that you can find at bargain basement prices.
Here are some of the salvaged materials that we used to repair, restore, and renovate our house, and you can too:
Doors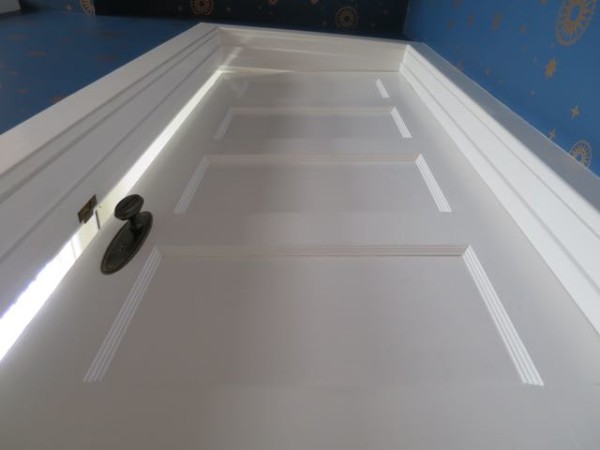 Perhaps the most-readily available and satisfying piece to re-use in your house are old doors. Their heavy, solid wood feels so substantial, and the nicks and aging paint add warmth and historical character.
The wood found in old houses is so strong because it was milled from trees that were probably 200 to 300 years old. Old-growth wood has very tight growth rings, which "lends the wood strength and hardness — even in so-called softwoods such as pine and fir," said an expert in a recent article in the Washington Post on how old lumber is gaining popularity in the D.C. remodeling boom.
Our house has five-panel doors throughout the interior, and I was able to find them in almost every size I needed at salvage yards and second-hand building materials warehouses for $20 to $40 each.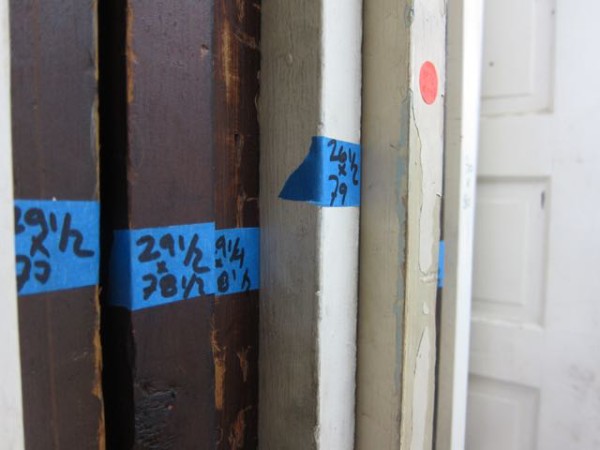 We used three reclaimed doors on the second floor, where doors had either been removed or didn't exist, and four old doors in our basement renovation.
My contractor would have preferred to use new pre-hung doors already in the jamb, but they are more expensive than antique doors and didn't feel as sturdy.
Doorknobs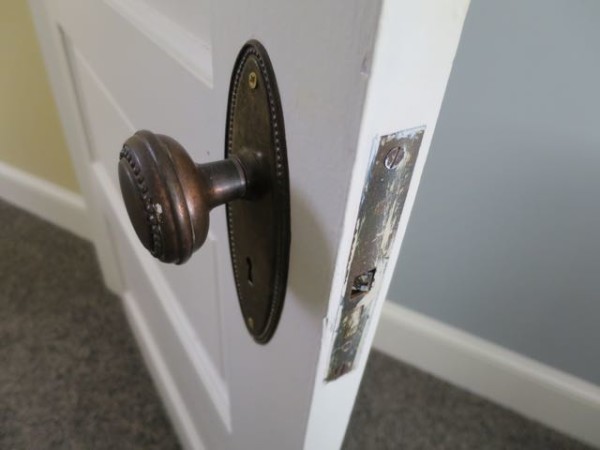 One of the most important pieces of hardware in your home is the doorknob. If you think about it, turning a doorknob is one of the few chances you get to actually touch your house. So you should choose something that you find beautiful, but it should also feel good in the hand.
When we were finishing our basement, I wanted it to feel like the rest of the house. So mixed in with the new drywall and carpeting, we installed reclaimed five-panel doors like we have in the rest of the house. I found knobs similar to our beaded oval knobs at Vintage House Parts & Radiators in North Brentwood, Maryland for $25 per set.
I love the feel of the weathered metal of these knobs. We have very nice reproduction beaded oval knobs from Rejuvenation in our foyer, but they are stiff to turn and lack the warm touch of the antique ones.
Pulls, Locks, and Other Door Hardware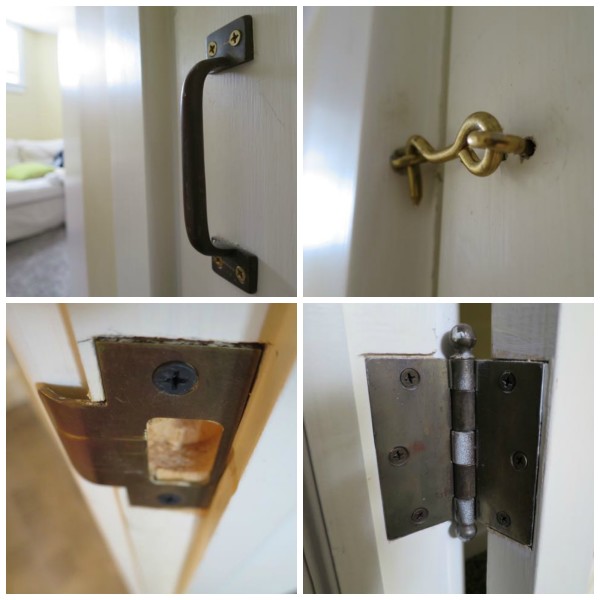 Minor hardware like locks, hinges, strike plates, and slotted screws might seem insignificant, but even these tiny details are easy and inexpensive ways of adding charm and history to your house.
Pocket Door Hardware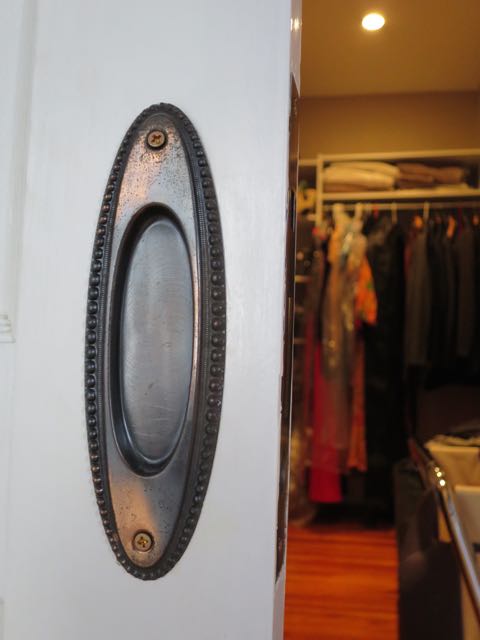 For our remodeled bedroom area, we put salvaged five-panel doors on a sliding door track, and retrofitted them with pocket-door pulls and mortise locks.
Pocket door hardware is harder to come by than regular doorknobs since most houses only had one pocket door. (That would probably explain why it was so difficult to find a reclaimed front door to replace our 60s era one — most houses just had one front door, so there are fewer available.)
I eventually found two matching copper pocket door pulls on eBay. One had a key hole in it, and I was able to find a skeleton key that worked the lock at The Brass Knob, an architectural antique specialty shop in Washington, D.C.
Cast Iron Radiators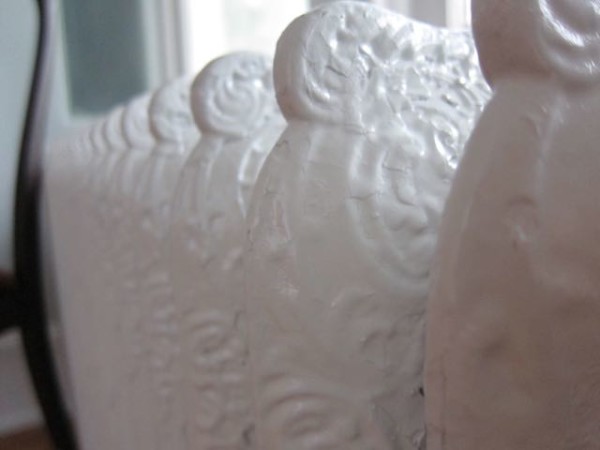 Another salvaged house part that makes a big bang are cast iron radiators. We love the even, mellow heat produced by our hot-water heating, so we extended the system when we finished the basement.
At Vintage House Parts & Radiators in Maryland, owner Saul Navidad collects old radiators from houses that are being demolished or renovated and re-sells them, mainly to European dealers. I was happy to snag a rare decorative one for Diana's bedroom that matched our existing radiators, but chose less expensive vintage models for the basement.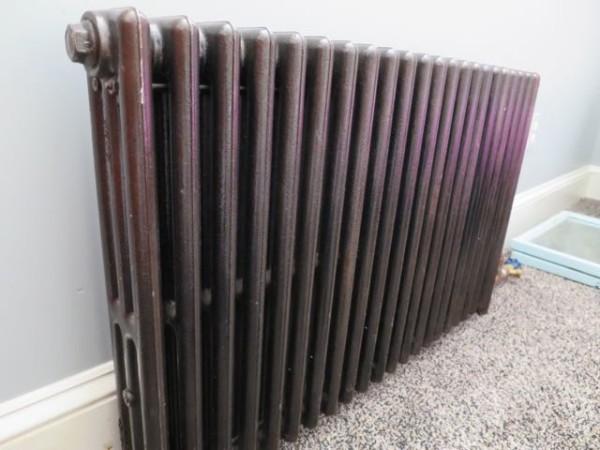 Probably produced in the 1940s, these sleeker radiators saved space and added character yet cost way less than new.
Interior Window Shutters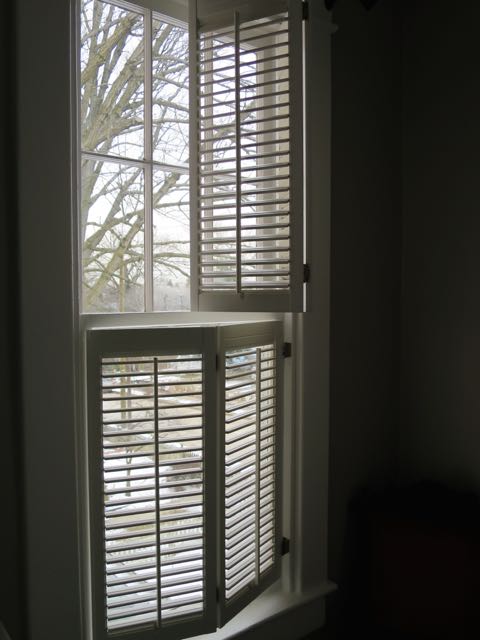 The beautiful, full-size windows in our bathroom are thanks to the fact that it used to be a bedroom. The challenge was making the room private while still letting in light and views.
Plantation shutters were the answer: the amount of control over light, privacy, and airflow is hard to find in any other window treatment. However, wood is more expensive than fabric, so shutters would be more costly than curtains unless I could find them second-hand.
For one window, we were able to re-use shutters removed from our own first floor, but we didn't have a fit for the second window. On eBay, vintage louvered shutters were selling for $50 and up, so it was a small victory to find them for $2.50 per panel (plus 40% off that day!) at Community Forklift, my go-to salvage yard right outside northeast D.C.
The problem was finding the right size: eventually I made a few return trips and had to alter the shutters to fit. Still the reclaimed shutters cost a lot less than custom shutters, and I prevented a few nice things from going to the dump.
Stained Glass Windows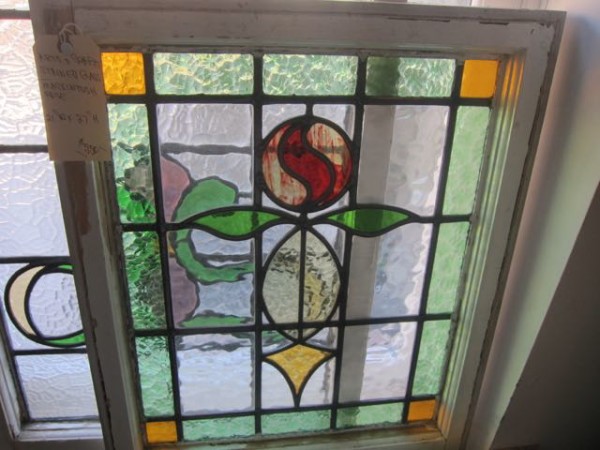 A stairwell window in our house had been replaced with textured glass, perhaps due to the proximity to our neighbors (a cozy 10 feet away). I thought it would be fun to retrofit a salvaged stained glass window. The trick would be to find the right size.
Second Chance, a deconstruction and resale warehouse in Baltimore, was reputed to have tons of antique stained glass. But inventory had changed hands, and my parents and I (who were visiting from Ohio) had to do some driving around to find a better supply at Weber's Antiques in downtown Baltimore.
I loved the rose design window (pictured above), but the green ribbon stained glass had the right dimensions, so we took it home.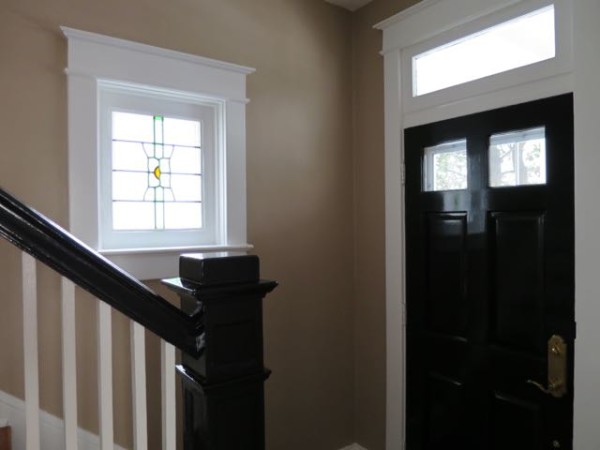 We were able to install the stained glass window in the existing window frame, and I love the dash of old-fashioned color that it gave the space.
Stone Countertops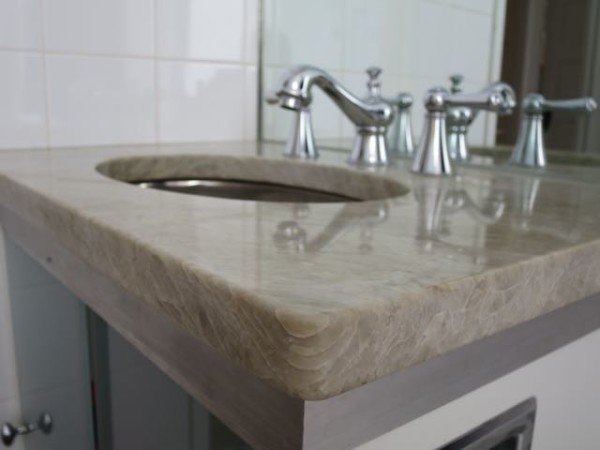 I hadn't planned on re-doing the kids sinktop in stone, but when an attempt to use a more modest material fell through, I knew it was my chance to get my hands on one of those slabs that I had seen in what my daughters called the "junk yard."
Dozens of marble and granite remnants salvaged from bathroom and kitchen demolitions were stacked outside Community Forklift, covered with dust and nearly impossible to move. After circling around several times and taking measurements, I finally settled on a piece of white marble for $100.
The salvage yard recommended an affordable stone-cutter, but when the new countertop was finished, it was not white marble at all, but a beautiful metamorphic rock called quartzite. Thankfully, I loved it, and the greenish color even coordinated with the floor tiles. Phew!
Moulding and Trim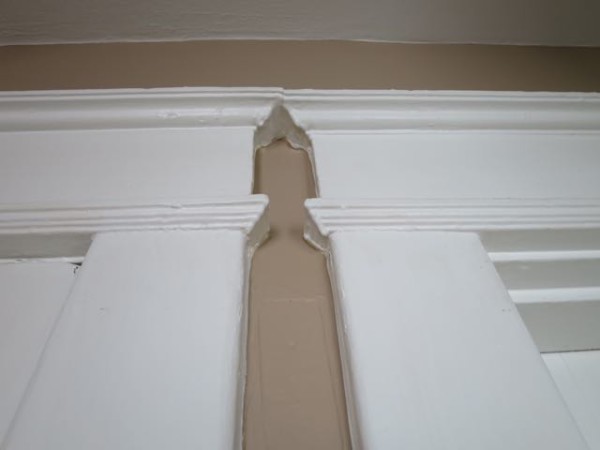 We were able to salvage and re-use our own house's moulding for a few projects, but if you are looking for antique trim to match your house's existing trim, building re-use centers carry that too.
In some cases, our carpenter was able to closely replicate the style of our house's moulding, and it looks very clean and fresh, but I do love the nicked and dented, chipped and painted-over look of 100-year-old trim.
Ironwork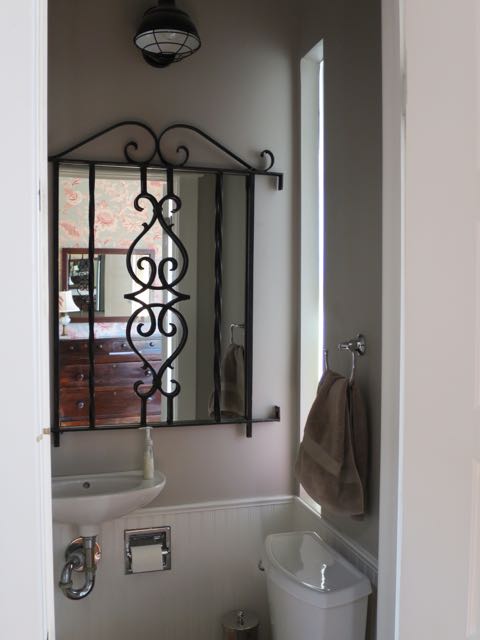 Here is another project where we shopped at home for salvaged materials that can also be found in housing thrift stores.
On some first floor windows of our house the previous owners had installed wrought iron window bars, which we later removed. We re-used one window guard as a frame for a mirror in our (tiny but very appreciated) first-floor bathroom.
If you're looking for ironwork for a railing, gate, or other home project, you can find tons of it at salvage centers. Most welders should be able to alter it to your specifications. Ask for recommendations of ironworkers at the salvage yard.
Bricks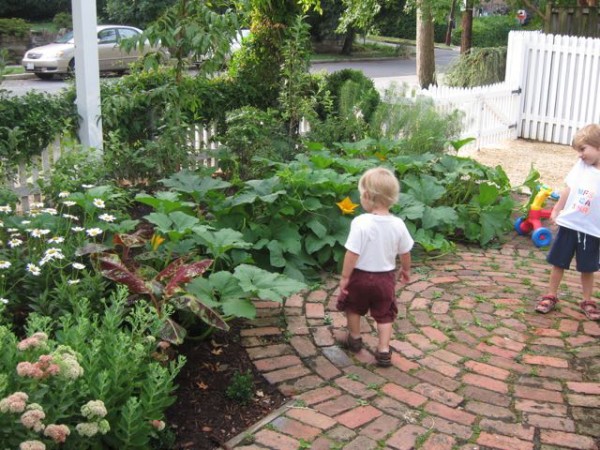 We inherited a beautiful brick circle in our front yard that was apparently modeled after a garden in France. I came to realize that a big part of its charm came from the antique bricks that were used to construct it. They're mottled and chipped, variegated and rosy. They're also bigger than today's bricks, so in a glance you can tell that they're different.
When we created a vegetable garden (pictured below) in our front side yard, we tried to find old bricks to make little walking paths. Even though they cost more than new, at $1 per brick we didn't break the bank.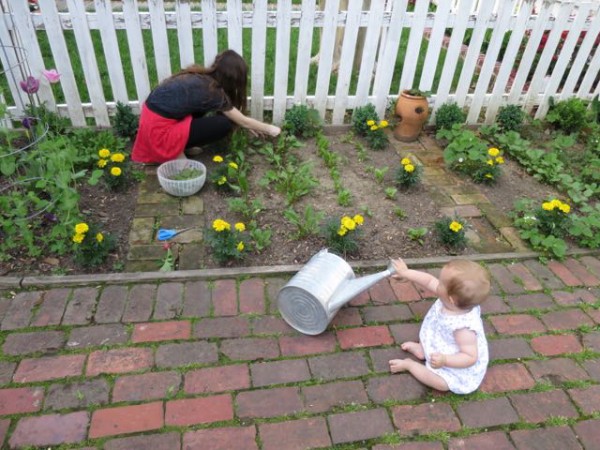 Windows and Wavy Glass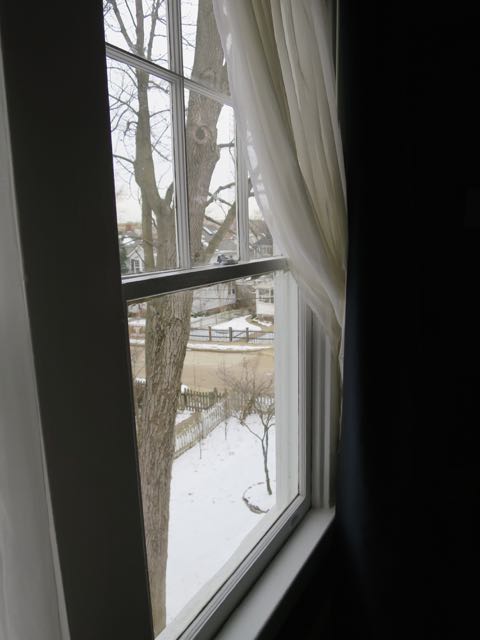 We love our old wooden windows. When we moved in, most of them were caulked and painted shut, but we later made strategic ones operable.
The bottom panel of a double-hung window in our bedroom (pictured above) was so badly rotted that we had to replace it. I drove out that day to Community Forklift, praying the whole way that they'd have a wooden window with the same dimensions. The universe — or should I say, the community — responded with a perfectly-sized window. I was also able to pick up the mechanisms — counter weights and pulleys — and we were back in business.
If you need to replace panes in any of your old windows, it is possible to find antique glass complete with waves and bubbles. These old-world effects are apparently impossible to reproduce today, because the glass manufacturing process has changed.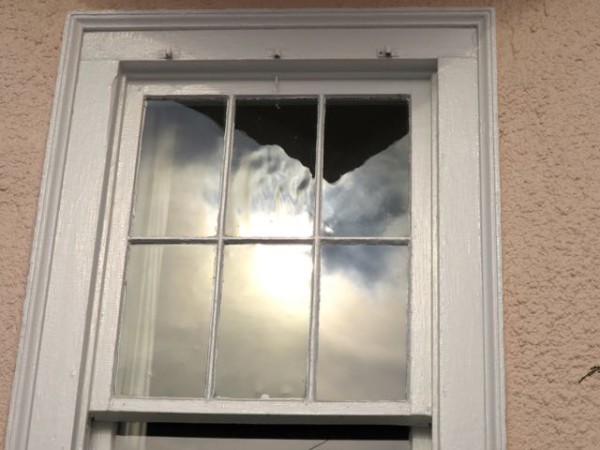 We wanted to remove plexiglass in our foyer windows, so I called an old-window handyman, who I found by searching the neighborhood listservs. He harvests antique glass from cast-off windows and was able to cut and install a few pieces in our windows.
(If your utility bills are high but you would like to keep your old wood windows, consider interior storm windows. To preserve the charm of drafty windows in our attic, we are getting inserts from Indow Windows, a company recommended by a neighbor who works at the National Trust for Historic Preservation.)
Hooks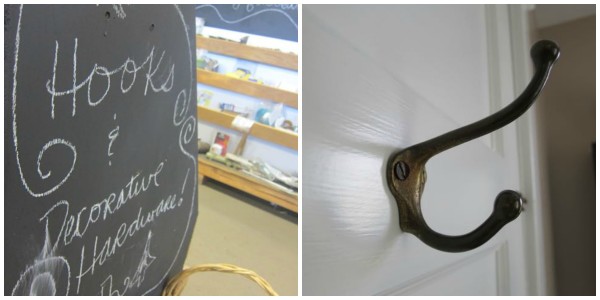 Every house needs hooks. It's amazing how much heavier antique hooks feel, and what a nice patina the metal has acquired.
To achieve an even more authentic look, use old slotted screws too.
Shelf Brackets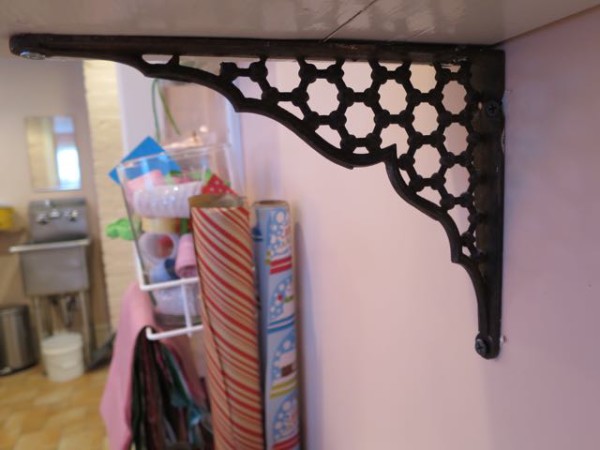 To support a vintage shelving unit that we repainted for our new craft/sewing room, I found some beautiful cast iron shelf brackets at an architectural antiques shop.
They added an unexpected touch to a room full of shiny newish things.
Scrap Lumber for Woodworking Projects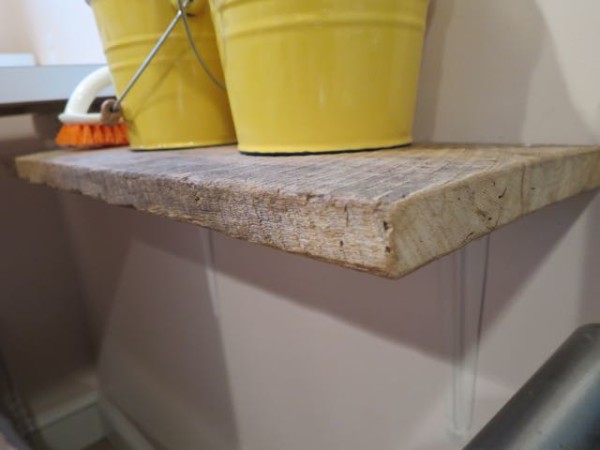 This laundry shelf was made by my dad from old wood found in a barn. He has also made us two tables from old weathered wood that has all sorts of interesting defects like worm holes.
Reclaimed wood is really hot right now, but it also fits our casual, kid-friendly lifestyle. I don't have to worry about the tables getting scratched or dinged, since wear-and-tear just adds to their patina.
Fireplace Mantels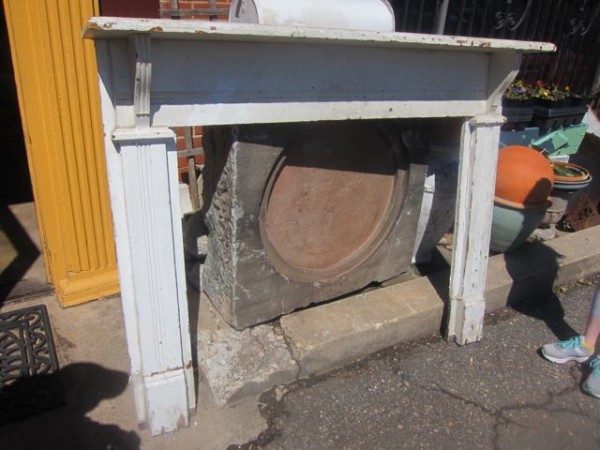 This mantel is now in our living room. Typically a house from the early 1900s would have had a fireplace, but ours did not. We wanted a focal point for our living room (that wasn't a flat-screen TV), and a fireplace seemed like the answer.
Mantels are apparently not hard for a carpenter to make from scratch, but a salvaged one is the way to go if you want the fireplace to look like it's been there forever.
There are very elaborate mantels out there, but they're usually much more expensive. I also had to face the fact that they wouldn't really go with the simple style of our house.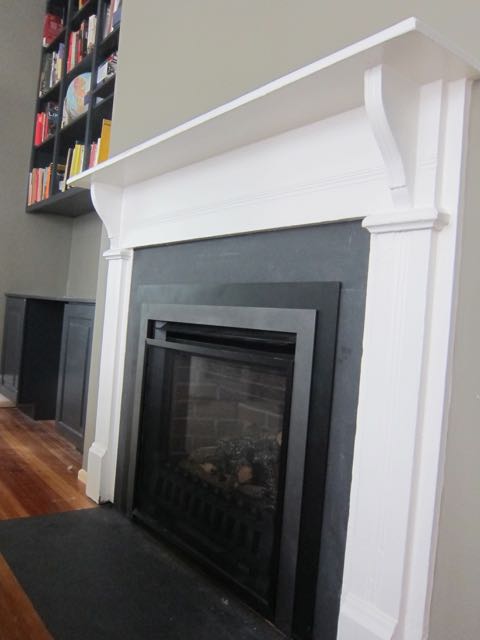 The mantel that we chose (shown here painted and installed in our living room) was the right size, design, and price ($120), and nobody would imagine that it was installed last year.
Wooden Floorboards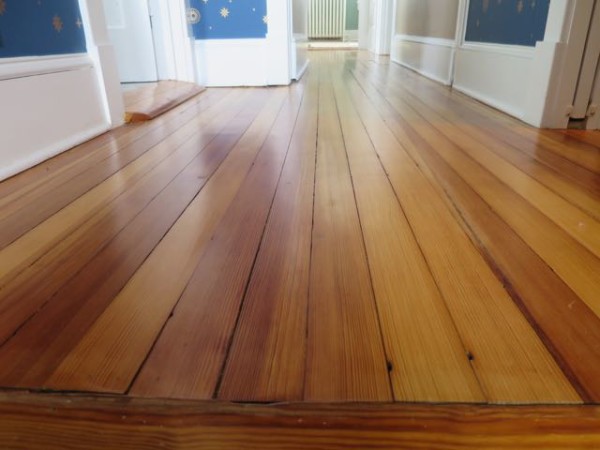 When we needed to change the layout of our second floor to create three bedrooms out of two, we had to take up the old pine flooring. The idea was to simply lay the floorboards back down after the work was done, but they were not taken up properly and had to be scrapped.
It was sad to have wasted perfectly good 100-year-old flooring (next time I'll have an expert remove it), but after asking around, I found a reclaimed wood dealer. I was able to buy similar flooring removed from another house of the same era for $6 per square foot, and was happy to give it a new home.
The most sought-after antique flooring is called heart pine, or old longleaf pine. I don't know if that's what we have, but according to deconstructing expert Max Pollock in the Washington Post, "It has a rich color, nice smell, and the grain is much, much tighter than other softwood species." If you're thinking of redoing your old pine floors, you might be able to sell it to a salvage shop. "That's the holy grail," Pollocks says. "It's what we're always looking for."
Tips for Finding and Using Architectural Salvage
Study the era and style of your house. Resist the temptation to go more old or fancy than your house really is. Mixing styles and time periods will lead to a hodge-podge look that you probably won't be happy with.
To begin finding sources in your area, try Old House Journal's Directory of Architectural Salvage Stores. There are sure to be many more, so when you make contact with a broker or organization, ask if they know someone who deals in the materials you are looking for.
Dress warmly and bring old gloves. Even in the summer, salvage warehouses can be really cold because of the dark, cavernous spaces. Everything is dirty, so either wear gloves or bring a pack of wet wipes.
Measure, measure, measure. Keep a measuring tape and notebook of your room's dimensions with you. If you happen upon the perfect find, you'll know whether it's worth taking home.
We are still finding reasons to hit the "junk yards." Hunting for treasures for your house can be so fun that you might miss it when your project is done.