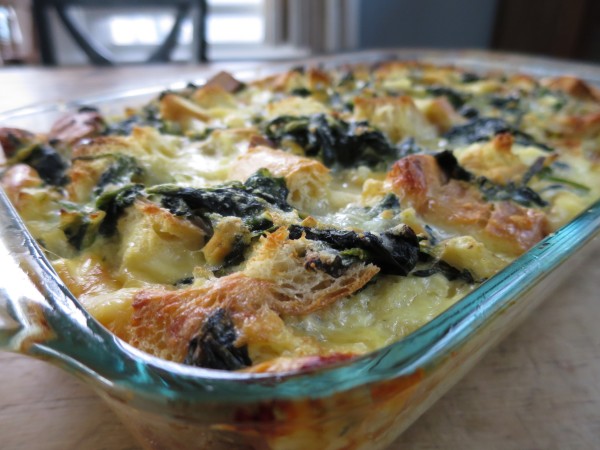 Sometimes called sleep-in quiche, never-fail souffle', or 24-hour omelet, the strata is a breakfast casserole that requires overnight rest, making it a perfect dish to serve on Christmas morning, New Year's Day, or any brunch party.
The word strata means layers because most recipes call for the layering of bread, cheese, and either meat or vegetables, with a beaten-egg mixture poured over.
One thing I love about stratas is the contrast in textures: the top gets crunchy and browned, while the inside remains soft and creamy.  Because the bread needs time to absorb the custard, you have no choice but to make it ahead, a blessing on busy mornings.
When the strata is baking and the house is filling with delightful smells, I am often far away from the kitchen, busy with other things and feeling like I've pulled off some small magic.
Bacon and Cheese Strata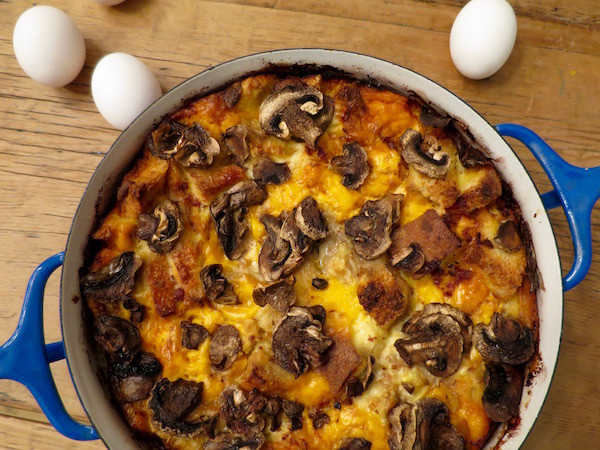 Family friend and cook, Shirley, gave us this recipe when we were looking for a make-ahead dish that was salty and satisfying for a very special brunch.  I made and froze six double batches of this strata and we served it at our farm the Sunday morning after Enrico and I got married.  It was delicious, and still is.
Serves 4 to 6
2 cups (3 slices) of bread cubes
1/2 lb. sharp cheddar cheese, cubed
1/2 lb. bacon, cooked and crumbled
1/4 cup butter, melted
1/2 lb. mushrooms, sliced
3 large eggs
2 cups milk
1 teaspoon dijon mustard
1/4 teaspoon salt
Place half the bread cubes in a well-buttered 1 1/2 quart casserole dish.  Top with half the cheese, half the bacon, and half the melted butter.  Repeat layers and arrange mushrooms on top.  Beat eggs, milk, mustard, and salt, and pour over the layered mixture.  Cover and refrigerate overnight.
The next day, bake uncovered at 300 degrees for 1 1/2 hours until top is golden brown.
Spinach and Cheese Strata
(adapted from Gourmet magazine, February 2003)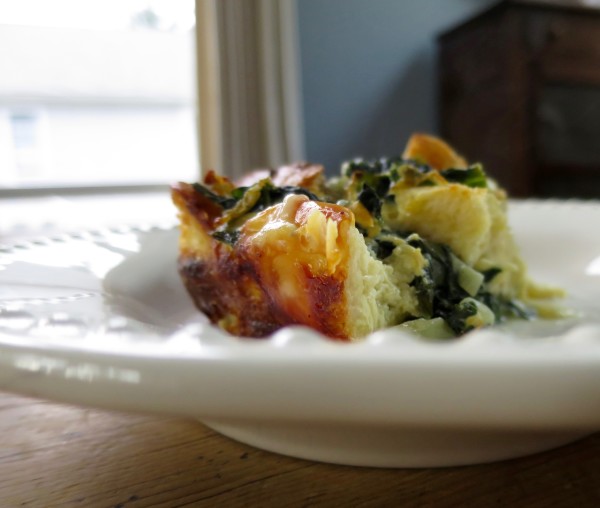 My mom and I have been making this recipe for about ten years now.  Even though it still qualifies as comfort food, it has a healthier, lighter feel, and the gourmet cheese gives it a sophisticated touch.  Fresh chopped spinach can be substituted for frozen.
Serves 6 to 8
1 (10 ounce) package of chopped frozen spinach
1 1/2 cups finely chopped onion (1 large onion)
3 tablespoons unsalted butter
1 teaspoon salt
1/2 teaspoon black pepper
1/4 teaspoon freshly grated nutmeg
8 cups cubed French or Italian bread in 1-inch cubes (about 1/2 lb)
6 ounces coarsely grated Gruyere (or Swiss or Jarlsberg) (about 2 cups)
2 ounces finely grated parmesan (about 1 cup)
2 1/4 cups milk
9 large eggs
2 tablespoons dijon mustard
Sauté onion in butter in a large skillet over medium heat until soft, about 5 minutes. Add 1/2 teaspoon salt, 1/4 teaspoon pepper, and nutmeg and continue cooking for one minute. Stir in spinach, and heat until spinach is thawed.  Remove from heat and set aside.
Spread one third of the bread cubes in a well-buttered 3-quart oven-safe dish. Top with one-third of spinach mixture and one-third of each cheese. Repeat layering twice with remaining bread, spinach, and cheese.
Whisk eggs, milk, mustard, and remaining 1/2 teaspoon salt and 1/4 teaspoon pepper together in a large bowl and pour evenly over strata. Cover with plastic wrap and chill strata for eat least 8 hours or up to a day.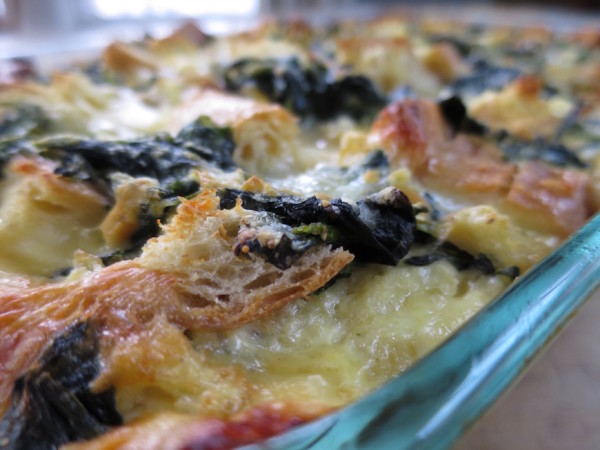 The next day, let it stand at room temperature for 30 minutes while preheating the oven to 350°F. Bake strata, uncovered, in middle of oven until puffed, golden brown, and cooked through, 45 to 55 minutes. Let stand 5 minutes before serving.
And then enjoy your special day.