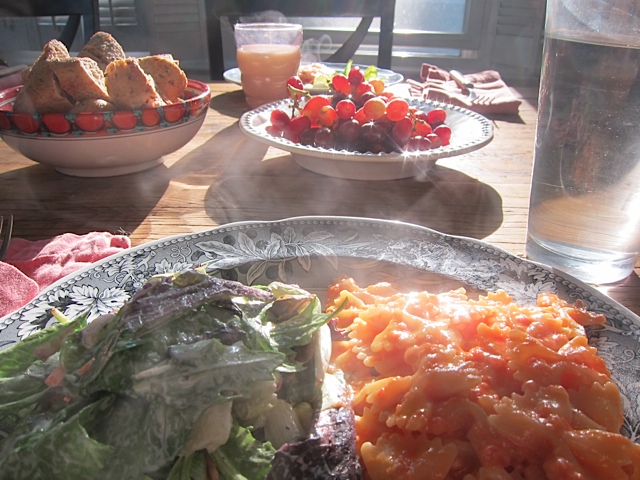 I can still remember the little knock at the door, and the outstretched arms with a plate of chocolate-chip pancakes with strawberries on top.
I can smell the perfume of that homemade chicken and rice soup still warm in the pot, the overflowing grocery bag of frozen food and snacks, and the basket of mother-daughter homemade cookies. But most of all, I remember their faces, and how their small gestures had a huge impact on me.
One of the Greatest Gifts You Can Give a New Mother is the Simplest: Dinner
Welcoming a new baby or adopted child means over-the-top joy as well as over-the-top turmoil. You feel delicate in every way, and when your baby is crying all the time, keeping you up all night, or so needy you can't keep up with basic household tasks, it's easy to feel overwhelmed and alone.
Sometimes You Have to Give to Know How to Receive
Before I experienced that outpouring of love and support with my third child, I didn't get the whole meal-delivery thing. We lived in Arlington, Virginia, and some of our good friends were Mormon. I remember being in awe of their strong communities, and how a whole support system went into motion as soon as someone had a baby, got sick, or went to the hospital. Community members were organizing and signing up to bring meals, take care of the kids, and whatever else was needed to help keep the family afloat.
But still, I was busy with my own life, my own activities, my own family.  I admit, I didn't always put my name on the sign-up sheet at the preschool for the family who had just had a baby.  Even though I had been very involved with my neighborhood and school, I was pregnant myself, stressed with an upcoming move, and feeling like I could barely keep my own life together.  But after experiencing this simple yet powerful gesture, I have changed my outlook.
Random acts of kindness are good for my own soul.  Even though I don't deliver meals as much as I'd like, I know how that one small action, that half an hour of time, really means a hell of a lot more in someone else's life.
The Other Side of American Individualism
We're so busy working, taking care of ourselves, maintaining all the things that we have bought with the money we earned that it's hard to make time for getting involved in our communities.  I see how my own time and energy is being eaten up by our first house:  yes, having our own place is exciting, but it's also a burden and "can make us isolated monads in a world that needs collective responsibility," as Philip Kennicott put it so well in his review of the National Building Museum's long-term display, "House and Home."
As we wind down our work on the house, I am resolving to do some more reaching out and helping other people, rather than just helping ourselves.  Friends, neighbors, family:  people are what really make life worth living and sustain us over the bumpy road of life.
June through September is prime time for new humans entering the world, and I know both a neighbor and a friend who are having babies soon. I have to keep reminding myself, it's not about a four-star, super-delicious dinner. It's about simple food and nurturing.
4 Ways to Bring a Meal to a Pregnant Lady or New Mother
1.  If you live nearby:  Walk over a pot of your favorite soup, pasta, or stew (see my friend Carly's recipe for beef stew, below). Come back in a day or two to pick it up. There's is something so satisfying and generous about sharing a pot; it's like channeling grandma.
2.  If you need to drop it off:  Make double of what you are eating for dinner, and package up half in plastic containers or disposable ziplock bags. Include side dishes like salad, fruit, bread, and dessert if you like.
3.  If you can't cook:  Call up and order a pizza or have Chinese delivered. Pick up a roasted chicken or some prepared foods the next time you are at the grocery store.
4.  If you're part of a group:  Organize meal delivery with friends using a free online service like TakeThemAMeal.com or MealBaby.com. With these Web tools, you can avoid the tornado of back-and-forth emails, and convey information like locations, ideal times, and allergies.
Here's a one-pot dinner that my friend Carly and her daughter brought over, still warm, when we had Mark. She was doubly generous to type up the recipe because I loved it so much.  So if you're looking for a dinner idea, here you go:
Simple Beef Stew
Carly says, "The recipe also calls for 1 cup diced green pepper and 1 cup chopped turnips, if you are interested. On occasion I use green pepper if I have it on hand but have never tried it with turnips."
(adapted from Betty Crocker's New Cookbook)
1 tablespoon vegetable oil
1 lb. stew meat in 1-inch cubes
3 cups hot water
1/2 teaspoon salt
1/8 teaspoon pepper
1 cup sliced carrots
1 1/4 cups potatoes, cut into pieces to your liking (skin optional)
1/2 cup sliced celery
1/4 cup chopped onion
1 teaspoon salt
1 bay leaf
1/2 cup cold water
2 tablespoons flour
Heat oil in large pot. Cook beef in oil about 15 minutes, stirring occasionally until beef is browned. Add hot water, 1/2 tsp salt, and pepper. Heat to boiling. Reduce heat to low and cover. Simmer for 2 1/2 hours.
Stir in remaining ingredients except cold water and flour. Cover and simmer about 30 minutes or until veggies are tender. Remove bay leaf.
Shake cold water and flour in a jar. Gradually stir into pot. Heat to boiling, stirring constantly. Boil and stir 1 minute or until broth is somewhat thickened.
One last way to give something free.
Even if the early days are as peaceful as a sleeping baby, new parents (and second- and third-time parents) need a hug of congratulations and the kind of "how are you?" that waits for an answer.
And one more thing you could give a new mother?  Make her promise not to bother with a thank you note.