This summer I stepped back and saw what I had become since I started blogging for money. And I didn't like it.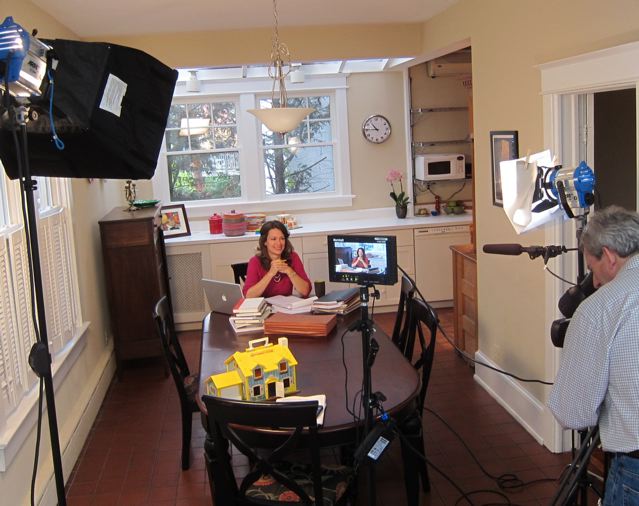 Jockeying for attention in the age of a million blogs and still trying to care for my family, live by my values of meaning and connection, and maintain a simple, sweet, slow life was an impossible ideal.
In the past year my life began to go so fast that I didn't have time to volunteer at the school, meet a friend for coffee, or spend one-on-one time with my daughters. I didn't get enough sleep, I never read books, and my house was still disorganized a year after we moved in.
Work began to seep into every quiet kid-free moment I had, from morning babysitting hours to nap time, then evenings and weekends. Time once spent on keeping in touch with relatives, exploring the place we live in, or throwing parties became slowly consumed by getting ahead and becoming "someone."
I got so caught up in the idea of success that I forgot what I wanted in the first place.
Afraid I Would Look Back on My Life in Regret
When a friend of mine sent me the following question, I knew that something in my life was way off:
Imagine yourself at the age of 75, looking back on the life you've lived thus far and thinking about what you've done/experienced that was truly Important & Worthwhile. What percent of that Important & Worthwhile stuff from your life do you think will come from the professional/work/job sphere?
When I read that question, all I could see were my children's faces. I could only assign ten percent of the Important and Worthwhile to the business, yet I was spending exorbitant amounts of life energy on it. What was wrong here?
The only way I was able to achieve the kind of mental clarity needed to process such a question was to completely detach myself from the online world for a couple of weeks this summer. By unplugging, I allowed all the little details and distractions to subside — the emails, the blog deadlines, the LinkedIn postings, the Twitter @replies, the opportunities that kept trickling in.
By silencing the urgent, I was able to hear the important.  My family and writing: those were the top two most meaningful things to me. So if writing was my mission, then how did I get caught up in the noise of branding, reality web shows, page rank, and traffic bonuses?
Success Can Be Won, but It Comes at a Cost
When I started my blog, I wanted to become known as a writer and get paid for assignments. I achieved this goal, but it wasn't the way I imagined.
In Don't Read This If You Want Your Life to Stay the Same, I recounted how my relative success happened quickly and why. It began with a couple of paid articles, then a morning news show, then getting hired by TLC, and being flown to New York for a photo and film shoot. Even after I stopped asking for opportunities, they kept coming.  Babble asked me to join their stable of writers, TLC wanted me to do a video series, and The Washington Post wanted to do a feature.
It was all exciting and, and (for fleeting moments) glamorous, and it made me feel like I had finally arrived. This late-bloomer at-home mom was creating a "brand," becoming a personal finance coach, and learning to be a business owner. And along with those roles and responsibilities came more work, more time, more effort, more pressure.
To keep up with all this earning, I had to begin spending. From the legal help, tax prep, and childcare to the technical assistance, graphic design, wardrobe, haircuts, and website fees, my life was migrating from frugal and simple to enterprising and complicated.
One of the biggest paradoxes of this great experiment was that by gaining recognition for my lifestyle choices, I not only made that kind of life very difficult to maintain, but I began to be steered away from the very values it was based upon.
Blogging Feels Productive, but the Financial Rewards are Elusive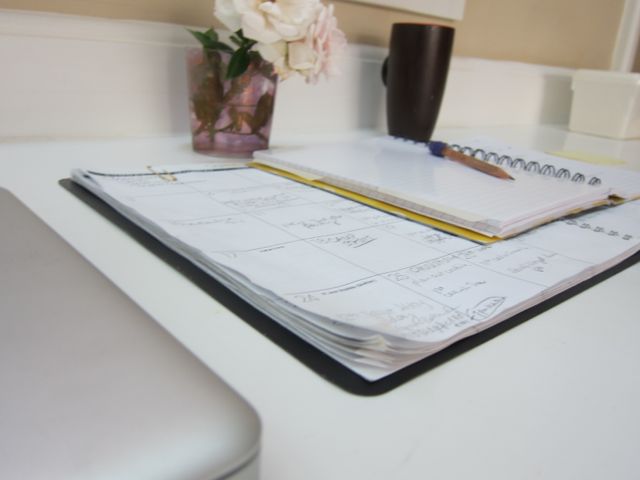 The tricky thing about success in the blogosphere is that all those "opportunities" don't often translate into real dollars. For a while my husband and I justified the time I was spending on writing and website stuff because there was the promise, always the hope, that it would lead to something big, and ideally, big money. Not just fun money, but renovating-the-basement money or family-vacation money. It did not.
The money I made from writing a post for Parentables did not even cover the cost of a sitter. Freelance writing is not about the money, I eventually learned. It's about the flexibility of working in your pajamas, the freedom to write about your last vacation, and the cachet of being associated with a larger publication.
Since freelance jobs require more and more time, I hoped that tacking up banner ads on my blog (after three years of building followers) would be a so-called passive income stream. But advertisers that were compatible with my message weren't exactly clicking down my advertising door. Magazines have entire offices and millions of dollars invested in trying to sell ad space. Even for big successes like Problogger, drumming up direct ad sales is an extremely difficult endeavor.
Many mom bloggers make an income by helping promote products or services for companies. But given my blog's focus, how could I talk up paper towels when I know that rags work just as well and are better for the environment? How could I promote spaghetti sauce in a jar when I've already said how much better it is (and how easy) to make it at home?
After hearing that some bloggers make good money on referral commissions, I experimented with Amazon's affiliate program. But the time and frustration of formatting those links and images were onerous, and the earnings — a total of $34.61 from one of my most popular posts — were not worth the inner conflict I felt. A business-savvy person wouldn't flinch, but I could never quite swallow the idea of sending my readers to links where they could buy something brand-new when it would be better for them if they checked the book out from the library or made their own own money jars from coffee cans.
The only job that rendered any realistic amount of money was the money makeover video series for TLC (which was removed six months afterwards, due to sponsorship issues, and deposited at HowStuffWorksVideos). But the pay should have been a lot more to account for the incredible amount of prep work and the taxing filming schedule, even if it was rewarding to work face-to-face with people (and to have an excuse to buy a curling iron).
The crazy thing is that when I tally up all my expenses — all the spending associated with my earning — I think my business will have been a complete wash.
Making Money Online is Possible, but It Requires Rearranging Mountains
People who are making money online have not discovered some secret tunnel to dollars and dreams. Along with passion, dedication, and talent, they are putting in an intense amount of work. They are also probably entrepreneurial, have loads of confidence, and their spouses may be working alongside them.  As you know, I am lacking in these departments.
J.D. Roth, founder of Get Rich Slowly, was able to achieve major financial success with his blog. But he was working all the time — 60 hours a week — and was not happy. Dedication to the business meant the rest of his life went neglected, and he had moved far away from his original goal of a peaceful life full of hobbies, friends, and simple pleasures.
Like Roth, we have achieved a level of financial security — but after years of working and studying day and night and Sundays, my husband is still working and studying day and night and Sundays. We got through the lean years when he was in training because we stuck to the basics and tried to find the fun in the simple things, and it was a lifestyle that we grew to love.
To make more money, I would have had to give up that life.  And for what?  To buy fancier furniture or save more for college when now is when my children really need me?  To increase the chances that someday, someone might walk up and offer me a million dollar book deal?
Certainly this choice was easier because we didn't really need a second income.  Living below our means has always been something we worked hard at so that we could keep our options open. If we really needed the money, the truth is, I wouldn't be blogging. I'd be out there hustling for a real job, and this blog post would never have been written.
I don't think it was wrong to try to translate my blogging into money, but the error was in thinking that I could make money from just a little more effort, just a little more time. As a popular mom blogger commented to me the other day, the work of blogging seems to multiply twice as fast as the income.
How can one ever feel like she has done enough when there are always hundreds — thousands — of blogs that are more successful, more influential, more commented on, more Tweeted, more Pinned, more Liked?  When by hanging our shingle on the World Wide Web, we are potentially competing with everyone in the world, including multi-national corporations with their own websites?
Deciding to Do Fewer Things Better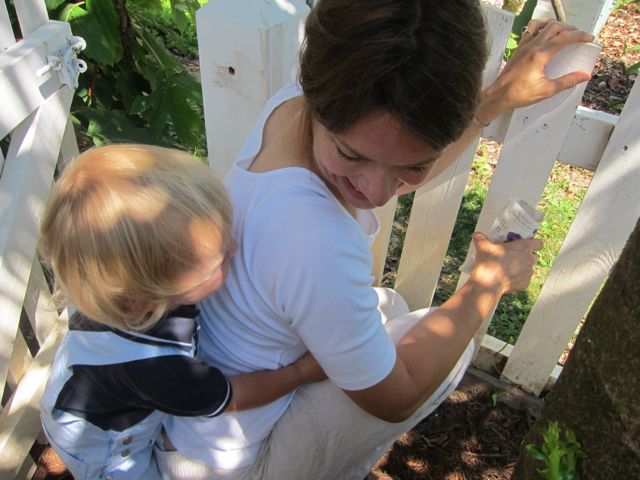 Since I started my blog three years ago, and especially since things started ramping up, I have been in a period of Yes. I was excited to try new things, to take every opportunity that came my way, to follow every lead.  I was learning about who I was and what I could do well.
Now that I've stepped back and looked at myself in the big picture, I can see that the things I hold dear are still the same. Yet, if I continue saying yes and wanting more, I cannot possibly hold them all close to me.  I am not superwoman. I may have lots of energy and an almost-addiction to "getting things done," but I still haven't discovered the trick to making 34 hours in a day.
It's time to do fewer things and do them better. To come back to center. To put my energy where my priorities lie.  Relationships, the spirit of cooperation, caring for each other, living with purpose, doing one thing at a time, quiet, nature, good food, friends.  And if I have time, to write something that feels difficult and important.
For years now, I have longed to write personal essays.  I've always been wowed by those essays that you see in magazines and newspapers where the writer puts words to a feeling that I didn't know I had, answers a question that I've always longed to know, or that makes me see the world in a different way.  I want to do that too.
It was hard to get published back then, and maybe it will be just as hard (or harder) now, but I feel that it's time for me to step up to the challenge.
I am Still Committed to Frugal Mama
This may all sound pretty dramatic, but Frugal Mama will live on and it will be better than ever. The ten percent that I found fulfilling about my work was connecting with my readers and feeling like I was actually helping people. I've also been enjoying writing a bit more soul into my posts, and I'd like to continue to do that, by delving into the emotional dimensions of saving money and making life better.
But everyday tips and practical advice are still important. So to fortify the Frugal Mama mission while freeing up some of my time, I have asked six wonderful women to join me in writing about living a satisfying life on less. Bringing on these fellow writers is the change I have been hinting at for a while, and I'm so happy to tell you about this new collaboration.
These writers, who I will introduce you to later this week, will write about once a week on simple living, managing technology, free play, raising children, saving money, and slowing down. They are long-time friends, colleagues, and kindred spirits, and I'm so excited they were willing to dedicate some of their time (they are all mothers who have other occupations too) to breathe new life into Frugal Mama.
Inspiration May Be Easy; Staying the Course is Not
It's been about a month since I made my decision to slow down and drop the business side of blogging. Blogs depict life as it unfolds, which is both their strength and their vulnerability. When you have to publish every week (or even every day), there is not a lot of time for reflection and seeing how things pan out. So in the spirit of being real (and not just inspiring), I wanted to share with you how it has been to live with my choice.
Three weeks ago I gave notice at Parentables. After writing for this Discovery parenting site for one and a half years, this Thursday will be my last post.  I am grateful to have been given the opportunity — it was my first big break and I learned a lot — but I had reached the point of diminishing returns. I told them that I would not be able to participate in a renewal of the Frugal Mama video series that was in the works. If writing is my priority, then no amount of film clips in my portfolio will help me get there.
I began unsubscribing from all the media lists I had stayed on in the hopes that one day I would get that perfect pitch for my blog, even though it really just meant 90 emails a day cluttering my inbox about this new product, that new online tool, this new trend I could "share with my readers" but that was never really good enough to bother you with.
I took down the advertisements (most of which were placeholders by friends) and will slowly dismantle any affiliate links. I don't worry so much anymore about all the underlined parts in Success Secrets of the Social Media Superstars on how I could market my Facebook page better, although I acknowledge that I've made some of my most rewarding connections on Twitter and Pinterest.
Some days I feel a huge sigh of relief, as if I'm slowly letting air out of a balloon that was pulling me strange places far from home. Some days I feel deflated.  As much as it was a wild and unsustainable dream, the idea of having it all was kind of exhilarating.
Some emptiness I have immediately filled with activities that are important to me, like volunteering at Luke's preschool, helping to organize a block party, rekindling a family blog where I interview my daughters, getting rid of all the junk in the junk drawer, and fixing a screen door and a bed frame that had been broken for the last year.
And some day, sooner now rather than later, I'll have to deal with the mess of unfinished projects and boxes in the basement and garage, the feelings of being the new mom at the elementary school where it seems like everyone else has known each other all their lives, and worst of all, wrangling the 26,000 photos on my dying computer in the attic so that I can finally compose a photo book for the grandparents (I'm sorry, Mom and Dad, that you have had to wait so long).
Finally, I will have to deal with myself.  It's not like the aggressive world of business snatched away my halo. I was no saint before I went there, and I'm certainly not one now.
In order to write something great, I will have to pull myself away from organizing a babysitting co-op or sewing curtains. But in order to organize the babysitting co-op and sew the curtains, I will have to pull myself away from writing something great.
I bet you all know a little something about balance, too. And here is a little example of how I will continue to face that push and pull.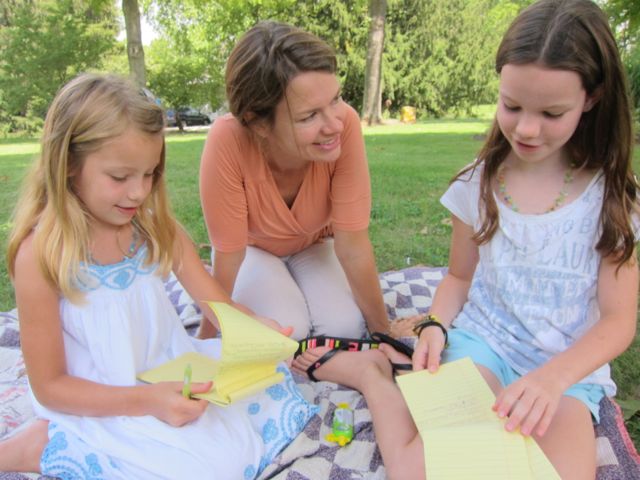 I Will Be Challenged Every Day
Last night my daughters were all excited for me to see a movie with them, The Lightning Thief, which we had checked out from the library due to their building interest in Greek mythology and then the Rick Riordan books.
"Can you watch it tonight, Mama?" Virginia asked.  Darn, tonight was the night I was going to revise the post about why I'm quitting blogging for business so I can spend more time with my family.
"No, I can't tonight, girls," I said, not unaware of the irony of my response. "I can watch it this weekend though," I said.  Once I hurry up and get this post published and tell everyone I'm slowing down, then I can really slow down.
"Oh man, why can't you watch it tonight, Mama?" Virginia asked, as our house came into view on our walk home from school.
You had to ask, I thought. "I have to get a blog post published. I haven't published anything for almost a week, and I really have to get something new up on the site."
"It's always about the blog," Sofia said, as if kicking a deflated soccer ball with her words.
For another hour or two, while I was making dinner and the girls were doing their homework at the kitchen table, I hung onto the idea that my work was more important than "just" watching a movie.  That I really really needed to publish soon because I had spent all weekend hanging out with neighbors and doing laundry and going apple-picking with the family and reading books, and hadn't gotten any work done.  Sure, I was also looking forward to reworking that last paragraph, and finding a good quote to express that idea about staying on the right path, and while Enrico was working late again and the boys were in bed early, maybe I could even catch up on emails.
How many times had I made this excuse over the past three years?  Yes, it was just a movie, not reading a chapter book together, or having a bedtime chat, or going to a pumpkin patch. But the movie was important to them, and it was a window into what they were thinking about, and how much longer would they even want me to watch with them?
I watched The Lightning Thief last night, squeezed in between an early dinner and bedtime, on the couch in the basement squeezed in between two of my most precious people.
And instead of striving to be a great writer, I strove to be a good mother.
Just as I applied discipline and love to being a successful blogger, I need to apply similar commitment to being a good wife, a good neighbor and citizen, a good sister, daughter, and daughter-in-law. Friend.  I have a feeling that these ideals are much harder to attain.