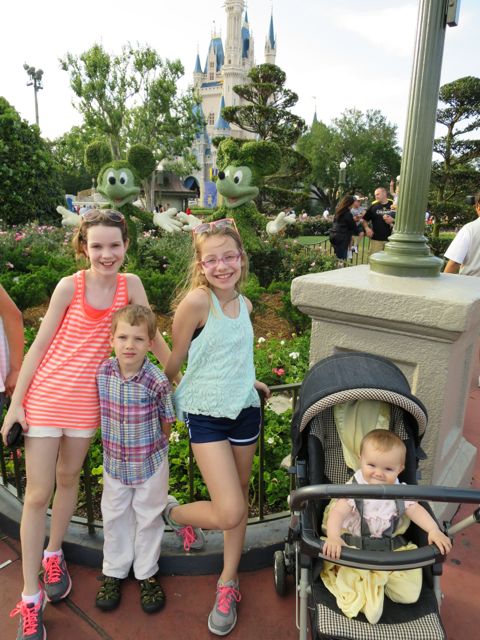 This spring we took the kids to Disney World for the first time. I confess that I was thinking of the trip as a once-in-a-lifetime experience: you go there, your kids get to tell their friends they did it, and then you cross it off your list. It had been so long since I had been there as a child that I had forgotten that the clichés are actually true: it was like a magical world, we did bond as a family, and we really felt that elusive emotion: joy.
We only stayed in Orlando for three nights, and we visited just one theme park, yet the trip felt totally satisfying. Visiting Orlando doesn't have to be an all-or-nothing trip, and it can be done without pilfering the college savings account.
Our trip was inspired by an offer to stay in a Holiday Inn resort in exchange for touring their new facilities (which turned out to be a timeshare sales pitch), but a free stay is not at all necessary for a low-budget Disney vacation. In fact, we made some mistakes on other aspects that ended up costing us more money.
Here is what I would and wouldn't do the next time we make the pilgrimmage.
1. Which Parks and How Many Days?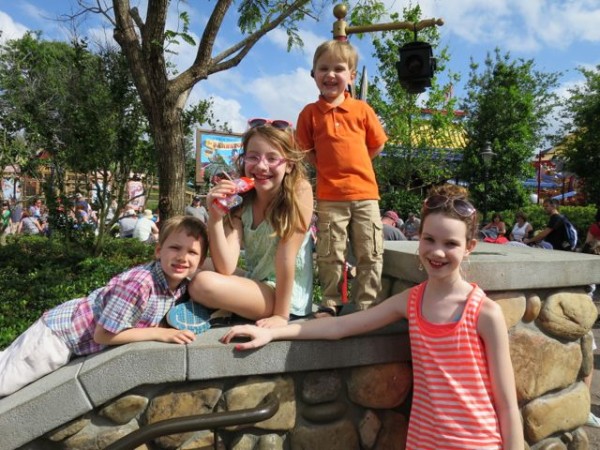 With a baby and a toddler (in addition to our 6-, 10-, and 12-year-olds), we knew that we would have to pedal slowly if we wanted to enjoy the ride. Plus time and money were a consideration: Disney entrance tickets are about $100 per person, and we only had two full days in Orlando (in addition to travel days). We figured that one blockbuster day at a theme park would be enough, and it was.
We chose the Magic Kingdom as being the most epic, and 12 hours there was enough to do our FastPass rides, see parades, have leisurely meals, and catch the impressive fireworks display over Cinderella castle.
The rest of the time we just enjoyed the Florida sun at the hotel pool and mini-golf course. Heck, just being away from house chores and school and work routines was special for all of us.
2. To Stay On-Site or Off?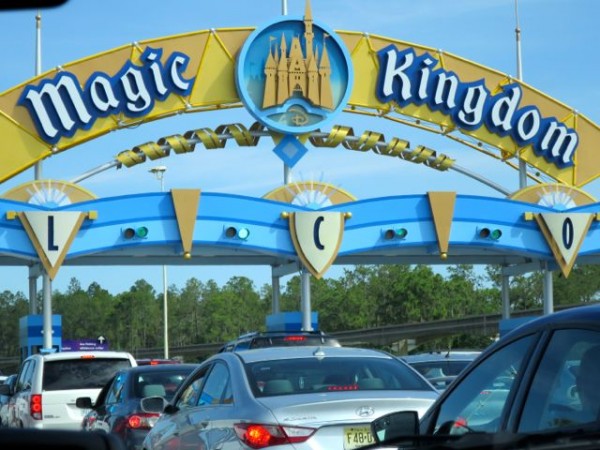 Some of the perks of staying in a Disney World resort hotel are being able to stay in the parks longer, and enjoying a feeling of escape from the real world, as if you were living in a magic bubble.
There are also some financial advantages of staying in a Disney resort, such as free transportation to and from the airport, which could save you the cost of renting a car. Staying on-site could also mean being able to go back to the hotel for naps and even home-made meals. Disney World also has several "value resort hotels" and campgrounds, which could be just as affordable as regular hotels.
That said, the consensus is that it's cheaper to stay in a regular hotel. Sure you'll have to leave the perfect happy (albeit expensive) world of Disney, but if you are only doing one park like we did, then that bubble will be burst soon enough anyway.
I've talked to people who have both stayed on- and off-site and there are pros and cons of both. To help make your decision, you might want to do a search on hotels.com and kayak.com, and then compare rates with the Disney hotels.
3. When Booking Flights, Don't Follow the Crowds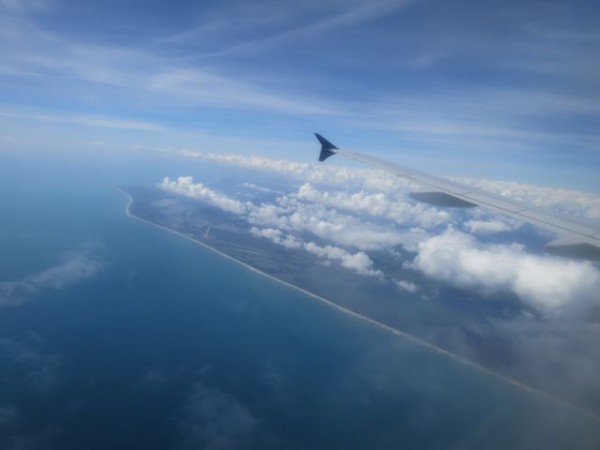 One key to our making our trip affordable was booking our air travel way in advance — two holidays ahead of time. We bought our Spring Break air tickets before Christmas, and the rates were great. I can't claim to know the secrets of price fluctuation, but I know that after the New Year, people start thinking about the next travel break and prices probably rise to reflect that demand.
Another way to save, of course, is traveling at off-peak times, like when there is no major holiday and school is in session. But I wouldn't worry if school and work schedules are not permitting. Yes, the Magic Kingdom was jam-packed at spring break, but despite the cramped conditions, there was not one rude word muttered. It was as if we were all just so happy to be there.
4. Try Non-Traditional Car Transport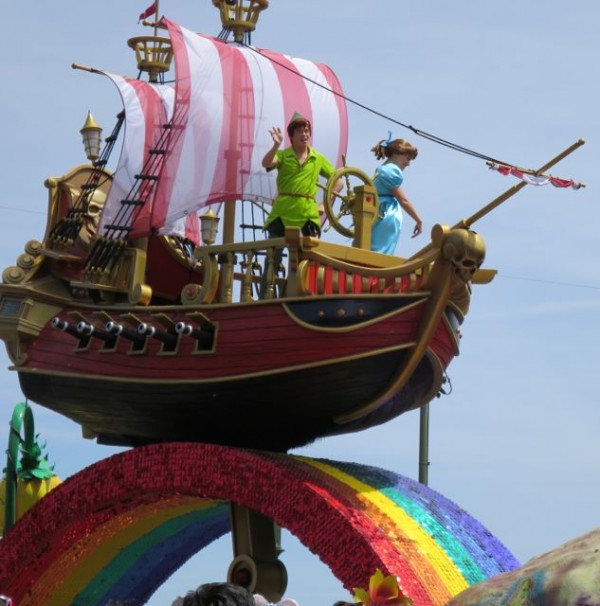 Another way to potentially shave hundreds of dollars off your trip is to find a low-cost rental car. According to the Disney Tourist Blog, which I found to be an incredible source of knowledge, Firefly rentals cost a fraction of what big name companies charge.  By the time we found out about this lesser-known company, all their family cars were booked, so check it out early.
If you live near the east coast, another fun idea is to drive to Washington, D.C. and board the Auto Train to Orlando. You'll need to lengthen your trip by a day, since the 17-hour train ride involves an overnight sleeper car portion, but you won't be paying for flights or rental cars (or sitting strapped into a car seat).
5. Don't Pick Up Tickets at Will Call
Disney theme parks don't sell out as far as I know, but don't let that lull you into thinking you can wait until the last minute to buy tickets. By the time I bought our tickets, it was too late to get them mailed to our house for free. We decided to go with the other free option — pick them up at Will Call — but the line took 30 minutes to get through — ugh!
So buy your tickets at least a month in advance so you can get them mailed to your house without paying rush shipping.
6. Get Groceries Delivered to Your Hotel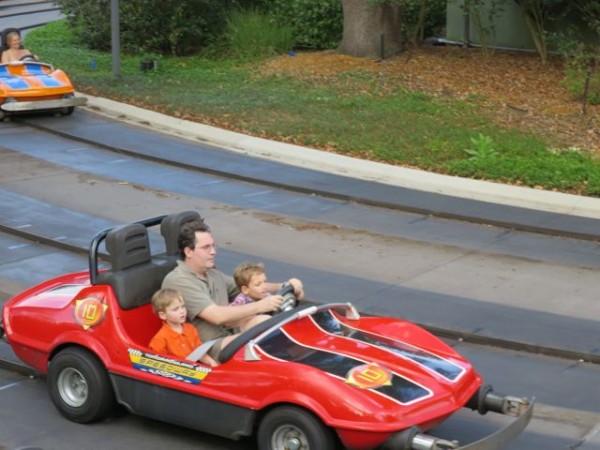 Going back to the magic bubble concept, grocery shopping is one activity that could burst mine. On the other hand, eating every meal in a restaurant with small kids is no vacation either. So we stayed in a place with a kitchenette and ate some of our meals in the apartment and some as picnics, and then splurged on a few special meals out.
Garden Grocer delivers to almost all hotels and resorts in the Orlando area, and while their prices are higher, you're still going to save a lot of money over eating in restaurants. Plus, you'll feel like a queen when the delivery guy actually unloads the groceries into your refrigerator, like he did with mine.  (Delivery windows fill up, so get your order in one to two weeks in advance.)
To know what to order, I counted on eating all of our restaurant meals in the Magic Kingdom, and the rest in the hotel. For dinner, I cooked one-dish family favorites like broccoli pasta or gnocchi with tomato-butter sauce, and for lunches I ordered picnic foods we could take poolside, like baguettes, salami, olives, nuts, cheese, and grapes.
I also ordered some snack food to bring to the theme park (Disney World allows outside food), like cheese sticks, dried mango slices, and granola bars. My husband was psyched that I even was able to order him Land Shark beer by uploading a copy of his driver's license to the website.
A few items I brought from home such as portable salt and pepper shakers from our last vacation, my favorite coffee, and a re-closable canister of sugar. We were even able to take any leftover food home with us, so hardly anything got wasted.
7. Don't Forget to Bring This Stuff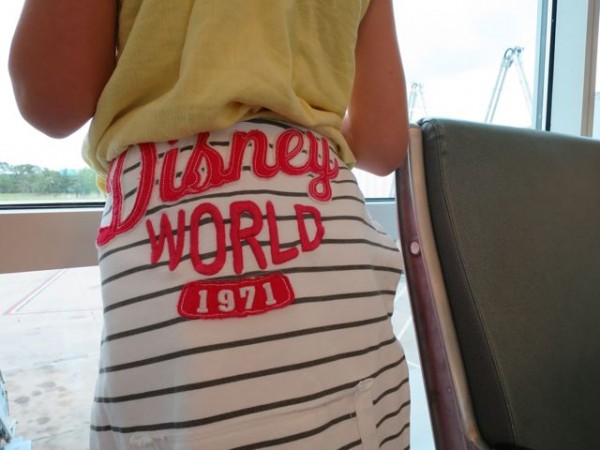 DisneyWorld packing lists can be pages long, but you really just need to pack like you would for a day trip with the kids. Bring stuff like diapers and a change of clothes for babies and toilet-trainers, snacks and water, blankets or lovies for nap times, and a lightweight stroller that you can easily fold.
The only thing that we didn't bring that we paid dearly for were sweatshirts. When we skipped out of the hotel that morning, it was a beautiful day.  But Florida's reputation as "sunny" can be deceiving.
The temperature really drops at night, and we ended up buying very pricey souvenirs when the sun went down and we were all freezing — $50 Disney sweatshirts from a gift shop on Main Street. So wear jackets around your waist and, if they're not waterproof, bring disposable ponchos, because sudden rain showers are also common in Florida.
Finally, don't forget medicine, because if you're like us, someone always gets sick on vacation.
8. Plan Your Day, Humanely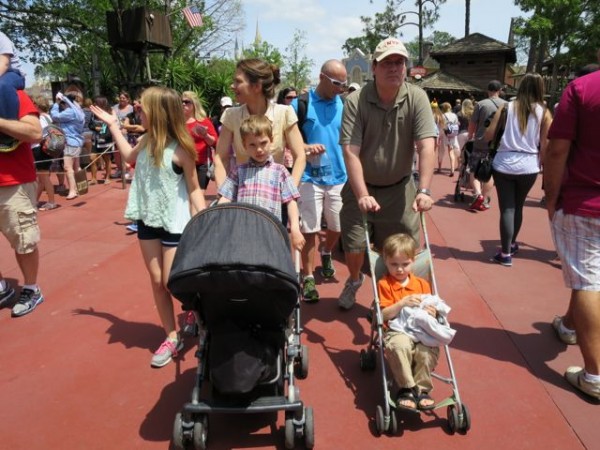 To accommodate everyone in our family — from grown-ups and tweens to toddlers and babies — we had to make some choices. Arriving early, they say, is a smart trick for getting the most out of DisneyWorld. During the first two hours of the day, lines are short to nonexistent, so you can do a bunch of rides before the crowds arrive. But with young children and no place to nap, you can't go early and stay late.
So we decided to arrive late and stay late. Seeing the famous fireworks over the castle was important to the bigger kids (and me), so we woke up at a normal hour and took our time in the morning.
The plan worked out great: leaving the hotel at a leisurely pace helped us last until midnight (which was when we all finally hit the hay). And being in the park from 11 a.m. to 11 p.m. was enough time to see and do all the things we had hoped for, and more.
9. Let Yourself Be Waited On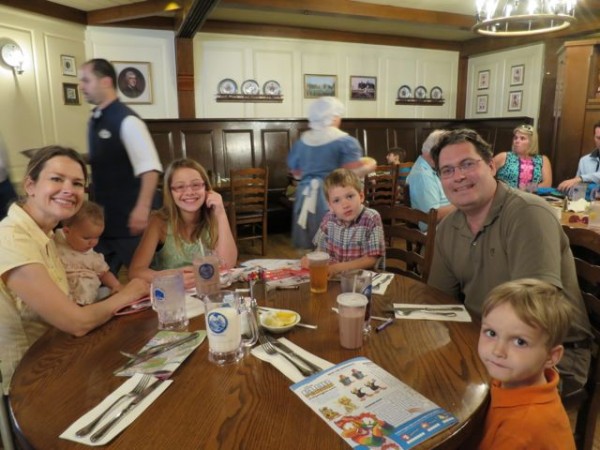 To keep meltdowns at bay, we built rest times into our day by making lunch and dinner reservations at sit-down restaurants. I knew it would cost more, but I wanted our short stay to be sweet. By making reservations, I knew we wouldn't have to wait in line for a table, and we'd be able to rest and regroup, away from the sun and crowds.
If you decide to go this route, book your table on the Disney World website up to six months in advance.  But if you don't get the restaurant you want at the time you want, don't worry. People do cancel, and by periodically checking (especially as it got closer to the 24-hour cancellation deadline), I was able to find a better fit.
(And by the way, if there are six or more people in your party, an 18% tip is included, so don't double-tip as we did!)
10. Use Your 3 FastPass Rides — Anything Else is Icing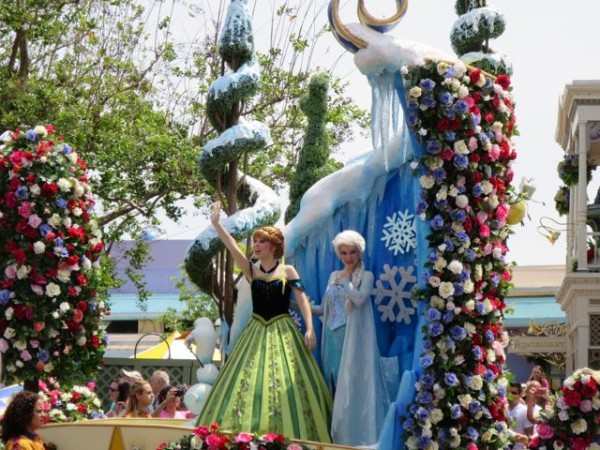 Included in the price of each ticket are three FastPasses, which means you go to the head of the line on three rides of your choice. FastPass selections and arrival times can be made online ahead of time, and I highly recommend it. When we were there in April, lines for the most popular rides were two hours long. With our fast passes, there was no wait at all.
Because of the different age groups in our family, my husband and I took turns going on rides with either the older or the younger children. But with Fastpasses shooting us to the head of the line, the non-riding group never had to wait too long.
(There is also the Rider Switch option: if a child cannot or doesn't want to board a ride, adults can take turns going on the ride without having to wait in line again. If the adults both have FastPasses for that ride, the second adult riding can take two other guests, meaning some kids could do the ride twice.)
We booked a total of six different FastPass rides: three for the younger kids and an adult (Pirates of the Caribbean, It's a Small World, and Tomorrowland Speedway), and three for the older kids and an adult (Splash Mountain, Big Thunder Mountain, and Space Mountain).
If you make lunch and dinner reservations, use restaurant locations and times as a starting point for planning the rest of your day. Also check out ride reviews at the Disney Tourist Blog. Then, using a Magic Kingdom map (downloadable from the Disney World website), book rides based on proximity, because the park is huge and feet get tired.
We only missed our first FastPass ride (Pirates) because it took us almost two hours to get from the hotel to the Disney World main gate, due to traffic, parking, shuttle and boat rides, the Will Call line, etc. Budget in time for all of that!
Otherwise, planning the rides in map order worked out really well. And allowing a little time between events meant that we could stop and look when a parade went by or a show suddenly erupted.
11. See the Fireworks While Sitting Down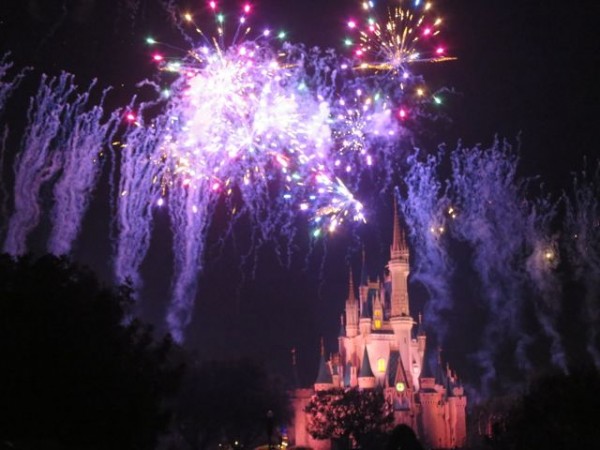 Once I started researching the Wishes fireworks show at the Magic Kingdom, I realized that there was a whole strategy for this too. But I knew that no one would be in the mood to stand on the pavement for an hour to stake out a good viewing spot. So I began looking into the idea of eating dinner at a place where you could also see the fireworks (the Crystal Palace and The Plaza are safe bets).
It turned out to be a great strategy, because by that time of night, we were all ready to be in a cozy place, away from the noise, crowds, and chill.
We ate at the Crystal Palace, which has a good buffet dinner with the Winnie the Pooh characters making the rounds. Our three-year-old loved seeing the characters, but next time I would try the Plaza. It's the least expensive of all the sit-down restaurants and its views of the fireworks are more head-on.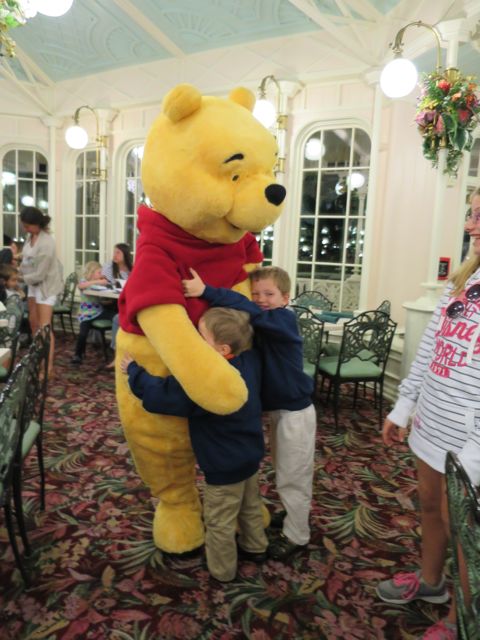 If you do the fireworks-dinner combination, find out what time Wishes will start on the day you'll be there. Then book a table so that dinner overlaps with the fireworks start time. Plan on being in the restaurant for about an hour and a half. Our waitress was totally fine about our getting up to see the show; she only asked that we settle the bill first.
Since the restaurant was beginning to empty out after the fireworks (around 9:30 p.m.), we took our time eating dessert (and getting our group hug with Winnie the Pooh). The fireworks crowds had dissipated by the time we left the restaurant, and just as we were about to reach the monorail station to go back to the parking lot, the illuminated Electrical Parade started up, and we had an accidental front row seat. So we stayed until the end, and really felt lucky to have done and seen so much in one fantastic day.
Summing Up: It Doesn't Have to Be All or Nothing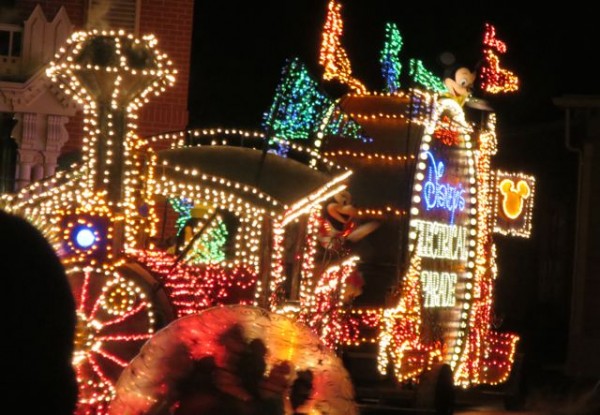 As our trip showed us, you don't have to go all out when you do Disney World. One or two days in the parks really is enough, especially if you are working with smaller staminas.
Out of all the Orlando theme parks, the Magic Kingdom was the absolutely the right choice for us. My fifth and sixth grade daughters and I were worried it might be cheesy or babyish, but not at all! The quality of everything from architecture to theatrics was top-notch. Disney World is right up there with other American entertainment greats like Broadway, Colonial Willamsburg, Six Flags, and the Hollywood movies where it all started.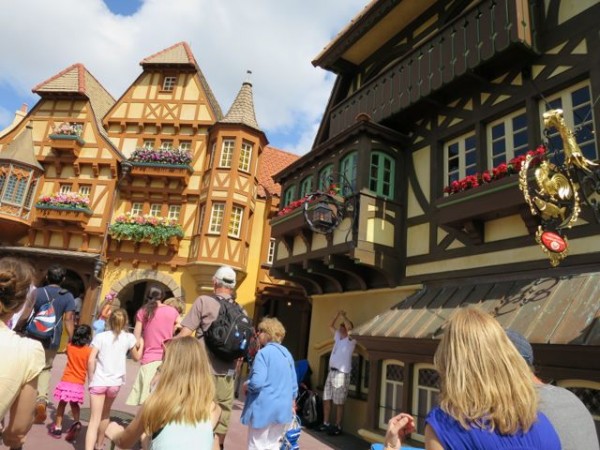 And if you liken Disney to Las Vegas (which is an apt comparison), you can see how one day was great, but two is not necessarily better. Disney has so much going on that, without even trying, we ran into two fantastic parades (Fantasy and Electric Lights) and two shows (Dreams Come True and a street harmonica band). Add a clean and well-designed environment to the entertainment factor, and the price of admission feels totally worth it.
The only thing I would have done differently was to plan more in advance. By waiting until the last minute to buy park tickets and to rent a car, we lost chances to save money and time. Take your time reading over the posts at the Disney Tourist Blog, which I found extremely helpful, and order a Disney Planning Guide and DVD from Disney. I bet this would have been helpful, although I wouldn't know because I ordered it so late, that it arrived the night before we left!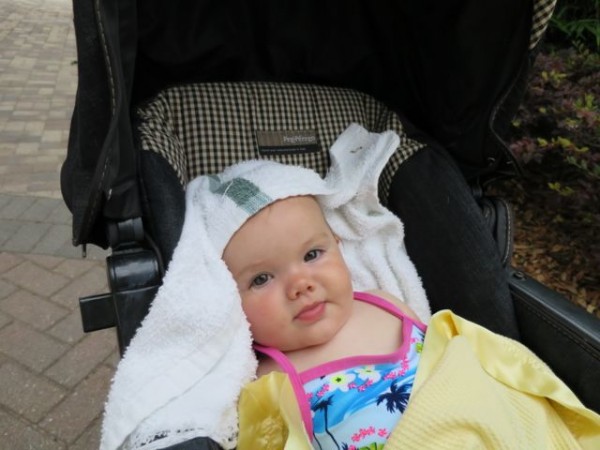 We thought Disney World was just going to be a rite-of-passage experience. You do it once, and you're done. But we all had so much fun that we are now sure that we'll return. Maybe when Diana is old enough to remember. The only problem is, I'm not sure I can wait that long.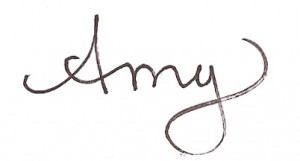 Photo credits: Slider photo by Christian Lambert via Creative Commons; all others by Sofia and Amy Suardi